You guys know I love the great outdoors and hiking is my activity of choice. But for those of you who are new to hiking, I always get asked 'what should I wear when hiking?'
The great outdoors is good for both our physical health, fitness and wellbeing and it's also why I set up Outdoor Adventure Girls last year, to provide safe spaces to women to get outdoors, feel confident and connect with other women.
When I am hiking I like to wear clothes that are long-lasting, functional but at the same time I want to look stylish. If you're looking for ideas on what to wear while hiking here are some hiking outfit ideas.
What to wear hiking: my favourite hiking items
One of my ultimate hiking outfit items is a long-sleeved shirt. It can look both stylish and chic, but is also a great item to layer up. Crafted in a supersoft cotton blend that feels warm and cosy against the skin, this hiking essential looks great unbuttoned over a white tee or vest. I take a shirt like this on EVERY hike I go on.
For winter hiking a thermal set is an absolute must! Make sure you get yourself kitted out with a set of supersoft, thin and stretchy base-layers that you'll barely feel on your skin. You do not want to feel clammy when you hike and these quick-drying thermals keep away moisture and seams are are neat and flat inside to help prevent chafing.
As a woman you want to always feel comfortable when out hiking and that's why a great sports bra must be top of your list. I love this Bostock sports bra, which is super-comfortable, practical and perfect for keeping cool whether exercising or simply making the most of the summer weather.
From the moment you first put on these leggings I loved the stretch and flexibility. You need to stay comfortable and able to move freely when hiking and that's why I love these leggings, with a bit more support around the waist and stomach too, leaving you with a flattering streamlined look.
I literally own 20+ fleeces, in different thickness, different colours and with different thermal capabilities. They are my NUMBER ONE item when packing hiking outfits for a trip and this one is also a really useful layering piece.
Other recommended blog posts
You finish your hike and you arrive back at your campsite or hotel and you take a change, what do you want to wear? A cosy knitted jumper! Beautifully textured and wonderfully warm, this Shania cable knit jumper will see you through and keep you cosy.
TOG24 are amazing at delivering high-quality coats at affordable prices and this Gribton coat is no different. The chunky collar conceals a hood that can be adjusted with Velcro and toggles for a perfect fit against the rain and it's fully lined so it won't cling to your clothes. The coat also has smooth taffeta inside the arms and the inside seams are taped to ensure it's completely watertight. It also provides you with all the pockets you could possibly need for everything you need on the trail.
For winter hiking, a bobble hat is an essential. I own a lot more knit hats that is normal but that's OK because I love having options, depending on what else I am wearing whilst hiking. I love a white knit hat, as it looks crisp and clean, and always looks great in photos. The Leedon knit hat makes a great festive gift!
A little more light-weight for the shoulder seasons such as spring and autumn, this crew neck jumper is perfect – with stylish 3D effect graphic and a super soft cotton rich fabric. It's the perfect throw on jumper if you get a little chilly on a dog walk, or if the sun goes in whilst at the beach.
I love a graphic tee, especially when I am planning my outfits for hiking and this Dakota t-shirt is one of my favourites. You can celebrate the end of the working week, and the start of epic adventures over the weekend with this tee, which is easy to pair with jeans for a trip to the pub, or on the trail with leggings and hiking boots.
Like a hug in a jacket! The Nostell thermal jacket is an amazing jacket for those super cold hikes, or even when you are on the mountain. The Nostell padded puffer jacket is warm, wind resistant and has elasticated cuffs and toggle adjusters at the hem to keep the wind out. AND BONUS, Nostell comes with a high performance thermal-filling made from recycled plastic bottles!!! How amazing is that!
OK less of a hiking outfit item and more hiking essential! Every time I go hiking I take both my water platypus, and also a stainless steel insulated flask. They are great to keeping drinks cold or warm for up to 8 hours and have a vacuum sealed leak proof lid.
Also only relevant for winter sports enthusiasts but 100% essential for those types of trips! This stylish ski helmet cuts a dash on the slopes and enjoys EN1077 standards and featuring Conehead shock absorption.
Another great hiking outfit can include a gilet, designed for slightly warmer weather but with a quilted outer and soft marl fabric that is lightweight and wind-resistant.
I am already thinking about cruising down the ski slopes and this is the perfect combination of style and practicality. The Anvil quilted ski jacket is designed for winter sports with an invisible water repellent coating and ripstop fabric on the shoulders to avoid damage when you're carrying your skis. I've got two TOG24 ski jackets already and love taking them on the slopes!
*This blog post contains affiliate links, I earn a small commission for recommending items to you however it does not affect what you pay at check out.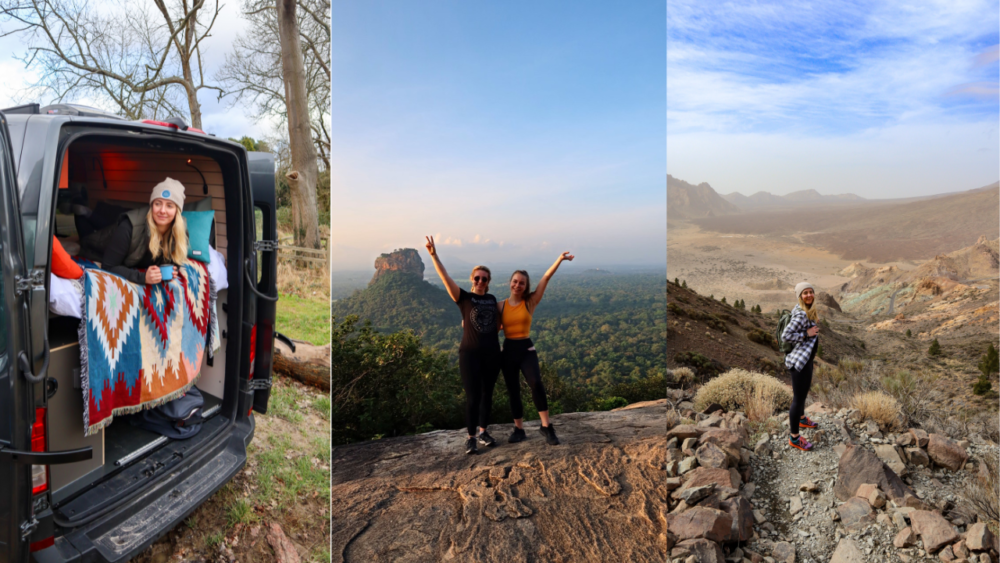 ---
If you on a bigger trip exploring more of Europe check out my guides to France, Germany, Greece, Iceland, Italy, Portugal, Spain and United Kingdom.
My Travel Tips and Recommendations
Flights
To book flights, I always use flight search engine Skyscanner, I regularly use the 'Everywhere' tool to find the cheapest places to travel. It's how I get to travel so much all around the world. I find it the easiest way to compare flight prices across airlines and get the best deals.
Accommodation
For accommodation, I usually book most of my hotels or hostels through Booking.com. I love using this platform as it provides me with some amazing deals for accommodation all around the world. Or if you prefer, I also recommend using Airbnb.
Travel Insurance
Picking travel insurance that covers you in all eventualities is an essential part of planning a trip for every single person. If you can't afford travel insurance, you can't afford to travel. You never know what's around the corner.
Did you know I also vlog my trips? Make sure you subscribe to my YouTube channel so you get alerted when all my travel videos go live… CHECK THEM OUT HERE
Thank you for reading and as always happy adventuring! If you have any questions about the destination please leave these in the comments below.
If you've enjoyed this post, please share it for me with all your friends and family!
Sophie X