Budapest, Hungary's capital, is located by the River Danube and what was once three cities Buda, Pest and Obuda, they have now united to form Budapest. The iconic 19th-century Chain Bridge connects the hilly Buda district with flat Pest, which was located just outside our hotel. And this is also where you will find the funicular which runs up Castle Hill to Buda's Old Town. I had the best 3 days in Budapest so make sure you use this Budapest Itinerary.
This is also where the Budapest History Museum traces city life from Roman times onward and Trinity Square is home to 13th-century Matthias Church and the turrets of the Fisherman's Bastion, which offer the most amazing views across the city.
There are so many things to do in Budapest, so I hope this guide to Budapest, including my ultimate Budapest itinerary, will help you plan your 3 days in the amazing city.
Budapest is the headquarters of the European Institute of Innovation and Technology, the European Police College and the first foreign office of the China Investment Promotion Agency. Over 40 colleges and universities are located in Budapest, including the Eötvös Loránd University, the Semmelweis University and the Budapest University of Technology and Economics, so it's also a great city for students too! There are also so many awesome and free things to do in Budapest…
Quite a lot of the capital of Hungary Budapest is classed as a UNESCO World Heritage Site including monuments such as the Hungarian Parliament, Buda Castle, Fisherman's Bastion, Gresham Palace, Széchenyi Chain Bridge, Matthias Church and the Liberty Statue.
Make sure you add all of the stops off to your Budapest Itinerary. Have you been to Budapest? Make sure you visit Hungary in 2020 with Jet2CityBreaks?
Budapest Itinerary
Top 10 Things to do in Budapest
Szechenyi Thermal Baths
Hungarian Parliament Building
Big Bus Budapest
Budapest Weekend Trip: The Buda Castle
Fisherman's Bastion
Chain Bridge
Shoes on the Danube Bank
Vajdahunyad Castle
Liberty Statue
Cave Church Inside Gellert Hill
Budapest attracts around 12 million international tourists per year, making it a highly popular destination in Europe. The city was chosen as the Best European Destination of 2019, a major poll conducted by EBD, a tourism organisation partnering with the European Commission. It also topped the Best European Destinations 2020 list by Big7Media. Budapest also ranks as the 3rd best European city in a similar poll conducted by Which? Magazine. (Source: Wikipedia)
Budapest was no different to when I explore a new city, and we booked all of our activities through my favourite app Klook! Klook is an awesome activity booking app and website, which gives you awesome access and discounts to some of the best experiences in nearly all cities around the world.
Budapest is a perfect example, as there's hundreds of activities you can book with them, including access to the Szechenyi Thermal Baths, Big Bus Budapest, river cruises, and a visit to the Hungarian Parliament,. Keep reading to find out my favourites.
So what are you waiting for?! Budapest is the city of the moment!! Use this guide to Budapest to plan your trip here, and use the list below as a starting point of what to add to your Budapest itinerary.
Budapest Itinerary
Christmas in Budapest
A great addition to your Budapest itinerary is Christmas in Budapest. In early December, with Christmas getting closer, Hungary and more specifically Budapest comes alive with festive cheer! The majority of Budapest's squares dress up in festive lights, vendors set up stalls and the air fills with the scents of mulled wine and cinnamon.
The best-known and biggest Christmas market is on central Vörösmarty tér and it's where most sellers have top-quality Hungarian handicrafts, while a huge food terrace, with street food and traditional dishes, offer tourists and locals anything from goulash, to pulled pork, and stuffed cabbage to street food favourite, lángos (deep-fried dough traditionally topped with sour cream, garlic and cheese).
St Stephen's Basilica around the corner, is also another great christmas market to visit, where you can also see colourful animations projected on the facade of the cathedral every half-hour after sunset which was lovely to watch with a mulled wine. The centrepiece here is a huge Christmas tree surrounded by an artificial ice-skating rink, where children under 14 can skate for free while parents drink and dine.
Budapest really is the best place to spend a festive weekend break with friends or your loved ones. Make sure you check out Jet2CityBreaks in Budapest to get a last minute deal here.
If you love ice skating, Budapest delivers! As they have the largest outdoor ice-skating rink in Europe at City Park, situated just steps away from monumental Heroes' Square in the shadow of the 19th-century Vajdahunyad Castle. This setting is especially romantic after the sun goes down, when the castle is beautifully lit up. You can rent skates for 2000Ft and fuel up on mulled wine or hot tea between laps.
There are many things to do in Budapest, and it is mainly known for its entertainment, buildings, history, and cheap Budapest food. Budapest holidays have always been quite interesting, so use this article to if you want to know how to spend a Budapest trip, including how to budget for your trip, as many visitors come here last minute and are on tight budgets.
One great thing about Budapest holidays is that you can explore the whole city within a few days. This makes it one of the best European cities to consider visiting for a 3 days in Budapest or a last minute Budapest vacation. Let's look at some of the things you need to do during your Budapest vacation to enhance your cheap trips to Budapest.

Budapest Itinerary
Planning a trip to Budapest
As with every trip I go on, I took my Budapest spiral guide from my favourite travel guide brand Marco Polo Travel Guides. The guide helped me plan my adventures in advance including the top spots to add to our Budapest itinerary, where the best cafes were, and even great Discovery Tours in lesser known areas of the city. I loved the Elizabeth Town in the Old Jewish Quarter where we stumbled across some amazing shops and historic monuments. We explored Budapest with this pocket-sized guide, and as usual it was packed with Insider Tips for our visit.
Using the guide you can pre-plan and discover hotels, restaurants, and shopping destinations, as well as experiencing the more local side to the famous city, such as where to go to find the best Israeli food! I loved the inclusion of special tips, personal insights and unusual experiences to add even more fun to our 3 days in Budapest.
My favourite part of the guide is the pull-out map which I can scribble on to plan our days, as well as use it as a road map! It was really useful for our trip to Budapest so I could draw a little itinerary for us as we were short on time.
The Marco Polo Budapest Pocket Guide includes:
Insider Tips
Best of Budapest
Sightseeing
Discovery Tours
Budapest in full-colour
Touring App
City pull-out map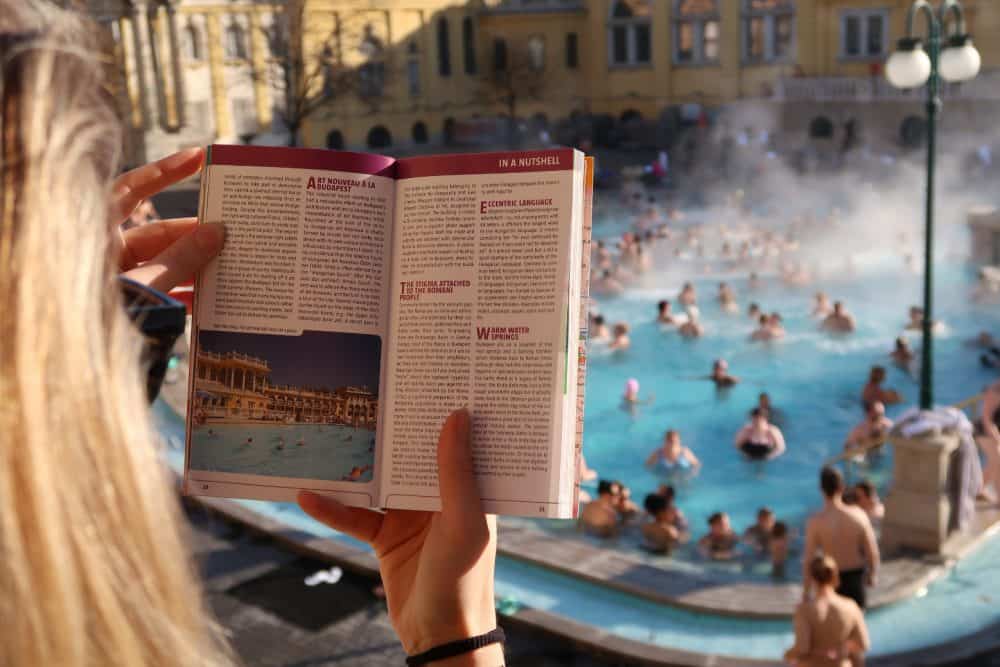 Budapest Itinerary
How to get to Budapest
I flew to Budapest with Jet2 Holidays from Birmingham International Airport. We opted to fly from Birmingham with Jet2 for our flights as the dates matched the dates we wanted to take off work, but they also fly from East Midlands and London Stansted. The check in process was incredibly easy, the staff were friendly, there was no queue at bag drop off and we only had to wait 15 minutes to get through security.
One thing I always find with Jet2 is that there is always someone on hand to help, or answer a question, and as someone who travels a lot, I know that does not happen for most other airlines. Jet2 are one of my favourite airlines to travel with, and they make going on holiday incredibly easy and stress-free. So I would 100% recommend booking Jet2 flights to Budapest now, before everyone find out….
When to go to Budapest
Budapest is a great city any time of the year. We visited Budapest in the winter season, as we wanted our Jet2CityBreaks to involve Christmas Markets, mulled wine and lots of festive cheer. However it's also a great city to visit in the summer, as Theo found out last year in June when the temperatures reached 32 degrees celsius.
Budapest is the northernmost city in the world with a subtropical climate with warm summers, but relatively cold winters. Therefore many visit Budapest in spring or autumn when the weather is generally mild but I really wanted to visit over winter, so we knew it was going to be cold and it was a crisp 1 degree, and at night dipped to around -2 degrees celsius.
Budapest Itinerary
Where to stay in Budapest
Located on the banks of the River Danube, next to Chain Bridge, the brand new Hotel Clark is within easy reach of all the main sights of this popular city. An adults-only hotel Hotel Clark Budapest exudes elegance from its lobby to the trendy bedrooms, and is a perfect choice for 3 days in Budapest. I loved our Jet2CityBreaks at Hotel Clark trip!
At the start of the day enjoy breakfast in the restaurant, before heading out to explore the city and then take some time to relax in the hotels sauna before dining in their a la carte restaurant Kiosk. The bedrooms are elegant with all the amenities you would expect, and the design inside is minimal but stylish, but lots of dark colours, cosy throws and warm lighting. I would definitely recommend upgrading your room to one with a balcony on the top floor, as we had an inside room, and we had no views from our room. Then you get stunning views over the River Danube.
During the summer months when the sun is out enjoy a relaxing drink at the seasonal rooftop bar Lion Bar with amazing skyline views, but don't forget to book a table first as it gets really busy and is popular with both locals and tourists! With its great location and exceptional service Hotel Clark Budapest is the perfect choice for a memorable stay in this amazing city.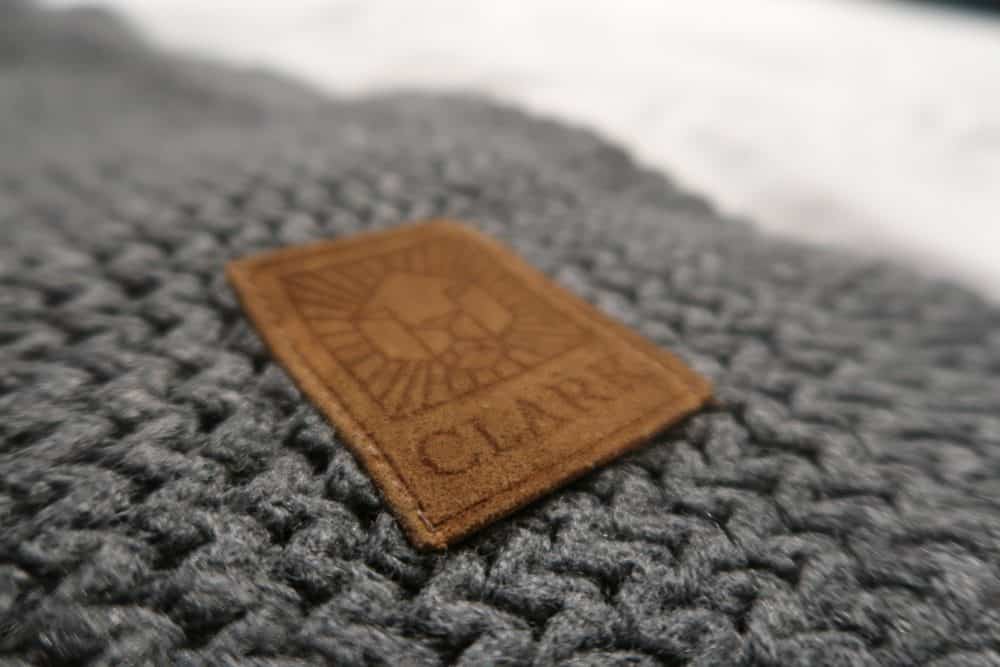 Budapest Itinerary
Top 12 Things to do in Budapest
Budapest city breaks are quite popular, and although there are many Budapest city break ideas, some Budapest winter breaks attractions should be strongly considered. These Budapest winter breaks attractions will be covered in this section. The Budapest winter breaks have been selected based on popularity and cost, so you can expect to see many affordable Budapest winter breaks.
Your Budapest winter breaks ideas should be determined by your budget. If you are planning a last minute Budapest getaway, you should consider going for the cheap Budapest attractions. Some of the cheap Budapest attractions will not even cost you a shilling. As we cover these locations, we will be sure to state which ones are cheap Budapest places and which ones are not ideal for last minute Budapest visitors.
Being an affordable city, your cheap trips to Budapest will not incur a lot of travel costs. You can move from place to place without spending a lot of money. The best Budapest winter breaks are located within the confines of the city, and this will further lower the cost of your cheap trips to Budapest.
Budapest Weekend Trip: Szechenyi Thermal Baths
It wouldn't be a trip to Budapest without going to the famous Szechenyi Thermal Baths. It's one of the biggest and best baths in Europe with 15 indoor baths and three outdoor pools. We spent a morning here and booked our skip the line tickets the day before with Klook for £17 each which included cabin usage, but didn't include towels, flip flops or dressing gowns. You can upgrade to have a ticket which includes this though, so an extra £20 each. We loved floating around in the thermals waters and soothing those aches and pains from walking 10k a day exploring the city!
To this day, Széchenyi Spa remains one of the most visited leisure attractions in Budapest with over millions of tourists and locals flock to the thermal waters on their weekend break in Budapest. For this offer with Klook, you can float around in the warm waters with a fast track admission and save some time for more realxing. I would recommend a visit – but go early to beat the crowds!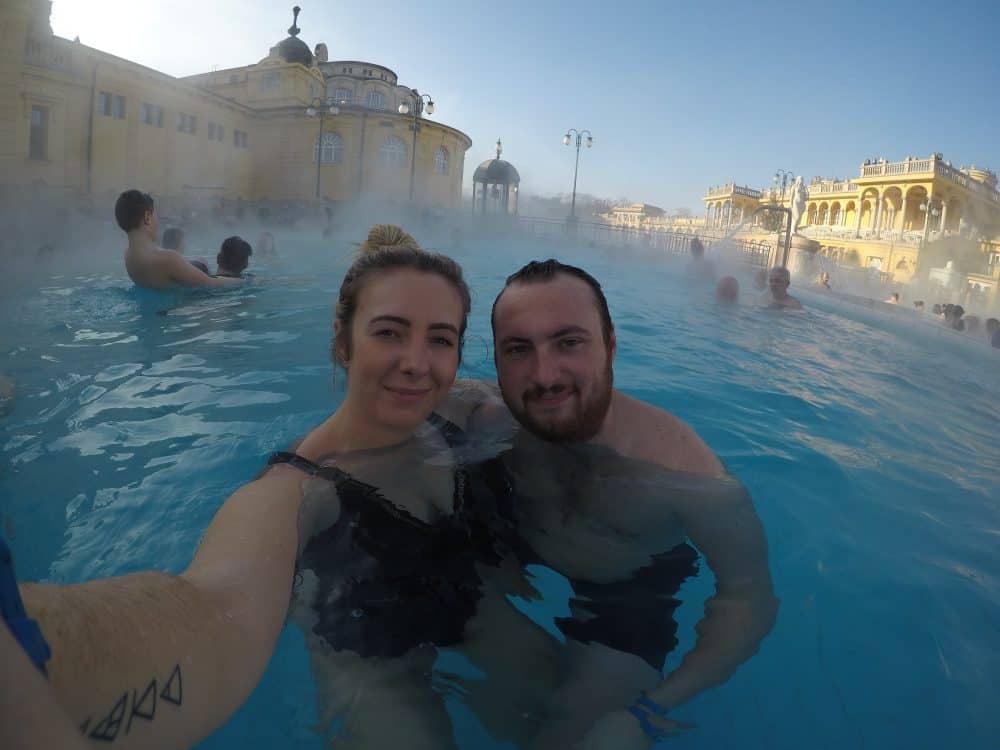 Budapest Weekend Trip: Vajdahunyad Castle
This something you have to see during your cheap trips to Budapest. The castle is located beside the beautiful boating lake in the city park, meaning it will be easily accessible during your Budapest city break. In your Budapest weekend, you should come here in the evening and watch how the castle is consumed by heavy fog. It is a stunning location for great Budapest trip photos that you will remember for the rest of your life. Visiting this ancient castle is one of the best things to do in Budapest and will take you a lot of time to fully explore.
Budapest Weekend Trip: Hungarian Parliament Building
This is a popular place to visit for Budapest holidays. Constructed in the 19th century, this is one of the most iconic places to visit in your Budapest trip. As you plan your Budapest vacation, make sure to include the Hungarian Parliament Building in your list of places to visit. In the evening, during your 3 days in Budapest weekend, take a stroll along river Danube and see how the sunset transforms the building with its orange glow.
Budapest Weekend Trip: Big Bus Budapest
On the morning we arrived we headed on to the Klook app and booked two tickets for Big Bus Budapest. We grabbed two Deluxe Tour passes for the hop-on-hop-off bus, which gave us 72 hours of access to transportation around the city and were only £25.29. There are three amazing routes, which stop off at 25 of Budapest's most scenic and prominent locations across the city.
On the Big Bus Budapest the routes stop at Heroes' Square, the National Museum, Parliament, the Basilica, the Opera, and with on board pre-recorded commentary in 23 different languages, you'll get valuable insight about each stop too. You can select the package that works for your schedule, with add-ons of a cruise, a walking tour, and a night tour. I loved getting a 72-hour pass as it gave us a lot of flexibility with getting around the city, which whilst compact, in the winter it can be cold and it was nice to jump on the bus warm up and head to our next stop.
A Classic Tour is valid for one day of unlimited hop ons and hop offs, letting you ride on all of the bus routes and gets you into the 11:00 am walking tour of the city. A Premium Tour offers the same and adds on access to a scenic river tour that lets you see the city skyline from the water. The Deluxe Tour offers all these things and in addition, gives you access to the Night Tour that allows you to enjoy the beauty of the city in the evening, as well as passes for the Buda Castle return shuttle. Choose whichever ticket suits your touring needs and enjoy sightseeing in the beautiful city of Budapest.
Budapest Weekend Trip: The Buda Castle
This should also feature in your Budapest trip. It is one of the historic buildings in the city and is a favourite in Budapest holidays packages. During your Budapest Trip, you should see this building and take some pictures to commemorate your Budapest holidays. It is easy to get here, especially using cheap trips to Budapest. It will take you at least 20 minutes to get to the top of this castle and get a better view for your Budapest trip pictures. The cheap Budapest life will make your vacation enjoyable.
Budapest Weekend Trip: Chain Bridge
This is another place that should not miss in your Budapest weekend plans. The bridge is the linking point between Pest and Buda. It is a beautiful structure that provides the best site to take photographs during Budapest holidays. The bridge stands firmly between the beautiful buildings that surround it, making it ideal for your Budapest trips. It looks more like Brooklyn Bridge in New York, but it has a unique beauty that lures people on Budapest weekend trips. Add the bridge to your list of things to do in Budapest. Visit the place during your cheap trips to Budapest and take in the beauty of the bridge. This is one of the fascinating things to do in Budapest, and it will make your 3 days in Budapest weekend sessions memorable. Now you know that two towns form Budapest: Buda and Pest.
Budapest Weekend Trip: Fisherman's Bastion
The Fisherman's Bastion is quite popular among last minute Budapest visitors. This is a neo-gothic terrace that kind of watches over the city, which is why it should be included in your last minute Budapest itinerary plans. It has seven towers, which are believed to symbolize the first seven tribes that occupied this land 1,200 years ago.
While looking for things to do in Budapest, this place must not be left out. The best time to visit the Fisherman's Bastion during your Budapest holidays is at night. You will get a better view of the twinkling lights in the city while enjoying your 3 days in Budapest weekend. The cheap Budapest life makes it an excellent Budapest winter breaks attraction because you will not have to dig deeper into your pocket to enjoy your Budapest holidays.
Budapest Weekend Trip: City Park
This is a magical location to visit during your Budapest winter breaks or Budapest city break. However, if you are going during summer, then there are many things to do in Budapest city park. For example, you can take a Budapest city break picnics with loved ones. Your Budapest winter breaks should be marked with a visit to park, where you will meet many people from different backgrounds. Some of them will even be in their Budapest weekend trips.
The cheap Budapest life will ensure that you have the best time during your last minute Budapest visit. Also, in your Budapest vacation, you will notice beautiful, well-maintained gardens around the place, and the lovely scene they create in City Park. Going to this place will make your Budapest city break highly remarkable.
Budapest Weekend Trip: Shoes on the Danube Bank
This might not be a great place for your Budapest vacation if you are emotional. The shoes on the Danube Bank are not something you will want to smile about during your Budapest vacation. They symbolize the lives of many people who were shot and killed in the city during World War II. But you need to come and see this during your Budapest city break.
You will get to learn a lot about the incident in your Budapest city break and why the shoes were placed at that particular spot. Most individuals who were killed in the city were innocent, so you can acknowledge them in your Budapest trip. Coming here during your Budapest vacation is highly recommended.
Budapest Weekend Trip: Liberty Statue
Everyone visits this statue in their Budapest vacations. Liberty Statue is an iconic statue found in the middle of the city, and this also means it will be easy to find in your Budapest city break. It was constructed in 1947 and has become a key attraction for cheap trips to Budapest. Your 3 days in Budapest itineray is not complete unless you set your eyes on this magical creativity. During your Budapest holidays, make sure you take as many Budapest vacation photos as possible at the Liberty statue to show to your loved ones back at home. There are many things to do in Budapest, and this is one of the most important ones.
Budapest Weekend Trip: Cave Church Inside Gellert Hill
Cave church is in Gellert Hill in Budapest, and it is a great place to spend your 3 days in Budapest weekend. If you take a tour of this fascinating landscape during your Budapest holidays, you can be sure that your Budapest weekend will be worth remembering. As you create a list of things to do in Budapest, you cannot afford to leave this one out as many visitors come here to enjoy their Budapest vacations. The church has a high altar, which is the most popular among last minute Budapest visitors. During your last minute Budapest vacation, these are the places to be as you stay away from the noise in the city.
Budapest Itinerary
Where to eat and drink in Budapest
Simpla Kert
Budapest is the home of ruin bars and they're like nothing else I've ever experienced in any city in Europe. What they've done is taken some skip-found furniture and random things, and then chucked them into an abandoned building, with crumbling walls, and then proceeded to fill it with booze and hipster vibes.
The most authentic of them all is Szimpla Kert on Kazinczy utca where me and Theo headed on our second night in Budapest, we grabbed some drinks and headed upstairs to one of the old rooms, sat at an old school table and chatted for hours. Others include Anker't, Csendes, and Fogas Ház.
Brass Boom
Brass Boom was was opened in May 2008 on Vörösmarty Square, the most central place in Budapest. Through the giant windows we can see the whole square, the Gerbeaud House, and the statue of Vörösmarty Mihály. The modern art deco styled interior is special because of the unique furniture. The food was also amazing, and we enjoyed our traditional food when we stopped one lunchtime to indulge in some Goulash to warm up from the bitter cold outside. The wine list contains the best outstanding Hungarian wines and wines from all over the world.
Mazel Tov
Head to Mazel Tov if you like the ruin bar concept in theory, but prefer things more upscale and love food. Theo and I headed to Mazel Tov on our final day in Budapest after many recommendations and we are so pleased we finally got to visit. This Middle Eastern restaurant inside Budapest's buzzing Jewish Quarter does have a disintegrating facade like other ruin bars, but the inside is a different story, with garlands hanging from the roof, fairy lights galore and the most incredible Israeli food I have ever eaten.
Here you can get a tasty cocktail, and then an array of food, including mezze plates, hummus bowls, kebab and much more. I enjoyed the shawarma plate (€8), and also the spicy merguez (€10), which is a North African sausage, made from beef here, and paired with beets, tahini, and matbucha.
New York Cafe
If drinking and dancing isn't your thing, then Budapest is also home to many coffee houses and cafes. The coffee-drinking culture dates back centuries, and New York Café is one of Budapest's most famous cafes. Once considered the most beautiful cafe in the world – adorned with the most stunning marble and gilded surfaces, lavish colours, and often they also play live Hungarian music.
Lion's Locker
This is one of the lesser known places, but Theo recommend it to me when he visited Budapest last summer. They serve the best breakfast here, and although underrated, I think it's simply because they are humble. Primarily they are a storage place, for travellers to stow their suitcases during their trip but they are also serving some great food and coffee with surprisingly low prices. For a latte and a "classic" breakfast for both me and Theo, and our my bill came to about £17. The service is quick and really friendly and I would definitely recommend checking this place out!
Bar Pharma
Budapest boasts a cutting-edge cocktail culture with dimly lit drinking dens and speakeasy vibes galore. Besides bringing classic favourites to perfection, bartenders also often create off the cuff, tailoring your drink to your taste. At Bar Pharma drinks are served in unique glasses, and even sometimes medication bottles.
Others worth a visit are Black Swan, Boutiq' Bar, Hotsy Totsy, and the iconic Warmup, where there's no drink list; you tell the mixologists what flavours you fancy and receive a custom-made cocktail that exceeds your expectations.
360 Bar Igloos
With monumental landmarks, colourful rooftops, and christmas lights shining over the city, the best place to head is up to the roof. And Budapest is a sight to behold from up above. There are plenty of rooftop bars with wraparound views of the city, and most of them operate year-round. The best-known is 360 Bar on Andrássy út where cocktails are creative and the crowd is cosmopolitan and at Christmas they turn this bar in to a winter wonderland, with igloos, mulled wine and much more. High Note Sky Bar is also worth a visit, and we headed here to admire the famous Basilica's dome.
Others include Intermezzo home to a bar in summer and a rooftop ice-skating rink in winter – with a magical view to the Parliament.
Other recommendations
Borkonyha in Parliament & Around
Kispiac in Parliament & Around
ESCA Studio in Erzsébetváros & the Jewish Quarter
Barack & Szilva in Erzsébetváros & the Jewish Quarter
Impostor in Belváros
Krak'n Town Steampunk Saloon in Southern Pest
Gettó Gulyás in Erzsébetváros & the Jewish Quarter
Csalogány 26 in Castle District
Pierrot in Castle District
Mák Bisztró in Parliament & Around
If you have never made a Budapest trip before, now you have a clue of what awaits on the other side. Create a list of things to do in Budapest, but do not leave out any of the ones mentioned above in your Budapest itinerary. They will make your Budapest city break worth remembering. Also, as you enjoy cheap Budapest life, don't forget to take Budapest vacation photos to share with your loved ones when you go back home.
As you plan your Budapest winter breaks, you should consider your budget. The cheap Budapest attractions and ideas covered in this guide will especially suit last minute Budapest travellers. If you plan your cheap trips to Budapest properly, you can end up spending a negligible amount of money. It would even be better to visit the cheap Budapest attractions in the city as they will cost much less. Have the best 3 days in Budapest and don't forget to use this Budapest Itinerary!
I travelled for 3 days in Budapest with Jet2 Holidays and fell madly in love with this winter wonderland city. Budapest city breaks are currently available from Birmingham, East Midlands, Edinburgh, Leeds Bradford and Manchester airports with Jet2.com/Jet2CityBreaks. Check out their website for more information and to book your weekend break in Budapest!
Other posts that may help you:
The Best City Breaks for Couples
The Ultimate Guide to the Christmas Markets in Copenhagen
Ultimate Guide to 48 Hours in Malmö
10 of the Best places to eat Brunch in London
Ultimate Guide to Columbia Road Flower Market London
Sign up to AirBnB with this link and receive a £23 off your first booking.
To receive my articles and reviews straight to your inbox SUBSCRIBE HERE.
Did you know I also vlog my trips? Make sure you subscribe to my YouTube channel so you get alerted when all my travel videos goes live… CHECK THEM OUT HERE
Thank you for reading and as always happy adventuring! If you have any questions about the destination please leave these in the comments below.
If you've enjoyed this post, please share it for me with all your friends and family!
Sophie X