The most amazing experience things to do in Sri Lanka is to take the Kandy to Ella train journey. Said to be one of the most epic train journeys in the world, it's certainly an experience worth adding to your Sri Lanka itinerary.
The train was originally introduced by the British Colonial government and Sri Lankan rail network in 1864 to transport tea from the tea plantations in the hills so they could export around the world from Colombo.
For many years, the Kandy to Ella Train route was simply tightly packed crates of tea on route to the big city for selling. However, these days it's simply a great way to travel through the country and its super affordable.
Today, the network is one of the cheapest ways to navigate Sri Lanka and is a vital transport link for locals. This train journey is without a doubt one of the top things to do in Sri Lanka.
The train journey from Kandy to Ella can take around six hours, but you can also break up the trip with a stop off in nearby Nuwara Eliya. You can jump off the train at a nearby colonial hill station 2,000 metres above sea level called Nanu-Oya and then take a taxi to Nuwara Eliya.
In Nuwara Eliya, you can find more history on British colonialism and a much colder climate. It is also where a lot of the island's tea plantations are located due to its height above sea level and temperature. Keep reading for recommendations on where to stay in Nuwara Eliya….
Keep reading this guide to The World's Most Beautiful Train Ride: Kandy to Ella Train, which includes everything from Kandy to Ella train times, train schedules, booking tickets for Kandy to Ella train and when you travel.
Looking for more Sri Lanka travel tips? CLICK HERE!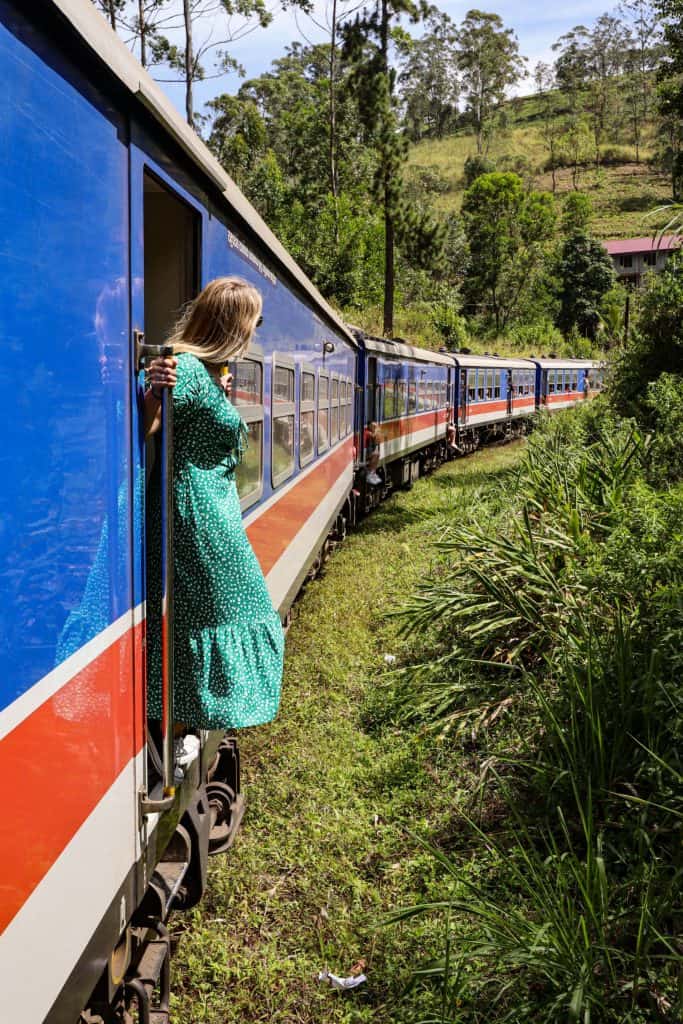 Tips for Kandy to Ella Train
Buy advanced tickets for 1st class
Bring water and snacks for the journey
Start your journey at Peradeniya Junction station to get a seat
Take it in turns to go to the open doors to take photos
There are toilets onboard
Avoid travel over Sinhalese Tamil New Year
Look after your belongings
The most scenic part of the journey is between Haputale and Ella and Ella and Badulla
Team up with another couple to look after belongings
Take your camera – the views are incredible!
But remember don't be reckless! Leaning out of the train can look fun but its highly dangerous, be careful and be aware!
My Kandy to Ella Train Experience
Train travel is one of the best ways to get around in Sri Lanka mostly because its cheap, but also because its easy. Trains may not be direct but they certainly offer you value for money and they provide some of the most amazing sights in Sri Lanka.
There are around 5 trains serving this route everyday, including both fast and slow trains. The fast trains are the blue trains.
The Kandy to Ella train ride forms only one section of the main train line route from Colombo to Kandy to Badulla (the longer option).
There is also an overnight sleeper train Colombo to Ella but I only recommend this if you are getting back and have witnessed the journey in the day time.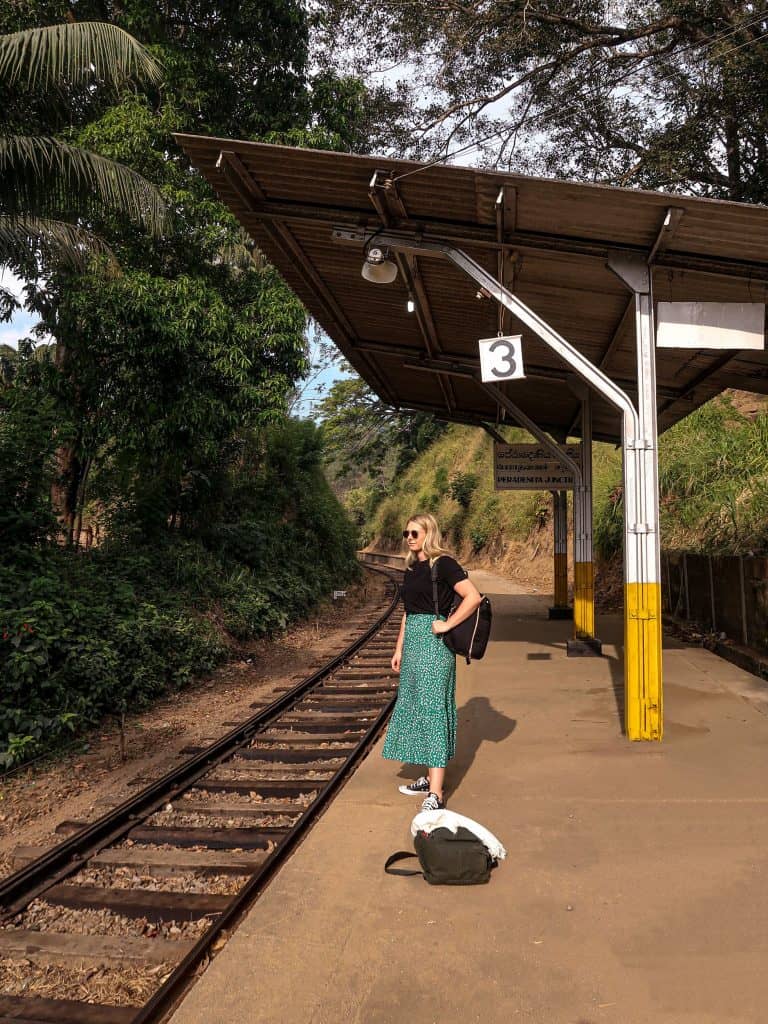 How much is the train from Kandy to Ella?
For our journey from Kandy to Ella, we arrived at Kandy train station and grabbed our tickets – you can expect to pay around $2-$4 for lower class, and $6-$10 for upper class for the entire journey!!!
There are three types of tickets you can buy for the train and they differ in cost and comfort.
1st Class – Reserved only tickets and can be bought in advance. They do have some left on the day, we were just lucky!
2nd Class – There can only be bought on the day of travel and you do not get a reserved seat.
3rd Class – The lower class, and the locals tend to travel using these. It's certainly an experience but may not be great for 6-7 hours.
Booking Kandy to Ella Train Tickets
We simply arrived at the station and bought a ticket from the ticket master booth. We opted for 1st class so we had somewhere to sit and stow our bags during the ride.
We didn't sit in the seats much though and instead decided to go and hang around an open door near the back of the train so we could get a proper view of the amazing countryside.
You can walk around the carriages, go to the toilet, or purchase snacks from vendors who wander about and during the six hours it's worth spending time at one of the open doors for one of those iconic shots.
But remember, stay safe and don't be stupid when it comes to sticking legs and arms out of doors!
I loved sitting and watching the tea plantations, villages and bridges passing by us, sometimes at speed, other times at less than 5 mph.
The views are just breath-taking, and they change continually, one moment its mountains, the next woodland and the next in the middle of a village.
Reserved tickets can be booked up to 30 days in advance but only in. You can either try to book these when you arrive or ask your accommodation to secure them before you arrive.
Timetable for Kandy to Ella Train Schedule
Make sure you check out the Kandy to Ella Train Schedule once you arrive in Sri Lanka as it can change. The journey takes around 7 hours – assuming there are no delays or breakdowns.
From Kandy | 08:47am*, 11:10am*, 17:00pm, 03:30am,
Check the most up to date timetable information on the Sri Lankan Railways website.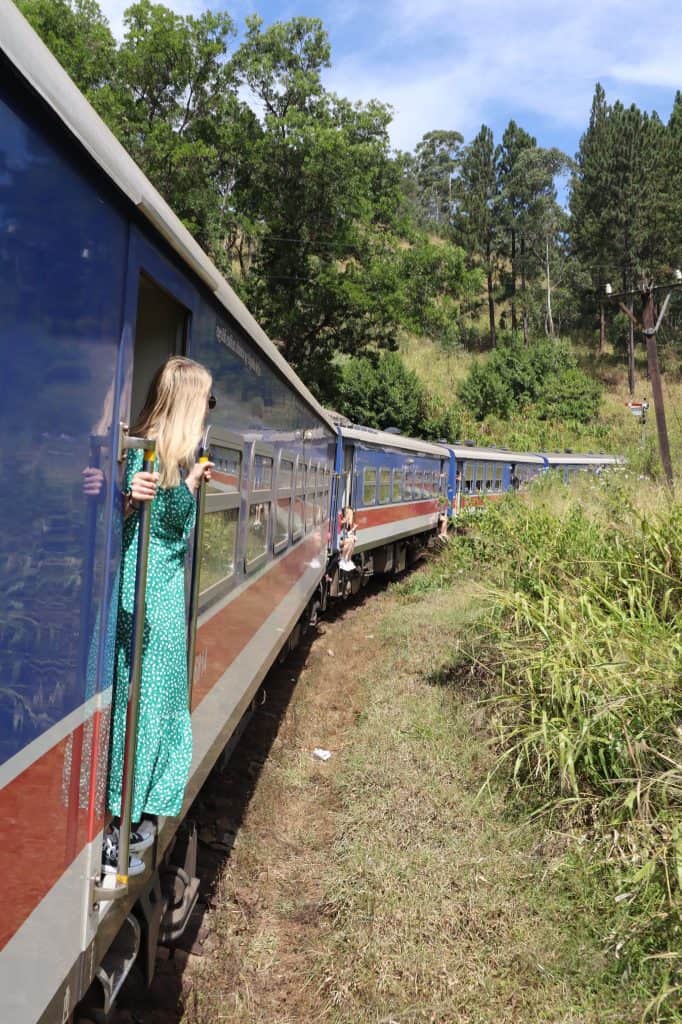 Where to stay in Sri Lanka
Nuwara Eliya – Jetwing St Andrews
Jetwing St Andrews – This hotel was incredible! The hotel is a little out of town, but it's worth it, with an incredible iconic history in these beautiful lands. Located high above the coastal plains of Sri Lanka, mountain clouds rest upon a blanket of tea plantations is the stunning hotel of Jetwing St Andrew.
It was in these very highlands where the colonial British retreated for cooler climates and built empires from hill stations that became their adopted home. A timeless favourite has always been the city of Nuwara Eliya – a city so nostalgic, that it has since earned the nickname of 'Little England'.
Set apart from Nuwara Eliya hotels, the hill country home of hospitality lives up to the city's historical moniker in all forms. As a restored Georgian style country mansion, we invite you to step back in time and indulge in all the pleasures of upcountry luxury – as did the English of yore, but now, with a contemporary Sri Lankan touch.
Kandy – Mahaweli Reach Hotel
Mahaweli Reach Hotel – Nestled beside the mighty Mahaweli River, Mahaweli Reach Hotel combines a sense of refined luxury with the old-world charm of an ancient kingdom.
Located at 488 meters above sea level, the city is the hill capital of Sri Lanka which offers incredible culture and history all the way to authentic local life. Discover the enchantment of Sri Lanka's hill capital like never before at one of the leading Kandy hotels where they say "our world revolves around yours".
My room here was a spacious room that combined traditional Sri Lankan aesthetics with luxury comforts, the Deluxe Room at the Kandy boutique hotel offers the ideal hideaway in the hills. Take in the enchanting atmosphere that surrounds Mahaweli Reach Hotel from your private balcony, providing idyllic views of the pool, lush gardens or best yet, the Mahaweli River that adds a sense of natural wonder to begin and end your day.
Ella – 98 Acres Resort & Spa
98 Acres Resort & Spa – If you are after some unique accommodation in Sri Lanka, this hotel is perfect for you. Here you can experience the beauty and serenity of Sri Lanka's scenic hill country within the luxurious comforts of a boutique hotel par excellence. 98 Acres Resort and Spa is an elegant, chic hotel that stands on a scenic 98-acre tea estate, surrounded by a stunning landscape.
The uniquely designed resort blends well with nature and consists of charming chalets mostly made of recyclable substance. Discarded railway sleepers are put to good use in the making of decks and walls at the resort. Rough, hewn granite lend simple elegance to the floors of chalets adorned with thatched roofs of 'Illuk' straw that adds to their rustic beauty.
The exquisite countryside, breathtaking views and exciting nature trails will assure you of a memorable holiday at one of the most breathtaking Ella hotels in the region.
Other options of where to stay in Sri Lanka
This train journey is one of, if not the most beautiful train journeys in the world, so add it into your Sri Lanka itinerary!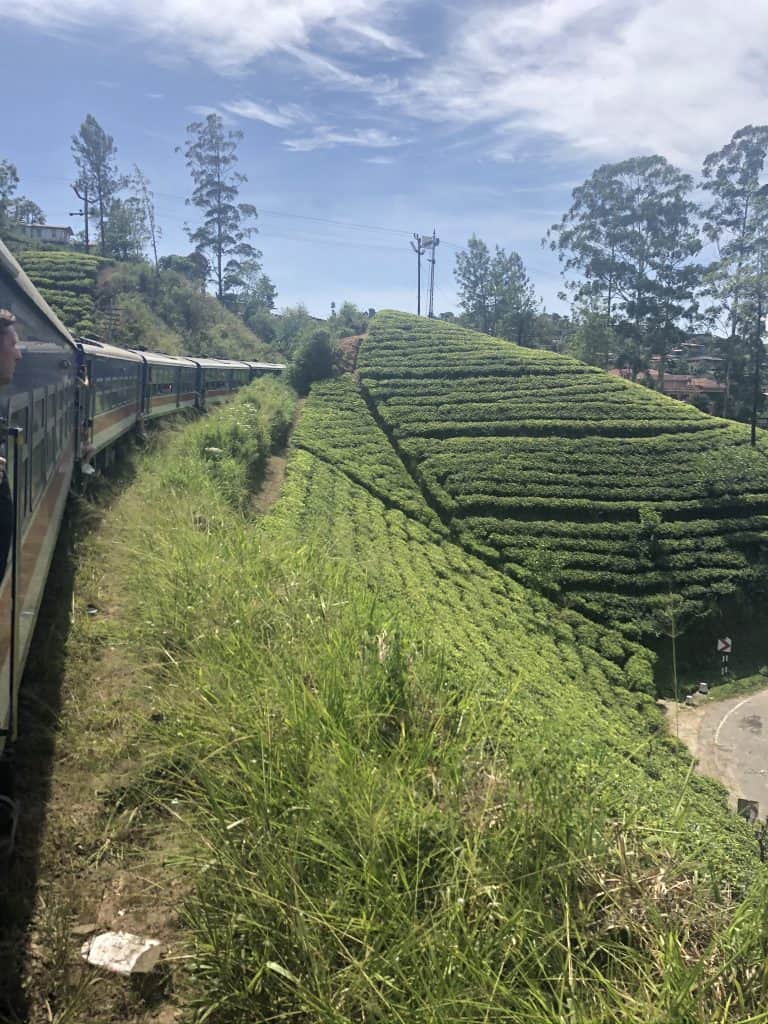 Tours of Sri Lanka
Explore tea plantations and rock fortresses on this 14-day tour, which is designed to please. This tour is about more than just beaches and stunning views; it's about the inspiring people you'll meet along the way. You will visit major cultural sights within Sri Lanka, including the most scenic train ride in the world from Kandy to Ella. All of the highlights, culture, access, and I-can't-believe-we-did-that moments, all at a great price. Includes expert guides, meals and transport.
Fancy a trip to the Maldives following your adventure in Sri Lanka? This is the tour for you! This 14-day combo trip brings together the best of Sri Lanka's cultural highlights and the once-in-a-lifetime opportunity to sail the islands of the Maldives aboard a dhoni boat. Experience a safari in Udawalawe National Park, discover cultural treasures of Negombo and Kandy, and then spend an entire week cruising from one tiny and perfect atoll island to another, snorkelling in crystal-clear waters and stretching out on blazing white-sand beaches. From culture to paradise, this tour's got it all.
---
My Travel Tips and Recommendations
Flights
To book flights, I always use flight search engine, Skyscanner, I regularly use the Everywhere tool to find the cheapest places to travel. It's how I get to travel so much all around the world. I find it the easiest way to compare flight prices across airlines and get the best deals.
Accommodation
For accommodation, I usually book most of my hotels or hostels through Booking.com. I love using this platform as it provides me with some amazing deals for accommodation all around the world. Or if you prefer, I also recommend using Airbnb. If you haven't signed up with Airbnb already, you can use this link to get £25 off your first visit!
Photography and Technology
Here is a list of the technology I always travel with:
Travel Insurance
Picking travel insurance that covers you in all eventualities is an essential part of planning a trip for every single person. If you can't afford travel insurance, you can't afford to travel. You never know what's around the corner. World Nomads is an affordable option that I personally recommend. BOOK HERE
Other posts that may help you:
15 Epic Things to do in Sri Lanka
Hiking Pidurangala Rock in Sigiriya Sri Lanka
Elephants in Sri Lanka at Minneriya National Park
50 Sri Lanka Photos to Inspire Your Next Trip
Hiking Riverston Matale and 'The Knuckles' in Sri Lanka
Pedro Tea Factory Tour in Nuwara Eliya Sri Lanka
Sign up to AirBnB with this link and receive a £23 off your first booking.
To receive my articles and reviews straight to your inbox SUBSCRIBE HERE.
Did you know I also vlog my trips? Make sure you subscribe to my YouTube channel so you get alerted when all my travel videos goes live… CHECK THEM OUT HERE
Thank you for reading and as always happy adventuring! If you have any questions about the destination please leave these in the comments below.
If you've enjoyed this post, please share it for me with all your friends and family!
Sophie X