Ready for a weekend break in York? I am a big fan of this magical city, after visiting many times over the past few years.
York is a city with Roman roots and a Viking past, almost exactly halfway between London and Edinburgh, and was founded by the ancient Romans. Its huge 13th-century Gothic cathedral, York Minster, has medieval stained glass and 2 functioning bell towers.
The City Walls form a walkway on both sides of the River Ouse. The Monk Bar gate houses an exhibition tracing the life of 15th-century Plantagenet King Richard III.
Combining the best of its heritage with modern British life, you'll feel as if you've stepped back in time as you amble down intertwining streets lined with 13th-century walls, but its thriving cultural scene will bring you right back to the present. It's a city of wonder, and there are so many things to do in the city, including some of the best tours in York.
Have you been for a weekend break in York?
Come along and find out what else we got up to and why you should visit York!
Weekend Break in York
Top 10 Things to do in York
York Minster
The Shambles
National Railway Museum York
Clifford's Tower, York
Jorvik Viking Centre
York city walls
The York Dungeon
Yorkshire Museum
Betty's Tea Room
York Museum Gardens
Weekend Break in York
How to get to York
The average journey time between York and London is 2 hours 50 minutes, or if you're not messing around the fastest journey time is 1 hour 47 minutes. On an average weekday, there are 43 trains per day travelling from York to London so its a super popular route and one which many people take on a daily basis.
And it's also accessible through other routes, such as if you're coming from Liverpool, Wales or the East coast. If you're coming from abroad the closest airport is Leeds and Bradford Airport, closely followed by Doncaster. However, the biggest airport located near to York is Manchester. Have an amazing weekend break in York.
When to visit York
The weather in York varies greatly from month to month, with cold and wet winters, and warm summers. The temperature is around 16-26 degrees in the summer, and -2 – 10 degrees in the winter. There are lots to do in York all throughout the year, and the city puts in place activities for these varying weathers.
If you're looking for the very warmest time to visit York, the hottest months are July, August, and then June. The warmest time of year is generally early August 21.5°C but if like me, you want to head to the Christmas markets in November or December you can expect temperatures around 1-5 degrees. Either way, you'll be prepared now for a weekend break in York!
Weekend Break in York
Visiting Jorvik Tricycles
During our Weekend Break in York, we visited the wonderful team at Jorvik Tricycles. The lovely owner James showed us around the showroom, explained why he set up the business and even let us go out and experience riding the trikes ourselves.
Jorvik Tricycles produce an array of trikes, including Classic Tricycles, Electric Tricycles, Mountain Trikes and Ex-Display Tricycles. They range from electric tricycles designed for long commutes to folding travel trikes for the more petite rider. Whether you never learned to ride a bike or you want an easy way back into cycling, they have a model for you. And if you are still unsure you can visit their showroom for a test ride!
When we visited I tried out the Jorvik Lightweight Adult Tricycle and loved the ease of use, how stylish it was and it was my favourite colour black. This trike is a joy to use, as the Lightweight Adult Tricycle is the easiest way to get back into cycling.
The tried and tested three-wheel design gives you the confidence to adventure at a pace that suits you. The full front suspension system soak up bumps in the road, while the rigid front and rear baskets keep your possessions firmly in place. For dog owners, bring them along for the ride with an attachable basket.
The Jorvik Story: When James Walker needed to find a good quality trike for his father, Stuart, who suffers from Parkinson's disease, he discovered a problem. The choice was limited, designs were outdated, and most were out of his budget.
As any family facing hardship would attest, James felt compelled to help his dad continue to do what he loves. But he was running out of options. Not willing to give up hope, he decided to take matters into his own hands. And Jorvik Tricycles was born.
Jorvik (pronounced Yorvik) quickly built an admirable reputation. Not just for the quality of the tricycles, but for the care and understanding that came with each and every sale. Today, Jorvik are one of the leading tricycle providers, supplying customers and cycle shops globally. The perfect way to spend a Weekend Break in York.
Weekend Break in York
Christmas in York
Visiting York Christmas Markets has to be one of the best ways to see in the festive period if you're in the UK in December. York switches on its lights at the beginning of December and then the festivities begin, with an array of Christmas Markets, fairs and shows to get our festive brain whirring. The Christmas markets tend to open around 15th November and go on into the New Year.
York Christmas Market is a great chance to soak up the city's medieval charm and scents of spiced mulled wine this season, as city transforms into a wonderfully festive fairytale. The most popular area of the festive scene is St Nicholas Fair, near Market Square, where the Scandinavian-inspired market includes over 100 wooden stalls selling an array of wares, including Christmas jumpers, fudges, gifts and local farm produce.
There are also carol singers and buskers, hot chocolate laced with brandy and chestnuts roasting on street corners. And if you've got the kids with you, there's even a chance to meet Santa himself…
York really does come alive in winter and offers couples, friends and families alike the opportunity to get festive and celebrate together. So what are you waiting for? Book your accommodation in York, book those train tickets and head over to York Christmas Markets this year.
ST NICHOLAS FAIR
St Nicholas' Fair, has become an iconic part of the York Christmas festival, which includes the Christmas market itself, a festive ice rink, the Christmas light switch-on, visits with Santa Clau and, York's traditional pantomime run. A record breaking one million visitors flock to St Nicholas' Fair each year, where 100 wooden chalets line Parliament St, snaking their way along St Sampson's Square, The Judge's Lodging and Coppergate.
The Christmas market sells an array of festive fare, from food and drink to handmade arts, crafts and gifts, with carol singers and buskers creating the perfect Christmassy atmosphere that can be heard from miles around.
YORKSHIRE YULETIDE VILLAGE AT SHAMBLES MARKET
The historic, vibrant Shambles Market is open in the heart of the city of York all year round, but at Christmas Made in Yorkshire returns to host its Yuletide Village, where you'll find the very best in local and handmade arts, crafts, food and drink. See demonstrations by craft makers from across Yorkshire and find unique and special gifts that you won't see anywhere else.
THOR'S TIPI
Thor's Tipi is a Scandinavian-style, Viking-inspired pop-up tipi bar that is hosted each Christmas in a variety of cities across the UK, including York, Leeds, Sheffield, Milton Keynes, Lincoln, Hull, Hyde Park Winter Wonderland and Regent's Palace. Inside, there are cosy log fires and Christmas cheer, while outside there's a winter garden complete with Christmas trees and outdoor heating. And, of course, don't forget the food and drink: outdoor barbecues, ale, mulled wine, Prosecco, hot chocolate and, of course, hot cider.
Places to visit in York
We had 48 hours explore this incredible city and made the most of our visit by getting the York Pass, which gives you free access to over 40 York & beyond attractions and it is the only ticket you need to experience and explore York! Here are just a few of the things we got up to during our weekend break in York…
1. York Minster
One of the most iconic buildings in York has to be York Minster. So add this place to your bucket list for your weekend break in York. A magnificent cathedral, with towering turrets, stained glass windows and stone buttresses. It is a marvel to view from both the inside and the outside and is a must-visit attraction for anyone spending a weekend break in York. You can also head downstairs into the underground chambers, where there is a history experience all about the cathedral, or if you have the stamina, walk the 275 steps up the central tower, offering views across the city!
2. York city walls
Another iconic must-see is a walk around the York city walls. The York city walls were first built by the Romans, and are now the longest medieval city barrier in the country. To walk the entire length will take hours, so my suggestion is to find an area you want to explore anyway and then head up on to the wall, as you'' then get some great views of the surrounding areas too.
3. The River
Like most British cities, the river plays such a large role in the history of a place. York is no different and The Ouse winds its way around the medieval city of York and it a hot spot in its own right. In December, we did not spend much time here but in the summer, it is a picturesque delight. You can also hire a boat and go for a cruise by yourself.
4. The Jorvik Viking Centre
Whilst Katie headed off to York Dungeon, I headed to the Jorvik Viking Centre to experience their famous Viking experience, which includes a mini-car you sit in as they take you around the history of York. It's like 'It's a small world' at Disney but with Vikings. In 866, the city surrendered to Danish invasion and it gives a great snapshot of what life would have been like back then!
5. York Dungeon
Katie headed off here whilst I experienced the Vikings, and she said she had a great time! York dungeon delves into the murky side of history with actors, live shows and special effects throughout the experience. However, it is not for the faint-hearted so be prepared to be scared. With a boatload of (terrifying) actors, live shows, special effects and sets that evoke as much horror as history, it is not for the faint-hearted.
6. The Shambles
My favourite place in York has to be The Shambles – an Old English word for the slaughterhouse, but these days it is lined with cute cafes, Harry Potter memorabilia, tearooms and much more. Many buildings in this street date back to the fourteenth century and still have butchers' hooks out front. The houses lean into the streets, offering some amazing shots when the crowds have gone. A must-visit for your weekend break in York.
7. Betty's Tearoom
The moment we arrived in York, we headed to the famous Betty's Tearoom to experience their legendary afternoon tea, which is one of Visit England's '101 things to do before you go abroad'. Founded in 1919, Bettys' is now a British institution and millions flock every year to taste their cakes and drink their tea. We booked ahead for the reservation-only luxury Lady Betty Afternoon Tea served in the first floor Belmont Room – it was a lovely way to spend a Friday afternoon!
8. York's Chocolate Story
Last but not least, chocolate – an essential for any weekend break in York! A visit to York must include a trip to York's Chocolate Story, located in the heart of York, close to The Shambles. It's an hour-long experience with a guided tour and chocolate-making opportunity at the end. It's a great way to uncover a host of surprising secrets and fascinating facts behind York's greatest chocolate products, from the Chocolate Orange to the Kit Kat.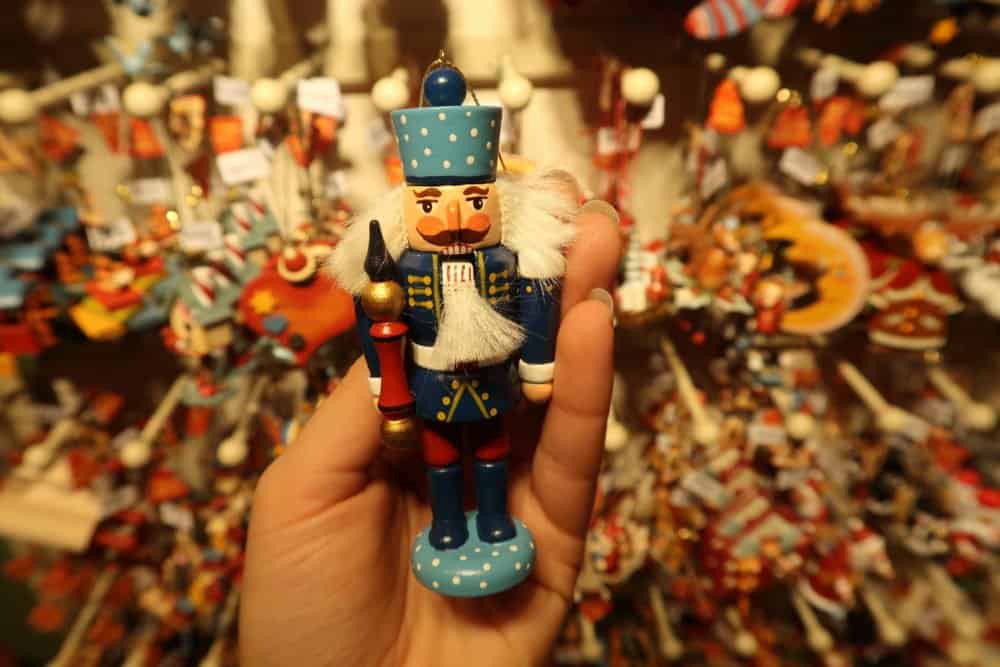 Where to stay in York
Park Inn by Radisson York City Centre
With an ideal location in this historic city, the Park Inn by Radisson Hotel York City Centre is just 10 minutes' walk from top attractions like The Shambles and Jorvik Viking Museum. I stayed here on my second visit to this wonderful city and was really impressed with the amazing views from our top floor room, the breakfast and the lovely staff.
The newly refurbished hotel has over 200 modern rooms, which include amenities like free Wi-Fi and an on-site gym. There's also a lovely restaurant and bar overlooking the river, where we enjoyed afternoon tea on the day we arrived. We sat in the corner of the bar and enjoyed a tasty afternoon tea of sandwiches and cakes, alongside tea and champagne. We both loved looking out across the river (despite the rain) and chatting as the boats went past the window.
The restaurant also serves food throughout the day and into the evening, which includes burgers, salads and more. There is also 12 meetings room and event facilities if you're hosting a party or work get together. A wonderful hotel for any weekend break in York.
Staycity Aparthotels York
Whilst we were there, we stayed at the wonderful Staycity York, just on the outskirts of the city for two nights in a two-bedroom apartment overlooking the city walls. Staycity Aparthotels are the perfect way to experience a new city – combining all of the advantages of a hotel with the comforts of home.
It is just like being in your own home – you can put your feet up in the living room, watch TV on the flat screen, browse the internet using the complimentary WiFi and help yourself to endless cups of coffee in the fully equipped kitchen. We loved staying at Staycity York and it really felt like a home away from home for our weekend break in York.
Staycity Aparthotels are the perfect way to experience a new city – combining all of the advantages of a hotel with the comforts of home. The apartment is just like being in your own home – you can put your feet up in the living room, watch Netflix on the flat-screen TV, browse the internet using the complimentary WiFi and help yourself to endless cups of coffee in the fully equipped kitchen.
For breakfast we made full use of our kitchen, cooking up eggs on toast in the morning, and watching TV as the sun began to rose. There is also a Co-Op convenience store below the hotel which was super useful for grabbing the essentials we needed e.g. wine, cheese… The perfect stay for our weekend break in York.
Where to eat in York
The Press Kitchen
On our first day in York, we headed to The Press Kitchen! The restaurant can be found on Walmgate within York's walled city centre and is a café by day, restaurant, and bar by night. From the outside, The Press Kitchen does not look much more than one room but enter within and the restaurant is never-ending, offering a variety of seating areas.
It is split over two floors – including a sun-filled courtyard and allows fine dining in a relaxed atmosphere. They also have a love for music, with a jukebox in the room to the left, which you can pick your own soundtrack to your meal.
The menu is eclectic and accessible, offering an array of modern Mediterranean cuisine, including pasta dishes, meat platters and Mexican breakfasts. We loved dining here and the food was incredible – we will be returning!
The Ivy York
Another iconic venue is The Ivy! We dined here for breakfast on our last day in the city and loved the relaxed yet sophisticated all-day dining experience. They serve food all day, from breakfast to dinner, and everything in between.
Cut & Chase
This independent restaurant and cocktail bar has been packing in the crowds since opening its doors on Goodramgate in 2016 and it is not hard to see why. Trendy at its heart, Cut & Chase offers industrial décor, set against cushions and fabrics. In addition, the menu is hard to miss too, with all-time British favourites, cocktails and Belgian waffles.
The Botanist
I have been to a few of these across the UK, and York is no different when it comes to their unique concept. They offer a wide range of food and drink, and a large selection of curious botanical cocktails, craft beers and ales, Champagne and wine, as well as an extensive menu.
Spark
We stumbled across this trendy place on our walk from the hotel and the city centre. It's an area filled with old shipping containers offering a vibrant mix of street food from local independent chefs.
So when are you heading for a weekend break in York?! I can't wait for you to experience this magical city!
*Thank you to Visit York for inviting me to your wonderful city!
---
My Travel Tips and Recommendations
Flights
To book flights, I always use flight search engine, Skyscanner, I regularly use the Everywhere tool to find the cheapest places to travel. It's how I get to travel so much all around the world. I find it the easiest way to compare flight prices across airlines and get the best deals.
Accommodation
For accommodation, I usually book most of my hotels or hostels through Booking.com. I love using this platform as it provides me with some amazing deals for accommodation all around the world. Or if you prefer, I also recommend using Airbnb. If you haven't signed up with Airbnb already, you can use this link to get £25 off your first visit!
Photography and Technology
Here is a list of the technology I always travel with:
Travel Insurance
Picking travel insurance that covers you in all eventualities is an essential part of planning a trip for every single person. If you can't afford travel insurance, you can't afford to travel. You never know what's around the corner. World Nomads is an affordable option that I personally recommend. BOOK HERE
Other posts that may help you:
Ultimate Guide to a Weekend Break in York
10 of the Best places to eat Brunch in London
The Best Weekend Trips in the UK
Ultimate Guide to Columbia Road Flower Market London
Log cabins with hot tubs in the UK
Sign up to AirBnB with this link and receive a £23 off your first booking.
To receive my articles and reviews straight to your inbox SUBSCRIBE HERE.
Did you know I also vlog my trips? Make sure you subscribe to my YouTube channel so you get alerted when all my travel videos goes live… CHECK THEM OUT HERE
Thank you for reading and as always happy adventuring! If you have any questions about the destination please leave these in the comments below.
If you've enjoyed this post, please share it for me with all your friends and family!
Sophie X