Last month I travelled to Northern Ireland with my best friend Katie, and we went on an epic road trip along the Causeway Coast, took a pit stop in Portrush overnight, and then ventured for a weekend in Belfast.
Belfast is the capital of Northern Ireland and is located under 2 hours away from all the best nature that Northern Ireland has to offer. If you visit Belfast during your Ireland road trip itinerary, and we think you should make sure to check out the Titanic Museum Experience and walk around the Titanic Quarter. So many fun things to do in Belfast.
If you have longer than three days, I would consider including Ireland and the southern counties too. You could spend two weeks exploring this magical land, spending a few days in each location, so you can really immerse yourself in Irish culture and eat lots of Irish food.
There are also lots of free things to do in Belfast, so it doesn't even need to be an expensive trip!
There are so many fun places to visit in Belfast! Here are just a few…
Keep reading for my guide to a weekend in Belfast…
1. Belfast Food Tour with Taste & Tour
The best thing to do on a weekend in Belfast is the award-winning Belfast Food Tour takes you on a 4-hour fun and food-filled guided walk to some top food and drinks spots around Belfast City Centre. Start in the historic St George's Market, meeting producers, then visit traditional bars, world-class shops and finish in a top restaurant in the lively Cathedral Quarter, eating and drinking over 25 of some of the best local food and drink along the way. For my full review, check out my Belfast Food Tour with Taste & Tour.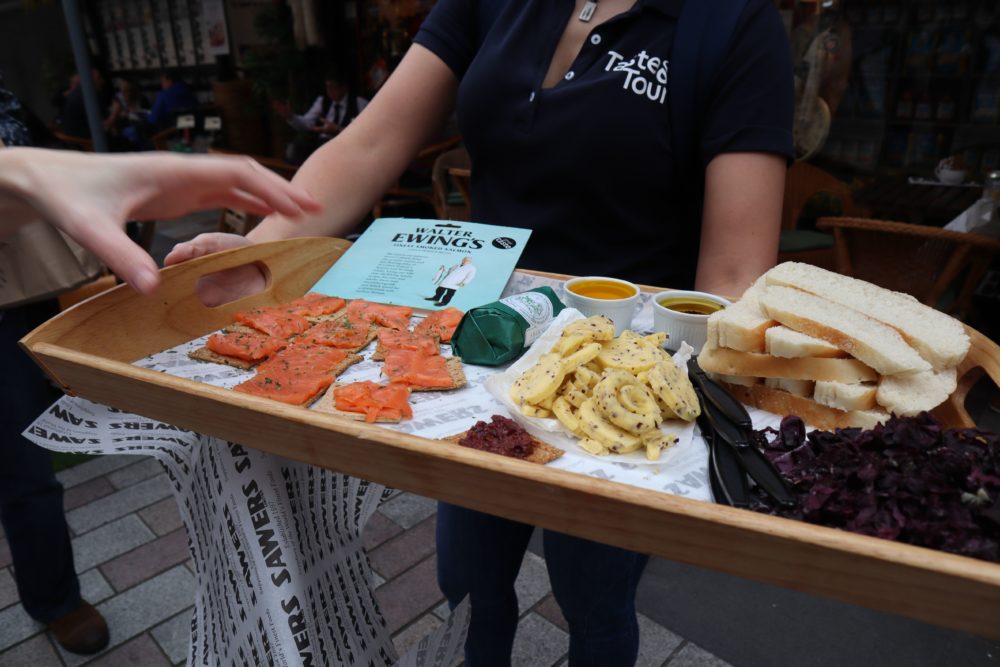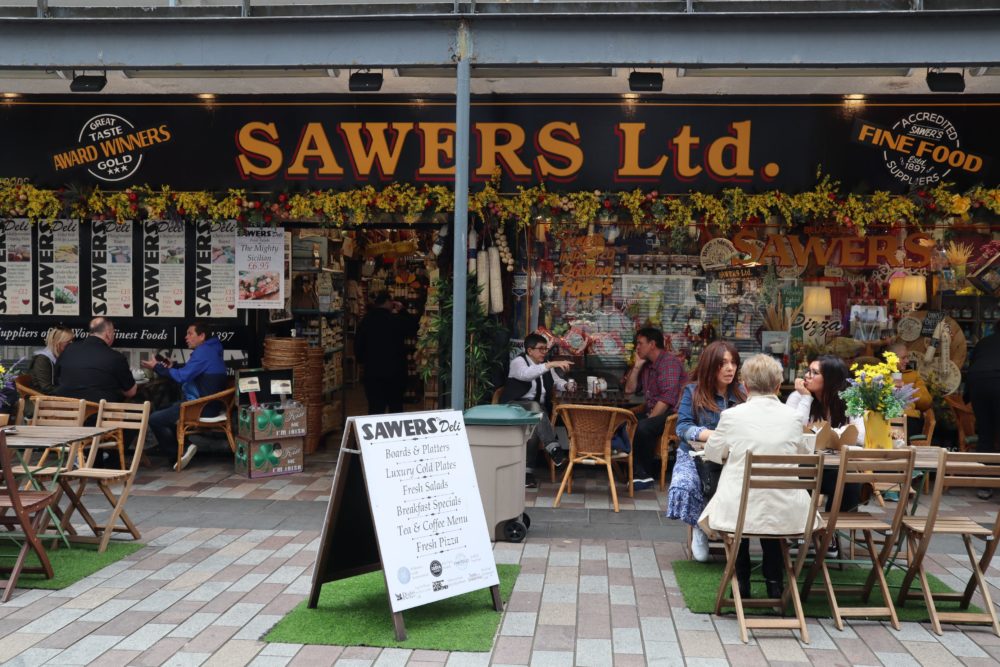 2. Belfast City Hall
The home of Belfast City Council, the City Hall was designed by Alfred Brumwell Thomas. Completed in 1906, it was constructed to reflect Belfast's city status which was granted by Queen Victoria in 1888.
The building's rich interior includes a number of notable features: the Grand Staircase, the Reception Room and the Great Hall. The Titanic Memorial Garden pays tribute to those who lost their lives on the ship's fateful, first voyage.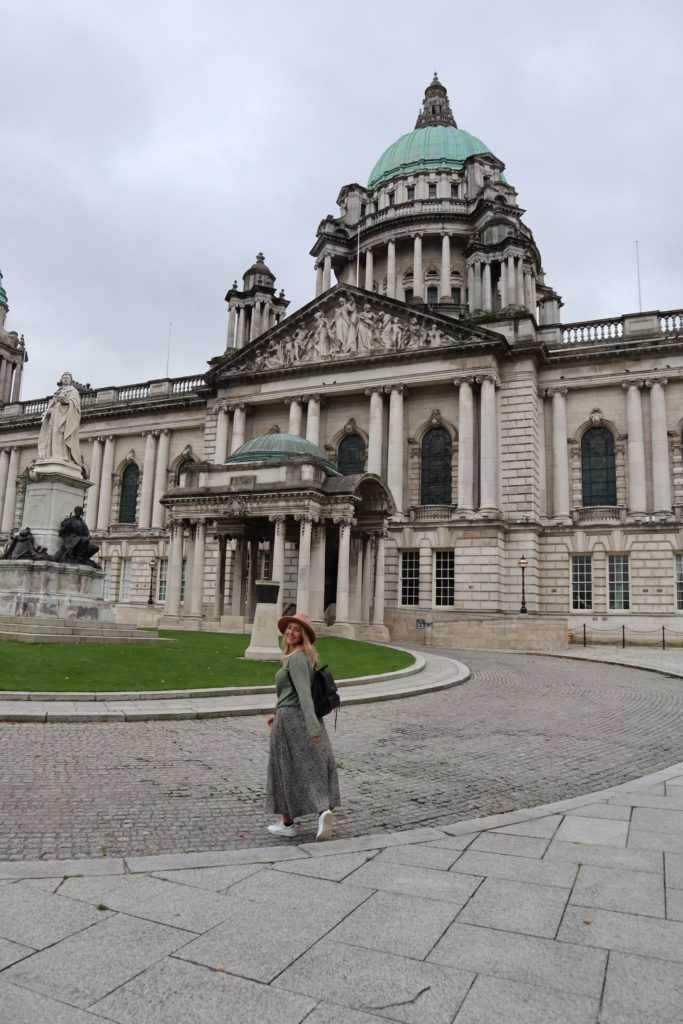 3. Titanic Belfast
Constructed at the cost of £97million and opened in 2012, Titanic Belfast relates the story of the famous ocean liner. The iconic building (shaped like the bows of a ship) comprises of 9 galleries over 4 floors.
Titanic Belfast transports the visitor through time: travelling from Edwardian 'Boomtown Belfast' (learning about the lives of the workers who built the ship and the lives of the passengers and crew who made the fateful voyage) to the present day with live streaming from where the wreck lies at rest on the ocean floor.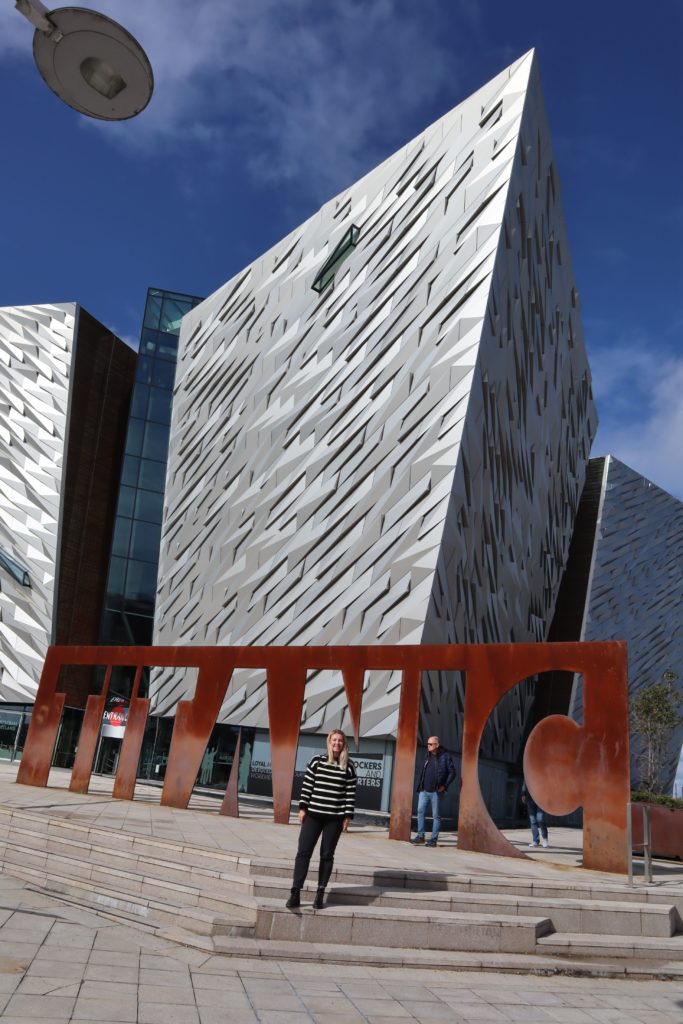 4. St George's Market
St George's Market is the last surviving Victorian covered market in Belfast, Northern Ireland. It is located on May Street, close to the River Lagan and the Waterfront Hall. Belfast Corporation commissioned the building of St George's Market, which was built in three phases between 1890 and 1896.
Before 1890 St George's Market was an open market and most likely contained a slaughterhouse and a meat market. Today it is a thriving market with 300 traders, crafters musicians and food vendors. One of the best Belfast attractions!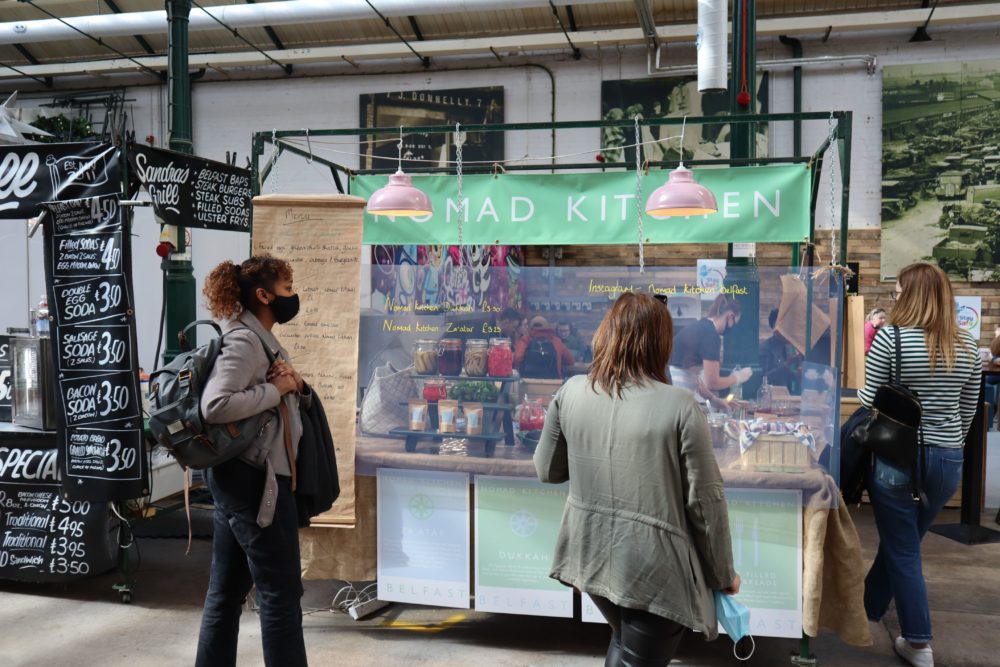 5. Titanic Quarter
Belfast's historic and resurgent Titanic Quarter is one of the world's largest urban-waterfront regeneration projects. Rising from the very spot where the Olympic class liners were hammered into shape, Titanic Belfast's "iconic" shards thrust skywards.
An outline as distinctive and familiar as Samson & Goliath, The Lanyon Building at Queens or Belfast City Hall, Titanic Belfast is Northern Ireland tourism's runaway success story.
6. Belfast Castle
Built by the Normans in the 12th Century, the original Belfast Castle probably sat within what later became the City of Belfast itself. In 1611, Sir Arthur Chichester (later created Baron Chichester) replaced the old castle with one made of stone and timber, building on the same spot as the original castle.
The castle grounds were are just the beginning, as there are also plans for the castle to include an open-air theatre, clay pigeon shooting, archery, tennis courts, bowling greens, squash courts, and mini-golf. With such an ambitious project, a sub-committee estimated that the minimum possible cost would be ₤160,000 before considering the cost of employing groundskeepers and the cost of restoring the building.
7. Lunch at Titanic Hotel
Opened in autumn 2017, Titanic Hotel Belfast is located in the Harland & Wolff Headquarters building, once the nerve centre of the largest shipyard in the world. Thousands of ships were designed in the Drawing Offices and constructed on the adjoining slipways, including the White Star liners Olympic, Titanic and Britannic and the naval warship HMS Belfast.
The magnificent dual Victorian Drawing Offices, with their three-storey high barrel-vaulted ceilings, are the only surviving example of this type of architecture in the world. The building is 'listed' due to its special architectural and historical importance. A must-do during a weekend in Belfast!
8. Ulster Museum
Located in Belfast's Botanic Gardens, the Ulster Museum re-opened in 2009 following an extensive £17 million refurbishment.
With 8,000 square metres of public display space, the museum is the largest museum in Northern Ireland and one of the components of National Museums Northern Ireland. Exhibits include material from the collections of fine art and applied art, archaeology, ethnography, local history, numismatics, industrial archaeology, botany, zoology, geology and the Spanish Armada.

9. Botanic Gardens
Situated beside Queens University Belfast, the Botanic Gardens represent an important part of Belfast's Victorian heritage and remain a popular meeting place for residents, students and tourists. First, established in 1828, the people of Belfast have enjoyed the gardens as a public park since 1895.
Designed by Charles Lanyon, The Palm House is one of the earliest examples of a curvilinear cast iron glasshouse. A second "listed" glasshouse is also located within the park: the Tropical Ravine is the only example of its kind left in Northern Ireland (a Victorian Eden Project). Another great thing to do in Belfast with kids!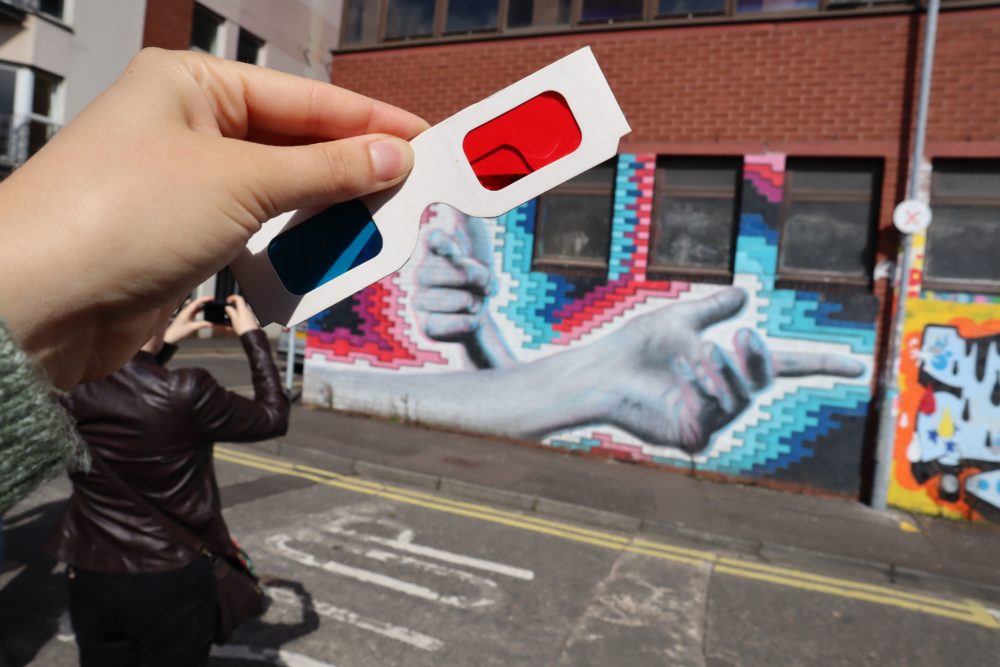 10. Belfast Street Art Walking Tour with Seedhead Arts
Belfast is famous for its Street Art and there are hundreds of tours that will show you the murals of the conflict. But what about now? Where has this tradition of painting on our walls led us?
Like Berlin and Bethlehem, also famous for their walls, Belfast has become a place where street art has flourished, where artists from around the world have come to paint.
Devised and led by the local artists who have driven the scene in the last few years this 2 hours long, gently paced guide to the ever-changing face of street art in the Cathedral Quarter.
Are you planning a weekend in Belfast? I hope this guide is useful. Also, check out my Northern Ireland Road Trip Itinerary.
If you on a bigger trip exploring more of Europe check out my guides to France, Germany, Greece, Iceland, Italy, Portugal, Spain and United Kingdom.
---
My Travel Tips and Recommendations
Flights
To book flights, I always use flight search engine Skyscanner, I regularly use the Everywhere tool to find the cheapest places to travel. It's how I get to travel so much all around the world. I find it the easiest way to compare flight prices across airlines and get the best deals.
Accommodation
For accommodation, I usually book most of my hotels or hostels through Booking.com. I love using this platform as it provides me with some amazing deals for accommodation all around the world. Or if you prefer, I also recommend using Airbnb. If you haven't signed up with Airbnb already, you can use this link to get £25 off your first visit!
Travel Insurance
Picking travel insurance that covers you in all eventualities is an essential part of planning a trip for every single person. If you can't afford travel insurance, you can't afford to travel. You never know what's around the corner.
Did you know I also vlog my trips? Make sure you subscribe to my YouTube channel so you get alerted when all my travel videos go live… CHECK THEM OUT HERE
Thank you for reading and as always happy adventuring! If you have any questions about the destination please leave these in the comments below.
If you've enjoyed this post, please share it for me with all your friends and family!
Sophie X