HOTEL REVIEW: Riad Les Yeux Bleus 
Imagine stepping back in time or even to Yunkai aka Game of Thrones. Marrakech is a familiar sight for those that are fans of the drama series, especially the medina area of this bustling city.
When I visited Marrakech last month I was in awe of the beauty of this wonderful city from the narrow lane near the souks, to the stunning scenery of the Atlas Mountains. Whilst in Marrakech I stayed in a small hotel called Riad Les Yeux Bleus, located in the Bab Doukkala district, one of the most popular and picturesque quarters of the medina. It was also only ten minutes on foot from the square of Jemaa el Fna in the heart of Marrakech. Follow me on Instagram to see what else I got up to!
The Riad Les Yeux Bleus features eight comfortable bedrooms—each one decorated in its own style—distributed around two charming patios; a pool, a library, a full spa including massage and hammam, and a magnificent roof terrace with a bar and jacuzzi. It is the perfect place for you to relax after a hard day of exploring the wonders of Marrakech! There was literally nowhere I'd rather be than on that terrace with a glass of wine in hand.
When we arrived we were treated to a mint tea and cookies which were a welcomed treat after a long delay from London and nearly a nine hour door to door journey. As you walk through the streets leading up to the hotel you would never have guessed what lay behind the rustic wooden door. As you dip your head through the door you are transported in to a haven of serenity and peace.
The hotel is focused, as the name Riad suggest, around a pool in the middle of the hotel courtyard with seating for guests, with rooms off every side of the courtyard to bedrooms, relaxation areas and more.
Our room was on the ground floor just off the courtyard pool. It was a traditional room with twin beds, open-plan layout with bathroom towards the end of the room with shutters to keep the light out. The rooms had no locks but this wasn't a problem because from the moment you arrived you felt safe.
I ate at the hotel twice, once when we arrived and once for dinner on our last night. On our first day we headed straight up two floors to the roof terrace for lunch beside the Jacuzzi with views across the city.
We enjoyed a traditional Moroccan lunch of vegetables, cous cous and chicken tagine followed by a quick dip in the rooftop pool before a mid-afternoon nap. On our final night we again went up to our favourite place on the terrace and felt truly spoilt as they bought up a delicious dinner and made us feel like we were the only people in Marrakech.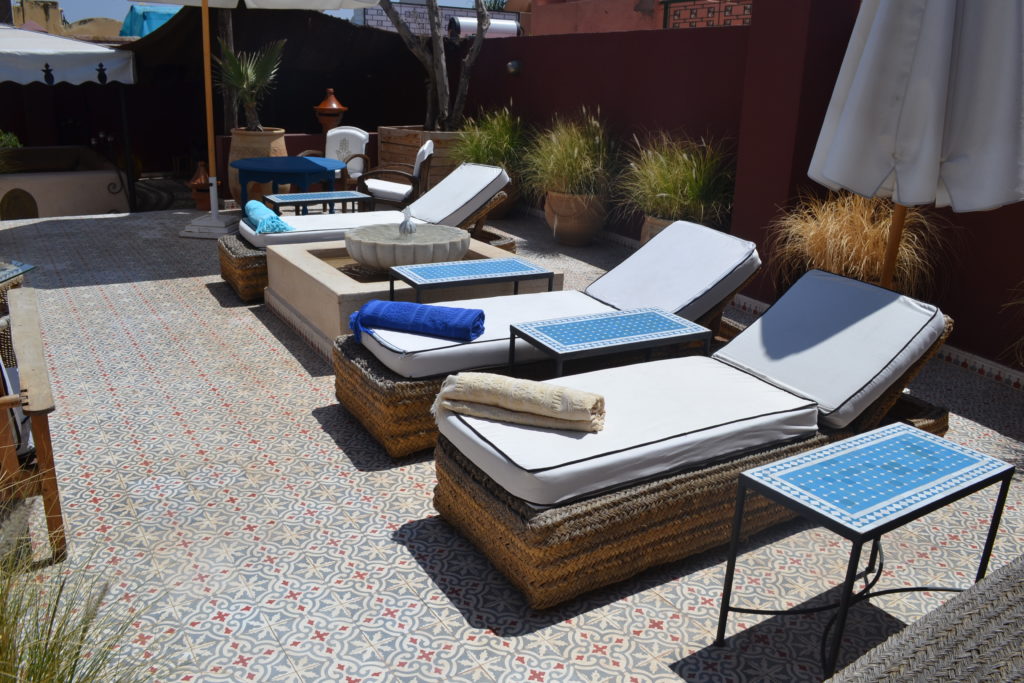 The hotel simply oozed relaxation, everywhere I went within the hotel I felt calm, safe and at peace within my little oasis within the bustling city. From the moment I stepped foot in this hotel I fell in love. And it wasn't only the hotel; the staff were so friendly too. Whether they were helping us pin point places on a map for our explorations or getting us drinks whenever we needed they were amazing, oh and they were always smiling!
I have said this lots since I returned, but I would go back to Riad Les Yeux Bleus in a flash.
Address: 7 Derb El Ferrane, Bab Doukkala, Medina, Marrakech, Morocco
Prices: 170 euro low season or 200 euro high season
*Thank you to Riad Les Yeux Bleus and Discover Ltd for hosting me whilst I was in Morocco. All opinions are my own, obviously. Who else's would I have?