One of my favourite trips of last year was a 5 day trip to Morocco, where I spent a few days immersed in Moroccan culture in Marrakech and then a further few days in the Atlas Mountains.
During my 5 days in Morocco we spent 3 days in Marrakech. I was totally taken aback by the beauty of the country, and of its bustling capital of Morocco, Marrakech.
This trip was different from the moment I landed; it just seemed different to other trips I have been on. It was an incredible country, with beautiful markets, sensual gardens and an intriguing culture. There was certainly nothing subtle about this beautiful country, as it attacked your senses both through the eyes, ears, and mouth.
The combination of age old North African cuisine, and modern-European flavours, has opened up Marrakech as a food-haven. The city's fine dining landscape is amazing and its food is so much more than tagine and couscous, with mouth-watering food with exotic spices, and kick-ass flavour combinations.
The capital is surrounded by desert and within its harsh conditions has become a thriving and exciting city offering tourists the very best of African life, set against modern buildings, and traditional souks. The capital of Morocco Marrakech tantalises the taste buds with so many gastronomic delights so here are the best restaurants in Marrakech….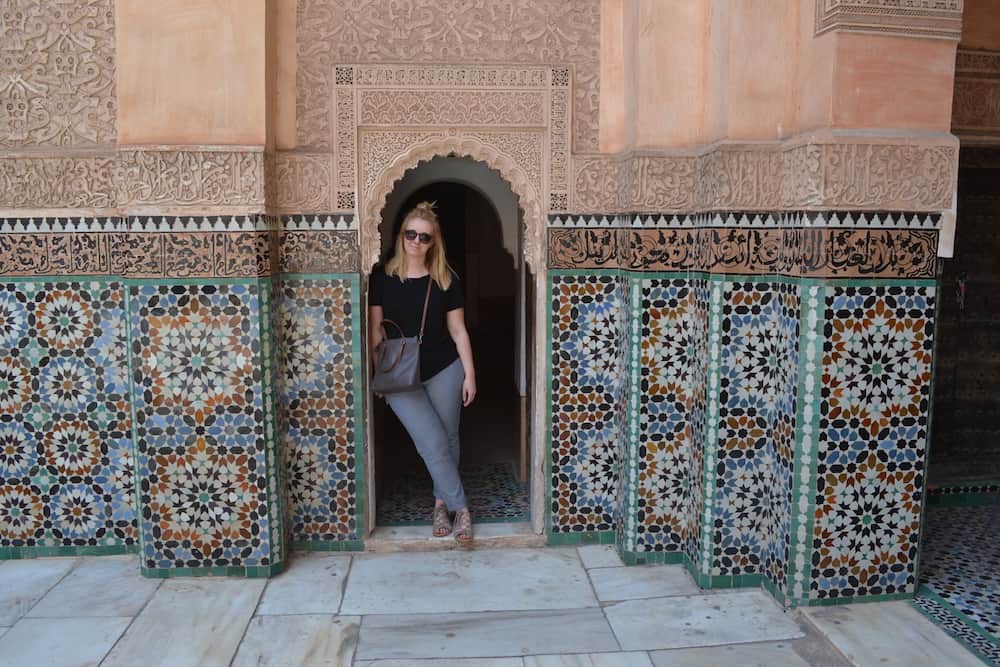 How to get to Morocco
You can fly to Marrakech from £150 return in peak season. I flew from London Luton in the morning and arrived at 10.30, it was only a four-hour flight, but it felt like another world. I flew with EasyJet, but I think Ryan Air and British Airways etc. also fly there. I tend to use Skyscanner to find the best deals for flights, or one of the other flight comparison websites.
When to go to Morocco
The country is at its most beautiful in spring (mid-March to May) when the landscape is green, making for spectacular mountain hiking in to the Atlas Mountains. Morocco is also great in Autumn (September to October) when temperatures are lovely to visit and not too hot.
Where to stay in Morocco
I stayed at the beautiful Riad Les Yeux Bleus, located within the old town medina. It was down a few windy streets, and around the corner at the end of a lane there was a door. Once you go through the door it is like going through the wardrobe in the Lion, Witch and the Wardrobe. I felt so relaxed here and we were made to feel very welcome. The whole hotel focused around a beautiful courtyard with a small pool. Head to the roof terrace for breakfast and dinner with a view.
Then I stayed at the mountain lodge Kasbah Toubkal when we ventured in to the Atlas Mountains. This incredible lodge has been voted one of the best in the world, so it must be good. I would recommend this lodge as the perfect trekking accommodation, as well as for those seeking peace and calm.
5 of the best restaurants in Marrakech
Buddha Bar Marrakech
The day we arrived we needed some comfort food and good drinks, so we headed to Marrakech's new Buddha Bar Marrakech.
Buddha Bar has restaurants in Paris, London, Beirut, Dubai, Sao Paulo, Kiev, so adding Marrakech to its never-ending list of locations was bound to happen sooner or later and they love it here. The restaurant has become one of Marrakech's most popular restaurants and is always fully booked on an evening. Buddha Bar Marrakech sits in the Hivernage area, the modern contemporary and modern area of the city where you can find high street and designed shop, Western-founded restaurants and lots more.
However, bear in mind Buddha Bar is far more than just a bar, as the name says, it is an immersive experience, with staff waiting on you hand and foot, a cocktail menu as long as your arm, actors, dancers, food which I can only imagine was cooked in heaven and music throughout the evening. You don't just pop here for an hour, you stay here for the entire evening! It is an experience, not just a night out as me and Theo found out when we went for dinner and drinks.
5 of the best restaurants in Marrakech
Al Fassia
Belonging to the Chab family and managed by Saïda Chab, AI Fassia restaurants offer traditional Moroccan cuisine of the highest quality. Here you will find dishes of regional inspiration, prepared to perfection by our team.
There is a selection of refined salads, including 12 plates homemade orange and carrot salad, as well as their famous "eggplant caviar", briouates, mini puff pastries filled typically Moroccan, with multiple flavours: Kafta, spinach and cheese, seafood or small vegetables. You will also find different pastillas to choose from (chicken, pigeon, fish).
What would Alfassia be without their iconic tagines (beef, lamb or chicken)? The tagine combine sweet and salty ingredients in a subtle blend. Not to mention, of course, their various couscous with vegetables or caramelized onions and grapes.
For the gourmet who wants to experience a real taste adventure, we recommend our number one dish: the roasted Lamb Shoulder. Cooked for long hours in an onion sauce and roasted in the oven with almonds that we peel and brown ourselves (Book 24 hours in advance if possible).
With a restaurant in downtown Gueliz and another in the Aguedal part of Marrakech, although you have two choices of location and atmosphere, you will find all our signature dishes in our two establishments to be sure not to miss anything.
Copy credit: Al Fassia
5 of the best restaurants in Marrakech
Nomad
Nomad is the latest venture of young Moroccan entrepreneur Kamal Laftimi. In 2014, Kamal Laftimi and Sebastian de Gzell took over an old carpet store off the famed Rahba Lakdima spice square (places des épices) and, alongside interior designer Romain Meniere, transformed it into "Nomad".
With a strong emphasis on fresh local produce and ample variety for vegetarians, pescetarians, and carnivores alike, the lively restaurant serves simple "Modern Moroccan" cuisine: revisions of traditional local cuisine and international dishes with a Moroccan twist.
Spread over 4 floors, with intimate dining rooms and two levels of terraces that offer fantastic views of the surrounding Medina and Atlas mountain range (when visible between November and May), Nomad is perfect for both lunch and dinner. Situated off the Rahba Lakdima Spice Square (Place des Epices), across from Cafe des Epices (Laftimi's first venture and still hugely popular), the restaurant comes with a shop on the ground floor and a dining room on the first floor. But the best thing is the rooftop terrace to enjoy the view of Spice Square, the Koutoubia Mosque as well as the Atlas Mountains when the weather is nice.
The menu is modern with a Moroccan flavor, offering dishes such as "revised" harira (a modern interpretation of traditional Moroccan soup, eaten anytime of the year but especially during the month of Ramadan), light salad with argan oil, and local goat cheese and lamb burger with harissa mayo.
Copy credit: Nomad
5 of the best restaurants in Marrakech
Le Jardin
Hidden away down a secluded Medina alleyway, Le Jardin brings a touch of French elegance and refinement to the bustle of the Marrakech old town. Habitual visitors to the ancient labyrinthine streets of the Marrakech Medina will be familiar with the Café des Épices, a renowned meeting point and perfect location for a respite from shopping excursions in the souks.
Many will also be aware of Kamal Laftimi's other much heralded establishment, Le Jardin, in which he and interior architect Anne Favier have created a true magical oasis located within a beautifully renovated 16th Century building.
Entering through an unassuming door, one comes into a lush garden dotted with tables and lights surrounded by the majestic building and the terraces above where one can lounge in the evening and watch the occasional open air projected classic films. The design is very much in the spirit of the 1960s and 70s heyday of Marrakech, a combination of Moroccan and European chic, which is equally accentuated by Norya Ayron's acclaimed Pop Up Shop located on the premises. With a menu that offers a choice of traditional Moroccan and European cuisine, it is a great place for both lunch and dinner or simply for a refreshing drink or good cocktail
Le Jardin is an oasis of peace within the chaotic world of the Medina and allows diners to experience the palatial charm of ancient Marrakech in peace and quiet. They now describe Le Jardin as a 'place of culture' in which guests can relax, enjoy film screenings and other special events. The extensive menu features Moroccan classics and organic dishes.
Copy credit: Le Jardin
5 of the best restaurants in Marrakech
Terrace des Epices
Another gem in the city of food. In the heart of the medina of Marrakech is the restaurant of the Terrace of Spices Marrakech, known to travelers from all over the world for its atmosphere and its warm and welcoming decoration.
The restaurant was opened in autumn 2007, by Nicolas Nancy, who wished to offer to all those who like to stroll in the medina, the happiness of a moment of relaxation and pleasure. He made use of the decorator Anne Favier who created the Terrasse des Epices.
Built on a huge terrace, offering the sumptuous panorama of the peaks of the Atlas and the minaret of the Koutoubia. At nightfall, the terrace, beautifully lit, becomes fairy and it is a dinner under the stars, in the heart of Marrakech, which is proposed to you! The card is simple, family and quality. Moroccan and international, chocolate desserts have already become a specialty of the house.
On the tables, wide-brim straw hats are provided to protect from the blazing sun. Even better, there are cozy semi-private and cushion-filled nooks.
The menu is comprised of both Moroccan and International cuisine, ranging from tagine to barbecue to cheeseburger. Should you skip dessert, perhaps it's a good idea to pick up some pastries from Patisserie des Epices downstairs.
Copy credit: Terrace des Epices