Are you heading off to conquer a big hike soon or planning for the future? Then this ultimate hike checklist will give you all the essentials you need for any hike.
I love the great outdoor and hiking is my calm space, where I finally feel free and present with nature. The great outdoors is good for both our physical health, fitness and wellbeing and it's also why I set up Outdoor Adventure Girls last year, to provide safe spaces to women to get outdoors, feel confident and connect with other women.
The Ultimate Hike Checklist
1. Apple Watch with GPS
Since I got my AppleWatch I have been loving how great it is for hiking, and it now comes top of my list for hiking essentials. I have the AppleWatch Series 7 with GPS, in the Midnight Aluminium Case and Midnight Sport Band. The watch is great to keeping track of time and closing your rings, as well as syncing the watch to apps on your phone such as AllTrails and Ordnance Survey.
Series 7 is the most durable Apple Watch ever built, with an even more crack-resistant front crystal. Advanced features let you measure your blood oxygen level,1 take an ECG anytime,2 and access mindfulness and sleep tracking apps.
The watch also comes with Apple Fitness+, the ultimate fitness experience powered by Apple Watch which is great when you are preparing for big hikes or challenges.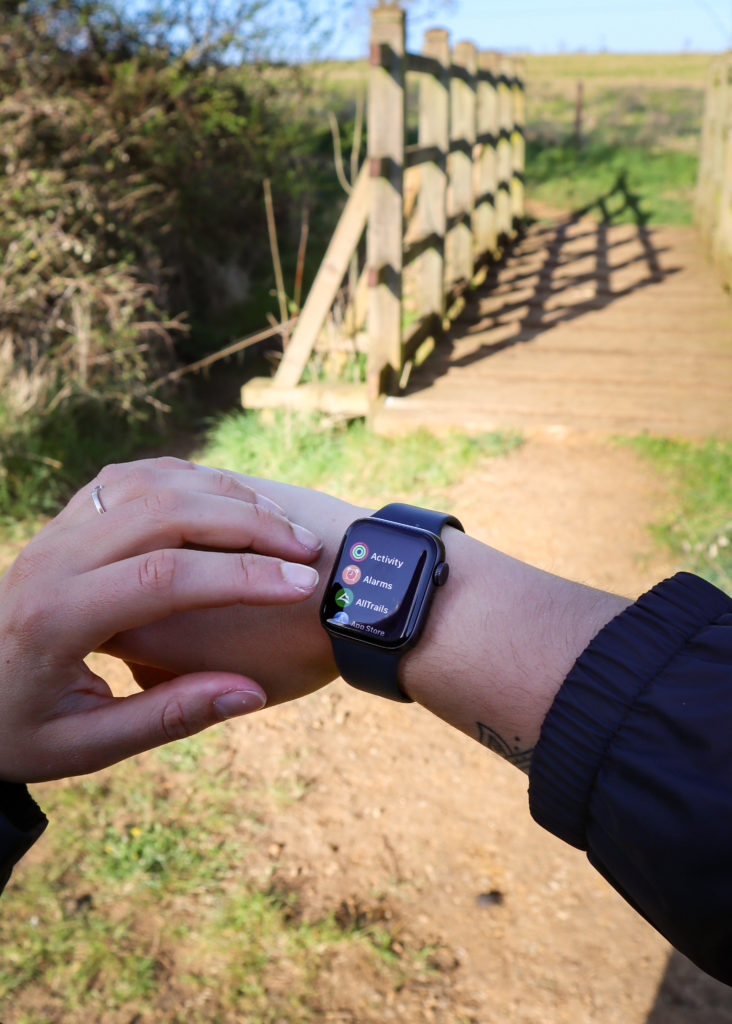 Other recommended blog posts
2. Backpack
Another essential for hiking is a good day backpack. I have tried so many over the years and at the moment I am using my favourite BERGHAUS 24/7 30L Daysack. Make sure when buying a day backpack that it's big enough to fit all your hiking essentials for beginners inside, as well as water bottles, and also fits you well.
As the name suggests, the Berghaus 24/7 is a lightweight and versatile pack engineered to be used continuously throughout each week in urban or outdoor environments. It's a great backpack with lots of room for everything you need for hiking.
Make sure your day backpack is comfortable, as you will be wearing it for hours on end, as well as for opting for backpacks with storage compartments to ensure you can store and find things easily.
3. Sturdy Hiking Trainers
This ultimate hiking essential will become your best friend. Simply because they can make or break a hike. I would recommend checking out a few different options for hiking boots from brands such as Adidas, KEEN, Merrell and Berghaus. And once you've bought some make sure you wear them in before setting off on your hike.
I love these Adidas Terrex Two GORE-TEX Hiking Trainers which are so incredibly comfortable and perform great in both wet and dry conditions. The Terrex Two GTX Hiking Trainers are perfect for anyone out on the trail and the grip ensures you stay on track and keep your feet dry and comfortable with the installed GORE-TEX membrane.
Getting hiking trainers or boots in the right size is also important, you need space for your foot to breath as you hike, so for some brands, you may need to go a size bigger. As you will likely be wearing thick socks too! Add this to your day hike packing list…

4. Maps
While many people rely solely on their smart phone's Google Maps or GPS to navigate during a hike, I would also recommend getting the Ordnance Survey app and a physical map too. And a compass for longer hikes, when you may lose phone signal. Phone apps are great but a physical map can keep you from getting lost or help you find your way again.
There are a lot of great websites and apps for finding trails, including this blog but I would recommend downloading some on to your phone that you can access offline too.
I love using the Ordnance Survey app as you can view and print maps OS maps for free, plan routes, discover routes created by others, check the weather and much more. Other apps include GAIA and Topo Maps. A game-changer for your day hike packing list.
You may also want to look into handheld GPS devices, like the Garmin InReach, this would be a great option for multi-day hikes and more dangerous routes as it also works as a communication device if anything goes wrong.
5. The North Face Quest Jacket
A high-quality jacket is essential for hiking especially in the autumn and winter months. My favourite jacket for the winter is this The North Face Quest Jacket priced at around £100.00 from Very.com and it comes in various different colours. It's really warm and has an urban ready layer with warmth built-in.
The lightweight polyester material provides gentle warmth, but remain versatile and protects you from the elements. The moisture managed 2L DryVent™ outer shell brings premium performance. The exposed centre front zip is ready for every excursion, whilst the fixed hood has one-way regulation.
6. First Aid Pack
Another hiking must-haves is something I take on every hiking trip now is a first aid kit. Most people can buy a pre-prepared first aid kit online, or from Amazon which is lightweight and comes with the basic needed for any emergencies in the wild.
However, if you are heading out for a longer hike or something more dangerous I would add to your basic kit with a few other essentials.
And remember you always need to replace anything you use too, so keep your first aid kit up to date! A must-have hiking essential. Add it to your day hike packing list.
7. Water
SO SO IMPORTANT!!! Bring lots of water on any hike. It is a hiking essential to stay well hydrated due to the fact your entire body needs water to keep running. It supports both your physical and brain function. And it helps cool you down when you are hot.
I have two stainless steel refillable bottles I take on every hike, and love using them! I add some ice to them as well in the morning so they stay nice and cool throughout the day.
If you are heading out for a longer hike and may need more water, you could take iodine tablets or a water purifier to be able to drink river water. I would recommend 3-4 litres per person per day. Water is a hiking essential – add it to your day hike packing list.
8. Portable Charger
This is a travel essential to me, whether I am hiking or not. It's so important to have a fully charged phone at all times during a hike for safety and communication. And especially if you are heading out into the wilderness for more than 1 day without any access to electricity. I would also recommend taking a portable charger if you are going to be taking photos, videos and listening to music as this will drain your battery asap.
9. Blister Plasters
For any hike, Blister Plasters are essential. They prevent the blister from developing and helps new skin to grow underneath the plaster. …
The plaster repels water, and stops dirt and germs from entering the wound, thus preventing infection. At first, the plaster absorbs all the moisture from the blister but over time it becomes more permeable so the wound dries out.
10. Hiking Poles
These are game changers and once I used hiking poles on an intense hike, I realised how supportive they are. Hiking poles are technically not a hiking essential, but if you are a beginner and taking on some more difficult and dangerous hikes, you may want hiking poles for balance and confidence. Hiking (or trekking) poles take the pressure off your knees and enable you to produce more power.
---
Need some inspiration for THE BEST hikes in the UK?
Some of the best hikes in the UK are right under our nose. The UK offers some of the most beautiful hikes and walks there is to offer. So I have pulled together a list of the best hikes in England, Scotland and Wales, as well as some hikes that are within two hours of London.
The weather might not always be the most certain, but we know we can always get great views and incredible scenery when going on some of these day hikes in England.
I am really guilty of flying all over the world, and often forget how many beautiful walking trails there are in the UK. From the Scottish Highlands to the Peak District, and from Snowdon to The Jurassic Coast, there are so many incredible hikes in England, Scotland and Wales.
Check out these 15 hikes in the UK you have to try…
Scafell Pike, The Lake District, England
The Yorkshire Three Peaks, England
Jurassic Coast, England
Hadrian's Wall Path, England
Pennine Way, England
South West Coastal Path – Padstow to Tintagel
Snowdonia National Park, Wales
Pembrokeshire Coast Path, Wales
Ben Nevis, Scotland
Loch an Eilein, Cairngorm National Park
West Highland Way, Glasgow to the Highlands
The Thames Path, Marlow to Taplow
Tring Circular, Hertfordshire
Oak Trail, Epping Forest
Box Hill Circular, Surrey
---
Other posts that may help you:
Ultimate Guide to a Weekend Break in York
10 of the Best places to eat Brunch in London
The Best Weekend Trips in the UK
Ultimate Guide to Columbia Road Flower Market London
Log cabins with hot tubs in the UK
My Travel Tips and Recommendations
Flights
To book flights, I always use flight search engine, Skyscanner, I regularly use the Everywhere tool to find the cheapest places to travel. It's how I get to travel so much all around the world. I find it the easiest way to compare flight prices across airlines and get the best deals.
Accommodation
For accommodation, I usually book most of my hotels or hostels through Booking.com. I love using this platform as it provides me with some amazing deals for accommodation all around the world. Or if you prefer, I also recommend using Airbnb. If you haven't signed up with Airbnb already, you can use this link to get £25 off your first visit!
To receive my articles and reviews straight to your inbox SUBSCRIBE HERE.
Did you know I also vlog my trips? Make sure you subscribe to my YouTube channel so you get alerted when all my travel videos goes live… CHECK THEM OUT HERE
Thank you for reading and as always happy adventuring! If you have any questions about the destination please leave these in the comments below.
If you've enjoyed this post, please share it for me with all your friends and family!
Sophie X