This summer gave me lots of time to get outdoors, explore and of course go wild swimming near me. If you are looking for your next adventure fix, look no further than Wild Swimming.
Can there be any better way to cool down from the summer heat (or the winter chill for that matter) than by swimming up and down a river or lake in the great outdoors?!
When I first started wild swimming, I had no idea where to start and first googled ' wild swimming near me' which gave me some resources, but not what I was looking for.
Which is why I've curated this complete guide to wild swimming, including all the tips you need.
I think not, so if you are ready to be inspired, keep reading. Here are the best 48 wild swimming spots near you, water safety and how to get started…
*Updated July 2023
What is wild swimming?
Wild swimming is essentially swimming outdoors in natural spaces, such as rivers, lakes or the sea. Over the past few years, there has been a big rise in wild swimming across the country which has been put down to people seeking alternative exercise regimes, wanting to immerse themselves in the great outdoors and
Is Wild swimming safe?
Wild swimming is safe, but only if you follow guidelines, know your own ability and follow proper safety measures. Swimming, in general, is a fun activity which can be enjoyed by everyone, but outdoor swimming does have its dangers.
Over the past decade, the rivers in the UK have become cleaner than they've ever been due to the fantastic work agencies like The River Trust, and The Environmental Agency. It is a great time to embrace wild water swimming!
"92.4% of our bathing waters were at Good or Excellent status in 2018. In 1995 over half would have failed." – The Environmental Agency

What to wear wild swimming
If you're new to wild swimming it's wise to wear a wetsuit as it'll keep you warm and adds buoyancy too. I have been swimming only in the summer this year, and managed to get away with a swimming costume only, but I am about to buy a wetsuit for the colder months.
Swimming costume or wetsuit
Swimming hat
Goggles
Neoprene swim boots
Gloves
Earplugs
Floats
Towel or dryrobe
Have you been to the Lake District? If you want to do some hiking you could also go up highest mountain in England, Scafell Pike.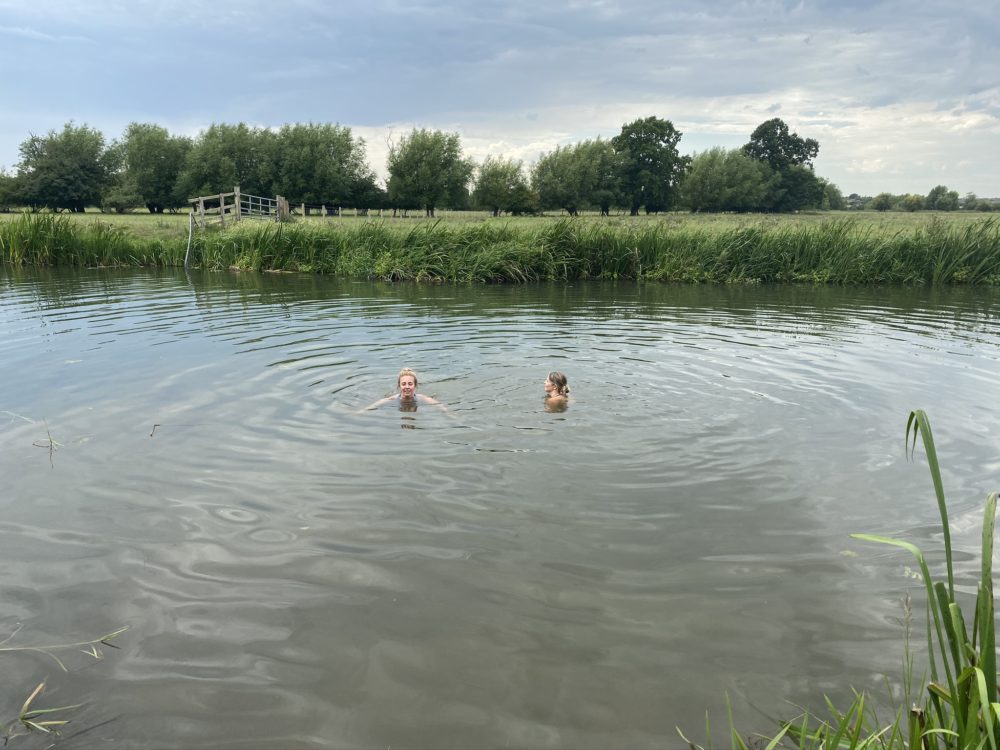 How to stay safe wild swimming
Wild swimming or open water swimming poses its risks, so it's important to be aware of the dangers. Open water is usually cold and may be very deep, and wild swimming in rivers and lakes may include debris such as trolleys and slippery.
Here are my top 10 outdoor swimming water safety tips
Check the current – if swimming in the sea, ALWAYS check the currents and winds
Gauge the depth – always check the depth of the outdoor water spaces you are swimming
Watch out for reeds in rivers – they can be dangerous if you get stuck
Don't get too cold – summer is the best time to go wild swimming near me, but if you do go in winter, be prepared
Don't ever swim alone! – always swim with someone, even if they're not in the water and on land
Avoid cold water shock – remove damp swimwear quickly and put on dryrobe or towel
Have an escape plan – always know your escape routes in case you get in to trouble
Cover open wounds – if you must swim whilst you have an injury ensure its covered to avoid infection
Don't go away from the shore – it's easier for things to go wrong when you are further away
Be careful of children – children can also wild swim, but they must wear a good quality buoyancy aid
48 Best Wild Swimming Near Me
There are so many amazing places to go wild swimming near me in the UK, and these are just ten of my favourites.
If you want to find more wild swimming spots, check out the Outdoor Swimming Society who have created a really cool interactive wild swim map where you can search for wild swimming spots all over the world and contribute your own secret wild swimming spots.
And remember if you are near the sea, you don't need rivers and lakes and instead can do wild swimming in the ocean. You could team a swim up with coastal walks near me and spend the day by the coast.
1. Bude Sea Pool, Cornwall, England
Designed and Built by Dean Wronowski, Bude Sea Pool, Cornwall is a semi-natural pool and safe haven for beginners to wild swimming. Built in the 1930's the pool gently fills up via the ocean waves and is a beautiful spot to go wild swimming. It is managed by local charity, Friends of Bude Sea Pool (FoBSP).
Location: Summerleaze Beach, Bude, EX23 8HN
2. Hampstead Heath Bathing Ponds, London, England
One of my favourite spots to go wild swimming is located just outside the centre of London at Hampstead Heath. There are lots of ponds here, but only three that are open to wild swimming. There's the mixed pond, and the separate ladies and gents ponds. They are beautiful places to swim, read a book and watch the world go by and they've even made it into many films over the years.
Location: Hampstead Heath, London, NW5 1QR
3. River Ouse, Buckinghamshire, England
I've added this one as it's only down the road from me in Milton Keynes, down the end of a car park. In the summer this place is heaving with families and friends having BBQs and relaxing. You can park in the car park or in the village and walk down. Or you can also jump in near the lock and weir, and the green meadow. This is one of my favourite places to go wild swimming near me
Location: 4 Horn Ln, Stony Stratford, Milton Keynes MK11 1HZ
4. Fairy Pools, Isle of Skye, Scotland
Its true wild swimming doesn't get much better than this. One of the most magical places I have ever gone wild swimming and it's for good reason.
At foot of the Black Cuillins are the famous Fairy Pools, a series of crystal clear blue pools on the River Brittle, and they're now one of the best wild swimming spots in the UK. Remember, you are still in Scotland though, so a wet suit would be advised.
Location: Glenbrittle, Isle of Skye, IV47 8TA
Other recommended blog posts
5. Grantchester Meadows, Cambridge, England
When I lived in Cambridge this was one of my favourite places to go wild swimming near me. The area of Grantchester is pretty quintessentially English anyway, so add it a river and warm summers, and it might feel like you've stepped back in time. Grantchester Meadows was allegedly visited by Lord Byron, so you're in good company.
Location: Grantchester, Cambridge, CB3 9NE
6. Three Shires Head, Peak District
Three Shire Heads is the point on Axe Edge Moor where Cheshire, Derbyshire and Staffordshire meet and here you will also find the most perfect wild swimming spot, with it's own waterfall and everything. Even on a cloudy day it's the perfect spot for a stop mid-hike to have a picnic, go for a paddle and even have a swim if you are brave.
In addition to this amazing spot, check out the best wild swimming spots in Youlgreave.
Other recommended blog posts
7. Llyn Padarn, Snowdonia National Park, Wales
What an iconic spot for a swim! At the foot of Mount Snowdon, near the village of Llanberis, you will find the amazing Llyn Padarn. A glacial lake, it's a popular spot and well known in the local area with families. The lake has a range of places to swim, including shallow lagoons, to deeper waters for more confident swimmers.
Location: A4244, Caernarfon, LL55 3NP
If you want to do some hiking you could also go up highest mountain in England, Scafell Pike.
8. Blue Lagoon, Pembrokeshire, Wales
Bordered by beautiful beaches and craggy rocks, the lagoon is another amazing places to go wild swimming near me. It used to be a slate quarry till 1910 but then was abandoned. Today it's an adventure centre for diving, coasteering and diving. It hosted the Red Bull Cliff Diving World Series visited the Blue Lagoon in 2012 – the first time the event had ever been held in the UK.
Location: Abereiddy, Haverfordwest, SA62 6DT
9. West Beach, Berneray, Isles of Harris, Outer Hebrides
The stunning clear waters of Berneray Sands is what has attracted thousands to its beaches every year. Found on the Isle of Berneray in the Outer Hebrides, the beach is stunning and you can enjoy incredible views across to the mountains of Harris. You can swim, wander the sand dunes and admire the island's colourful landscape.
Location: Berneray, Isle of North Uist, HS6 5BD

10. River Barle, Simonsbath, Somerset, England
Located just outside Simonsbath, the best wild swimming near me, has to be past the Bluebell Wood to the secluded pools.
This delightful village lies in the heart of Exmoor's moorland and provides a wonderful place to swim. Head to the Tarr Steps, a prehistoric stone bridge for the best spot.
Location: Simonsbath, Minehead, TA24 7SH
11. Lake 32, The Cotswolds, England
If you are more triathlon than Sunday swimmer, Lake 32 is the best place to get your swim on. Located at the Cotswold country park, Lake and Beach is a go-to swim spot for more confident and competitive swimmers. The lake is approx 6ft in-depth, and has buoyed courses of 200, 400, 750 and 1,500 metres.
Location: Spratsgate Ln, Cirencester, GL7 6DF
Other wild swimming spots in the UK
12. Willen Lake, Milton Keynes
13. Tellisford, Somerset
14. Derwentwater, Keswick
15. Mermaid's Pool, Derbyshire
16. Clevedon Marine Lake, Bristol
17. Port Meadow, Oxford
18. Pedn Vounder, Treen, West Cornwall
19. Dundas Aquaduct, Bath
20. Rydal Water, Lake District
21. Bicester Performance Lake
22. West Lydford, Somerset
23. Black Moss Pot (Langstrath)
24. Marsh Lock, Henley
25. Buttermere, Lake District
26. Olney, Milton Keynes
27. Treyarnon Bay Tidal Pool, Cornwall
28. Linhope Spout, Northumberland
29. Llyn y Fan Fach, Brecon Beacons
30. Portstewart Strand, County Londonderry
31. Farleigh Hungerford, Somerset
32. Llynnau Mymbyr, Snowdonia
33. The Warren, Hay-on-Wye
34. Taplow Lakeside, Taplow
35. Dancing Ledge, Dorset
36. Cullever Steps, Dartmoor (check out our Dartmoor pubs recommendations!)
37. Hathersage Pool, Hathersage
38. Clifton Hampden, Abingdon
39. Lake Windermere, Lake District
40. Marlow Open Water Swim, Little Marlow
41. Colonna Beach, Cornwall
42. Llyn Glaslyn, Snowdonia
43. Stainforth Force, North Yorkshire
44. Serpentine Lido, London
45. Loch Ness, Scottish Highlands
46. Burton Bradstock, Dorset
47. Llyn Cau, Snowdonia
48. Waveney River, Suffolk
Or if you fancy something a little less wild, check out these Lidos
Hinksey Heated Outdoor Pool
Chipping Norton Lido
Wycombe Rye Lido
Chesham Open Air Pool
Thames Lido in Reading
Looking for more wild swimming? Head over this article by The Guardian.
---
Groups
It really is worth joining the Outdoor Swimming Society as they have 25,000 members and it's the biggest wild swimming group in the UK and it's free to join.
Resources
Check out some of these books on wild swimming too, if you want to learn even more.
We like Wild Swim, by Kate Rew
Wild Swimming by Daniel Start
Wild Swimming: Hidden Beaches by Daniel Start
Wild Swimming Walks (Dartmoor and South Devon) by Sophie Pierce and Matt Newbury
Wild Swimming Walks (London) by Margaret Dickinson
---
If you on a bigger trip exploring more of Europe check out my guides to France, Germany, Greece, Iceland, Italy, Portugal, Spain and United Kingdom.
Did you know I also vlog my trips? Make sure you subscribe to my YouTube channel so you get alerted when all my travel videos go live… CHECK THEM OUT HERE
Thank you for reading and as always happy adventuring! If you have any questions about the destination please leave these in the comments below.
If you've enjoyed this post, please share it for me with all your friends and family!
Sophie X