Planning a trip to go surfing in Sagres? Then this blog post has all the information you need for an amazing trip.
Portugal is undoubtedly the most popular surfing spot in all of Europe. It's unsurprising to hear this when you learn that waves can reach over 80ft in parts of Portugal such as Nazaré.
And whilst it's best to leave riding these gigantic waves to the surfing pro's, there are lots of places in Portugal you can visit as a less experienced surfer.
One of the top places to head to catch some waves, as well as pick up some surfing lessons if you are new to the sport, is in the town of Sagres. Sagres is found in the most Western part of The Algarve and the most South-Westerly point of Portugal.
What makes this town such a great spot for surfing is its distinctive location. The town is built on a headland that sticks out through the Atlantic Ocean, meaning that one side of the coast is home to sheltered beaches with calmer, more relaxing waves and the other large open stretches of sand with beautifully big swells.
These two sides of Sagres means that there are opportunities for surfers of all levels and expertise to get their fix. So, read on below to discover what beaches are best for you!
How to get to Sagres
Surfing in Sagres starts at the airport… The airport that serves The Algarve is Faro Airport. You can fly into Faro from most British airports, and if you catch it at the right time you can get return flights for as little as £50.
From Faro airport, the journey to Sagres is roughly 90 minutes. An Uber will cost you roughly €90 and taxi's slightly more.
When is the best time to visit Sagres?
Due to the geography of Sagres, the option to surf is available all year round, and for surfers of all levels.
However, the ideal time to come to experience the best waves would be in the slightly colder months of autumn (September-November) and spring (March- June). The best time to go surfing in Sagres.
Where to stay in Sagres
If you want the complete surfing experience there are plenty of surf hotels and guest houses to choose from, here are some of the best:
Accommodation
Good Feeling – Good Feeling hostel offers both private rooms and dorms of 4 or 6 people. As well as surfing lessons they offer free beach drop-offs, Stand-up paddle boarding and yoga.
The Lighthouse Hostel – The lighthouse is a clean, relaxed hostel with dorm and private room options as well as onsite bungalows. The hostel has dedicated much of its space to communal areas and even has its own pool, this means you will have ample opportunity to meet fellow travellers.
Casa Azul Sagres – Casa Azul is the best place to come if you are looking for something more private and/or tend to shy away from hostel life. The decor is vibrant and contemporary, with some rooms looking out over Cabo Sao Vincente (the best place to watch the sunset in Sagres).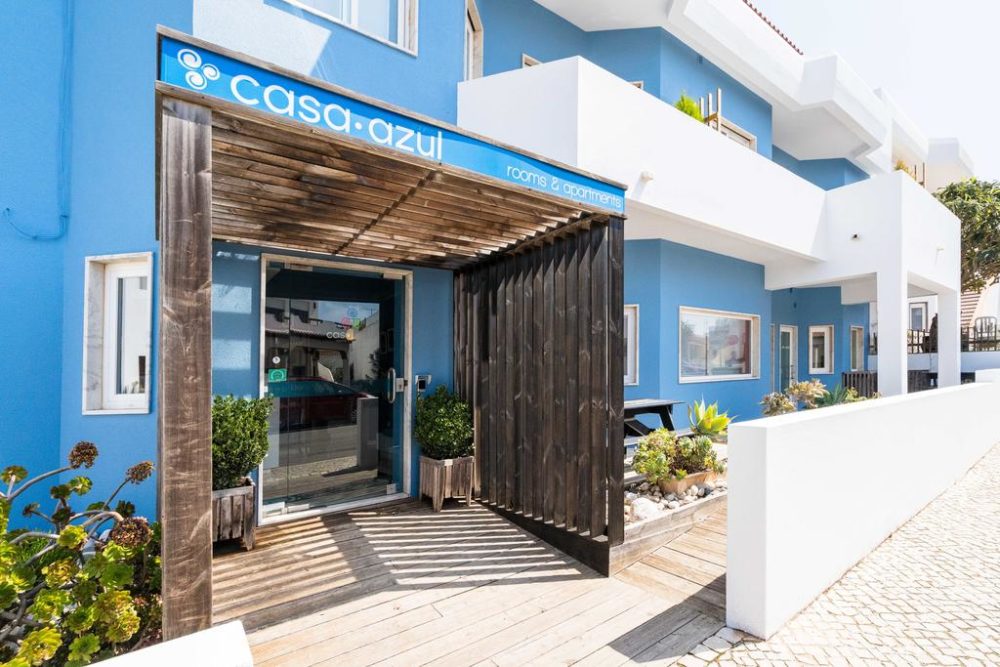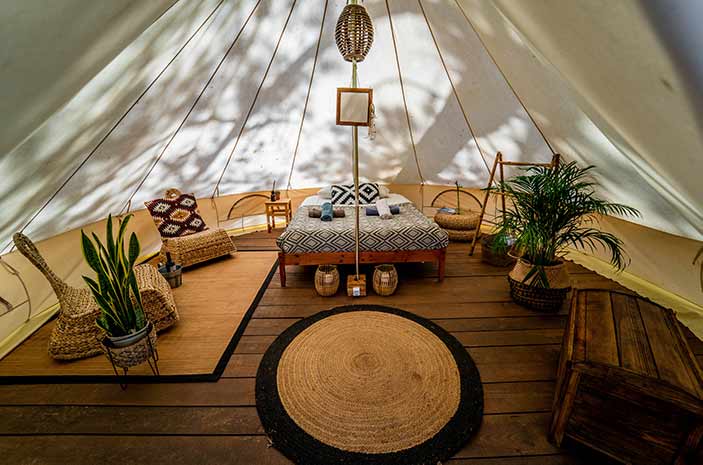 Surf Camps (Accommodation with surf lessons)
Wavesensations – Sagres Surf House
Wavesentations offers accommodation as part of their surf camp package. If your serious about learning to surf then booking on to the surf camp here is probably one of the best options for you. Their rooms are fresh and modern and they offer private rooms as well as gender-specific dorm rooms.
Sagres Natura is a small family run business that host out of their very own house. They can accommodate up to 37 people at any one time. They also run their own surf school which where they teach surfers of all levels.
This is an eco-friendly hostel located in central Sagres close to multiple beaches. You have a choice of 6,8, and 12-bed dorms to choose from as well as private rooms. The hostel doubles up as a surf camp and they will arrange surfing and windsurfing lessons for people of all levels.
Wavy Surf camp is one of the top-rated surf camps in Sagres. Their main goal is to ensure that guests are as close to nature as possible throughout the duration of their trip. So whilst their surfing lesson enable you to be connected to the water, they have made sure to continue this theme through to their accommodation, which is why they offer only glamping tents to stay in, in a beautiful wooded location. Tents accommodate between 2-4 people.
Best Surfing Beaches in Sagres
Praia da Arrifana
Arrifana is known as one of the best beaches for beginners to surf. This is because it has a calm beach break, meaning that you have a sandy bottom to protect you should you encounter any problems. It's also a great beach to head to if you want to avoid the crowds found in central Algarve.
Praia do Beliche
Beliche is not only one of the most beautiful beaches in Sagres, but also has one of the best and sometimes most challenging breaks in Sagres. This beach is best suited to expert surfers only as it can be prone to rip currents. For the best waves, it is advised to visit Beliche in the colder months.
Praia do Telheiro
Another beach strictly only for experienced surfers is Praia do Telheiro, which can be found just 3 kilometres of Praia do Beliche. Surfing here can get a little complicated with strong swells coming in from both the left and right, so even if you are experienced it is advised to not come here on your own.
Praia do Tonel
Due to its extremely consistent conditions, Tonel is one of the most popular surfing beaches in Sagres. The beach is exposed meaning that the force of the winds (light or strong) cause good swells and wave quality isn't affected by high or low tide. Whilst this beach can be known for its occasional rip current, it is still a great place for beginners to learn (although an instructor is strongly advised)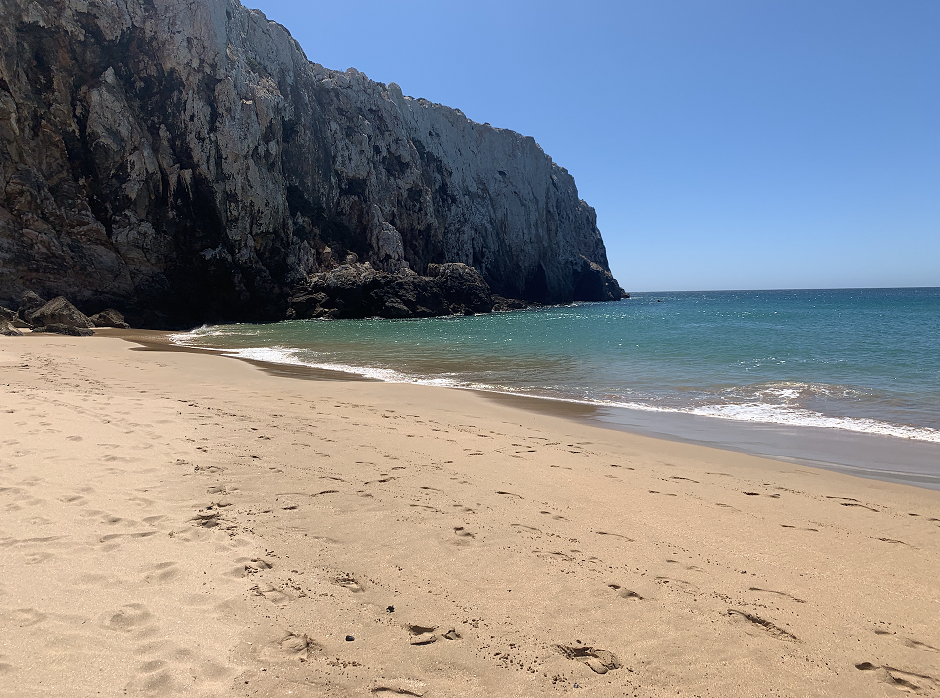 Praia da Bordeira
This beach can be found 23 kilometers north of Sagres. You have the option to surf on this beach almost every day of the year, although swell sizes vary between the seasons. This beach is good for both beginners and experts, but again the best time to surf for both groups will be dependent on the swell/season. Waves here start at 2ft and increase to an astonishing 12 ft.
Praia da Mareta
Praia da Mareta is the most central beach in Sagres. The beach is south facing meaning it is sheltered from the larger waves you will be in other parts of Sagres. This makes it another good beach for surfing beginners and wave heights reach only a maximum of 5ft.
Praia do Martinhal
Praia fo Martinhal is better known for its great windsurfing opportunities rather than its surf, due to its tamer waves. Again, this is another good spot for beginners, and more specifically for those who have never stepped on a surfboard before.
Praia do Zavial
Praia do Zavial is a 15-minute drive west of Sagres. Similarly to Praia da Bordeira, Zavail suits different levels dependent on the season. Summer sees calmer waves and therefore better for beginners and intermediates and the winter sees more aggressive swells that are better suited to the experienced.
To find out more about surfing in The Algarve head to surfguidealgarve.com

Where to eat in Sagres
After all that surfing in Sagres, you would have probably worked up an appetite, so here are some of the best surfer spots to eat and grab a well-deserved drink:
The Hangout
Dromedario Bistro Bar
Pau De Pita
Chiringuito Last Chance
What else is there do to in Sagres? There is plenty more to do in and around Sagres other than surfing. To find out more about what else this beautiful town has to offer, click here.
If you on a bigger trip exploring more of Europe check out my guides to France, Germany, Greece, Iceland, Italy, Portugal, Spain and United Kingdom.
---
Author Bio: Christina is 28 from Hertfordshire and runs the blog The Curly Commute. During the 9-5 Christina works in recruitment, but the rest of her time is spent doing, dreaming or reminiscing about all things travel. She makes it her mission to go on at least 7 a trips year and practice her amateur photography skills along the way. Her favourite country in the world has to be Sri Lanka; the food, the views, the wildlife and the people make it the perfect place to be. You can also find Christina on Instagram.

---
My Travel Tips and Recommendations
Flights
To book flights, I always use flight search engine Skyscanner, I regularly use the Everywhere tool to find the cheapest places to travel. It's how I get to travel so much all around the world. I find it the easiest way to compare flight prices across airlines and get the best deals.
Accommodation
For accommodation, I usually book most of my hotels or hostels through Booking.com. I love using this platform as it provides me with some amazing deals for accommodation all around the world. Or if you prefer, I also recommend using Airbnb. If you haven't signed up with Airbnb already, you can use this link to get £25 off your first visit!
Travel Insurance
Picking travel insurance that covers you in all eventualities is an essential part of planning a trip for every single person. If you can't afford travel insurance, you can't afford to travel. You never know what's around the corner.
Did you know I also vlog my trips? Make sure you subscribe to my YouTube channel so you get alerted when all my travel videos go live… CHECK THEM OUT HERE
Thank you for reading and as always happy adventuring! If you have any questions about the destination please leave these in the comments below.
If you've enjoyed this post, please share it for me with all your friends and family!
Sophie X