The Yorkshire Dales provide some of the best wild swimming spots in the UK, with its beautiful limestone backdrop and networks of underground tunnels and waterfalls, the dales provide some of the most exciting spots for a dip!
A few notes on swimming in The Yorkshire Dales: There are plenty of wild spots to enjoy and paddle about in across the Yorkshire Dales but its also important to recognise your own limits and stay safe. The vast majority of waterfalls and wild ponds are not manned and can be a significant distance from facilities or other services, so always implement personal safety and let others know what you intend to do.
What is wild swimming?
Wild swimming is essentially swimming outdoors in natural spaces, such as rivers, lakes or the sea. Over the past few years, there has been a big rise in wild swimming across the country which has been put down to people seeking alternative exercise regimes, wanting to immerse themselves in the great outdoors.
Is Wild swimming safe?
Wild swimming is safe, but only if you follow guidelines, know your own ability and follow proper safety measures. Swimming, in general, is a fun activity which can be enjoyed by everyone, but outdoor swimming does have its dangers.
Over the past decade, the rivers in the UK have become cleaner than they've ever been due to the fantastic work agencies like The River Trust, and The Environmental Agency. It is a great time to embrace wild water swimming!
"92.4% of our bathing waters were at Good or Excellent status in 2018. In 1995 over half would have failed." – The Environmental Agency
Best wild swimming spots near Yorkshire
1. Semerwater, Wensleydale
Walk to pool: Parking is next to Lake
Where to park: Bainbridge, Leyburn DL8 3DJ
OS Grid reference: SD 92171 87488
One of the most accessible wild swimming spots, Lake Semerwater, is an ideal place to enjoy a leisurely swim surrounded by the beautiful Yorkshire Dales. Semerwater is the largest natural glacial lake in the old north riding of Yorkshire. It is also a popular location for wild swimming events so keep an eye out on local news if you fancy joining in!
2. Janet's Foss, Settle
Walk to pool: 25 minutes- 1.2 miles
Where to park: Malham, Skipton BD23 4DA
OS Grid reference: SD 9115 6331
Janet's Foss maybe one of the prettiest spots for a dip in Yorkshire. This beautiful pool sits underneath a descending waterfall providing a magical swimming experience. It's just a short walk from the village of Malham which has plenty of spots for a snack break before or after your swim!
Other recommended blog posts
3. Caitrigg Force, Stainforth
Walk to pool: 25 minutes- 1 miles
Where to park: Main Rd, Stainforth, Settle BD24 9PQ
OS Grid reference: SD 83219 67082
Caitrigg Force embodies everything you could want on a wild swim in the Yorkshire dales! The route follows a well-marked path, with gorgeous views before you reach the falls and your secluded swimming spot. This beautiful waterfall provides an adventurous feel which just cannot be beaten!
4. River Wharfe, Burnsall
Walk to pool: Parking is next to river
Where to park: 2 Bunkers Hill, Burnsall, Skipton BD23 6BS
OS Grid reference: SE 03225 61182
The river Wharfe offers many spots for wild swimming however one of the best is next to the picturesque village of Burnsall. Here you can find plenty of space for a swim and enjoy a picnic on the bank. If you are looking for a more adventurous time, this stretch of river is also good for river tubing and you can even find inflatable donuts for sale in the village!
5. Hell Gill, Garsdale Head
Walk to pool: 1 hour- 4 miles
Where to park: Parking is available at the Moorcock Inn LA10 5PU- from here make your way to Hell Gill Farm and follow the track running above to reach the gorge.
Grid reference: SD 79275 97530
This spot is only suitable for the experienced swimmers or those accompanied by a guide! This wild swimming spot is said to resemble the inside of Jonah's whale and to reach it you will definitely need your wetsuit, neoprene shoes and potentially a helmet; but once you get there it is truly spectacular!
Other recommended blog posts
6. Appletree wick, Skipton
Walk to pool: 30 minutes- 1.5 miles
Where to park: 2 Bunkers Hill, Burnsall, Skipton BD23 6BS
Grid reference: SE 04790 59933
If you don't mind a walk before your swim, be sure to check out Appletree wick down the river Wharfe. This hidden spot is accompanied by a small beach and plenty of pools for exploring and swimming. Be careful not to dive though as it is also a prime spot for hidden rocks under the surface!
7. Kidsdon Force, Swaledale
Walk to pool: 30 minutes- 1.5 miles
Where to park: 2 Bunkers Hill, Burnsall, Skipton BD23 6BS
Grid reference: SE 04790 59933
A beautiful little swimming spot Kidsdon Force is the perfect location to spend a sunny afternoon. The waterfall and surrounding rocks make for a picturesque swim. Be slightly careful on your walk down though as it can get a little steep!
8. Swinton Estate, Ripon
Walk to pool: Parking is next to Pool
Where to park: Swinton Country Club, Ripon, HG4 4JH
OS Grid reference: SE 21156 79806
A bit of a different wild swimming spot but well deserving of a mention is the lake on Swinton Estate. You will need to buy a parkland and garden pass at the country club to enjoy this lake but at only £10 and with access to all the parkland to explore it's well worth it! The lake itself has a dedicated swimming platform and you can even borrow a tow float for your swim.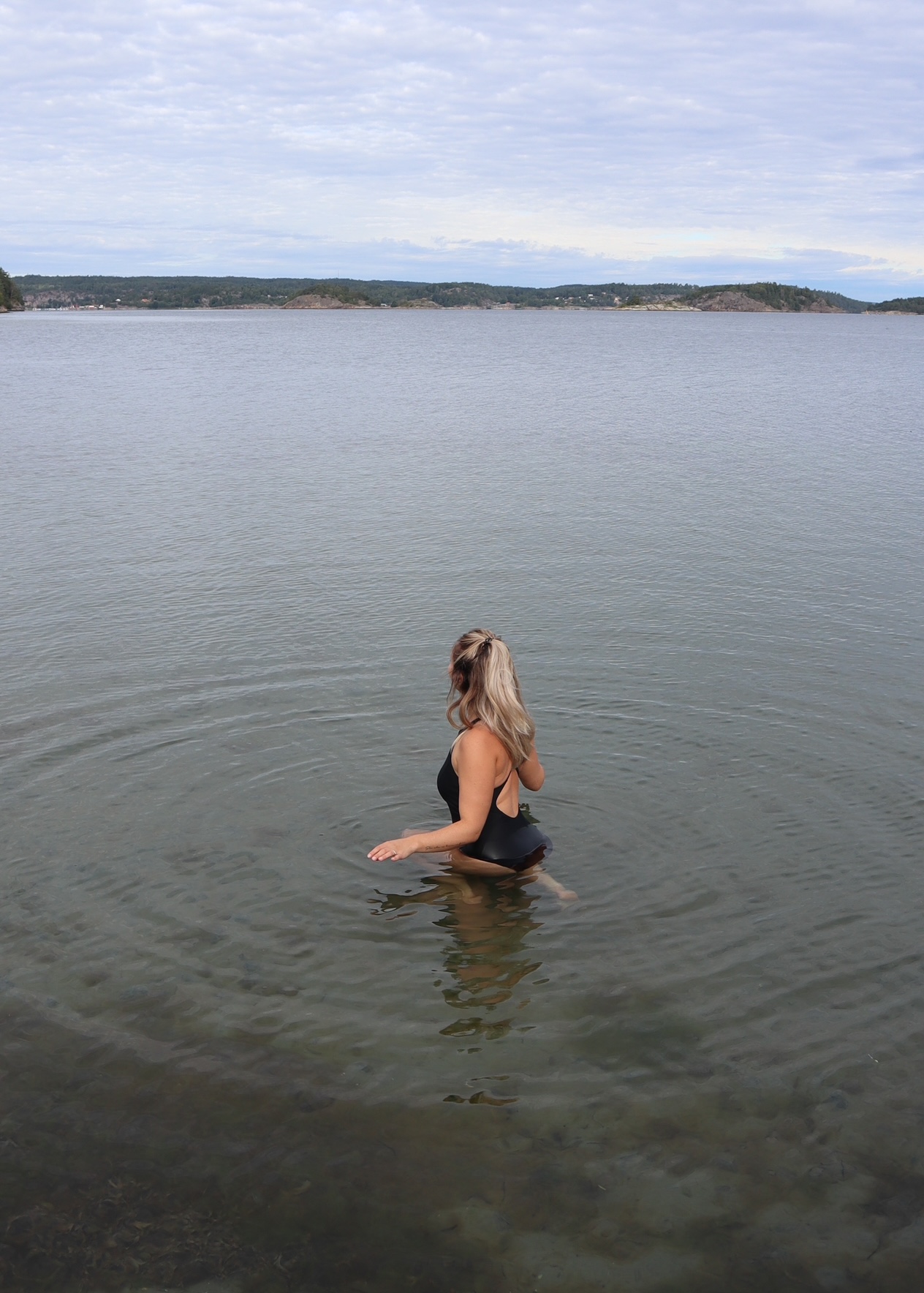 Which of these wild swimming Yorkshire Dales spots will you be heading to?
---
Other wild swimming spots in the UK
9. Burton Bradstock, Dorset
10. Llyn Cau, Snowdonia
11. Waveney River, Suffolk
12. Willen Lake, Milton Keynes
13. Tellisford, Somerset
14. Derwentwater, Keswick
15. Mermaid's Pool, Derbyshire
16. Clevedon Marine Lake, Bristol
17. Port Meadow, Oxford
18. Pedn Vounder, Treen, West Cornwall
19. Dundas Aquaduct, Bath
20. Rydal Water, Lake District
21. Bicester Performance Lake
22. West Lydford, Somerset
23. Black Moss Pot (Langstrath)
24. Marsh Lock, Henley
25. Buttermere, Lake District
And remember if you are near the sea, you don't need rivers and lakes and instead can do wild swimming in the ocean. You could team a swim up with coastal walks near me and spend the day by the coast.
---
Groups
It really is worth joining the Outdoor Swimming Society as they have 25,000 members and it's the biggest wild swimming group in the UK and it's free to join.
Resources
Check out some of these books on wild swimming too, if you want to learn even more.
We like Wild Swim, by Kate Rew
Wild Swimming by Daniel Start
Wild Swimming: Hidden Beaches by Daniel Start
Wild Swimming Walks (Dartmoor and South Devon) by Sophie Pierce and Matt Newbury
Wild Swimming Walks (London) by Margaret Dickinson
---
If you on a bigger trip exploring more of Europe check out my guides to France, Germany, Greece, Iceland, Italy, Portugal, Spain and United Kingdom.
My Travel Tips and Recommendations
Flights
To book flights, I always use flight search engine, Skyscanner, I regularly use the Everywhere tool to find the cheapest places to travel. It's how I get to travel so much all around the world. I find it the easiest way to compare flight prices across airlines and get the best deals.
Accommodation
For accommodation, I usually book most of my hotels or hostels through Booking.com. I love using this platform as it provides me with some amazing deals for accommodation all around the world. Or if you prefer, I also recommend using Airbnb. If you haven't signed up with Airbnb already, you can use this link to get £25 off your first visit!
Photography and Technology
Here is a list of the technology I always travel with:
Travel Insurance
Picking travel insurance that covers you in all eventualities is an essential part of planning a trip for every single person. If you can't afford travel insurance, you can't afford to travel. You never know what's around the corner.
Did you know I also vlog my trips? Make sure you subscribe to my YouTube channel so you get alerted when all my travel videos go live… CHECK THEM OUT HERE
Thank you for reading and as always happy adventuring! If you have any questions about the destination please leave these in the comments below.
If you've enjoyed this post, please share it for me with all your friends and family!
Sophie X