On a blustery January weekend, Theo and I headed over to the brand new DeRoka Milton Keynes in The Hub in Milton Keynes. The restaurant which is a family-owned, independent Turkish restaurant specialises in exquisite, traditional Mediterranean cuisine and having been recommended a visit, I couldn't wait to try out the food myself.
Established in 2015, the restaurant has won three consecutive awards for best Mediterranean in Hertfordshire and the team are delighted to be bringing their unique brand to The Hub, Milton Keynes.
DeRoka's founders believe that a memorable dining experience is determined not only by the quality and flavour of the food but also by the people that you meet.
DeRoka Milton Keynes has curated a high-spirited and welcoming atmosphere, giving their customers an experience, they will cherish every time they walk through their doors. And we certainly felt this was true on our visit to DeRoka Milton Keynes too, as we were warmly welcomed by one of their staff members and immediately taken to our table.
The décor in this restaurant is second to none, and I loved their interior design style. You can find bronzed surfaces, copper lighting, pastel pink velvet chair, and walls of champagne. The restaurant has an air of luxury about it, but it doesn't throw it in your face. It's found the perfect balance between luxury and atmospheric.
DeRoka Milton Keynes pride themselves on their traditional Charcoal grill – a staple in the Mediterranean and something they seem to have perfected.
They then combine authentic spices of the Mediterranean and expertise of DeRoka's chefs, and present customers with a variety of tasty dishes, for lunch, dinner and on Sundays. You are sure to be sent on a flavour adventure with any dish from their menu.
De Roka pride themselves on their traditional Charcoal grill – a staple in the Mediterranean! When combined with the authentic spices of the Mediterranean and expertise of De Roka's chefs, customers are presented with exquisite choices that will take their taste buds on a flavour adventure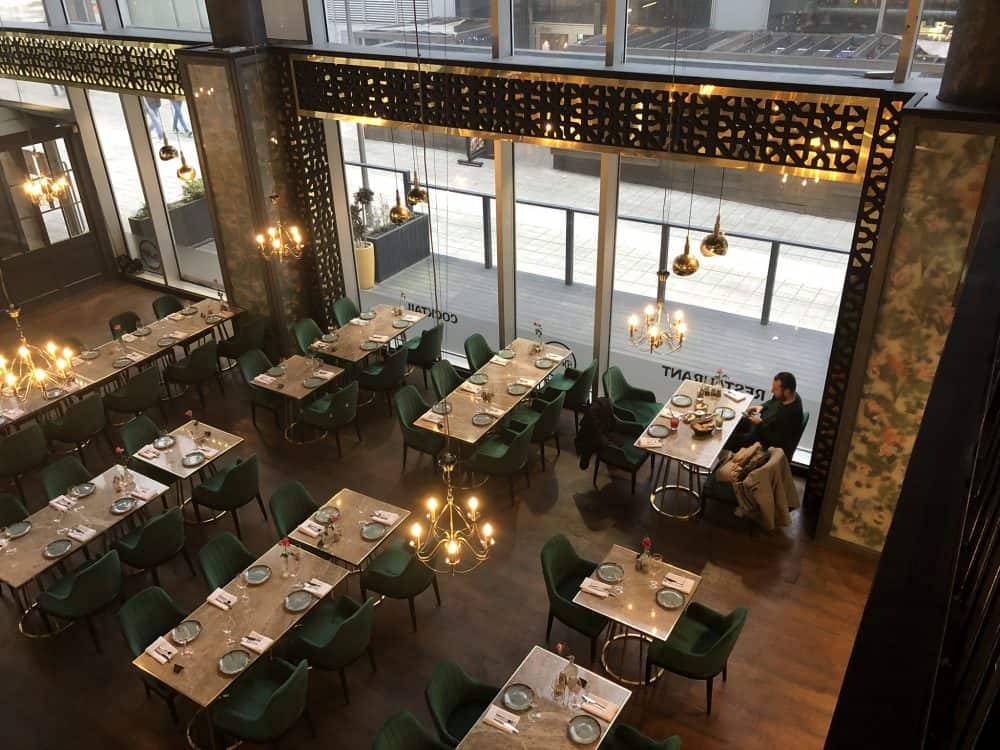 To start we opted for a platter of dishes including a blend of mashed chickpeas with tahini, and garlic, finished with olive oil hummus bowl.
There was also Cacik (also known as tzatziki) which included a blend of finely chopped cucumbers with fresh mint, garlic, strained Turkish yoghurt and finished with olive oil, and Saksuka, which is fried aubergines, potatoes, bell peppers & onions in a tasty, delicately balanced tomato sauce.
We loved sharing this starter platter as a family, and they also provided us with some flavoursome pitta bread to dip in the hummus and tzatziki.
Continuing the sharing theme, we then decided to also opt for a sharing meal for our main meal.
DeRoka Milton Keyneshas a gorgeous selection of charcoal dishes, and we decided to go for the 'Sharing Platter for 2' which included an array of Chicken Shish, Lamb Shish, Lamb Ribs, Chicken Wings, Adana and Chicken Beyti, all placed on top of a bed of rice, roasted vegetables and pitta.
We all tucked in with great delight and were in awe of the complex flavours used across all the different meats. I even really enjoyed the roast vegetables; they added a great addition to the meal.
Then even though we were full after the amazing array of food, we decided to go for pudding! I opted for the Crème Brulee, which had a gorgeous fluffy texture, with crunchy caramel on top.
Whilst, Theo chose the Banoffee Pie, their signature homemade dessert with bananas, toffee and cream on a biscuit base.
We had a wonderful meal at DeRoka Milton Keynes and I was incredibly impressed with the food, service and atmosphere.
I will 100% be back here soon with my girlfriends and would love for them to do a bottomless brunch as this is the perfect venue for a fun brunch with your girls.
Recommended posts:
Ultimate Guide to one week in Bali Itinerary
Berlin City Break: How to spend a Weekend in Berlin Germany
Sign up to AirBnB with this link and receive a £50 off your first booking.
To receive my articles and reviews straight to your inbox SUBSCRIBE HERE.
Did you know I also vlog my trips? Make sure you subscribe to my YouTube channel so you get alerted when all my travel videos goes live… CHECK THEM OUT HERE
Thank you for reading and as always happy adventuring! If you have any questions about the destination please leave these in the comments below.
If you've enjoyed this post, please share it for me with all your friends and family!
Sophie X