As the summer months approach and we all start spending a little more time enjoying the sun it is the perfect opportunity to explore more of our UK beaches; whether you want to try your hand at surfing, sunbathing, fossil hunting or just a fun day out with friends.
I have compiled a list of the 10 best beaches in the South East for you to enjoy this summer!
10 Best Beaches in South England [2023]
1. Monmouth Beach, Lyme Regis
Best for budding palaeontologists!
One of the best beaches in south england is Lyme Regis towards the west of the South of England and forming part of the famous Jurassic coast is the perfect spot for those looking for a bit of history and adventure! The cliffs here are packed with different fossils and with guided tours, fossil walks and even a fossil museum right on the beach front this is the perfect beach to try out a new activity this summer.
2. Brighton Seafront, Brighton
Best for seafront attractions and activities!
Brighton seafront and beach are legendary in the world of beaches, even being named as one of the top ten city beach breaks in the world! It is perfect for exploring a classic British day out at the beach, with the iconic pier fitted with a helter skelter and arcades, along with Brighton Sea Life and the historic Volks railway there is plenty to keep everyone entertained. Further along the beach you can also check out the colourful beach huts, along with a selection of clubs, bars and restaurants that light up after dark.
3. Alume Chine Beach, Bournemouth
Best for a day out on the sand and in the sea!
Bournemouth's award winning beaches are the perfect spot for sunbathing and swimming, with the warmest sea temperatures around the whole of the UK. You can even go as far as to hire your very own beach hut for the extension of your trip as well as an array of surf, paddle board and sea equipment. The view from the beach is also quite impressive extending across the ocean you can even catch a glimpse of the Isle of Wight on clear days! Another of my favourite best beaches in south england.
Other recommended blog posts
10 Best Beaches in South England [continued]
4. Dunwich Heath Beach, Suffolk
Best for wildlife and nature
Dunwich Heath beach is an out-of-the-way hidden beach backed by large dunes, heathland and lagoons close to the Minsmere RSPB reserve. This is the perfect beach for those looking for a calmer trip surrounded by nature. There is amble bird and wildlife species as well as sandy cover for those looking for a more typical beach trip. This is also a great spot for those that want access to close public facilities and spots for lunch as there are several cafes within walking distance from the main beach.
5. Joss Bay and Viking Bay, Broadstairs
Best for surfing and swimming
Joss Bay and Viking Bay are the perfect spots for those looking for a day out in the sea! Well known as a good place for surfing in the South East these two popular beaches are a great spot for those interested in swimming and water activities. Viking bay is manned by lifeguards throughout the summer months making it a perfect location for a summer swim; whilst Joss Bay is home to a long established surf school which offers surfing and paddle board lessons and hire.
Other recommended blog posts
6. Margate, Kent
Best for a classic day at the beach/history
Margate also affectionately named 'the original seaside' is a quintessential British beachside location dating back to the Victorian era. There is also plenty to discover on and off the beach with a large selection of attractions, from retro shops and cafes to the Dreamland seaside amusement park which offers vintage arcades, rides, and attractions right next to the beach. This is the perfect beach for those looking for a little extra on the side and wanting to relive history in classic seaside fashion.
7. Camber Sands, East Sussex
Best for windsurfing and beach combing
Home to the only sand dunes in East Sussex and named after its infamous golden sand Camber Sands stretches over 5 miles and although only 2 hours from London it remains relatively quiet compared to other beaches within the area. Camber Sands is regarded as one of the best locations for beach combing and windsurfing/kitesurfing so whether you prefer to stay in the water or on the shoreline there is plenty of activities for everyone.
8. Frinton-on-Sea, Essex
Best for calm and relaxation
Frinton-on-Sea beach is the perfect spot for those seeking a calmer day at the seaside without any commercial or too touristy areas and with a clear sandy beach separated by timber groynes as well as, a large green space just above the sand it is perfect for a calm day at the beach with a picnic. Frinton-on-Sea also has also been awarded for its outstanding cleanliness in the past, making it a gorgeous spot for all.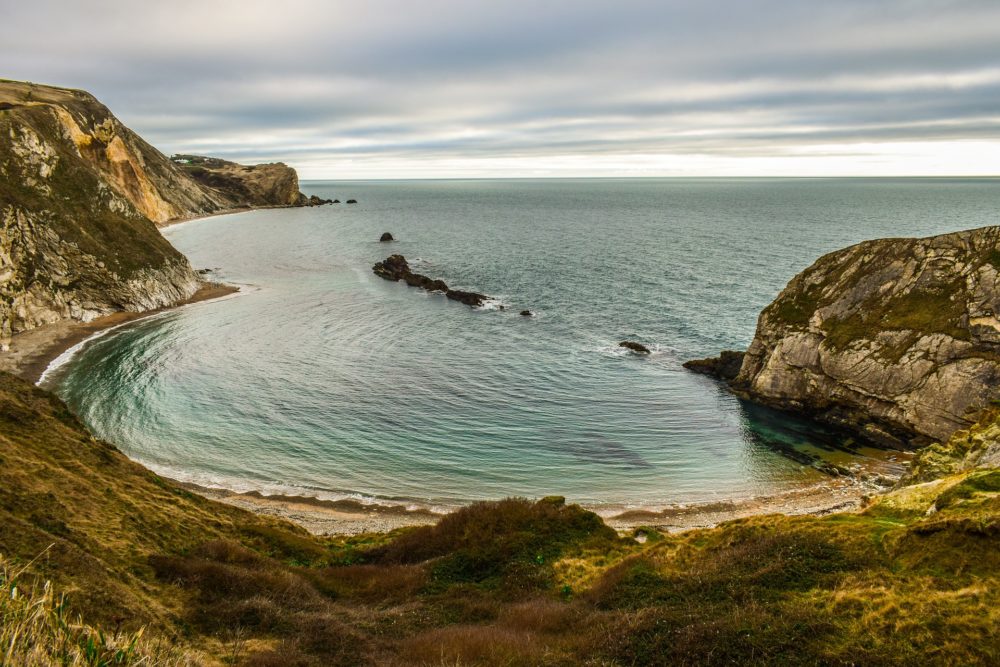 10 Best Beaches in South England [continued]
9. Steephill Cove, Isle of Wight
Best for swimming and rock pooling
Steephill Cove is a beautiful hidden gem of a beach with a variety of rockpools to explore, beautiful scenery and clear waters for swimming it is a great place to relax. During the summer season a variety of restaurants and cafes serve locally caught seafood and refreshments making it perfect for a spot of lunch or dinner.
10. Blakeney Point, Norfolk
Landscapes and Wildlife
Blakeney Point is the perfect beach trip for those looking for wildlife and beautiful landscapes. It is designated as a sight of special scientific interest, making it great for wildlife watching! It is home to England's largest grey seal colony with over 4,000 pups being born each year and over 160 hectares of freshwater grazing marsh it is also a great location for birdwatching. This is the perfect place for those looking for a bit more activity and interest on their trip to the beach.
If you on a bigger trip exploring more of Europe check out my guides to France, Germany, Greece, Iceland, Italy, Portugal, Spain and United Kingdom.
---
My Travel Tips and Recommendations
Flights
To book flights, I always use flight search engine Skyscanner, I regularly use the Everywhere tool to find the cheapest places to travel. It's how I get to travel so much all around the world. I find it the easiest way to compare flight prices across airlines and get the best deals.
Accommodation
For accommodation, I usually book most of my hotels or hostels through Booking.com. I love using this platform as it provides me with some amazing deals for accommodation all around the world. Or if you prefer, I also recommend using Airbnb.
Travel Insurance
Picking travel insurance that covers you in all eventualities is an essential part of planning a trip for every single person. If you can't afford travel insurance, you can't afford to travel. You never know what's around the corner.
Did you know I also vlog my trips? Make sure you subscribe to my YouTube channel so you get alerted when all my travel videos go live… CHECK THEM OUT HERE
Thank you for reading and as always happy adventuring! If you have any questions about the destination please leave these in the comments below.
If you've enjoyed this post, please share it for me with all your friends and family!
Sophie X