The home of Port Wine, need I say anymore? Spending 3 Days in Porto in the perfect amount of time to explore this incredible city.
If you haven't already got Porto on your list of European cities bucket list then that needs to change….
I was lucky enough to visit Lisbon, Portugal's capital last September. Lisbon is another beautiful European city that I have already written a blog post on how to spend 3 days in Lisbon. Lisbon is current and trendy, there is modern European brunch spot around almost every bend and its home to the infamous 'Time Out Food Market'.
Portugal's second city, Porto, is amazing, and like my favourite city Lisbon, offers so much to tourists, from food to culture, and religion to activities. In the medieval Ribeira district, you can find an array of narrow cobbled streets, with beautiful cafes and restaurants dotted along the river.
Porto, on the other hand, has history and culture and dive bars with a hint of glamour. Millennials fear not, they also have fabulous restaurants and places to get your avo on toast. It was the difference that I wasn't expecting but totally fell in love with (oh and they do a mean port tonic – it's a game-changer). And if you've got a few more days, why not extend your trip and explore days trip from Porto.
If you are thinking of going to Porto, then it's best to go off-season, the city isn't massive and even in February, you could spot the tourists from the locals. Here is what I would suggest for your agenda…
If you on a bigger trip exploring more of Europe check out my guides to France, Germany, Greece, Iceland, Italy, Portugal, Spain and United Kingdom.
Included in this 3 days in Porto Itinerary
Day 1 – Walking tour, lunch at Linnha, custard tart stop at Manteigaria and Port tour and tasting at Calem

Day 2 – Breakfast at the Majestic Café, water taxi back over the river to see the 6 bridges and ice cream stop at Boutique do Gelado

Day 3 – Visit the cathedral, Porto hop on hop off bus and a late lunch at the Port along the river Duro
3 days in Porto Itinerary
Top 13 Places to visit in Porto
Capela das Almas (Chapel of Souls), located in Rua de Santa Catarina 428
Igreja do Carmo located in Praça de Gomes Teixeira 10, Porto
Palácio de Cristal (Cristal Palace), also called Pavilhão de Rosa Mota
Ribeira District, here you'll find many beautiful and colorful houses and doors; it is the river area.
Yeatman Hotel (rooftop bar)
Clérigos Tower
Lello Library
Serralves Park/Museum
Dom Luís I Bridge
Foz do Douro (beach area, explore the beautiful streets and also by the sea you'll find beautiful spots)
Parque da Cidade (City Park)
Sé Catedral (Cathedral)
Palácio da Bolsa
3 days in Porto Itinerary
Getting to Porto
I flew straight from London Gatwick to Porto, door to door it took me 4 hours. I could quite believe how quick it was to get there, the flight is a little under 2 hours, so just enough time for a cheeky G&T and a good read. Once I was in Porto I ordered a taxi to the Airbnb I booked. You can however very easily get a bus or the metro into the city, it's very clear at the airport how to do this. My Uber was about 22 euros for a 30-minute trip.
Porto to Lisbon by train
If you have time I would highly recommend a road trip in Portugal from Lisbon up the coast, and then on to Porto. Of course, you need probably around 9 days in Portugal for this. If you want to do a road trip you will need a car, but Portugal also has a really great transport network and you could even get the train.
To get to Porto from Lisbon you must take a train from Lisbon's Santa Apolonia Station to Porto's Campana Station. Once you have arrived you then catch a connecting train to Sao Bento Station in the centre of the city centre.
3 days in Porto Itinerary
Where to stay in Porto
Deco Gem Aliados Luxury Downtown Apartment
We stayed in an Airbnb located in the Aliados area by the monumental avenue. Riberia, Porto Cathedral and the river were all walking distance from the apartment. I would 100% stay here again – so do have a look at Airbnb for great deals regardless of your budget.
Combine the heady sensation of Art Deco furnishings with modern-day comforts like a super-wide TV in this lavishly furnished apartment. Rich accent walls meet mirrored surfaces, while a free-standing tub and rain showers mark out the bathrooms.
This apartment is about as central as it gets, located in the Aliados area by the monumental avenue that hosts the city's most important events and celebrations. View historic buildings like Porto Cathedral and walk by the river in nearby Ribeira.
Things to do nearby
Learn How to Make Pastel de Nata – From £18/person · 2.5 hours
Wine Venture & Boat Trip in Douro Valley – From £113/person · 9.5 hours
Create Watercolour with Hugo do Lago – From £23/person · 2 hours
Walk & Bites – From £45/person · 3.5 hours
Looking for more ideas? Check out this post on where to stay in Porto.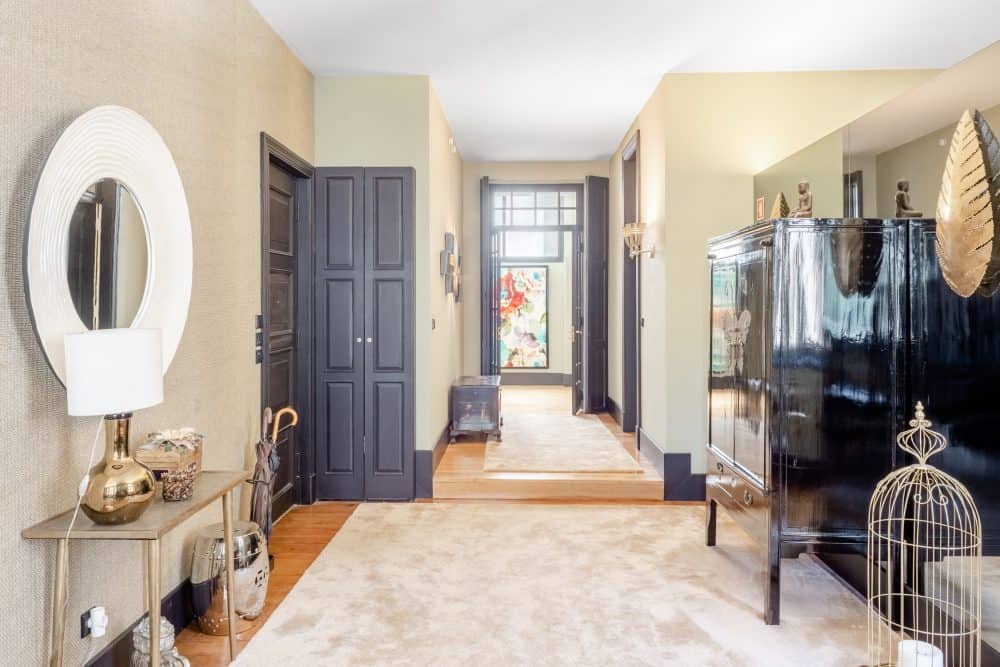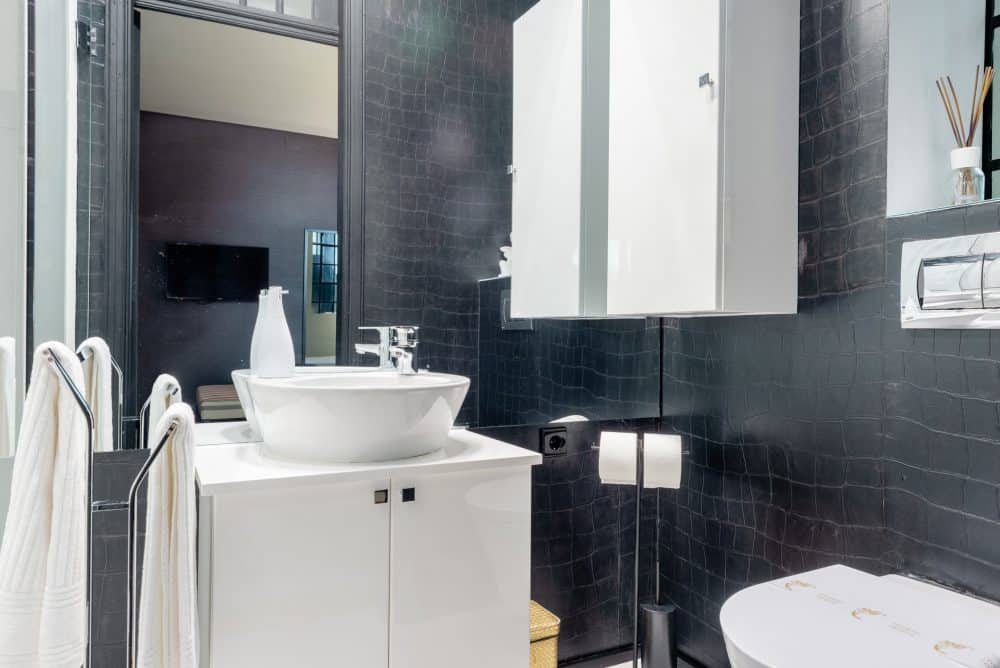 3 days in Porto Itinerary
Places to see in Porto
There is so much to explore in the city of Porto. Not only is there Porto itself, but there is also Gaia. I wasn't aware of this, but all the Port houses in this part of Portugal are actually located on the other side of the river Douro in Gaia.
I would highly recommend doing a walking tour of the city on your first day to get your baring's and find out the history of the city. We booked ours through Get your Guide. It was 30 euros per person for a 3-hour trip. Giving the time of year and the day of the week, we were the only people on the tour which meant we got to ask a lot of questions and walk at our own pace which was a delight.
It's known the JK Rowling got a lot of inspiration to write Harry Potter when she was living and teaching in Porto. You can visit the book shop which interiors that inspired her imagination for the description of Hogwarts. Well worth the visit to Lello Bookshop if you're a Harry Potter fan!
You do have to pay to enter, but this price is redeemable on any book in the store – I picked up a little copy of Alice in Wonderland for a keepsake. 3 guesses as to why I chose this book?!
You cannot go to Porto without doing a tour or tasting of one of the Port houses. We did the tour at Calum, it sounds as though you can't go wrong with any of them. Ours included a tour and a tasting of 3 Port wines. If you aren't into Port or do not drink, then I would still recommend going as they tell you all about how Port is made and the history of Port in the capital for it!
They take such pride in describing the century-long processes of distilling the Port.
I haven't dwelled on shopping here as we didn't have much time and felt that there were better uses of what little hours in Porto.
However, as you could have guessed they have a lot of little boutique shops selling hand made pottery and trinket dishes such as Obrigado on Rua Das Flores. Shock horror, they also had all the European brands you would expect – Zara, Bershka, Pull and Bear etc.
We visited Foz for the afternoon as it was part on the Hop on Hop off bus route. We got off at this beautiful seaside town and had a walk down the promenade.
I can imagine this is filled with tourist on a hot summers day. I would recommend visiting Foz any time of the year, we stopped and had a glass of red by an outside heater – was dreamy! Foz is about 30 minutes from Porto on the Tram.
3 days in Porto Itinerary
Where to eat in Porto
I promise you will not be short on where to go for breakfast, brunch, lunch or dinner when in Porto. I must start this by saying that I had one of the best meals I have had in a very long time on a Thursday night.
Flow Restaurant
The stars aligned and I had just had 3 glasses of port before, but the food was delicious and the staff were great at recommending dishes and enhancing the already spectacular atmosphere. The restaurant was busy, but not overcrowded – I would 100% recommended Flow Restaurant and Bar.
It was also walking distance from our Airbnb, so meant we could walk off the 3 courses we thoroughly enjoyed! It's worth noting that they have a sister restaurant in Porto called MISTU. I've no doubt that its also 10/10
Majestic Cafe
Another must when in Porto is the Majestic Café – this café is not only a lovely breakfast and lunch spot but a historical building in Porto where many senior politicians and members of high society used to meet. The high ceilings and tasteful features make the café feel very grand. Due to this, it is certainly a tourist hotspot and not somewhere the locals flock to, but you can have a delightful 3-course breakfast and a glass of bubbles for a mere 30 euros.
Fabrica da Nata and Manteigaria
For your custard tart fix, do check out Fabrica da Nata and Manteigaria. Now Lisbon is the home of the custard tart, but it's still worth going to get your afternoon pick me up from either of these specialist cafes.
Bartolomeu Bistro
For drinks, I can recommend Bartolomeu bistro and wine bar. You can order wine by the glass (they recommended Portuguese wines) and snack on the most impressive charcuterie board, cheese and ham crepes, blue cheese and walnut salad and toasted sourdough with whipped butter. The menu is small, but the flavours are certainly not. We went there on our first evening – it was perfect for our introduction to Porto.
Francesinha
I feel I have to mention that Porto's most famous dish is the Francesinha (not for the faint-hearted), its essentially a sandwich full of nearly every type of meat, then topped with a fried egg and covered with cheese. It comes with a side of chips in chilli and beer sauce. I must say, I did not have this. Google images put me off before I even saw one IRL. If you do get it, these are the places to go: Brasão Cervejaria Aliados, Coliseu Café Santiago

Other foodie recommendations are listed below….
Modern restaurants
Flow Restaurant & Bar
MISTU
Il Fornaio 178
Boa-Bao
Cantina 32
Brunch
Camélia Brunch Garden
Eleven Lab Concept
Nicolau Porto
Lunch with a view
Restaurante Árvore
Oporto Café
Fresh fish
Tony Angeiras
O Filipe
Casa da Guripa
Vegetarian
daTerra
Em carne viva
Essência
3 days in Porto Itinerary
17:30: Arrive at Porto airport and got an uber to my Airbnb
20:00: Dinner at Bartolomeu Bistro and Wine bar
Day #1
10:00: 3-hour walking tour of the city
13:30: Lunch at Linnha 22 (AMAZING sandwich, think Italian ham, cheese and the dreamiest bread!)
14:00: Custard tart stop at Manteigaria (I can't believe it took me until 2 pm on day two to get a custard tart either).
16:30: Port tour and tasting at Calem
20:00 Dinner at Flow Restaurant and Bar
Day #2
10:00: Breakfast at the Majestic Café
11:30: Walk from the Majestic to the cable car which takes you over many of the Port houses in Lisbon. From here we got a water taxi back over the river to jump on a river cruise downriver the Douro which means the river of Gold. This lasts around 50 minutes and takes you to see the 6 bridges that cross from one side of Porto to the other. Fun fact is that the other side of the river isn't actually Porto. Its called Gaia. There is a big rivalry between the two sides.
14:00: Essential ice cream stop at Boutique do Gelado
20:00: For dinner, on the Friday night we went to this very small independent restaurant on Rua das Flores. The road is beautiful as you would imagine with this name, there are a lot of little restaurants and wine bars along the road. I think for this reason we were disappointed with the restaurant we went to. From the outside it was beautiful, but the restaurant lacked a certain ambience we wanted from a Friday night
22:00: Post-dinner snacks from Fabrica da Nata (another fantastic custard tart shop) – because when in Rome and all that
Day #3
10:00: Breakfast at the Airbnb
12:00: We visited the cathedral and walked up the tower for some beautiful views over Porto
13:00: We bought tickets for the Porto hop on hop off bus. We took the red route to the beach whilst having a guided tour of the city en route. This is a great way to see the city.
15:00: We stopped for an afternoon drink (Port Tonic obvs) whilst in Foz and then got the tram back to the city. Another form of transport ticked off the list!
16:00: Late lunch at the Port, there are many restaurants along the river Duro, so we were spoilt for choice. Its very touristy here and we were charged 18 euros for some bread and butter that we didn't even ask for, so be mindful that it is a tourist trap. As February is quiet in the city we didn't mind having lunch here.. we had also had a few too many port tonics to care quite frankly!
18:00: One last visit to Manteigaria for 1 custard tart to eat in and 18 custard tarts to take home (I'm not joking).
---
Author Bio: Alice is 26 and lives in Balham. She enjoys nothing more than requesting annual leave days and planning trips for herself and her friend! Alice's favourite place to travel in the UK is Scotland for nostalgic reasons, ever since she was a child, her family would pack up the car and start the 9-hour journey to Scotland whilst listening to the Harry Potter audiobooks. Now she loves to travel further afield. In only a couple of years, she has visited Bali, India and South America whilst squeezing in a few European and UK city breaks in where she can.
---
My Travel Tips and Recommendations
Flights
To book flights, I always use flight search engine, Skyscanner, I regularly use the Everywhere tool to find the cheapest places to travel. It's how I get to travel so much all around the world. I find it the easiest way to compare flight prices across airlines and get the best deals.
Accommodation
For accommodation, I usually book most of my hotels or hostels through Booking.com. I love using this platform as it provides me with some amazing deals for accommodation all around the world. Or if you prefer, I also recommend using Airbnb. If you haven't signed up with Airbnb already, you can use this link to get £25 off your first visit!
Photography and Technology
Here is a list of the technology I always travel with:
Travel Insurance
Picking travel insurance that covers you in all eventualities is an essential part of planning a trip for every single person. If you can't afford travel insurance, you can't afford to travel. You never know what's around the corner. World Nomads is an affordable option that I personally recommend. BOOK HERE
Other posts that may help you:
Ultimate Guide to one week in Bali Itinerary
Visit Lisbon: 9 Day Trips from Lisbon
Berlin City Break: How to spend a Weekend in Berlin Germany
The Best City Breaks for Couples
10 of the Best places to eat Brunch in London
Sign up to AirBnB with this link and receive a £23 off your first booking.
To receive my articles and reviews straight to your inbox SUBSCRIBE HERE.
Did you know I also vlog my trips? Make sure you subscribe to my YouTube channel so you get alerted when all my travel videos goes live… CHECK THEM OUT HERE
Thank you for reading and as always happy adventuring! If you have any questions about the destination please leave these in the comments below.
If you've enjoyed this post, please share it for me with all your friends and family!
Sophie X