When many think about Spain, they think about Barcelona, Madrid and the main tourist cities of this magical country. However, if you really want to go off the beaten track, I'd recommend spending 7 days Spain exploring the treasures of Andalucía.
There are so many things to do in Andalucía, much more than you would imagine, so I am going to take you on a written tour of this wonderful part of the country from Cordoba to Granada, and from Madrid to Seville.
I would recommend spending 7 days in Spain with Rabbie's, who host tours all over the UK and Europe.
I had travelled on a UK tour with Rabbie's back in 2020 and loved it so much, so I decided to try one of their European tours this summer.
7 days in Spain
DAY ONE – Madrid
Start your exploration around the south of Spain from the Spanish city of Madrid.
You can fly in a few days before and explore the capital of Spain or fly in the day before and stay at Hotel Porcel Ganivet, where you can enjoy dinner at Taberna El Schotis or head out to explore the centre of Madrid.
Accommodation: Hotel Porcel Ganivet or similar
DAY TWO – Toledo, Cordoba
Once you awake and grab breakfast at your hotel and get picked up at 8am by your tour guide.
As you leave the heart of Spain and head south to Toledo, you can admire the amazing views of hilltops and the Tajo River.
Toledo used to be known as the 'City of Three Cultures' as three religious groups lived side by side, Jewish, Muslim and Christian. You can see this throughout the city with the mix of cultures, architecture and restaurants.
To get the real feel of the place, I'd recommend going for a wander through the cobbled streets of the city, grab a coffee and take it all in.
And make sure you stop for lunch at Bar Ludena, where they serve the most amazing carcamus, a traditional Spanish dish originating from Toledo. The meat and vegetable stew is usually made with a combination of beef, ham, tomatoes, chorizo, in white wine sauce.
Other recommended blog posts
The bar was beautiful and the woman behind the counter told us all about how her grandfather founded the restaurant 68 years ago and created the recipe.
Once you've fueled up, head further on through Castilla-La Mancha, the setting for the adventures of the literary hero Don Quixote, where you can stop to admire the windmills atop a hill. Then head on through Despeñaperros Natural Park, the gateway to Andalucía.
As the day draws to a close head on to Córdoba, where you can stay for one night at the Eurostars Maimonides. A beautiful hotel set within the city walls, literally outside of the mosque-cathedral and only a few minutes' walk from everything Cordoba has to offer.
The city of Cordoba is a stunning representation of everything Andalucía has to offer including the famous La Mezquita which you should visit the next day.
For dinner head to the amazing Casa Pepe, which although more expensive, serves amazing food, and has a very authentic traditional menu.
Accommodation: Eurostars Maimonides or similar
DAY THREE – Cordoba, Granada
Day three is a jam-packed day with a visit to the amazing La Mezquita, and in the afternoon you can learn about olive-making and take in views of endless olive groves. Or as we did, visit some cave houses!
Spend the morning with a visit La Mezquita, an immense mosque-cathedral and a UNESCO World Heritage site.
This world-famous construction boasts countless rows of decorated arches and a serene interior and is large enough to have a cathedral built inside it.
La Mezquita is an immense mosque dating from 784 A.D., featuring a columned prayer hall and older Byzantine mosaics. After it became a Catholic church in 1236, a Renaissance-style nave was added in the 17th century, but long before that it was a mosque.
Cordoba has bustling squares and delightful architecture and was an important Roman city and a major Islamic centre in the Middle Ages.
From here you travel through rolling hills of Andalucía, where you will see field after field covered with silvery-grey-green olive trees and the province of Jaén. It is at this point where you can head to many of the amazing olive farms in the area.
Spain is well-known for their love of olives, and they export 44% of the world's production of olive oil. It is here that you stop with your group, and it's a great chance to learn more about how Spain's 'liquid gold' is made at an olive oil production site.
Or you can head to, as we did, to the village of Guadix to the Museo Centro de Interpretación Cuevas de Guadix where we learnt about the cave houses that the community have lived in for 100's of years and still do, to this day.
From there continue the journey to the south to the ruined hilltop fortress of Fortaleza de la Mota before ending your day in the city of Granada, where you base yourself for another two nights.
Accommodation: Porcel Alixares or similar
DAY FOUR – Sierra Nevada Mountains, Alhambra
By now I felt very integrated into the Spanish way of life, indulging in amazing Spanish wine, and at nearly every meal eating tapas.
For your fourth day in this region, you can either spend the morning in the city centre of Granada or you can head out of the city into the amazing Sierra Nevada Mountains.
The rugged landscapes of the Cumbres Verdes mountains on the forefront of the Sierra Nevada is an amazing place to go hiking, with many various hiking trails.
Or if you decide to spend the morning in the city, you can explore the Islamic markets, grab some Moroccan tea at Kasbah Teteria and go shopping.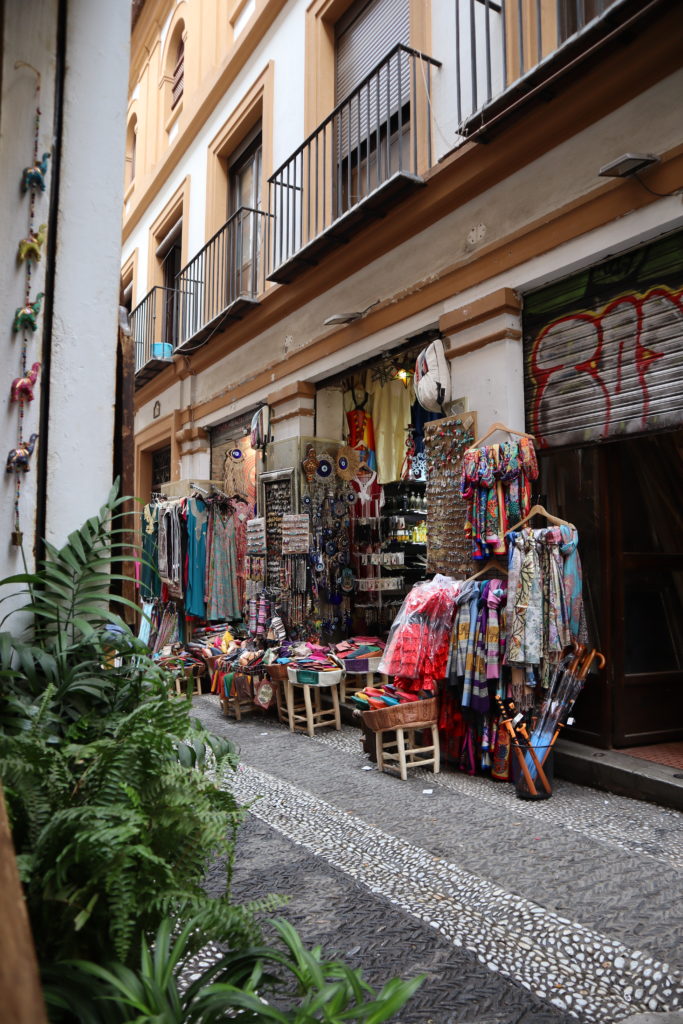 Then in the afternoon you can take a visit to Alhambra to discover more about this amazing multi-cultural city. Built by the Nasrid Dynasty, the fortress is one of the best-preserved palaces of the historic Islamic world.
Alhambra is a large complex with multiple buildings dotted across the site, including Nasrid Palaces, Partal gardens and Alcazaba. You will need around half a day to explore this massive attraction and tickets are $14 (although on the Rabbie's tour entry is included).
The Nasrid Palace looks like something out of Arabian nights and from the moment you enter through the ornate entrance you're transported to another world. A visit to this UNESCO World Heritage site is a must-do for anyone visiting Granada.
Other things to do in Granada include a visit to Lorca's House Museum at Huerta de San Vicente, or you could go and watch a traditional Flamenco dance show to get a real feel for Spanish culture.
Accommodation: Porcel Alixares or similar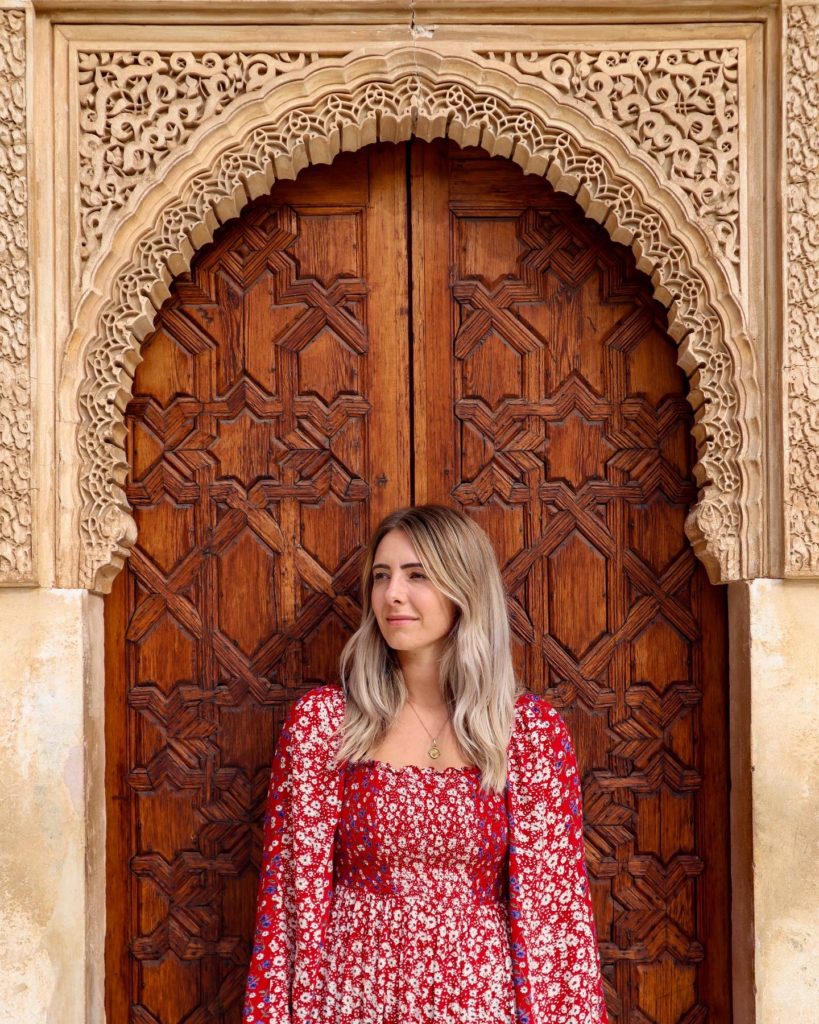 DAY FIVE – Ronda, Arcos de la Frontera
As you leave behind Granada, you head on to the incredible town of Ronda, through the countryside, where you find the Instagram-famous El Tajo Gorge, which is located at the top of a steep cliff with a stunning arch over the valley
You can spend a few hours wandering around this stunning city, along the city walls and enjoy lunch at a tapas restaurant near the main square.
Once you've finished lunch it's back to the bus to delve deeper into this region through the Sierra de Grazalema Natural Park and on to Arcos de la Frontera.
The town of Arcos de la Frontera is stunning, and you can wander around through the maze of cobbled streets past its many white houses, to its dramatic cliff top views where you can see as far as the eye can see.
Then it's time to jump back on the bus again as you head on to your penultimate destination Seville, where you will spend another two nights.
Accommodation: Hotel Exe Sevilla Macarena or similar
DAY SIX – Seville
Today make sure you spend the whole day exploring everything Seville has to offer. The city signifies the essence of Spain, from the amazing architecture of La Giralda, to the stunning Seville Cathedral, or from a stroll through the Plaza de España where you can find iconic orange trees.
The views of Seville are also fantastic and a visit to the Real Alcázar reveals an extraordinary palace full of history. Seville is a city of lively streets and large open spaces such as María Luisa Park, and the avant-garde Setas de Sevilla. For dinner enjoy authentic tapas in the old town!
Accommodation: Hotel Exe Sevilla Macarena or similar
DAY SEVEN – South Portugal, Lisbon
As you finish your time exploring Andalucía enter Portugal for your penultimate day. Say goodbye to the city of Seville and head west to the Costa de la Luz, the land of golden sandy beaches that never seem to end.
Make sure you take a stop in the seaside city of Huelva, where Christopher Columbus planned his trip to find a western sea route to China and India and cross the border to Tavira in the Algarve. Here you can head to the River Gilão, down the cobblestone streets, and then try some Portuguese cuisine and a glass of Vino Verde.
Then it's time to head north to the amazing city of Lisbon, where the tour ends. Make sure you add a few extra days on to the end of your trip here in Lisbon, as there is so much to do and see.
It is one of my favourite cities in Europe for many reasons but mostly for its amazing rooftop bars, close proximity to the beach and unique riverside restaurants. You could easily spend three days in Lisbon, so if you've got the time 100% do it.
You can also grab yourself a famous Pasteis de Nata, visit the imposing São Jorge Castle, take in all the views from the famous Alfama district, walk around Barrio Alto and take photos against the city's pastel-coloured buildings, and there is even enough time to see the Ponte 25 de Abril suspension bridge.
And if you've got longer in Lisbon, outside the city there you can also visit beach towns such as Cascais to Estoril. Check out my guide to day trips from Lisbon too.
PRICE
Prices for this amazing six-day trip started at €1,185 per person for tours departing in 2022. Rabbie's European tours – visiting sites across Spain, Portugal, Italy and Switzerland – will be returning in 2023. To view Rabbie's selection of UK, Ireland and European tours.
TOUR INCLUSIONS
5-nights in 3- and 4-star hotels with continental breakfast

Transport in a luxury mini coach with an English-speaking local driver with air conditioning

Entrance to La Mezquita

Entrance to an olive oil production site

Entrance to the Alhambra
TOUR EXCLUSIONS
Meals, unless listed above

Attractions, unless specified
---
If you on a bigger trip exploring more of Europe check out my guides to France, Germany, Greece, Iceland, Italy, Portugal, Spain and United Kingdom.
My Travel Tips and Recommendations
Flights
To book flights, I always use flight search engine Skyscanner, I regularly use the Everywhere tool to find the cheapest places to travel. It's how I get to travel so much all around the world. I find it the easiest way to compare flight prices across airlines and get the best deals.
Accommodation
For accommodation, I usually book most of my hotels or hostels through Booking.com. I love using this platform as it provides me with some amazing deals for accommodation all around the world. Or if you prefer, I also recommend using Airbnb.
Travel Insurance
Picking travel insurance that covers you in all eventualities is an essential part of planning a trip for every single person. If you can't afford travel insurance, you can't afford to travel. You never know what's around the corner.
Thank you for reading and as always happy adventuring! If you have any questions about the destination please leave these in the comments below.
If you've enjoyed this post, please share it for me with all your friends and family!
Sophie X