Mini World's End Sri Lanka is one of the most beautiful places I have ever been to. It's a trek in the countryside region of Horton Plains, close to The Knuckles national park.
A long way away from the humid beaches of the coast, and the chaotic streets of Colombo, Riverston is stunning!
There are so many things to do in Sri Lanka, in fact, the list is endless. But one thing you must add to your Sri Lanka bucket list is Mini World's End in Horton Plains. It was something we hadn't originally added to our list of things to do in Sri Lanka, but I am so glad we got to hike in Riverston.
This is an incredible region of the country and so far, it's barely touched by tourists. It ended up being an unexpected highlight of our journey in Sri Lanka and I would highly recommend getting a tour guide and heading out to explore this area.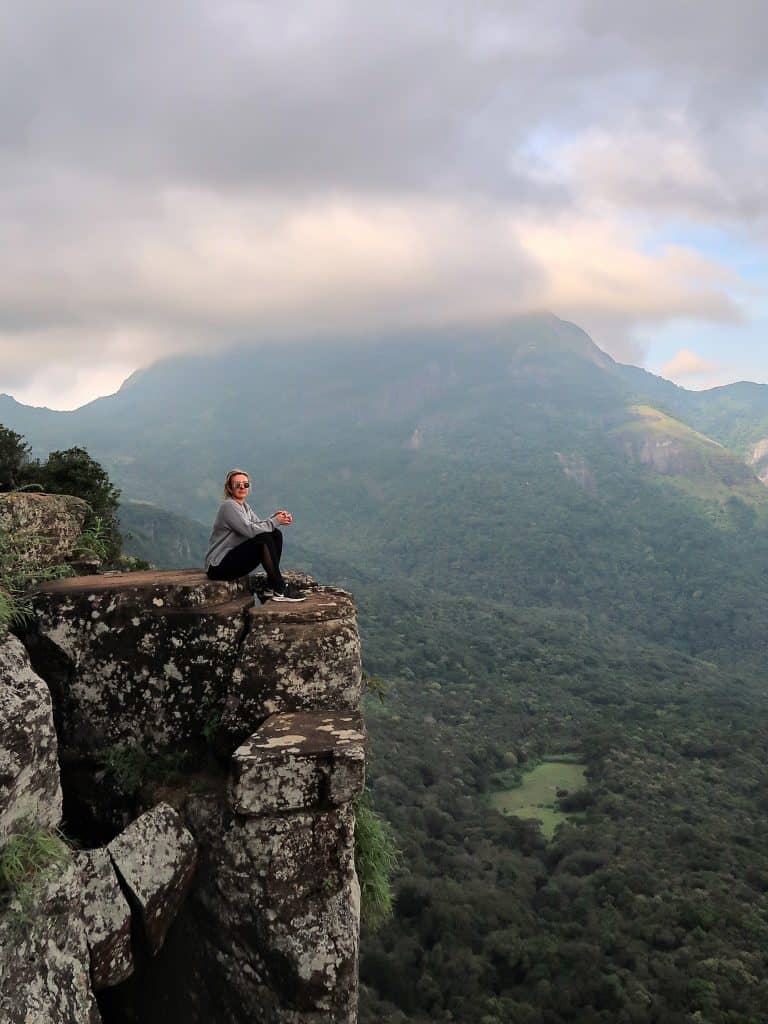 Itinerary
7:00am pick up from hotel in Matale or Kandy
8:30am visit Mini World's End on the way to Knuckles
10:00am reach Knuckles and start hiking
12:00pm take a break and enjoy lunch with a local family
3:00pm reach the final point of the trek
4:00pm get back in the car and drive to the waterfall
4:30pm spend some time at the waterfall before you start trekking back
5:30pm drive back to Kandy
7:00pm finish tour
What is Riverston?
Riverston is a region in the middle of the country, and quite a distance from most towns and cities.
It is in the middle of nowhere so be prepared for a long drive early morning before arriving in the Matale, Knuckles and Riverston area.
Hiking in Riverston, Matale in Sri Lanka was a highlight of our journey in Sri Lanka.
If you are after 'off the beaten' track experience whilst in Sri Lanka, Riverston is a region where you can find this.
Throughout our day in Riverston, we barely saw another tourist, only locals and monks. If you are looking for an isolated hike, local community and impressive views keep reading….
Where is Mini World's End?
After a few hours of driving from Matale, we arrived in the Riverston mountains.
There is minimal signage but luckily, we had our guide who directed us for the day.
The hike begins at a car park, and then you head up a well-maintained path for around 15-20 minutes, till you reach an opening where you can see views out over the Knuckles mountain range and the surrounding highlands.
The end of the hike ends with Mini World's End – a drop off point overlooking the Thelgamuwa Valley, with a 4,000 drop to the forest floor.
When you arrive, I'd crack open your camera, chill and take in the views of the Valley, the terraced rice fields, and the Knuckles mountain range. This peak in the mountains is called 'Mini Worlds End' and is iconic on Instagram.
The hike here is around 5 km and an easy hike – although due to it being our first stop, we really felt the attitude at this point. It's fairly accessible too, with easy to navigate paths and children can also hike this part of Riverston.
Then we headed back in the car to start our hike into the mountains.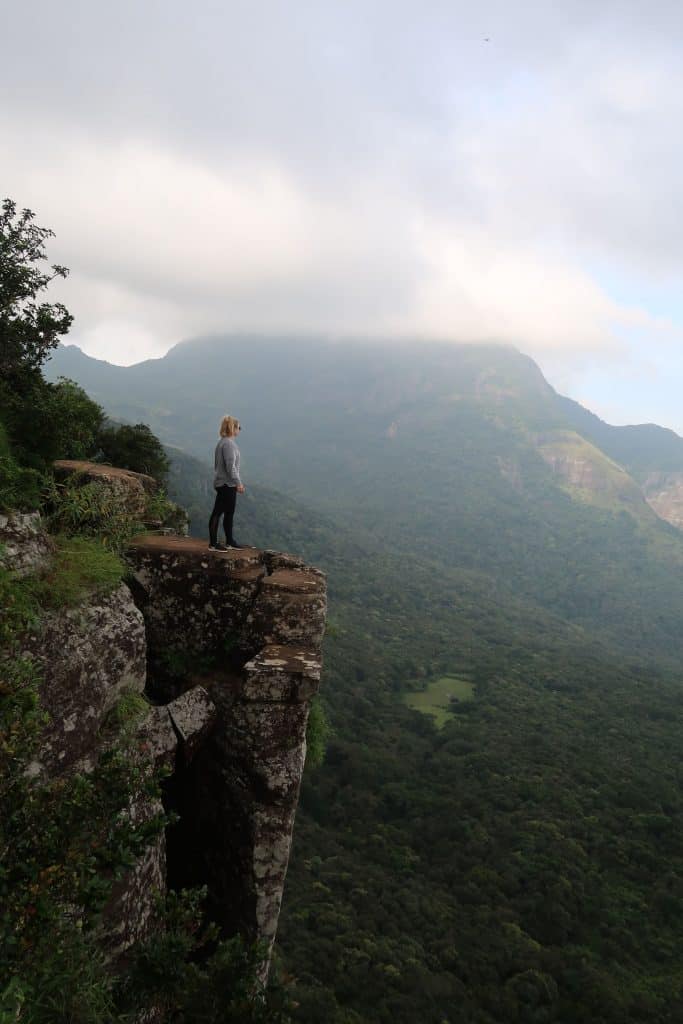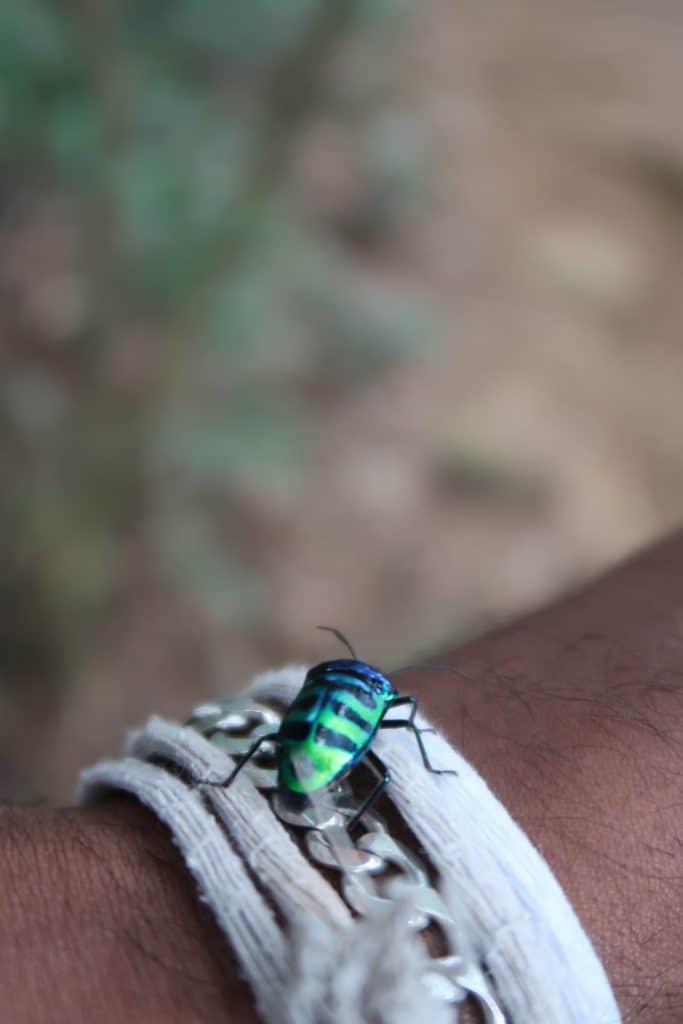 Hiking the Knuckles Mountain Range
It was here we wandered through rice paddies, visited a monk, went for lunch with a local family and then hiked back via some waterfalls.
Adventurers looking for a great trek in Sri Lanka won't go wrong with this trip to the Knuckles Mountain Range, departing from Matale or Kandy.
With its beautiful forest trails, it's no wonder that this is the country's most famous trek route. First, you will pass by some of the local rice fields on the way to The Knuckles. Rice continues to be the staple food source in the country, particularly in rural areas.
After a few hours, you'll reach the mountain range and you head off on your hike.
I would recommend choosing a tour which you can personalise. The route can have many nature trails cleared through the forest and jungle, and there were numerous paths and trails for a good-length hike.
I loved marvelling at in this splendid mountain range, as you meander the small paths around the foothills and rice paddies.
During your tour, make sure you include a stop off for lunch at a local village.
Then once we'd finished lunch, we headed back towards the van, before our final stop of the day at a local waterfall. Here you can spend some time marvelling at the surroundings and the scenery before you make your way back to Matale or Kandy.
A tour into The Knuckles is a wonderful insight into the local ecosystems of the Sri Lanka mountain range and discovering one of the best treks in Sri Lanka.
It was an incredible day, spent with friendly Sri Lanka people and we really felt like we got to see the local side of Sri Lanka during this Riverston adventure.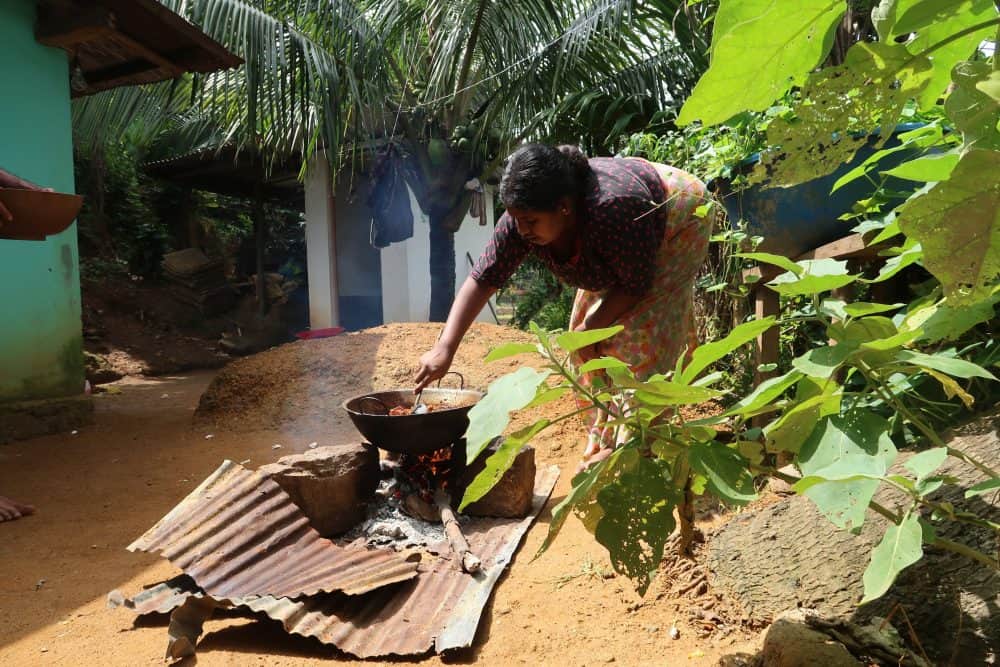 Where to stay in Kandy / Matale
The best place to stay when visiting The Knuckles and Riverston is in either Matale or Kandy. There are hundreds of different options for accommodation here ranging from budget to luxury accommodation. My recommend if you are staying in Kandy is to stay at Mahaweli Reach Hotel.
Other options of where to stay in Sri Lanka
How to get to Matale or Kandy
The most amazing experience things to do in Sri Lanka is to take the Kandy to Ella train journey. Said to be one of the most epic train journeys in the world, it's certainly an experience worth adding to your Sri Lanka itinerary.
The train was originally introduced by the British Colonial government and Sri Lankan rail network in 1864 to transport tea from the tea plantations in the hills so they could export around the world from Colombo.
For many years, the Kandy to Ella Train route was simply tightly packed crates of tea on route to the big city for selling. However, these days it's simply a great way to travel through the country and its super affordable.
Today, the network is one of the cheapest ways to navigate Sri Lanka and is a vital transport link for locals. This train journey is without a doubt one of the top things to do in Sri Lanka.
The train journey from Kandy to Ella can take around six hours, but you can also break up the trip with a stop off in nearby Nuwara Eliya.
You can jump off the train at a nearby colonial hill station 2,000 metres above sea level called Nanu-Oya and then take a taxi to Nuwara Eliya.
In Nuwara Eliya, you can find more history on British colonialism and a much colder climate. It is also where a lot of the island's tea plantations are located due to its height above sea level and temperature.
Tours of Sri Lanka
Explore tea plantations and rock fortresses on this 14-day tour, which is designed to please. This tour is about more than just beaches and stunning views; it's about the inspiring people you'll meet along the way. You will visit major cultural sights within Sri Lanka, including the most scenic train ride in the world from Kandy to Ella. All of the highlights, culture, access, and I-can't-believe-we-did-that moments, all at a great price. Includes expert guides, meals and transport.
Fancy a trip to the Maldives following your adventure in Sri Lanka? This is the tour for you! This 14-day combo trip brings together the best of Sri Lanka's cultural highlights and the once-in-a-lifetime opportunity to sail the islands of the Maldives aboard a dhoni boat. Experience a safari in Udawalawe National Park, discover cultural treasures of Negombo and Kandy, and then spend an entire week cruising from one tiny and perfect atoll island to another, snorkelling in crystal-clear waters and stretching out on blazing white-sand beaches. From culture to paradise, this tour's got it all.
---
My Travel Tips and Recommendations
Flights
To book flights, I always use flight search engine, Skyscanner, I regularly use the Everywhere tool to find the cheapest places to travel. It's how I get to travel so much all around the world. I find it the easiest way to compare flight prices across airlines and get the best deals.
Accommodation
For accommodation, I usually book most of my hotels or hostels through Booking.com. I love using this platform as it provides me with some amazing deals for accommodation all around the world. Or if you prefer, I also recommend using Airbnb. If you haven't signed up with Airbnb already, you can use this link to get £25 off your first visit!
Photography and Technology
Here is a list of the technology I always travel with:
Travel Insurance
Picking travel insurance that covers you in all eventualities is an essential part of planning a trip for every single person. If you can't afford travel insurance, you can't afford to travel. You never know what's around the corner. World Nomads is an affordable option that I personally recommend. BOOK HERE
Other posts that may help you:
Ultimate Guide to one week in Bali Itinerary
Visit Lisbon: 9 Day Trips from Lisbon
Berlin City Break: How to spend a Weekend in Berlin Germany
The Best City Breaks for Couples
10 of the Best places to eat Brunch in London
Sign up to AirBnB with this link and receive a £23 off your first booking.
To receive my articles and reviews straight to your inbox SUBSCRIBE HERE.
Did you know I also vlog my trips? Make sure you subscribe to my YouTube channel so you get alerted when all my travel videos goes live… CHECK THEM OUT HERE
Thank you for reading and as always happy adventuring! If you have any questions about the destination please leave these in the comments below.
If you've enjoyed this post, please share it for me with all your friends and family!
Sophie X