Some of the best hikes in the UK are right under our nose. The UK offers some of the most beautiful hikes and walks there is to offer. So I have pulled together a list of the best hikes in England, Scotland and Wales, as well as some hikes that are within two hours of London.
The weather might not always be the most certain, but we know we can always get great views and incredible scenery when going on some of these day hikes in England.
I am really guilty of flying all over the world, and often forget how many beautiful walking trails there are in the UK. From the Scottish Highlands to the Peak District, and from Snowdon to The Jurassic Coast, there are so many incredible hikes in England, Scotland and Wales.
To get your excited for our wonderful country, I've pulled together a list of some of my favourite hikes in the UK, and some I am yet to conquer.
*Please note that at the time of writing, outdoor exercise in Wales, Scotland and Northern Ireland remains strictly limited to local areas. People should not travel from England to other parts of the UK to go walking.
Check out these 15 hikes in the UK you have to try…
Scafell Pike, The Lake District, England
The Yorkshire Three Peaks, England
Jurassic Coast, England
Hadrian's Wall Path, England
Pennine Way, England
South West Coastal Path – Padstow to Tintagel
Snowdonia National Park, Wales
Pembrokeshire Coast Path, Wales
Ben Nevis, Scotland
Loch an Eilein, Cairngorm National Park
West Highland Way, Glasgow to the Highlands
The Thames Path, Marlow to Taplow
Tring Circular, Hertfordshire
Oak Trail, Epping Forest
Box Hill Circular, Surrey
The Best Hikes in the UK
Over the past decade, I have thrown on my walking shoes and headed out to explore the UK on foot, tackling Snowdon, Hellvelyn, Scafell Peak, and many others across our beautiful national parks. England's walking trails really are some of the most beautiful I've ever seen.
There's nothing I enjoy more than heading out to explore, with a map in my hand, picnic in my backpack and a journey ahead of me. Getting fresh air is one of the best forms of therapy for me, it provides me with mountains, lakes and the great outdoors.
And you don't need to be hundreds of miles from home either, with many of the best hikes in England being close to most of the UK's major cities and London.
Best Hikes in England
1. Scafell Pike, The Lake District, England
Scafell Pike is one of the National Three Peaks located in the Lake District. It's one of the most popular hikes in England for walkers, due to it's varied and rugged landscapes. I climbed Scafell Pike in 2013 as practice runs for trekking in the Vietnamese jungle, and it certainly challenged me physically and mentally.
The climb was pretty intense and seemed like it went on forever, however, there are lots of places to stop and rest along the hike. We got up early in order to start climbing at around 9 am, and it took us around 3 hours to hike up to the summit, and two hours to hike down (as well as a couple of bum sliding right at the top, due to the severe weather change – SNOW!).
The weather conditions were pretty dire when we did it, with rain, wind, and snow all affecting the group's pace. At the top we also couldn't;t see much due t the low visibility. However, it was an amazing hike and I will certainly be doing it again soon.
Check out my guide to climbing Scafell Pike.

2. The Yorkshire Three Peaks, England
Another iconic long-distance England hike is The Yorkshire Three Peaks challenge. The challenge is to climb the main 3 peaks in Yorkshire (Pen-y-Ghent, Whernside and Ingleborough), and complete all three hikes within 12 hours. Pen-y-Ghent is 694 metres high, Whernside is 736 metres high and Ingleborough is 723 metres high.
The Yorkshire Three Peaks route is 24 miles (38.6km) and includes 1585m (5200ft) of ascent, a hike which is part of the Pennine range, in the Yorkshire Dales National Park. There are several ways to reach Scafell Pike, the tallest mountain in England, so plan your route ahead of arriving.
It's a tough hike to take part in, with hikers completing the equivalent to a marathon in 12 hours, with the added challenge of ascending more than 1,500 metres too. I took part in The Yorkshire Three Peaks in 2016 and loved it, despite its toughness and sore feet the days after. It's not to be taken lightly, so make sure you prepare adequately and team up with a group for morale.
To make this an easier hike, you could spread out your challenge across two days, starting at Ribblehead and scaling Whernside for the most beautiful views of Lake District fells, before tackling Ingleborough. Rest overnight nearby and then take on the summit of Pen-y-Ghent the following day.
Looking for accommodation? Check out this guide to the best glamping in the UK.
3. The Jurassic Coast, England
Another one of the best hikes in England is World Heritage Site, The Jurassic Coast, on the south coast of England, stretching from Orcombe Point near Exmouth in East Devon to Old Harry Rocks near Swanage in East Dorset. The coast is approximately 96 miles in length and passes through some of England's most beautiful towns and village.
The Jurassic Coast was also inscribed on the World Heritage List in December 2001, so it's certainly worth hiking here. The name for the coast comes from the rocks and fossils founded in this area, as they are best known to be from the geological periods; Triassic, Jurassic and Cretaceous.
Another amazing hike in England, The Jurassic Coast is worth spending a day or two here, making the most of some of the beautiful beaches in the UK, and 185 million years of history. And check out some of these gorgeous cottages to rent in Dorset.
Check out my weekend in Dorset and The Jurassic Coast, as well as how to spend a weekend in Bournemouth.
4. Hadrian's Wall Path, England
Hadrian's Wall also called the Picts' Wall, is a former defensive fortification of the Roman province of Britannia, begun in 122AD and is now a UNESCO World Heritage Site.
Stretching 73 miles from coast to coast, Hadrian's Wall was built to guard the frontier of the Roman Empire and it's also a great place to go hiking in England, so dig out your walking boots!
Along the route, you can hike and explore through fields and through history, and uncover the truths about Hadrian's Wall at over twenty English Heritage sites. Whilst hiking here, you will walk through the remains of the forts, see towers, turrets and towns that once kept watch over the Wall and you can stop off at some of the museums along the way and see artefacts for yourself.
This is one of the best hikes in England if you want to combine incredible natural scenery, with a spot of iconic English history.
Check out when I walked Hadrian's Wall.
5. Pennine Way, England
An epic hike in England is The Pennine Way is a National Trail in England, with a small section in Scotland. The trail stretches for 268 miles from Edale, in the northern Derbyshire Peak District, north through the Yorkshire Dales and Northumberland National Park and ends at Kirk Yetholm, just inside the Scottish border.
It is also the longest hike in England on this list and said to be the most challenging, so be prepared if you decide to undertake this hike. For a shorter version of the Pennine Way, you could do the Kinder Scout Loop which is 10.5 miles and takes only one day.
6. South West Coastal Path – Padstow to Tintagel
If you head down south for your hiking adventures, then Cornwall has to be the best place to start. Some of the best walks in England are located on this thin stretch of UK coastline.
The South West Coast Path is England's longest waymarked long-distance footpath and a National Trail for visitors to enjoy. It stretches for 630 miles, running from Minehead in Somerset, along the coasts of Devon and Cornwall, to Poole Harbour in Dorset.
It's a long old hike, but if you fancy undertaking a small part, I'd recommend picking a few towns and villages you would like to see and planning it around them.
My favourite has to be the South West Coast Path walk from Padstow to Tintagel, which is around 15.2 miles in length and will take around 6 hours with lunch stops included. The hike starts out easy, from the town of Padstow to the village of Rock, and then heads out along the Cornish coast, through Port Issac, before ending up at Tintagel Castle.
Check out my 5-day itinerary for Cornwall.
Best Hikes in Wales
7. Snowdonia National Park, Wales
Snowdonia National Park is a region in northwest Wales mostly covered in mountains and glacial landforms. It is also an amazing place to go hiking in Wales, due to it's iconic Mount Snowdon, historic Snowdon Mountain Railway and an extensive network of trails, lakes and peaks.
Mount Snowdon is another of the UK's national peaks and stands at 1085-metres high, and is Wales' highest peak and the most popular mountain in the UK. It's a great mountain to climb for beginner hikers, as it's a fairly easy hike, and I found it a lot easier than Scafell Pike.
The length of the hike all depends on which route you take, you can expect a full day of hiking e.g. between 5-7 hours to reach the summit and walk back down. Or if you are feeling less energetic for the hike down, you can jump on the Snowdon Mountain Railway.
Once you arrive at the summit, you'll soon see why this is one of the best hikes in England.
8. Pembrokeshire Coast Path, Wales
The best long-distance hike in Wales has to be The Pembrokeshire Coast Path, also often called the Pembrokeshire Coastal Path. It is a designated National Trail in Pembrokeshire, established in 1970 and is 186 miles long.
The path mostly at cliff-top level, and twists and turns is way down the coast of Wales, offering hikers the most incredible views. You can expect to see stunning coastal villages, caves, rivers and even wildlife.
The full Pembrokeshire Coast Path Route would take around 14 days for standard fitness hikers or up to 18 days for slower hikers. But if you fancy a shorter hike, you could choose from any of the listed routes: Amroth to Lydstep 11½ Miles, St Govans to Angle 17 Miles, Milford Haven to Dale 9 Miles, or Whitesands to Trefin 11 Miles.
Best Hikes in Scotland
9. Ben Nevis, Scotland
Easily, one of the best hikes in England… hiking Ben Nevis has to be an iconic walk to add to your hiking bucket list.
Ben Nevis is the highest mountain in the UK, with the summit being over 1,345 metres above sea level. Ben Nevis stands at the western end of the Grampian Mountains, in the Lochaber area of the Scottish Highlands, close to the town of Fort William.
The average time taken to climb Ben Nevis is 7-9 hours, with the ascent to the top taking around 4 1/2 hours and the descent taking approx. 3 hours. It is a difficult and potentially dangerous climb, and should not be underestimated.
It is the third of the national three peaks on this list and is also the hardest out of the three. I was in Fort William this February, and we looked at climbing Ben Nevis whilst we were there, however, the day we decided to climb, the weather decided to change so we decided the safer option was to come back another time and climb Ben Nevis.
Check out my blog post from our accommodation in the Scottish Highlands.
10. Loch an Eilein, Cairngorm National Park
A family-friendly hike in Scotland I'd recommend is at Loch an Eilein in the Cairngorm National Park.
Loch an Eilein is an extremely beautiful lake, and the walk around the loch is stunning as you pass by the magnificent pines of Rothiemurchus Forest, and a 13th-century island castle. En route around the loch, make sure you look out for forest wildlife, before stopping at the ice cream shop at the end.
The low-level route around the loch is perfect for families, and young children and was voted as one of the best hikes in Scotland.
11. West Highland Way, Glasgow to the Highlands
There's a reason this is one of the best hikes in the UK due to it's epic 96 miles of incredible Scottish scenery.
The West Highland Way runs from Milngavie, north of Glasgow to Fort William in the Scottish Highlands and also skirts around Scotland's biggest loch, Loch Lomond. Whilst the main hike is 96 miles, you can opt-in for the highlighted route, from Kingshouse to Fort William, a mere 22 miles of hiking towards Ben Nevis.
I would also recommend stopping by the Bridge of Orchy, and the windswept mountains of Glen Coe.
Best Hikes in London
If you are yearning to escape the city for a day or two, then these hikes in London, are the perfect way to get in nature. These hikes just outside London, including wandering down the Thames, exploring Hertfordshire's cute villages and heading up Box Hill in Surrey.
12. The Thames Path, Marlow to Taplow
A great place to start for your walks outside of London is The Thames Path between Marlow and Taplow. If you join the Thames Path at Marlow Bridge you can then follow the river downstream, passing through Temple Marina, Cookham Dean Chalk Pit and riverside paths.
The Berkshire stretches of the River Thames inspired The Wind in the Willows offers visitors a really enjoyable hike, besides the world-famous river, and foaming weirs and wooded islands.
During the three-hour hike, you could stop for a wander around Cliveden House, one of the UK's most iconic historic houses, before heading onwards towards Cliveden Woods, and heading down the Thames again towards Taplow. The walk takes around three hours and is 10 miles long.

13. Tring Circular, Hertfordshire
Main walk 16.3km (10.1 miles), five hours walking time. For the whole outing, including meals and trains, allow eight hours. It's said to be one of the best circular walks in England.
The first part of the Tring Circular route starts at the Ridgeway along the Chiltern escarpment to Ivinghoe Beacon and here you can see the Beacon itself. Further along the route, you can find ancient Chiltern beechwoods of the Ashridge Estate, which are part of the National Trust.
You will also find Dockey Wood, just off the main walk and is well worth a stop here if you've got a picnic, but sometimes has an entry fee. You can also find fields of bluebells in this area in April and May, some of the best in the UK.
Don't worry if you are exhausted from the hills, as the second part of this walk flattens out or is downhill from here. The walk is around 10 miles and takes about 4 hours with lunch stops included. This is one of the best day hikes in England.
14. Oak Trail, Epping Forest
Located only 13 miles outside of the city of London, Epping is home to the Oak Trail at Epping Forest, and one of the best hikes in London. Epping Forest is one of the capital's largest green spaces spanning an area of 6,000 acres.
To get to the forest, you will need to take the Central Line eastbound on London Underground (tube) to Theydon Bois station in zone six (the penultimate stop on the line).
On this stunning route, you can see some magnificent areas of wood pasture, lakes, ponds, Ambresbury Banks and a Deer Sanctuary. The hike takes around 3-4 hours and is around 7 miles long.
The Oak Trail is an easy circular route that winds through a mix of woodland and open farmland, through Great Gregories, Epping Thicks and Furze Ground. One of the best of England walking trails.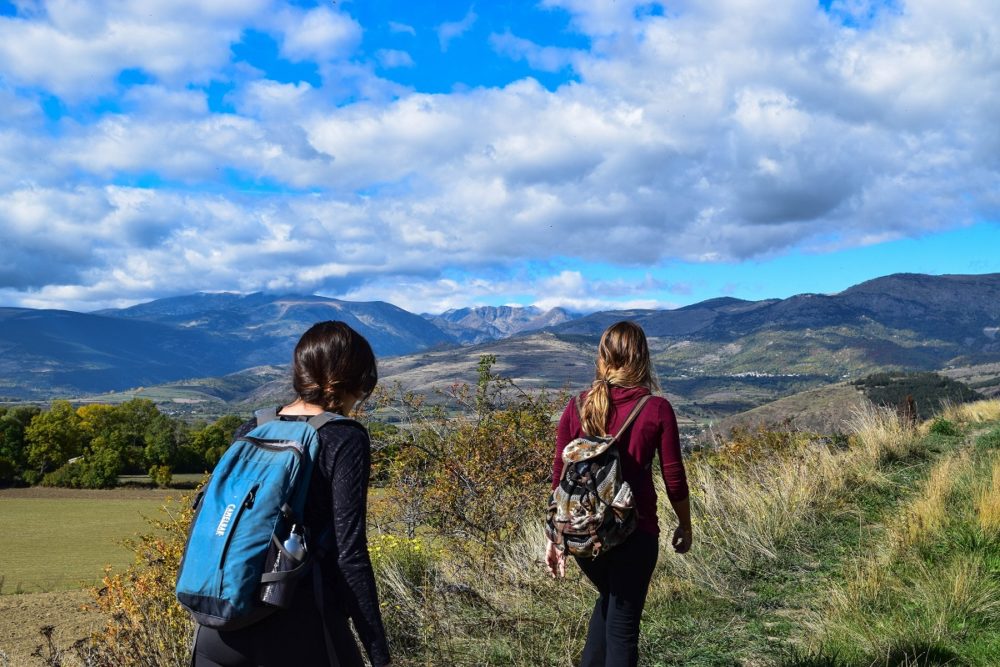 15. Box Hill Circular, Surrey
There are lots of different walks to try at Box Hill, but the most famous is the Box Hill Circular. Box Hill is located just outside London in Surrey and is a 10-mile walk, taking around five hours but could potentially kate up an entire day with stops for lunch and sights.
It's a challenging hike with relatively long uphill climbs and includes two major climbs up Box Hill and Juniper Hill. Near the start of the route is the famous stepping stones that cross the river, before you start your first hill climb for views at the summit of Box Hill.
From there, you'll trek through forests and eventually begin to go downhill, however, don't relax too much, as not long after you begin to climb Juniper Hill, which takes around 20 minutes.
About three hours into the hike, you will arrive at The Tree, where you can stop for a drink or a loo break, before heading back towards the station via the stepping stones. This is one of the best hikes in London!
Did you enjoy my list of the best hikes in the UK? Have you completed any of those listed?!
Photo credit: Pixabay and Pexels.
---
My Travel Tips and Recommendations
Flights
To book flights, I always use flight search engine, Skyscanner, I regularly use the Everywhere tool to find the cheapest places to travel. It's how I get to travel so much all around the world. I find it the easiest way to compare flight prices across airlines and get the best deals.
Accommodation
For accommodation, I usually book most of my hotels or hostels through Booking.com. I love using this platform as it provides me with some amazing deals for accommodation all around the world. Or if you prefer, I also recommend using Airbnb. If you haven't signed up with Airbnb already, you can use this link to get £25 off your first visit!
Photography and Technology
Here is a list of the technology I always travel with:
Travel Insurance
Picking travel insurance that covers you in all eventualities is an essential part of planning a trip for every single person. If you can't afford travel insurance, you can't afford to travel. You never know what's around the corner. World Nomads is an affordable option that I personally recommend. BOOK HERE
Other posts that may help you:
Festive Things to do in London at Christmas in December
Ultimate Guide to a Weekend Break in York
10 of the Best places to eat Brunch in London
The Best Weekend Trips in the UK
Ultimate Guide to Columbia Road Flower Market London
Log cabins with hot tubs in the UK
Sign up to AirBnB with this link and receive a £23 off your first booking.
To receive my articles and reviews straight to your inbox SUBSCRIBE HERE.
Did you know I also vlog my trips? Make sure you subscribe to my YouTube channel so you get alerted when all my travel videos goes live… CHECK THEM OUT HERE
Thank you for reading and as always happy adventuring! If you have any questions about the destination please leave these in the comments below.
If you've enjoyed this post, please share it for me with all your friends and family!
Sophie X