Have you been to a surf camp before? Are you dreaming of surfing in Portugal? If you haven't you are seriously missing out.
Last summer I headed off to Portugal, near Ericeira on the West coast to join a surf camp at Lapoint. For as long as I remember, I had wanted to learn how to surf, from watching YouTube videos and seeing the surfers out on the water in every country I visit. I knew it was something I wanted to try…
And also Portugal as a destination too, is amazing, whether you are looking for nature, the ocean, amazing people, and beautiful all-round weather.
When I decided I wanted to learn how to surf, I looked at so many surf camps up and down Portugal, but opted for Lapoint in the end due to its amazing ethos, friendly-nature and great location.
And that's where we booked a surf camp with Lapoint in Ericeira got booked in to the diary and I bought my best friend Sandy along for the ride….
WATCH THE SURF CAMP VLOG BELOW
Why should I go surfing in Portugal?
Portugal is a southern European country on the Iberian Peninsula, and its location on the Atlantic Ocean has influenced many aspects of its culture: salt cod and grilled sardines are national dishes, the Algarve's beaches are a major destination.
Portugal has it all whether you are a beginner or a seasoned-surfer, both because of the amazing waves, but also the culture here. It's at the top as some of the best places to surf in the world, so it makes for a great destination for a surf camp too.
And also Portugal delivers every kind of wave imaginable, meaning you can really test your skill when surfing in Portugal.
Other recommended blog posts
What is a surf camp?
A surf camp is a great way for you to master a skill over the space of 1-2 weeks whilst having the best holiday with a group of new friends. A surf trip is all encompassing with lessons, theory, sunset dinners, food and much much more.
Can you travel to a surf camp solo?
At Lapoint surf camps it is all about the social aspect which means they are perfect for solo travellers. It's a great place to meet new people and make new friends for life.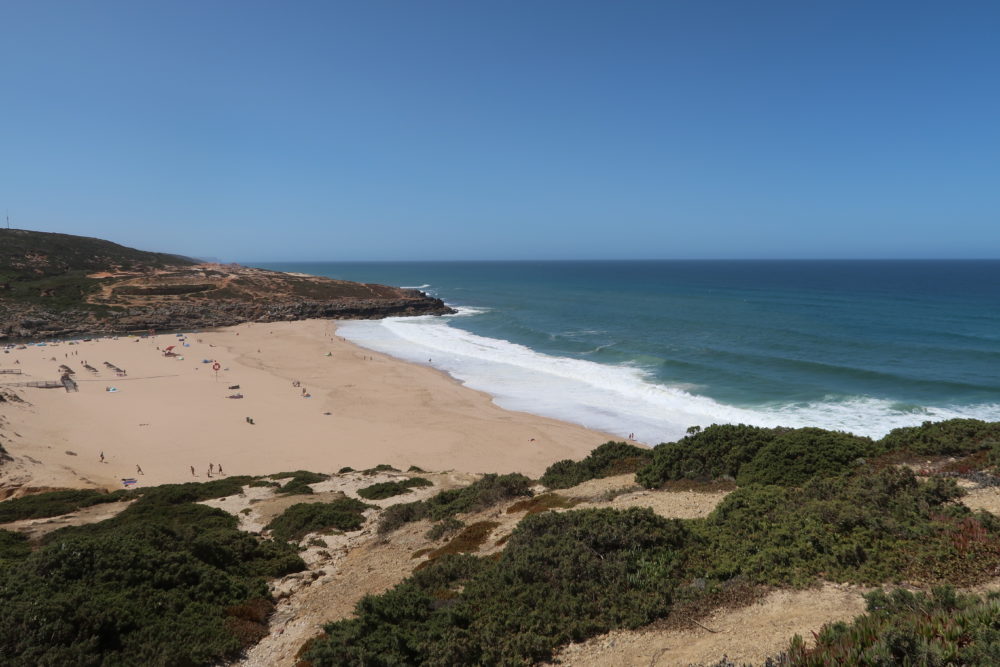 What's included in a surf camp?
Surf camps vary depending on what you want included but below is an approximate list.
Surf camp – Levels 1-3
7 nights accommodation
7 breakfasts
6 days free use of surf equipment
Surf course 5 x 2 hours L1, L2 or L3
Surf theory
Walk or transport (depending on surf location) to surf lessons
1 video analysis session (level 3 only)
What's accommodation like at the surf camp?
When you book Lapoint, you have a couple of options for your accommodation. You can choose between single rooms, twin rooms, double rooms, group rooms and even a suite.
All of the rooms are spacious, with modern facilities, comfortable beds and relaxed, bohemian design. Sandy and I were in a twin room in the building at the back, as our room was simple but beautiful, with lots of light and a stunning skylight.
Ocean View Twin
This is similar to the room I stayed in, but with a stunning Ocean View.
It's the ideal choice if you want to take your surf trip to the next level and they are spacious with options to book extra beds
Ocean View Dorm
This option has a fantastic beach view and plenty of space, with ensuite bathroom and some even have a relaxation area
Dorm
The dorms have comfy bunk beds and ensuite bathrooms and generally sleep four people, with some others sleeping eight people.
I would suggest if you are coming solo, to stay in a dorm as its a great way to meet new friends.
What does a standard day look like at a surf camp?
7:00am – Wake up and go eat breakfast (and coffee of course!)
8:00am – Head to your surf lesson with the Lapoint crew for a few hours (surf lesson times change every day in line with the wave quality and high/low tide)
11:00am – Get back to the Lapoint Ericeira, take a shower, and then hang out around the pool
1:00pm – Have lunch around 1pm by the pool from the bar, on the picnic benches
2:00pm – Head to yoga for an hour (if you've booked yoga as part of your stay at Lapoint) or head out to the beach for a game of volleyball
4:00pm – Join in one of the on-site activities e.g. skate lesson or go on an excursion e.g. vineyard visit with wine tasting or hike up to a local viewpoint
7:00pm – Enjoy dinner with your fellow surf campers, they serve an array of amazing food with a different theme each night. Or you could head in to town with some new friends and get dinner.
9:00pm – Enjoy a drink on the terrace with friends, and get to know people from all over the world.
10:30pm – Time to go to bed so you can rest for another fun day tomorrow!
PS. Some nights they do parties later in to the evening e.g. BBQ, and white party, on these days a late morning is needed the next day!
What else is there to do during the week?
There is so much to do locally, both at the camp and in the nearby town of Ericeira. On a few evenings we headed down to the local town for dinner, as well as exploring the beach near by for a game of volleyball.
Swimming pool
Co-working
Yoga shala
Gym
Skate bowl
Volleyball field
Beaches
Others events during the week
Option to add skate lessons, yoga classes
Overall
We had such an epic week at Lapoint Ericeira and we left on the Monday feeling exhausted but full of love and energized from our week in the sun. Surfing is such a tough sport, but it really challenged us both to push ourselves out of our comfort zone and I cant wait to do it again next year.
If you on a bigger trip exploring more of Europe check out my guides to France, Germany, Greece, Iceland, Italy, Portugal, Spain and United Kingdom.
---
My Travel Tips and Recommendations
Flights
To book flights, I always use flight search engine Skyscanner, I regularly use the Everywhere tool to find the cheapest places to travel. It's how I get to travel so much all around the world. I find it the easiest way to compare flight prices across airlines and get the best deals.
Accommodation
For accommodation, I usually book most of my hotels or hostels through Booking.com. I love using this platform as it provides me with some amazing deals for accommodation all around the world. Or if you prefer, I also recommend using Airbnb.
Travel Insurance
Picking travel insurance that covers you in all eventualities is an essential part of planning a trip for every single person. If you can't afford travel insurance, you can't afford to travel. You never know what's around the corner.
Did you know I also vlog my trips? Make sure you subscribe to my YouTube channel so you get alerted when all my travel videos go live… CHECK THEM OUT HERE
Thank you for reading and as always happy adventuring! If you have any questions about the destination please leave these in the comments below.
If you've enjoyed this post, please share it for me with all your friends and family!
Sophie X