Are you looking for adventure, deserts and mountains? Then make sure you add spending 10 days in Peru to your bucket list using this Peru Itinerary!
I have just returned from spending 2 weeks in Peru in June this year I fell madly in love with this beautiful country. It's a country of vibrant cities, desert sand dunes and amazing wildlife, and let's not forget the cherry on the top a visit to Machu Picchu, to tick off another of one of the seven wonders of the world.
During our 10 days in Peru we got to experience so much culture past and present, from the hills surrounding Cusco, to the history of Machu Picchu and the foodie experiences in Lima. We loved this country because of the variation from one day to the next.
I toured around Peru for 8 days with G Adventures on their Machu Picchu Adventure tour with a group of the best people and then also spent an extra three days in Lima exploring the city and it's surrounding states. I would highly recommend backpacking Peru or adding this country to your bucket list.
10 days in Peru itinerary
What is the weather in Peru?
Monthly temperature
Average Monthly Temperature C / F
January 23.4 / 74.2
February 24.3 / 75.7
March 23.8 / 74.9
April 21.8 / 71.3
May 19.9 / 67.8
June 18.5 / 65.3
July 17.7 / 63.9
August 17.2 / 63
September 17.5 / 63.5
October 18.2 / 64.8
November 19.7 / 67.4
December 21.5 / 70.7

What language do they speak in Peru?
Peru has many languages in use, with its official languages being Spanish, Quechua, Aymara. I would recommend learning some Spanish before travelling to Peru, as not everyone speaks English so it's useful to know some sentences and wording, whether you are doing 10 days in Peru or 2 weeks in Peru.
What currency do they use in Peru?
The currency of Peru is the nuevo sol and notes come in denominations of 10, 20, 50, 100 and 200.
TOUR OVERVIEW
10 days in Peru itinerary
(8 days on tour, 3-4 days in Lima)
Lima to Lima
Travel Style: Classic
Physical Rating: 3 – Average
Able to add on extra three days to The Amazon jungle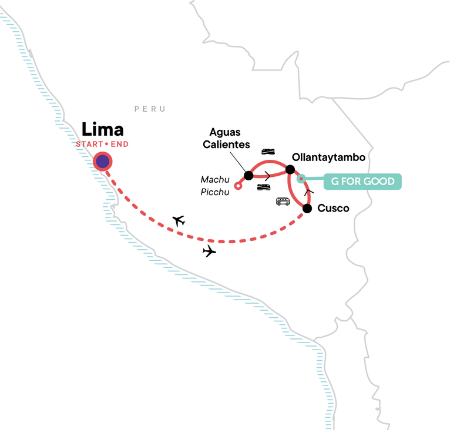 TOP THINGS TO DO IN PERU
Explore the real Peruvian Amazon
Hike the Inca Trail to Machu Picchu
Explore the vibrant city of Lima
Visit a desert oasis in Ica
Discover another side of Cusco
Visit the iconic Nazca lines
Celebrate the spectacular Inti Raymi Festival
Trek to the Lost City of Choquequirao
Explore the Ballestas Islands
Take the train to Lake Titicaca
The best things to do during 10 days on a Peru itinerary! You won't be able to do all of those things listed above, whether you are doing 10 days in Peru or 2 weeks in Peru, but I would recommend picking a few.
10 days in Peru itinerary
TOUR ITINERARY
Day 1 – Lima
On our first day on this Peru itinerary and of the tour we arrived in Lima a day early from spending 10 days in Costa Rica so we checked in a night early and opted to rest up before an adventurous week ahead.
Once we had explored the city we went to the Welcome Meeting with our G Representative who ran through the tour with us and explained the itinerary.
Day 2 – Lima to Cusco
After a good night's sleep we were picked up early to fly from Lima to Cusco to begin our tour. We boarded our flight with LATAM and made our way through the mountains to the amazing town of Cusco where we spent the afternoon exploring the town, eating some traditional food and getting used to the altitude.
Other optional activities include visiting Museo Inka, Museo de Historia Regional, and whitewater rafting.
Day 3 – Cusco to Sacred Valley
Once we had arrived in Cusco we woke up early again and headed straight out of Cusco to enjoy a full-day guided tour of the Sacred Valley.
During the day we stopped at various spots, including the G Adventures-supported women's weaving cooperative where we learnt lots about how they use the alpaca wool and turn it into hats, scarves, jumpers and much more. They also gave us some coco tea as we were all feeling the sickness a little at this point.
After another short drive we arrived at a local pottery making community where we stopped for an hour and then bought some souvenirs, before stopping for lunch at the G Adventures-supported Parwa Community Restaurant in Huchuy Qosco. We had a spread of amazing traditional Peruvian food, and it was good knowing we were also supporting the local community.
After lunch, we continued by bus to Ollantaytambo and the group split with some relaxing in town and going shopping and others heading for a short hike to the storehouses that look out over the ruins. I opted for a bit of shopping and a drink of the local Chicheria (corn beer bar).
Other things you can do
Sacred Valley Tour with Pisac and Ollantaytambo
Chinchero, Moray, Ollantaytambo, and Pisac Tour
Moray and Salt Mines Quad Bike Tour
2-Day Trip to the Sacred Valley and Machu Picchu
2-Day Colca Canyon Tour with Transfer to Puno
4-Day Inca Trail Guided Trek to Machu Picchu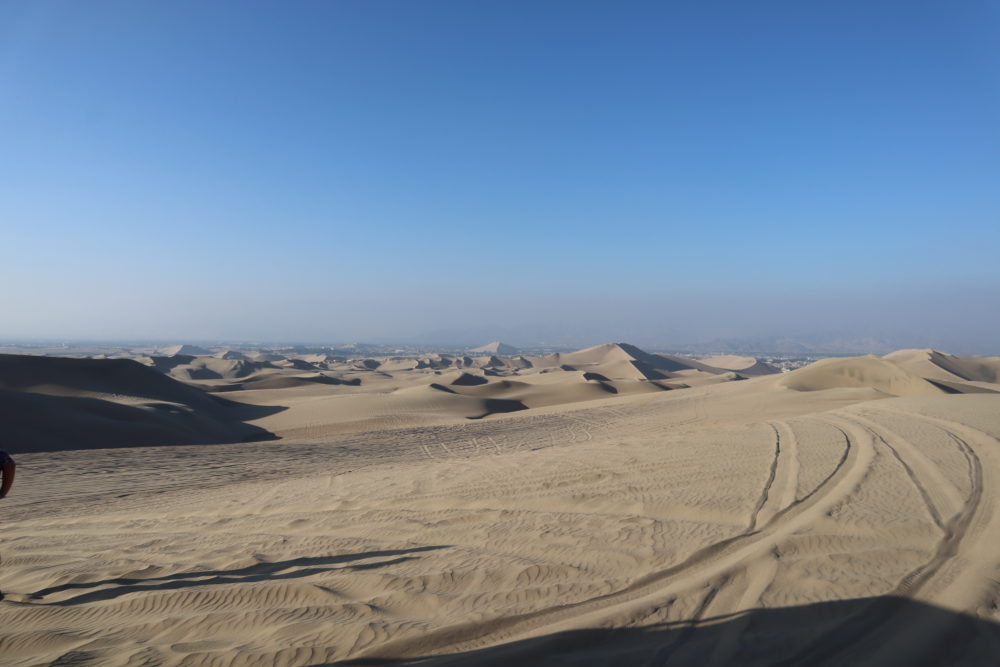 Day 4 – Sacred Valley to Aguas Calientes (Machu Picchu)
Then as day four rolls around you are starting your ascent to Machu Picchu. On day four you have three different options to get to this wonder of the world, and as part of this tour we had two options, but I will list them all out below so you can choose which you would add to your Peru itinerary.
First, you can hike the Inca Trail for 4 days and 3 nights
Second, you can take an hour long train to Aguas Calientes and then a 15 minute bus ride up to Machu Picchu
Or you can do what we did which involved a mixture of both. We rode the train for 45 minutes, jumped off and joined the Inca trail for a 12km hike. Along the way we stopped ar various other highlights and then made our way to the famous Sun Gate where we saw our first views of Machu Picchu.
You follow the local guide as the trail rises steeply up into the mountains and winds past the archaeological sites of Wiñay Wayna and Inti Pata, and along the way you can gain insight into the fascinating culture of the Incas en route to the trek's culmination at the Sun Gate. Then once we arrived we enjoyed some free time to explore a bit of Machu Picchu before the guided tour the following day.
**Please note this must be pre-booked as it requires an Inca Trail permit, which is on request and subject to availability. Please speak to your GCO or travel agent for more information.
For those that didn't join us on the hike, they boarded a morning train that winds through the spectacular Urubamba Valley to the end of the line, the village of Aguas Calientes. They then spent the afternoon exploring the frontier town nestled in the hills beneath Machu Picchu until we met for dinner later that day.
I would highly recommend adding the one-day Inca hike to your itinerary as we loved the additional experiences guests travelling by train and bus don't get to experience. It also pushed me outside of my comfort zone massively due to the heat, attitude and enormity of the experience. I am so glad we added the Inca hike on to our Peru itinerary.
Other recommended blog posts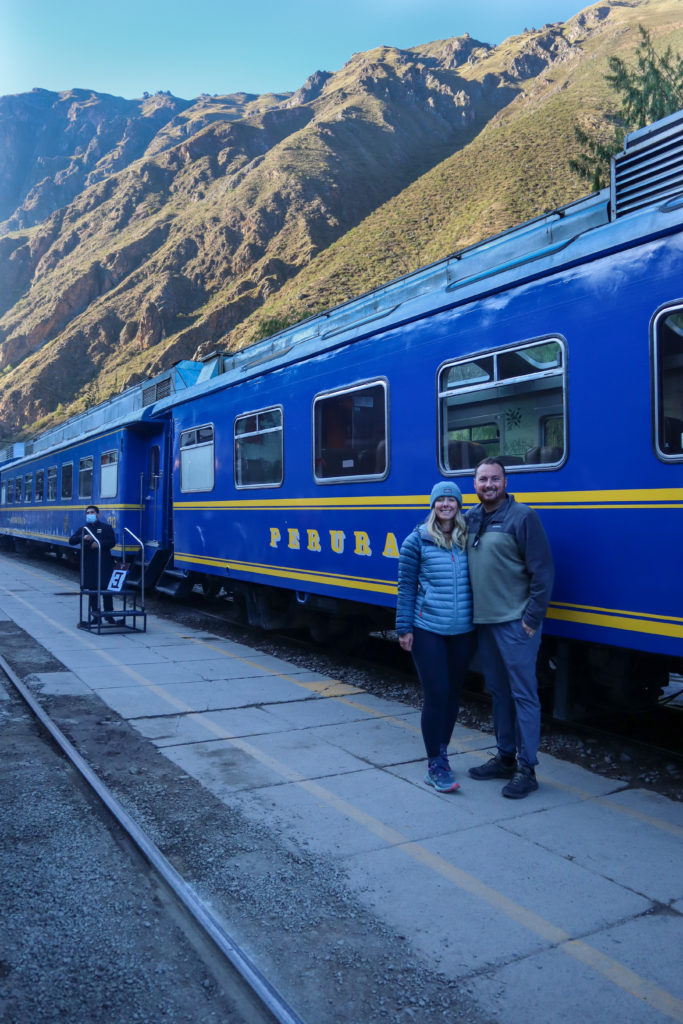 Day 5 – Machu Picchu
After a big dinner to refuel the night before and then a good night's sleep we headed back up to the 'Lost City' of Machu Picchu.
Machu Picchu is a 15th-century Inca citadel located in the Eastern Cordillera of southern Peru on a 2,430-meter mountain ridge. Often referred to as the "Lost City of the Incas", it is the most familiar icon of the Inca Empire.
It is located in the Machupicchu District within Urubamba Province above the Sacred Valley, which is 80 kilometers (50 mi) northwest of Cusco. The Urubamba River flows past it, cutting through the Cordillera and creating a canyon with a tropical mountain climate.
The Lost City is believed to have bene built in the 1450's but it wasn't until the search for the Inca capital began in 1911 that American historian and explorer Hiram Bingham traveled the region looking for the old Inca capital and was led to Machu Picchu by a villager, Melchor Arteaga.
Bingham found the name Agustín Lizárraga and the date 1902 written in charcoal on one of the walls. Though Bingham was not the first to visit the ruins, he was considered the scientific discoverer who brought Machu Picchu to international attention. Bingham organized another expedition in 1912 to undertake major clearing and excavation.
We stayed with our tour guide from the day before and he showed us around the amazing ruins, and then we had an opportunity to explore on our own.
Later that day as part of our Peru itinerary we returned by train to Ollantaytambo and met a private vehicle to head back to Cusco.
Other things you can do
Full-Day Group Tour of Machu Picchu
Classic Inca Trail 4 days Machu Picchu
Full-Day Tour from Cusco with Optional Lunch
Machu Picchu and Huayna Picchu: Entrance Ticket
4-Day Inca Trail Guided Trek to Machu Picchu
Classic Salkantay Trek with Return by Train
Day 6- Cusco
After a busy few days we arrived back in Cusco and had a free day here to catch up on sleep, relax and explore some more. Some of the group also decided to head on another hike to the famous Rainbow Mountain but as I had been struggling with the altitude all week we decided not to make it any worse and instead stayed in the city. We visited a coffee shop and watched a parade and then went for a massage, before meeting the group again for our final dinner together on this Peru itinerary.
Other things you can do
City Tour Cusco Magico 6 horas
Rainbow Mountain Tour
Moray and Salt Mines Quad Bike Tour
Humantay Lake hike with Lunch
4-Day Inca Trail Guided Trek to Machu Picchu
Full–Day Sightseeing Bus Tour between Cusco and Puno
Sacred Valley Tour with Pisac and Ollantaytambo
Day 7 – Cusco to Lima
We spent the morning packing up before heading back to the airport and flying back to Lima.
Day 8 – Lima
After a busy 8 days we spent our final day relaxing in Lima, getting good food and wandering near the coast. We really needed a day to do nothing after a crazy busy week! And we also had a busy day the next day so we wanted an early night, before our 5am start.

Day 9 – Lima
For our 3 days in Lima we decided we wanted to do a day trip out of the city and explore more of this magical country. I had seen on Instagram about this desert oasis and the moment I researched it some more I knew I needed to check it. So we booked a bus and we headed to the desert!
Up at 5am for a three hour drive we knew our day trip from Lima was going to be amazing so there early start didn't faze us. We both had a nap on the bus and before we knew it we had arrived in Paracas, a Pacific beach town famed for its scenic coastline and wildlife. It was here we jumped on a boat trip to explore the Mini Galapagos of Peru (The Ballestas Islands) and we saw so much wildlife including sealions and puffins.
After we got back to land we drove for another hour before arriving at the incredible dunes of Huacachina, an idyllic natural oasis in the middle of the desert!! First we had a quick wander around the town before heading up for a dune buggy experience and sandboarding down the biggest sand dunes in South America. This spot is Peru's fastest-growing tourist attraction and a must for everybody who wants a once-in-a-lifetime adrenalin rush on any Peru itinerary.
Once we sun started to set we grabbed a drink and watched what is considered one of the most beautiful sunsets in Peru, right on top of the incredible sand dunes that overlook the natural Oasis, before jumping back on the bus for three hours back to Lima.
Full-Day Paracas and Huacachina Tour
Excursion to Huaca Pucllana and Patriotic Sanctuary
Palomino Islands: Swim with Sea Lions in the Pacific Ocean
Lima: City Tour with Pickup and Drop-Off
Ultimate Peruvian Food Tour
Paragliding Experience in Miraflores District
Colonial City Tour with Catacombs Visit
2-Day Tour to Paracas, Pisco Vineyards, and Huacachina
Bohemian Barranco Guided Bike Tour
Miraflores: Bohemian Barranco Guided Bike Tour
Magic Water Circuit Light Show Tour with Pickup
Lima: Magic Water Circuit Light Show Tour with Pickup
Peruvian Cooking Class, Market Tour & Exotic Fruit

Day 10 – Lima
It was time to leave this amazing country after creating so many memories! I will be back Peru, I promise….
Have I inspired you to go on a trip to spend 10 days on this Peru itinerary? I would highly recommend backpacking Peru or adding this country to your bucket list.
---
If you on a bigger trip exploring more of Europe check out my guides to France, Germany, Greece, Iceland, Italy, Portugal, Spain and United Kingdom.
My Travel Tips and Recommendations
Flights
To book flights, I always use flight search engine Skyscanner, I regularly use the Everywhere tool to find the cheapest places to travel. It's how I get to travel so much all around the world. I find it the easiest way to compare flight prices across airlines and get the best deals.
Accommodation
For accommodation, I usually book most of my hotels or hostels through Booking.com. I love using this platform as it provides me with some amazing deals for accommodation all around the world. Or if you prefer, I also recommend using Airbnb.
Travel Insurance
Picking travel insurance that covers you in all eventualities is an essential part of planning a trip for every single person. If you can't afford travel insurance, you can't afford to travel. You never know what's around the corner.
Thank you for reading and as always happy adventuring! If you have any questions about the destination please leave these in the comments below.
If you've enjoyed this post, please share it for me with all your friends and family!
Sophie X