Are these the most unique Hotels in the UK?
One of my favourite things to do is to go for a weekend break with my boyfriend or my best friend.
Cheap UK breaks are so easy to come by, but there's also an array of luxury quality accommodation all over the UK and some that offer money can't buy experiences.
UK getaways are the best way to explore our amazing country, from the foothills of the Chilterns to the lakeside cabins in the Lake District.
Here some of the very best unique hotels in the UK to book for your next staycation…
1. Barnsley House, Cotswolds
One of the most unique hotels in the UK has to be the gorgeous Barnsley House, which plays host to landscaped gardens, tennis courts, a helipad, holistic spa with hydrotherapy pool, a private 30-seat cinema, DVD library, a traditional restaurant and 18 stunning bedrooms, ranging in size, bathroom features and style.
And the grounds are suitably beautiful, just like the house, with an array of plants, fauna and trees, making you feel a million miles away from the chaos of everyday life.
Our bedroom for the night was stunning; a deluxe attic room with gorgeous views of the famous kitchen garden out the back of the property with a spacious lounge area and open plan bedroom with en-suite bathroom, with the most stunning bathtub, and walk-in shower. From the moment we stepped inside our room I felt like I had come home.
Once we had unpacked our bags and boiled the kettle for a cup of tea, we pulled on the wellies and raincoat, and headed out for a walk around Barnsley and the surrounding villages, to both explore and get a feel for an area of The Cotswolds we had never visited before.
2. Rockliffe Hall, Yorkshire
Another amazing hotel in the UK has to be the iconic Rockliffe Hall in Yorkshire. Located in Hurworth-on-Tees, the stunning 5* hotel Rockliffe Hall & Spa offers everything you could need from a UK weekend break.
We decided to embark on a four days adventure travelling through Darlington, County Durham, Newcastle and Northumberland and chose Rockliffe Hall as it had been recommended by a friend and we had been told it was luxury at its best!
Rockliffe Hall & Spa is a stunning 18th-century redbrick mansion set in 375 acres of grounds with 5* restaurant, an award-winning spa and 18 holes championship golf course.
The hotel was beautiful from the moment we arrived, heading down the long road lined with trees to the front of the main building where a valet met us and took our bags and parked the car.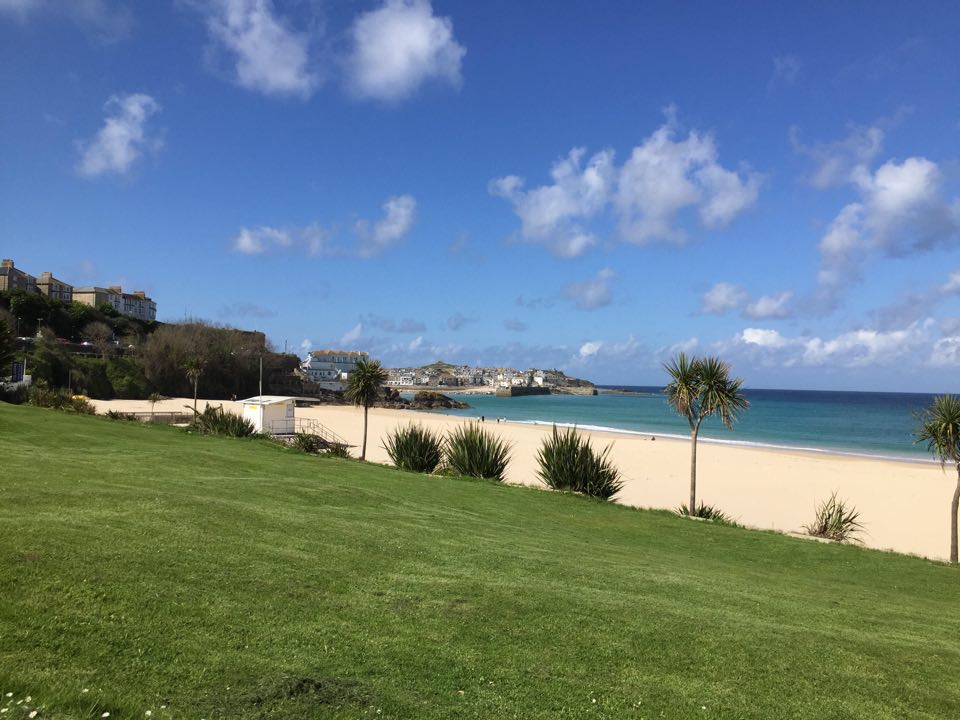 3. The St Ives Harbour Hotel and Spa, Cornwall
The St Ives Harbour Hotel and Spa is set overlooking the picturesque beach of Porthminster which is backed by palm trees and has beautiful white sand.
The hotel is also a short walk away from the centre of
St Ives
where you can wander the winding streets, try the local delicacies, and visit the other four beautiful beaches in the town.
This 4* hotel features 52 beautifully decorated rooms ranging from single rooms to family rooms and luxury sea view suites. The rooms also come with complimentary gin and sherry on arrival!
The harbour spa (HARspa) really sets the hotel apart from any others in St Ives. It features a luxury pool, sauna and a steam room. There's also a gym and sun terrace with fabulous views out into St Ives Bay.
The restaurant has a reputation for being one of the best places to eat in St Ives and specialises in locally sourced seasonal food. The afternoon tea is a must-have, featuring scones, finger sandwiches and delicious snacks.
To get to the St Ives Harbour hotel, you have a few options. The best way to get there is to catch the train to the mainland station of Sr Erth, before boarding the scenic St Ives branch line to St Ives. If you drive to St Ive's, make sure you park in Trenwith Car park as the other car parks fill up very quickly.
4. Titanic Hotel Belfast
The Titanic Hotel in Belfast is a heritage hotel with a difference and is a must for those obsessed with the Titanic or boataholics in general as it is built inside the original buildings in which the Titanic was first imagined and then built.
And, while the hotel now occupies the old headquarters and drawing rooms, there is a whole lot more to this destination hotel as it is central to the entire Titanic Quarter in Belfast which is like a big open-air museum with the shipyards of where the Titanic was built.
It is just historically fascinating. The main focus is of course on the notorious Titanic, but many other revered liners and even warships were also built at the Harland and Wolff shipyards including the 'White Star's' trio of cruise-liners; the Olympic (1911), Titanic (1912), and Britannic (1915) as well as the warship HMS Belfast which is now moored as a museum on the River Thames in London.
The hotel itself is luxury as expected to reflect the majestic ship that the buildings once berthed and the café, bars and restaurants are alone worth the visit inside the original drawing rooms of the buildings. It is also easy to reach on foot from pretty much anywhere in Belfast following the bridges and banks of the River Lagan.
5. Grand Hotel, York
The Grand Hotel in York is an elegant, Edwardian era hotel standing opposite York's medieval city walls. The hotel lives up to its descriptive name in every way. Guests can choose from a variety of high-quality rooms or splash out one of the hotel's famous Heritage Suites.
The hotel has an excellent restaurant, a bar and caters for private dining. The Grand Hotel's decadent afternoon teas are popular with locals and visitors alike.
The hotel has a fantastic spa located in the building's original vaults and consists of a dry sauna, gym, whirlpool and aromatic steam room. The luxuriously warm 14-metre swimming pool is in keeping with the hotel's chic, classical style. A range of therapies and treatments are available.
There are so many fantastic things to do in York and the Grand Hotel is close to all of the major attractions. It is a five-minute walk to the cobbled streets and Georgian buildings of the city centre and just a ten-minute walk to the city's iconic Gothic cathedral, the largest cathedral in northern Europe.
Or for a different experience, book into the hotel's new, state of the art cookery school. Enjoy a half or full-day workshop ranging from how to create perfect cupcakes to Indian or Thai cuisine, or learn how to make a British favourite, the pork pie.
The Grand Hotel is easily reached by train as it is a short five-minute walk to from York's Victorian-era railway station. Plus, the hotel lies on one of the city's major access roads so it is easy to locate by car.
6. Bedruthan Hotel & Spa, Cornwall
One of my favourite unique hotels in the UK is the Bedruthan Hotel & Spa. If you are looking for somewhere to stay in Cornwall, then this hotel offers location, facilities and great Cornish cuisine all within the confinement of the hotel.
Only a five-minute drive away from Newquay airport, the hotel is perfectly located for those coming by car and air. It's incredibly accessible for a weekend break from London, with it being 45 minutes away from Gatwick airport.
The hotel is also located right on the beach, with only a short walk to the sands and sea. You can take a short walk through the hotel's direct access to Mawgan Porth beach, which is popular with surfers in the summer, and only a five-minute drive away is the famous Bedruthan Steps and coastal trail.
7. Ragdale Hall
Set amongst the soothing peace of the Leicestershire countryside, the 93 bedrooms at Ragdale Hall Health Hydro and Thermal Spa offer luxurious pampering with a huge range of facilities.
With the six pools and eleven heat rooms and water experiences, tennis, boules, pitch 'n' putt, croquet, cycling, and a mind gym all available, you will find that one day just isn't enough. I mean, it's relaxing, but there's also so much to do and see whilst there.
Total relaxation is the aim, with staff ensuring that guests are well looked after whether you are staying for a retreat of up to seven days or for a spa day. The service and whole experience here at Ragdale Hall is the reason me and mum return here every year.
This time around we opted for a spa day, but we had previously also experienced the Overnight Reviver Break. The Revive and Refresh Spa Day is their most popular spa day, ideal for those who want to enjoy a blissful day of pampering, sumptuous food and try some of everything Ragdale has to offer!
You can arrive from 8.30 am and you have all day to enjoy everything Ragdale Hall has to offer.
8. North Star Club, Yorkshire
The unique North Star Club is nestled within 500 acres of native English woodland in the peaceful Yorkshire Wolds. Inspired by the legendary American Great Camps and suffused with Yorkshire country style, it blends beautifully into the untamed forest setting.
Theo and I had been after a weekend off-grid, where we could switch off, relax and spent quality time together. Even though the idea of no wifi and no kitchen freaked me out originally I came round to the idea and actually loved the freedom that came with it.
We spent our weekend walking, axe-throwing, cooking breakfast, lunch and dinner on the gas BBQ and having long lie-ins together in our gorgeous cabin with the fire on. It was exactly what the doctor ordered and I am so glad I got to experience the amazing North Star Club, after years of seeing their amazing cabin getaways pop up on Instagram.
9. The Belfry Hotel and Spa, Midlands
The Belfry Hotel and Spa is a 5-star hotel located in the beautiful Midlands countryside just twenty minutes from Birmingham. Famous for its award-winning golf course which has hosted the Ryder Cup four times, this is any sports lover's dream hotel.
From the moment you enter the gorgeous lobby with comfy sofas and lavish fireplace, you know you're in for a luxurious break.
During your stay be sure to visit the indulgent Belfry Spa, home to a large indoor pool, relaxation rooms and a Fire and Ice experience consisting of hot and cold water treatments to awake the senses.
Food and drink are served in one of the Belfry's many restaurants and bars. Choose between Sams Clubhouse, ideal for a burger after a round of golf, Roccos Italian restaurant serving a wide variety of pizza and pasta dishes or for a more refined dining experience, head to the Ryder Grill.
Light bites and a tapas-style menu are served at the gorgeous Brabazon bar, the perfect place to meet friends for afternoon tea or a signature cocktail.
Rooms at the Belfry hotel are light and spacious with huge, comfy beds, ESPA toiletries and Dyson fans, everything you need for a restorative night's sleep. Most rooms offer breathtaking views across the hotel's 550 acres of countryside which offers up some lovely woodland walks, kids playgrounds and even a mini-golf course. It really is the perfect place for a weekend getaway.
10. London Marriott Park Lane, London
Recommended by Leticia of Chic Travel Around the World
London Marriott Park Lane is an exquisite 5-star boutique hotel located in one of the most desirable locations in London. The hotel is located overlooking Hyde Park and close to all the famous shopping streets of London such as Oxford Street and Marble Arch.
Additionally, if you want to catch the tube the location is super convenient as it is across the street from Marble Arch station. One of the major benefits of this hotel is that it is close to a variety of famous iconic sights of London such as the Buckingham Place, British Museum, London Eye just to name a few.
The rooms at this hotel are beautifully designed and are simply blissful. They range from deluxe rooms to spacious suites and the marble bathrooms are simply exquisite. At night they offer turndown service. There is also the option to choose an executive room or suite for added room and access to a private lounge with complimentary food.
This luxurious hotel offers lots of amenities such as a well-equipped fitness centre, a lovely indoor hotel pool which is one of the only hotels in the area to offer such for all year round swimming, a steam room, massage room, restaurants and meeting rooms. This is such a classy boutique hotel located in the heart of the action in London.
11. The Beatles Hotel, Liverpool
If you visit one place outside of London make it Liverpool. I may be biased as I'm from there, but it really is the most incredible city. Wherever I travel in the world people have heard of Liverpool mostly for 2 reasons, football, and The Beatles! So it makes sense that you visit Liverpool you should soak up as much culture and history as you can.
One of the best hotels to stay at is the Hard Days Night Themed hotel on the corner of Matthew Street, right next door to the famous Cavern Club where The Beatles frequently played. The hotel is a recent addition to Matthew street, it actually used to be a popular bar, but these days it's a fun place to stay surrounded by Beatles memorabilia right in the heart of the city centre.
The location is perfect for shopping (it's close to Liverpool 1), you are not too far from popular attractions like the Alber Dock and the Liverpool Echo Arena, and if you want to party the night away Matthew street is quite literally on your doorstep.
But what makes this hotel my favourite in Liverpool is that it's in a beautiful Grade II listed building whilst still being ultra-modern inside and full of pop culture Beatles references. The rooms are on the small side but colourful and bold with amazing showers (seriously they have monsoon showers) and if you can get one on the top floors with a balcony you will be treated to amazing views over the city.
12. St Pancras Renaissance Hotel, London
If you're looking for the best hotels in the UK, then St Pancras Renaissance Hotel in London has to feature on your list. Located within one of the most famous buildings in London, this hotel is as grand as the name suggests.
It's located right above St Pancras Station, next to Kings Cross Station, so reaching it is very easy. You can get there via train, bus and tube. Since it's so well connected it's in a great position to explore London. Whether on foot or with public transport, you can easily get to all the main attractions in London.
The rooms are modern and spacious, with tall ceilings and a traditional British feeling. The hotel also has a lovely spa, where you can enjoy a sauna and dip in the pool after a long day of exploring London.
However, the most defining feature of this hotel is without a doubt the Grand Staircase. This staircase is decorated with rich red carpets and tapestries, and huge windows. Walking up these stairs to your room will make you feel like a Disney princess on your way to a ball.
Both the interior and exterior of the hotel are gorgeous and have recently become some of the most photographed spots in London. The beautiful design of the hotel, paired to its convenient location, makes it one of the best hotels in the UK.
13. The Pig, Brockenhurst
The Pig is tucked away behind the pretty New Forest village of Brockenhurst, up a winding gravel drive through ancient trees and parkland. The hotel itself is simply sublime, set in an old country house which has been bought to life with all the modern touches you would expect.
From the pretty seaside market town of Lymington, to water sports on the Solent and walks through woods and heathland where you'll find ponies and pigs roaming wild, the forest has enough to entertain visitors for weeks. Easily accessible from the M27 motorway or by train (there is a mainline station in Brockenhurst), The Pig really does have it all.
The Pig excels at cosy luxe with attention to detail and relaxed service and is loved for its charming interiors which feel like the best home from home, and its 25-mile menu, serving delicious locally produced and foraged food.
Pork, of course, is well featured on the menu and the 'piggy bits', served with pre-dinner drinks are absolutely delicious…think decadent crackling served with home-made apple sauce and divine, perfectly cooked miniature scotch eggs, fresh from the chickens that morning.
To continue your rest and retreat from day to day life, the quaint and comfy
Shepherd's Hut and Potting Shed in the hotel's walled kitchen garden act as treatment rooms for visiting therapists from The Pig's grander sister hotel, Lime Wood. Enjoy a facial or body treatment using only organic products to finish your stay in true The Pig style.
14. Taj 51 Buckingham Gate, London
Boasting one of the best addresses in London, Taj 51 Buckingham Gate Suites and Residences was once the residence of choice for Lords and Ladies staying in the UK's capital.
Now its doors are open to guests with suites ranging from one to three bedrooms, three restaurants one of which is the Michelin-starred Quilon, a spa and gym, making this a truly luxurious destination. It is certainly one of the best London hotels for families or couples.

Each suite comes equipped with a state-of-the-art kitchen, so guests can choose to dine in their rooms or treat yourself to the fine dining in the hotel's restaurants.

If you're visiting with children or just fancy treating yourself, make sure you try out the new Queen of Hearts Afternoon Tea, which brings together a host of tasty delights inspired by Alice in Wonderland. There are sweet pastries and savoury treats all named after characters and events in the classic novel. It is an experience not to be late for!

During the summer months end your day at Taj 51 Buckingham Gate Suites and Residences, relaxing in their Shakespearean courtyard garden. It's a beautiful tranquil spot away from the hustle and bustle of the streets outside, where you can enjoy a nightcap or two.
For some impressive sight-seeing, it is a short walk to Buckingham Palace, St James' Park and the House of Commons, so if you're tempted to venture out you're right in the heart of London's attractions. St James' Park is the local Tube station, and limited parking is available on local streets or one of the many car parks just a few minutes' walk away.
15. SCHLOSS Roxburghe Hotel, Scotland
The elegant SCHLOSS Roxburghe Hotel is hidden away in the countryside of the Scottish Borders, on a historic estate near Kelso and just over an hour's drive from Edinburgh and Newcastle.
With majestic open fireplaces, oak panelling and of course lots of traditional tartans, this is a grand yet homely rural escape, perfectly located to explore all the best sights in the Scottish Borders. There are 20 sumptuous bedrooms and suites, a championship golf course, and a variety of dining spaces at this stylish manor house, which was once owned by the Duke of Roxburghe.
Dining at the SCHLOSS Roxburghe Hotel is a real treat, with fresh locally sourced organic produce used to create inventive and hearty dishes, and you shouldn't leave without sampling the Scottish themed afternoon tea, perhaps beside a roaring fire in the lavish drawing-room.
Don't forget to sample a dram or two from the extensive whisky collection in the historic Library Bar before dinner!
The peaceful countryside surroundings are great for enjoying a variety of country sports and local activities, which range from fly fishing on the famous River Tweed and clay pigeon shooting to hiking in the undulating hills and exploring the four ancient abbeys at Kelso, Melrose, Dryburgh and Jedburgh.
Day trips to Edinburgh and the Scottish Highlands are also possible, although the grounds are so beautiful you might not want to venture very far.
16. The Savoy, London
Recommended by Polly Taylor of Let's Travel UK
In one of the world's greatest cities, the Savoy is a grand dame. Its name is internationally known, not least for the legendary afternoon tea served in its Thames Foyer.
What is less known about the Savoy is just how central its location is. Occupying a prime position on The Strand, the Savoy is very close to London's theatres and Covent Garden. The Savoy Theatre is next door.
Charing Cross train station is just a short stroll away and is the official heart of London. When a sign or site tells you London is, for example, 50 miles away, the point of reference is Charing Cross station.
As the name of its Thames Foyer suggests, the Savoy is also close to the famous river. So many London landmarks are within easy walking distance of the hotel, including the South Bank, Westminster and Leicester Square.
Inside, it's all classic opulence. Polished marble floors and a sweeping staircase leading down into the Thames Foyer, where the Savoy's sumptuous afternoon tea is served. The centrepiece is a glossy black grand piano, which sits under the stained-glass dome. This floods the room with natural light.
As you might expect, a stay in one of the Savoy's luxurious rooms or suites isn't cheap, but the once-in-a-lifetime, bucket-list experience makes it well worth the investment. With that unbeatable location, at least you'll save on black cab fares.
17. Glenapp Castle, Scotland
Nestled into the rolling Scottish countryside along the Ayrshire Coast in Ballantrae is the spectacular Glenapp Castle. Not only is this castle one of the
best castles in Scotland
, but it is also easily one of the most incredible hotels in the UK.
Staying in a castle is a bucket list item for many. At Glenapp Castle you can spend the night living out your fairytale dreams and feel like royalty in this real Scottish castle. Glenapp Castle provides the perfect blend of history and charm with the luxury and amenities expected from a 5-star hotel.
At the end of a mile-long, tree-lined sweeping driveway, the beautiful ivy-clad turreted façade of the castle awaits. Upon arrival, the warm and welcoming staff immediately provide the feeling that you've arrived at home… albeit a rather opulent one!
What is soon apparent is that Glenapp Castle is more than just a hotel, it is a destination in its own right. With over six acres of grassland and woodland surrounding the castle, there's plenty of space to explore and look for the deer and red squirrels that live here.
They also offer many sports and activities both on and off-site, including a Hebridean Sea Safari, deer stalking, kayaking, distillery and castle tours.
The food here is also outstanding, living up to the 5-star expectations. The intimate dining rooms offer breathtaking ocean views and provide the perfect setting for afternoon tea or dinner (or both!).
It is easiest to get to Glenapp Castle by car and it is located 70 miles south of Glasgow. You won't find any street signs for this hidden gem, so make sure you have Google Maps loaded or a paper map with you!
18. Gladstone's Library, Wales
Recommended by Carol Guttery, California Crossings
Gladstone's Library is the best UK hotel if you are a book nerd. The library was founded by William Gladstone, a long term Member of Parliament and Prime Minister during the 1800s.
He had a vast appetite for books, accumulating over 32,000 volumes in his lifetime. His library is the UK's only Prime Ministerial library and one of a very small number of residential libraries.
The operative word here is residential because, in addition to housing Gladstone's collection, the library also functions as a hotel and retreat centre. This Victorian wonder houses the book collection in the north wing and overnight guests in the south wing.
There are plenty of guests who stay for academic research purposes, but the lodging is available for regular mortals as well.
Staying at the library is quite a treat because it allows you to have access after it has closed for the day. You can pad around the reading room, poking around the shelves and then colonize a cozy easy chair for a good long read.
You can get to the library in a quick 15-minute drive from the Chester train station. Room rates run £65-93 (incl. breakfast) and you can purchase an evening meal plan as well. The rooms aren't fancy, but the library itself is and it makes for a quiet, contemplative retreat.
19. Eagle Brae, Scotland
One of the most unique accommodation options in the UK has to be Eagle Brae in Scotland. Located near the small village of Struy and situated on the hillside overlooking the river, Eagle Brae lodges stand hidden, almost aligned with the hillside beautifully perched non-intrusively into the land.
The Scottish highlands accommodation complex has 12 lodges of different size spaced nicely account the edges of the hill, each with their own unique view of the surrounding valley and rivers below.
Upon our arrival, we were greeted by our lovely host Mike, who told us about the area and showed us the facilities available to us. In the area around there was fishing, sightseeing, river cruises and walks on offer.
For our stay at Eagle Brae, we were staying at the gorgeous Loxia. Overlooking its own private pond, Loxia is one of the most sought-after cabins at Eagle Brae. With the pond water margins nestling on its doorstep and daily visits from the local deer, Loxia enjoys a unique tranquillity all of its own.
Hidden amongst the birch trees at the back of Eagle Brae, Loxia offers beautiful Scottish Highlands accommodation with magnificent views towards the hills above Erchless Castle in the distance. Sleeping up to 6 people, this is one of the larger cabins. It is quiet and secluded, and a wonderful place to relax and unwind with family and friends.
21. Rudding Park, Yorkshire
Set in 300 acres of landscaped gardens and woodland, Rudding Park is one of the most beautiful privately owned luxury hotels.
The hotel has 90 bedrooms, two restaurants and a kitchen garden, private cinema, two golf courses and conference, and added to the plethora is a £9.5 million spa, with rooftop spa, spa garden, and leisure facilities. Located only a few miles from Harrogate, and 20 miles from Leeds, Rudding Park is well-connected.
I decided to plan our visit to Rudding Park with my birthday weekend, and I was so pleased I got to spend it here. The staff really looked after us and made it feel special. They also left a bottle of prosecco in our room on arrival, so I was sold…
And they've got some accolades too including the only UK Hotel in TripAdvisor 2017 Hall of Fame for Hotels, the Best Hotel Rooms in the UK, Trivago 2017 and a decade in the Top 3 Best Hotels in the UK, TripAdvisor 2016. So it's fair to say I had high expectations….
22. Old Swan & Minster Mill Oxfordshire UK
I've stayed at a lot of hotels over the years, but something about the Old Swan and Minster Mill has stuck with me. It made me feel all warm inside, like I had arrived back at home, and for that, I will keep this review brief.. as I believe that says it all. Romantically set in 65 acres of woodland and orchards, The Old Swan and Minster Mill is over 600 years old and located only 14 miles from Oxford.
The Old Swan and Minster Mill is nestled in idyllic grounds in the picturesque village of Minster Lovell, and it is the most quintessentially British hotel I have stayed in. The hotel even has a river (River Windrush) running next to the hotel, and an adjoining mill, which seamlessly blend the rural charm of these historic buildings with modern design, luxurious comfort and delicious menus crafted from the best seasonal produce.
The hotel is home to stunning gardens, wildflower meadows and woodland, that comes alive during the summer, and gives you a chance to explore the British countryside. You can also partake in some fishing, walking, croquet and tennis, whilst during the winter there is nothing better than sitting in the snug, next to the roaring fire.
Minster Mill is just 15 miles from the dreaming spires of Oxford and 11 miles from the inspiring Blenheim Palace. The charming Cotswold stone buildings and barns are flanked by 65 acres of idyllic grounds set in the picture-perfect Oxfordshire village of Minster Lovell.
23. Port Lympne Reserve and Hotel Kent UK
Fancy going on a safari weekender!? Then you don't need to leave the country! One of my favourite unique hotels in the UK has to be the wonderful Port Lympne Reserve.
We visited for a whole weekend in order to get the most of our time exploring their 600 acres, and hundreds of animals. Port Lympne Zoo are a conservation charity dedicated to protecting wildlife, who also works alongside The Aspinall Foundation, as they aim to introduce animals back to the wild.
Our trip to Port Lympne Zoo consisted of a private safari, a stay in their decadent Rhino Lodge, toasting marshmallows in the Port Lympne Treehouse Club, feeding the giraffes lunch, meeting Rosie the Rhino and whizzing around the park on our very own golf buggy. It really was a weekend we will NEVER forget!
Port Lympne Zoo is home to over 700 animals and 88 species and there is more than enough time to see all of these magnificent animals during your stay. There are an array of animals, from rhino, wolves, bears, giraffe, zebra and many more.
We were so impressed with this place from the moment we arrived, staff were attentive, we were given an itinerary for the day and before we knew it we were whisked off on our private safari tour.
24. The Painswick, Cotswolds
Another Friday means another weekend break, and this time I headed back to one of my favourite places in the UK, The Cotswolds. This time however I was staying at The Painswick in the south of the region for a night away with one of my friends Anastazja.
You could argue that every inch of idyllic England is wrapped up in the Cotswolds with the region running through five counties and countless towns and villages.
The Cotswolds is the most beautiful place I know with rolling hills, ancient woodlands, houses oozing with history, world-renowned arboretums and villages built upon the honey-coloured stone of course…
The Painswick was the ideal location for our girls weekend away, situated in a handsome, 18th-century house with a restaurant and 16 stylish bedrooms. Formerly the oddly garish Cotswold 88 hotel, it was acquired by the Calcot Manor group who have given it a wonderful makeover, injecting panache for this former local historical manor.
The hotel is located in the pretty Cotswolds town of Painswick and offers breathtaking panoramas of the lovely Painswick Valley from the Grade-II listed mansion windows. The quiet town makes it the perfect place to sit back relax and be British. It is also super close to the town's famous church and quirky Painswick Rococo Garden.
The hotel also has a long and varied history, that goes well back to when iron was the weld of choice. Fast forward to 1121 and the hotel was within a thriving Saxon village headed by the Lord of the Manor, and was famous for farming skills.
25. Royal Lancaster, London
A contemporary, stylish hotel next to Hyde Park and walking distance to Paddington station, Bayswater and Marble Arch, the Royal Lancaster London has Hyde Park as it's the main attraction with many of the bedrooms looking over the park's lime and silver maple trees, and you can nibble on homemade bircher muesli while enjoying views of the Italian Gardens from your breakfast table.
The convenience of Lancaster Gate is often underappreciated – with Oxford Street is a 15-minute walk away and Paddington Station a 20-minute amble.
Step through the revolving doors into a stunning gold and white marble lobby featuring a spectacular 21ft Nordmann Fir Christmas tree, alongside elegant decorations throughout the hotel, which will be unveiled on the morning of 1 December 2019.
The hotel's convenient location just above Lancaster Gate Tube Station will whisk you to the sparkling lights of Oxford and Bond Street. After a day of shopping for Christmas presents, head back to the hotel for some delicious food.
26. St Michaels Resort, Falmouth
Are you ready for the ultimate Cornwall getaways? Located in the beautiful seaside town of Falmouth in the UK, the gorgeous St Michaels Resort is a hotel and spa worth visiting.
Since 2002, St Michaels Resort & Spa has provided guests from all over the world with an environment in which they can relax unwind and enjoy the best in Cornish hospitality.
Their 'feel good again' philosophy is embraced in all aspects of the hotel including their health club and spa to the food in the restaurant and proximity to the open ocean.
They believe that well-being is all about balance and your weekend break in Falmouth can be a mixture of relaxation and activities.
We visited Falmouth at the end of September this year and had the best time exploring Falmouth, and the nearby towns and villages. Falmouth is it an underrated town in Cornwall and is often overlooked by the more popular towns of Newquay.
27. Christchurch Harbour Hotel, Bournemouth
On a visit to Bournemouth, don't assume you need to stay in the town centre, head slightly down the coast to the east and you will stumble upon a gorgeous town called Christchurch.
Sometimes forgotten, in the shadow of its popular neighbour Bournemouth, Christchurch offers visitors the perfect balance between relaxation and proximity to the hot spots.
Located to the east of Bournemouth, Christchurch Harbour Hotel is a fantastic stay for couples, families and girlfriends. Offering possibly some of the best views to wake up to, the Christchurch Harbour Hotel & Spa in Dorset is a hotel which delivers.
Whatever the season, this hotel offers guests a friendly, warm and attentive experience, through comfy beds, delicious food, and a location worth getting out of bed for.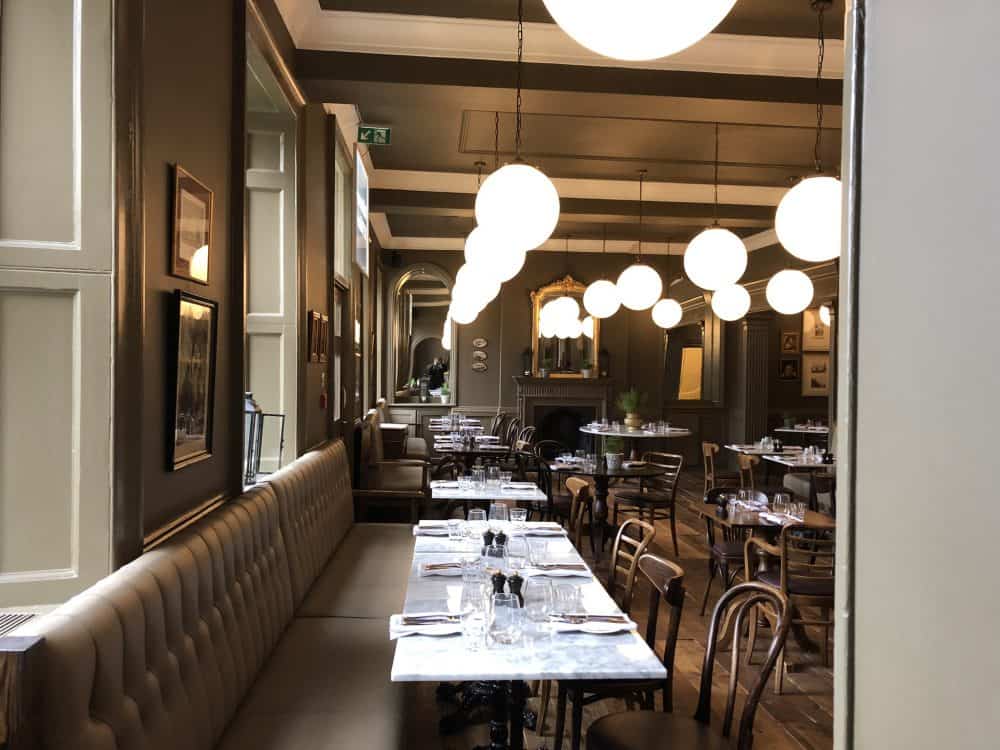 28. Abbey Hotel, Bath
To celebrate World Sleep Day in March, I took a 24-hour trip to the wonderful city of Bath in the UK to stay at the newly refurbished Abbey Hotel Bath.
The stylish Abbey Hotel is perfectly located for a weekend break in Bath, with art-filled corridors, a classy bar and glamorous bedrooms. It was the perfect base to spend some time in the city with my friends Monica, Vicky and Emily, providing us with great access to the tourist hotspots but also somewhere to relax, unwind and get some sleep.
The Abbey Hotel spreads over three interconnected 18th-century townhouses overlooking an open, triangular area close to the rear of Bath Abbey known as Bog Island.
The location is possibly the best selling point for me, as it is only a minute's stroll from Bath Abbey, the Roman Baths and Thermae Bath Spa. And to refuel afterwards, there are lots of cafés and restaurants virtually on the doorstep.
29. Log House Holidays The Cotswolds UK
Looking for a log cabin in the wild? Then look no further than Log House Holidays! I had been meaning to go here for ages!
Log House Holidays is a family-run 130-acre nature reserve in the Cotswolds, offering something unique to visitors to The Cotswolds; a small oasis where you can escape the pressures of daily life in your own Scandinavian style log cabin.
Started in 1980, the family-run business opens its doors each year to families, and friendship groups from the UK and beyond. Founder Anthony Edmondson had an idea for a unique and exclusive venue where both conservation and totally secluded holidays would exist in harmony. The log cabins offer the perfect place for family holidays and special celebrations, romantic weekend breaks or a long break with good friends.
The log cabins are all modern eco-friendly homes, finished with beautiful interiors, all with modern appliances and amenities – completed with a wood burner, lakeside hot tub, rowing boat, fire pit, private beaches and BBQ.
Our cabin was called Kaiser and was situated on the inlet road in the middle of the lakes, with its own driveway and parking. As soon as I arrived I was taken aback at the cabin interiors and the atmosphere. From the lit Christmas tree to the immaculate bedroom spaces, and roll-top bath in the upstairs bathroom.
30. The Royal Yacht Hotel Jersey
This is where me and Theo got engaged, well in Jersey not at this hotel, but it was where we celebrated our first day of being engaged! We had an incredible stay at The Royal Yacht in St Helier!
The hotel is a super stylish hotel with views over the marina and the square. It's such a great hotel to enjoy the ambience of a luxury yacht (as the name suggests), but without the seasickness – PERFECT!
If you want a great location, with the added benefit of being in the thick of it, surrounded by cafes, restaurants and shops, this is the Jersey accommodation for you. Located smack bang in the middle of St Helier, the Royal Yacht Hotel is the place to visit, eat, and drink for both locals and tourists.
Downstairs you'll find the popular Zephyr café spill onto Weighbridge Place, the classy cocktail bar on the second floor Drift bar, as well as fine dining Sirocco restaurant on the first floor.
You really are spoilt for choice at this stunning hotel, and from the outside, you'd never guess there was so much incorporated within their four walls. Make sure you check out Sirocco restaurant, with its open kitchen, Zephyr's all-day dining and in the old building is the Grill, where you can order steak any which way.
The decor at the hotel is luxury with dashes of wood and chrome throughout both the lobby and common areas, as well as the bedrooms. Most of the rooms also have balconies overlooking the harbour, which are created with sheets of curved glass to create waves across the front of the building.
The hotel is full of elegance and style, around every corner. Our room was stunning, with a massive double bed, hardwood furniture offset by deep blue and bronze soft furnishings, as well as a stunning bathroom, with underfloor heating and separate bath and shower in most rooms.
---
If you on a bigger trip exploring more of Europe check out my guides to France, Germany, Greece, Iceland, Italy, Portugal, Spain and United Kingdom.
My Travel Tips and Recommendations
Flights
To book flights, I always use flight search engine Skyscanner, I regularly use the Everywhere tool to find the cheapest places to travel. It's how I get to travel so much all around the world. I find it the easiest way to compare flight prices across airlines and get the best deals.
Accommodation
For accommodation, I usually book most of my hotels or hostels through Booking.com. I love using this platform as it provides me with some amazing deals for accommodation all around the world. Or if you prefer, I also recommend using Airbnb. If you haven't signed up with Airbnb already, you can use this link to get £25 off your first visit!
Travel Insurance
Picking travel insurance that covers you in all eventualities is an essential part of planning a trip for every single person. If you can't afford travel insurance, you can't afford to travel. You never know what's around the corner.
Did you know I also vlog my trips? Make sure you subscribe to my YouTube channel so you get alerted when all my travel videos go live… CHECK THEM OUT HERE
Thank you for reading and as always happy adventuring! If you have any questions about the destination please leave these in the comments below.
If you've enjoyed this post, please share it for me with all your friends and family!
Sophie X