Towards the end of 2019 Theo and I decided we wanted a small escape that wasn't too far away so we could make the most of a long weekend with minimal travel. We opted for scottish highlands accommodation at Eagle Brae, close to Loch Ness.
So, after a lovely trip to Aberdeen back in February of 2019 we decided we wanted to explore the highlands and lochs of Scotland. Our friends Megan and Sean live in Scotland and the school holidays in February lined up perfectly for a trip.
We found some cheap flights from our local airport to inverness and managed to book a spot at the amazing Eagle Brae estate. We wanted a mix of escape, adventure and relaxation and family time with Arabella.
Keep reading for more on our unique scottish highlands accommodation…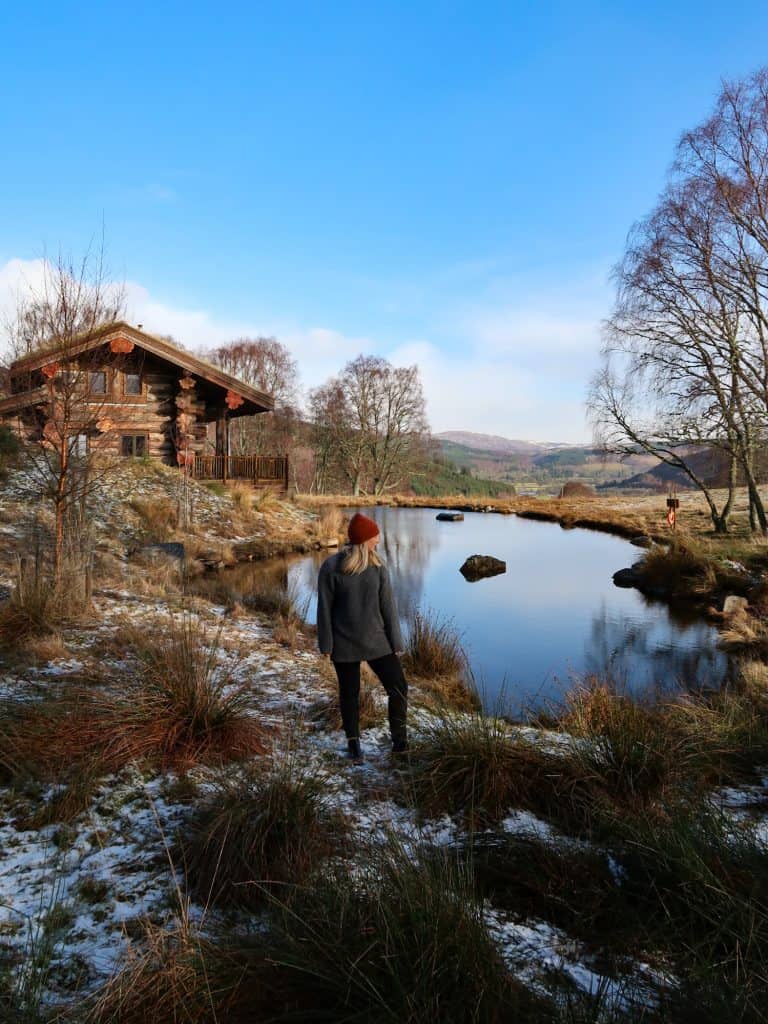 The History of Eagle Brae
Mike, whose family is originally from Scotland, was raised in Jersey, in the Channel Islands. After travelling to the Himalayan regions of India a couple of times, he fell in love with more than just the area. It was here that he met Pawana in her home village in Himachal Pradesh state – between Kashmir and Nepal – where her family ran a guesthouse.A love story for the ages, they soon got married and set up home in Jersey, where their children Rowan and Ishbel were born. In 2005, Mike and Pawana left their Jersey home to fulfil their dream of creating the ultimate self-catering holiday experience in the Scottish Highlands.Offering unique scottish highlands accommodation, Eagle Brae is set on an 8,000 acre Estate in Struy, Inverness-shire, which has been in Mike's family since the 1930s. Today Mike and Pawana have made this breathtaking corner of the world into a unique, luxury holiday village.Instead of your usual run-of-the-mill holiday chalets, everything from the logs to the linen has been lovingly hand-made and the family's ties with the Himalayas can be seen throughout. It's a place where guests are free to indulge in the privacy of their own cabins or take part in the amazing activities on offer.

Our weekend in the Scottish Highlands
We landed on a fresh afternoon into the quiet Inverness airport and made our way west through the highlands to our accommodation near the small village of Struy. Situated on the hillside overlooking the river, Eagle Brae lodges stand hidden, almost aligned with the hillside beautifully perched non-intrusively into the land.
The scottish highlands accommodation complex has 12 lodges of different size spaced nicely account the edges of the hill, each with their own unique view of the surrounding valley and rivers below. Upon our arrival we were greeted by our lovely host Mike, who told us about the area and showed us the facilities available to us. In the area around there was fishing, sightseeing, river cruises and walks on offer.
Everything we needed for an escape weekend in the wild we had hoped for.
For our stay at Eagle Brae, we were staying at the gorgeous Loxia. Overlooking its own private pond, Loxia is one of the most sought-after cabins at Eagle Brae. With the pond water margins nestling on its doorstep and daily visits from the local deer, Loxia enjoys a unique tranquillity all of its own.
Hidden amongst the birch trees at the back of Eagle Brae, Loxia offers beautiful Scottish Highlands accommodation with magnificent views towards the hills above Erchless Castle in the distance. Sleeping up to 6 people, this is one of the larger cabins. It is quiet and secluded, and a wonderful place to relax and unwind with family and friends.
The name Loxia means Scottish crossbill. This wee finch is the only endemic species in Scotland and the UK, found only in the pinewoods of the Scottish Highlands.
When we arrived at our lodge, we were high up and at the back next to a small pond on one side and an opening from the trees on the other. The large lodge made up of dark cedar wood slotted into the hillside naturally. It was surrounded by a deck with wheelchair access and had huge windows on the front onto the views of the valley.
As we entered through the boot room we were greeted by a huge kitchen and dining space overlooked by the upper balcony of the house.
The smell of cedar as we first entered was strong but pleasant and disappeared from our senses soon after! In one corner of the room there was a log burner with everything needed to light a cosy fire. (All eco-friendly products firelighters etc) the sofas and armchairs huddled around this area which was perfect for socialising and kicking off during a game of Inverness Monopoly
The huge downstairs consisted of a large living room, a dining area with seats for six people and a large kitchen fully equipped with everything we needed for a large family feast around the table. Another nice touch, that you often don't get in a self-catering lodge, is there being salt, pepper and oil stocked when you arrive which is always the items forgotten on the first supermarket sweep for the trip.
The downstairs bedroom was spacious and consisted of two single beds that could be pushed together if needed. And there were views from this room over the small pond to the side. Next to this was the downstairs bathroom with a large tub and toilet facilities.
Up the grand cedar stairs case (see if you can find the animal engravings) led to the landing area with a computer, desk and printing facilities and two kids sleeping pods.
Closed off by a thick curtain these wooden cosy pods were super fun for Arabella, and she loved closing her curtains and reading her book from her bed. From the landing and her bed she had a lovely view out of the huge windows over the valley where she could keep count of the deer outside the lodge in the mornings. She loved the cosy bed set into the carved logs and it added a magical element for her and the stay!
On the other side of the landing was the master bedroom with ensuite which was mine and Theo's bedroom. This room backed onto the side of the hill so felt more sheltered from the elements but had an calm feeling through out. The room was clad with cedar and had a very Canadian feel and a warmth to it. It was the perfect place to relax and we both slept like babies!
The huge bed was met with room space for clothes and had a large en suite. The shower room was great, offering lots of space to get ready in the morning, and had heated floors. There was also heated floors throughout the house which was a great addition, and a welcome treat after braving the elements outside.
With its incredible wooden carvings and the most impressive antler chandelier at Eagle Brae, Loxia is perfect for a weekend away with family, friends or as a couple.
Additional Information
Appliances and Equipment
Log burning stove, under-floor heating, free Wi-Fi, all crockery and cookware, oven, grill and hob, microwave, food processor, steamer, dishwasher, washing machine/ dryer, fridge, freezer, smart TV, Blu-ray / DVD, landline telephone for complimentary calls to UK landlines and mobiles, Bluetooth music stereo, PC and printer, hairdryer, washing line and clothes airer, linen and towels, a selection of DVDs and books, bird table and bird feeders, welcome hamper full of surprise goodies – a gift from us, to take away with you.
Complimentary Consumables
Firelighters, kindling and logs, electricity and wood pellets for the biomass boilers, soap, shampoo, conditioner and shower gel, toilet roll, kitchen roll, tin foil, clingfilm, bin bags, compost bags, olive oil, salt, pepper, sugar, tea and coffee, dishwasher tablets, washing machine powder and fabric conditioner, wild bird feed.
Sustainability at Eagle Brae
Eagle Brae are proud to be one of the few tourism destinations in the world that strives to offer largely carbon-neutral holidays. Committed to sustainable eco-tourism, they are entirely self-sufficient for all their utility and energy needs.
They have their own micro-hydro scheme that provides electricity and hot water to all their cabins, while biomass wood-pellet burners provide underfloor heating throughout. The water is sourced from a natural, sustainable underground supply, treated on-site and gravity fed to all the cabins.
And if you want to plant a tree whilst you are at Eagle Brae, for only £24 you can offset your carbon output for your journey to your Scottish Highlands accommodation.

Activities at Eagle Brae
Set within the Scottish Highlands, Eagle Brae is surrounded by incredible experiences and activities. With some of the most spectacular Highland wilderness, literally, on your doorstep, long leisurely days relaxing in one of their beautiful log cabins is a wonderful way to spend your time at Eagle Brae.
But for guests who are eager to venture out into the great outdoors, Eagle Brae offers a host of Highland activities for you to choose from. From walking and stalking to trekking and dog-sledding, there is always so much to see and do at Eagle Brae.
Bird watching, camera stalking, pony trekking or a Black Grouse safari is the perfect way to spend a day in the Highlands for animal lovers. For our more adventurous guests, kayaking or canoeing along the Rivers Farrar and Glass, or dog-sledding round our very own track, is just the ticket.
A round of golf on a nearby championship course is always well above par, while angling for glory on some of Scotland's best waters will have you hooked on fishing in no time. No matter how you choose to spend your days, there are so many things to do in the Scottish Highlands.
And if you have an idea, speak to the team who are always happy to help you arrange other things to do in the Scottish Highlands where possible.
I would highly recommend Eagle Brae for your scottish highlands accommodation!
---
My Travel Tips and Recommendations
Flights
To book flights, I always use flight search engine, Skyscanner, I regularly use the Everywhere tool to find the cheapest places to travel. It's how I get to travel so much all around the world. I find it the easiest way to compare flight prices across airlines and get the best deals.
Accommodation
For accommodation, I usually book most of my hotels or hostels through Booking.com. I love using this platform as it provides me with some amazing deals for accommodation all around the world. Or if you prefer, I also recommend using Airbnb. If you haven't signed up with Airbnb already, you can use this link to get £25 off your first visit!
Photography and Technology
Here is a list of the technology I always travel with:
Travel Insurance
Picking travel insurance that covers you in all eventualities is an essential part of planning a trip for every single person. If you can't afford travel insurance, you can't afford to travel. You never know what's around the corner. World Nomads is an affordable option that I personally recommend. BOOK HERE
Other posts that may help you:
Ultimate Guide to one week in Bali Itinerary
Visit Lisbon: 9 Day Trips from Lisbon
Berlin City Break: How to spend a Weekend in Berlin Germany
The Best City Breaks for Couples
10 of the Best places to eat Brunch in London
Sign up to AirBnB with this link and receive a £23 off your first booking.
To receive my articles and reviews straight to your inbox SUBSCRIBE HERE.
Did you know I also vlog my trips? Make sure you subscribe to my YouTube channel so you get alerted when all my travel videos goes live… CHECK THEM OUT HERE
Thank you for reading and as always happy adventuring! If you have any questions about the destination please leave these in the comments below.
If you've enjoyed this post, please share it for me with all your friends and family!
Sophie X