Now that we can start exploring the UK once again. I will be working my way through my unique stays on my staycation bucket list. On Airbnb, you can book the most unique stays for as short as an overnight stay.
Since I started travelling more seriously in 2016, Airbnb has been one of my favourite ways to explore a new destination. But most of the places you can book on Airbnb have the most stunning interiors and creative decor, as well as rivalling many hotels and hostels on service and location, and you are certain to find some truly unique stays.
After spending weeks in lockdown, we will all be longing to get out of our own space and into nature, and another four walls. I am looking ahead to the staycations we can take closer to home.
But heading off on an epic adventure doesn't have to be pricey, and instead, you can combine freedom, nature and a unique stay through using Airbnb. I love arriving at a stay which is unique, as it leaves you feeling like you are experiencing something that isn't on offer to everyone.
Whether it's a countryside retreat, self-catered cottage, canal boat, log cabin in the woods, shepherd's hut or a treehouse in the mountains, Airbnb offers travellers something a bit more unique.
So I have rounded up the 21 best unique stays on Airbnb, which are perfect to take over with your friends, family or partner.
*Image credits: Airbnb
Here is a bucket list of unique Airbnb stays in the UK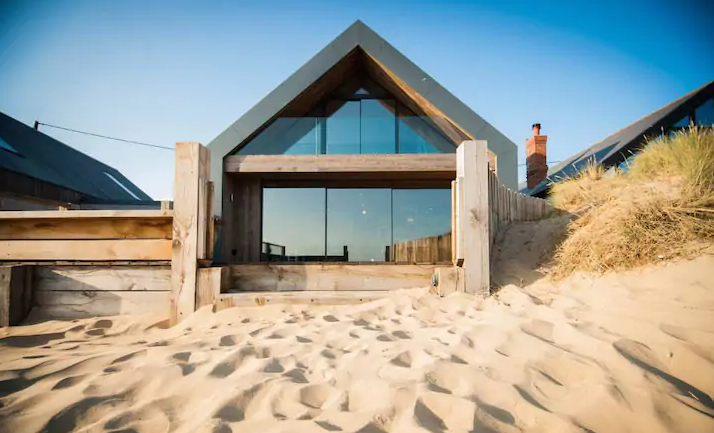 Location: Sussex
Sleeps: 8 people
The Blue House is a truly stunning house – it's location is spectacular – situated on the miles of sandy beach in Camber, close to Rye within easy access from London. Finished to the highest standards with bespoke kitchen, Apple TV, luxurious beds and sofas – it is an ideal escape for coastal retreat. Good for couples, families (with kids), big groups, and furry friends (pets), an idyllic unique stay on Airbnb.
Location: Scotland
Sleeps: 2 people
Retreat to the deck of this sustainable getaway and gaze at the twinkling constellations under a cosy tartan blanket. AirShip 2 is an iconic, insulated aluminium pod designed by Roderick James with views of the Sound of Mull from dragonfly windows. Airship002 is comfortable, quirky and cool. It does not pretend to be a five-star hotel. The reviews tell the story.
Location: Cairngorms National Park
Sleeps: 10 people
We also have another very similar house next door to this one, that has availability occasionally. Check out Tigh an Uillt in Nethy Bridge, on Airbnb. An Cala has log fires, hot tub, space for sharing with friends and family, the Cairngorms, skiing, the whisky trail, walking, hiking and mountain bike trails, the RSPB bird watching, the river, the fishing, the forest, all on your doorstep!
Location: Kent
Old Smock Mill is a romantic place for couples. The atmosphere inside is peaceful and relaxing. Everything is designed to unwind you from the moment you walk in. It is surrounded by the lovely Kent countryside where you can ramble and refresh yourselves by perhaps ending the day in one of the great pubs cosy by a log fire in Winter or in Summer in an English garden. Guests have said how hard it is to tear themselves away, it truly is a treasure to find.
Location: Fife, Scotland
Sleeps: 14 people
Dairsie Castle is a unique self-catered property which sleeps 14. Located close to St. Andrews (15 minutes drive) and Edinburgh (1 hour drive), it is an ideal setting for a holiday to explore the heart of Scotland.
Location: Cornwall
Sleeps: 4 people
The Riverside cabin is a truly hand-built home, made with love from the woodland that surrounds it. A rustic Cornish getaway, only 15 minutes from Falmouth. With the sound of the wind in the leaves, the tinkling water and the crackling fire to relax you. We hope you will have a wonderfully memorable time.
Location: Cambridge
Sleeps: 2 people
Situated on the historic river cam a short walk from Cambridge city centre, this well-appointed widebeam houseboat combines comfortable accommodation with stunning views across Stourbridge common and comes with a secluded private mooring.
Location: Sussex
Sleeps: 2 people
This private bedroom is one of 3 guest rooms within an indoor courtyard (atrium), all set in a self-built Eco house, surrounded by woods, scrap, art and artists, workshops, walks, etc…if you are in need of creative inspiration or encouragement, or you just want a quiet couple of nights in the country. That's us!! 10 miles from Bath and Bristol. Close to Glastonbury, Wells, Stonehenge.
Location: East Sussex
Sleeps: 7 people
On a private untiled rd in the middle of Rye Harbour nature reserve and 50 yards from the pebble beach. Alpha is a thoughtfully designed newly built timber construction with generous light-filled spaces and a modern rustic 'rough around the edges' feel. Woodburning fires and a wood-burning oven compliment the underfloor heating and conventional fan oven. Would suit anybody who likes fresh air, badgers, foxes, a lot of rabbits and even more birds.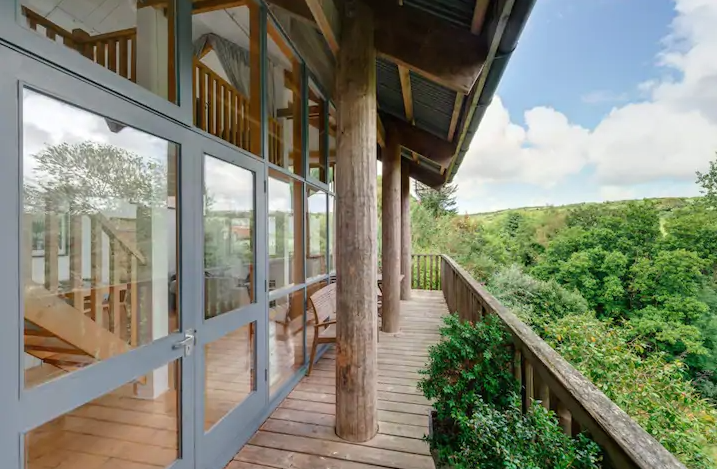 Location: Heamoor
Sleeps: 2 people
The Treehouse is an architecturally designed space for 2 with a private covered balcony running down one side with views over stunning gardens & countryside. Originally a famous printmakers studio, it is now a large & comfortably furnished light-filled bolthole. There is floor to ceiling windows, (with blinds) a large living area with a fully equipped kitchen. Upstairs is a romantic ensuite bedroom. The Treehouse is ideal for a relaxing break in a secluded location, 10 mins walk to Penzance.
Location: Dorset
Sleeps: 2 people
A truly amazing floating tree house set in a spectacular private location in beautiful Dorset countryside. Tastefully decorated with everything you need for a cosy, romantic break. Mains power, heating, stereo, hot and cold water, outdoor toilet and showers. A basic kitchen with a double hob, and everything you need, a fire-pit, BBQ and a bed with far reaching views. Simply an incredible and unique Airbnb stay for a romantic getaway. You will need to bring bedding, towels, and charcoal.
Location: Cornwall
Sleeps: 6 people
Barnwell Cottage is simply one of the most stunning Cornish Cottages in the South West. Sitting proudly in the magical village of Cubert, with its beautiful vaulted ceilings, huge inglenook fireplaces and light and airy bedrooms, the cottage oozes romance and history. Having been sympathetically renovated using a variety of traditional techniques, the Cottage boasts a number of original features, whilst also offering the comfort and luxury of a truly special family home.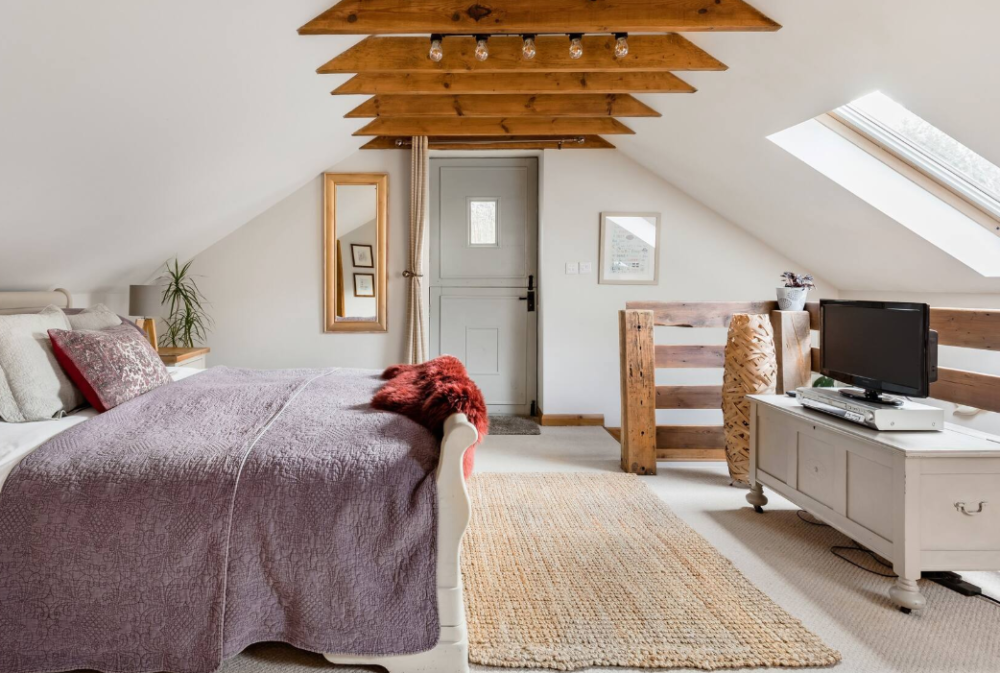 Location: Cornwall
Sleeps: 4 people
Indulge in a luxury spa experience at a tranquil cottage. Follow a garden path from your decked balcony to a private wood-fired hot tub, sauna, hammock, outdoor shower and summerhouse. It's a great spot for stargazing by night and bird-watching by day. Cook in a modern well-equipped kitchen or have meals catered for you and served privately at your cosy cottage.
Location: Antrim, Northern Ireland
Sleeps: 4 people
This is a unique residence, designed by a leading architect, with everything you might need for a relaxing holiday, only 17 miles from Belfast Int'l airport. The house is rebuilt in natural stone with amazing views over lakes and mountains.
Location: Lake District
Sleeps: 2 people
The Den is a unique space within the Lake District – a Scandinavian style BBQ cabin. A large BBQ pit in the centre to sit around provides a cosy relaxing evening space and a place to cook! WiFi, Fridge, Microwave, Kettle & Nespresso. Bedding provided, and a heated blanket! 8 minutes by car to Windermere, 5 minutes to Kendal. Easy access to a bus stop and a cycle lane. Dales Way is very close by. A camping-type toilet and sink (hot & cold water) next to the cabin.
Location: Scotland
Sleeps: 2 people
The SCRIPTORIUM – once the secret 'writing room' of the monastery – forms now the very special framework of a unique one-bedroom-apartment on 2 floors with plenty of original features;
whilst lounge/kitchen and spacious bathroom are at ground floor, the bedroom is upstairs under the high chapel ceiling & surrounded by stained glass windows…fluffy bathrobes are provided to stroll to the ChapelPool and feel very cosy within your apartment!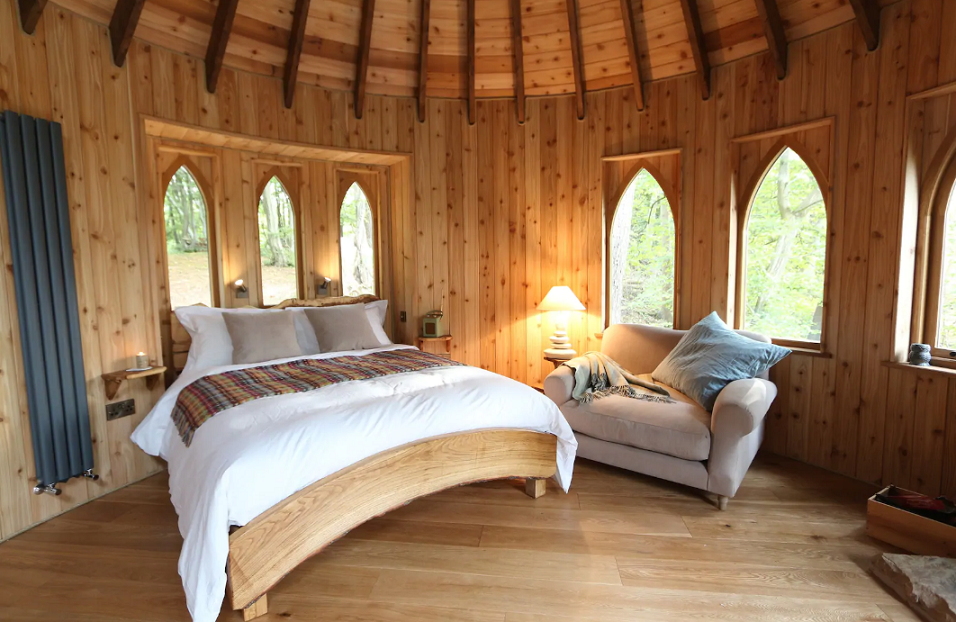 Location: East Sussex
Sleeps: 4 people
Hoots Treehouse is a picture-perfect, romantic, luxurious treehouse with all mod cons in an area of outstanding natural beauty – only 45 minutes south of M25. Clad in aromatic cedarwood, beautifully furnished – ideal private, a woodland retreat for couples. Can also comfortably sleep 2 children (from 6 years) on single mattresses in loft area accessed by a ladder and hatch. A wonderful place to chill-out and lose yourself – you won't want to leave! Sheer bliss!
Location: Pembrokeshire
Sleeps: 4 people
A truly unique place to stay. The Jetstar is a first-class plane that would have carried up to nine passengers. Built-in the seventies it retains most of the original features including a lit-up bar area. It appears to have crash-landed and on the back is a double bedroom in the style of a first-class ship's cabin. There is a loo and cold water basin on board the plane and the cockpit has an Xbox with some flight games. There is a well-equipped shower block on site with hot showers and fridges
Location: Liverpool
Sleeps: 8 people
LOCATION just 11min walk to the Albert Dock place is close to the city centre, art and culture, great views, and restaurants and dining. You'll love my place because of the location, SLEEPS 8, the location bar/restaurant, ambience, just fab, My place is good for couples, solo adventurers, business travellers, families (with kids), big groups, and furry friends (pets).
Location: Wales
Sleeps: 2 people
Set in an acre of wildflowers and up a mountain in the beautiful Dyfi Valley Biosphere the Boatel is literally a bed in a boat! Not to mention a beautiful open plan cooking and living space – all in a shed AKA the Boat, Roofed Shed. Recognised for its amazing and unique qualities, it even won the infamous Cuprinol's Shed of the Year in 2013. It's our absolute pride and joy and we love sharing it with guests!
Location: North Yorkshire
Sleeps: 2 people
We have built this Pullman style railway carriage and sighted it overlooking the old Nidd Valley railway line that runs through the farm. He's 24ft by 9ft and very luxurious. With shower, toilet, kitchen, heating… in fact everything you will need for a stay away. We have reclaimed many railway items including the four handles, luggage rack, lamps, signs and much more. He is authentic as he can be. Outside is decking with seating and hot tub overlooking this beautiful landscape.
Also check out this gorgeous Airbnb in Portishead.
Other Blog Posts…
---
My Travel Tips and Recommendations
Flights
To book flights, I always use flight search engine, Skyscanner, I regularly use the Everywhere tool to find the cheapest places to travel. It's how I get to travel so much all around the world. I find it the easiest way to compare flight prices across airlines and get the best deals.
Accommodation
For accommodation, I usually book most of my hotels or hostels through Booking.com. I love using this platform as it provides me with some amazing deals for accommodation all around the world. Or if you prefer, I also recommend using Airbnb. If you haven't signed up with Airbnb already, you can use this link to get £25 off your first visit!
Photography and Technology
Here is a list of the technology I always travel with:
To receive my articles and reviews straight to your inbox SUBSCRIBE HERE.
Did you know I also vlog my trips? Make sure you subscribe to my YouTube channel so you get alerted when all my travel videos goes live… CHECK THEM OUT HERE
Thank you for reading and as always happy adventuring! If you have any questions about the destination please leave these in the comments below.
If you've enjoyed this post, please share it for me with all your friends and family!
Sophie X