This weekend me and Theo took his daughter to experience a safari weekender at the wonderful Port Lympne Reserve. We visited for a whole weekend in order to get the most of our time exploring their 600 acres, and hundreds of animals. Port Lympne Zoo are a conservation charity dedicated to protecting wildlife, who also work alongside The Aspinall Foundation, as they aim to introduce animals back to the wild.
Our trip to Port Lympne Zoo consisted of a private safari, a stay in their decadent Rhino Lodge, toasting marshmallows in the Port Lympne Treehouse Club, feeding the giraffes lunch, meeting Rosie the Rhino and whizzing round the park on our very own golf buggy. It really was a weekend we will NEVER forget!
Port Lympne Zoo is home to over 700 animals and 88 species and there is more than enough time to see all of these magnificent animals during your stay. There are an array of animals, from rhino, wolves, bears, giraffe, zebra and many more. We were so impressed with this place from the moment we arrived, staff were attentive, we were given an itinerary for the day and before we knew it we were whisked off on our private safari tour.
Alongside the safari, there is also sections of the zoo to walk on foot, including visiting the gorillas, lions and tigers, or you can visit the landscaped gardens and maze, take in the views from the Trojan stairs and even visit their new attraction Dinosaur Forest (Theo was thrilled, as you can see further down the post!).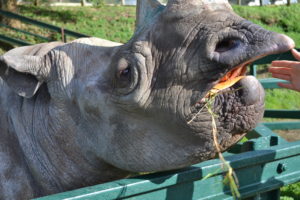 And if that's not enough, you can also book in yourself some animal encounters, like we did. We booked in to visit the giraffe house for lunch time, before heading over to meet Rosie the rhino near the Treehouse Club. And they're reasonably priced too, from just £75 per person. The encounter includes time with one of their expert keepers as they introduce you to the animal of your choice. You can then learn interesting facts about the animals, including their personalities, hand feed where possible and enjoy behind the scenes access as you immerse yourself in their world.
Our experiences were amazing, and totally breathtaking. I had never even considered feeding a rhino before, but by being up close with those stunning animals, you realise how docile they are.
And the giraffe experience was incredible too, they gave us an extended experience letting us feed the giraffe's their lunch from inside the giraffe house. The younger giraffe's bent over the railings offering for us to stroke them, whilst the older giraffe's stood back and watched their young. It was two experiences I will never forget!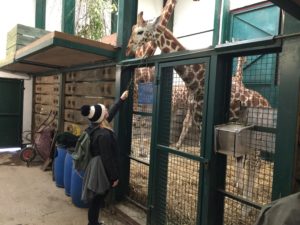 Once we had finished exploring the zoo, meeting the animals and toasting marshmallows, we headed over to our accommodation for the night – Rhino Lodge.
Set on the main drive to the four star hotel, Rhino Lodge is within easy access of the park. After a day exploring the Reserve in your personal golf buggy Rhino Lodge is your home from home, somewhere you can relax after an exciting day. The lodge is a beautifully refurbished historical cottage with incredible neighbours and outstanding coastal views from your private garden, where you can watch black rhino and red lechwe in their adjoining paddocks.
Originally one of the gatehouses of Philip Sassoon's estate, this grade 2 listed cottage has two king-size bedrooms both with en suite bathrooms – complete with roll top baths, complimentary Bamford products and fluffy towels, a separate smaller bedroom nook downstairs, plus a spacious living area with windows offering views over your garden to a wild world beyond.
I fell in love with this lodge from the moment we stepped inside, and really was left speechless as how stunning it was!
And alongside this, you get your private golf buggy, and access to routes and pathways that aren't usually open to the day visitors. This even includes driving through the park at night to go for dinner at Babydolls – a scary experience in itself. And when you wake up in the morning, if you head out before 11 in to the park, you get the place to yourself!
Here you really can unwind away from the buzz of everyday life.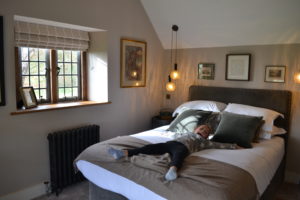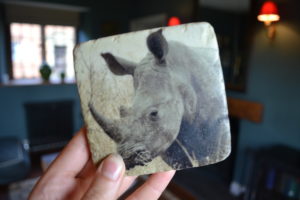 Once we had relaxed in our lodge for a few hours, we got ready and headed out on our private golf buggy to the restaurant, Babydolls. Set in a beautiful landscaped garden, at the heart of Port Lympne Hotel, the new Babydoll's Wood Fired Pizza is a must-visit if you love pizza and anything Italian. The stylish and modern restaurant is named after the much loved gorilla, Babydoll, who at the grand old age of 55, is the last surviving original Howletts gorilla.
In the summer you can head there from midday to relax on one of the sofas with a drink in hand on the veranda, and in winter you can head inside to try some of their incredible pizza. I love pizza, and I was so impressed with the food. They have a small menu, but it offers a wide variety of options including, a selection of antipasti, wood fired pizzas, pasta dishes and a selection of wines, beers and non-alcoholic drinks.
We opted for an antipasti board to start with a garlic bread, before tucking in to one of their prosciutto, rocket and tomato pizzas, and a tagliatelle beef ragu, which Theo tells me was incredible. The food here was next level, and not what you would expect from an on-site pizza restaurant. Really impressed!
And if that wasn't enough, we then headed back up to the Treehouse Club to enjoy the roaring indoor fire pit, where you can enjoy a drink from the well-stocked bar play games and enjoy the warmth of the fire pit as you toast marshmallows and watch the sun set over the rhino paddocks. Dreamy hay?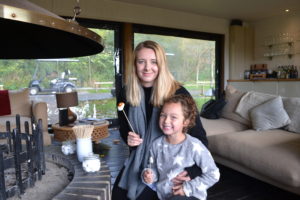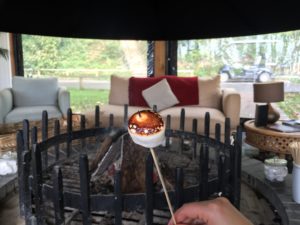 *I was invited to Port Lympne Hotel for a visit. However, as always opinions are my own, and I am always honest about places I stay. This place exceeded every expectation, and I had to tell you about it all!