If you've read my blog for longer than a month, you'll know how much I love a spa day. I've been to a lot of spas over the years, as its one of my favourite ways to relax, destress and recover from flying around the world for work. I haven't' been to many spas this year, but last year I stayed at Rudding Park in July for my birthday, I then went for a spa day at Y Spa with my best friend before she jets off to South America. I also love to go on a spa day with my mum, and visiting the luxury, all-inclusive Ragdale Hall in Leicestershire is our favourite spa to visit. We've been together four times now, so it was about time we visited again.
Set amongst the soothing peace of the Leicestershire countryside, the 93 bedroom Ragdale Hall Health Hydro and Thermal Spa offers luxurious pampering with a huge range of facilities, including
A daily programme of over 18 exercise classes and group activities
Use of air-conditioned gymnasium with cardiovascular, free weights and functional sections
Use of the Thermal Spa including Candle Pool, Waterfall Pool and series of heat and water experiences
Use of the 25-metre indoor Swimming Pool with whirlpool, massage jets and cascade
Use of the indoor Exercise Pool with Aqua Gym equipment and a daily programme of water classes
Use of the NEW Rooftop Infinity Pool with underwater massage jet recliners and wonderful views
Outdoor heated pool (summer months only)
Daytime and evening talks and workshops on a wide range of interesting subjects
Sumptuous lounges, quiet areas and gardens in which to relax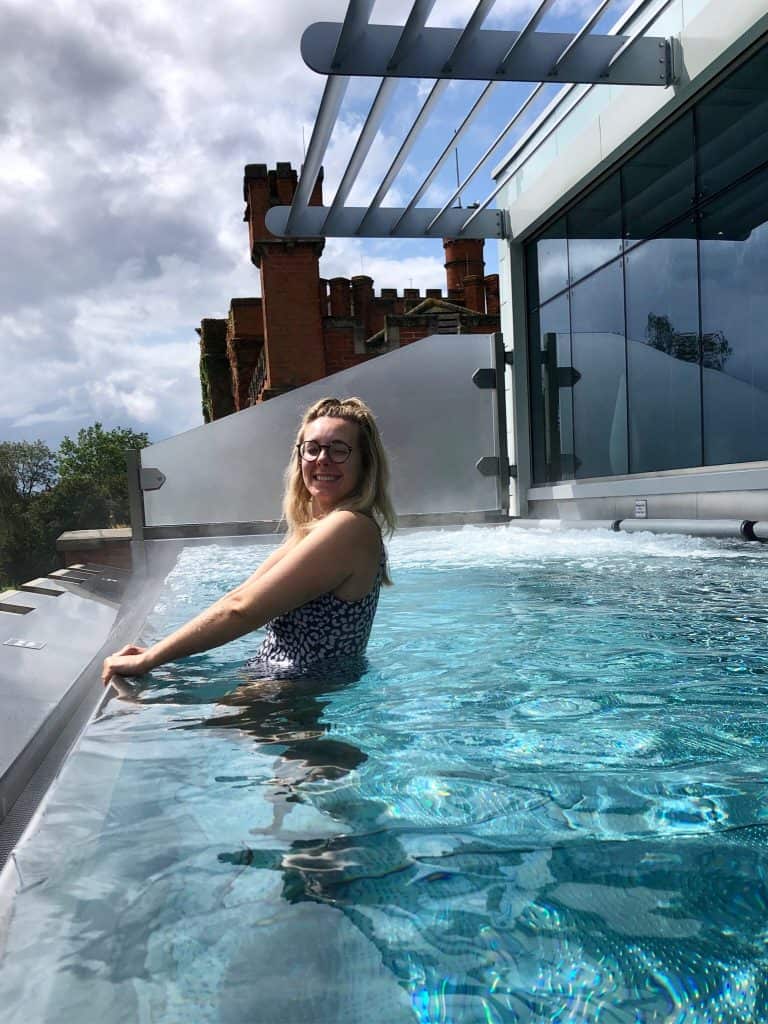 With the six pools and eleven heat rooms and water experiences, tennis, boules, pitch 'n' putt, croquet, cycling, and a mind gym all available, you will find that one day just isn't enough. I mean, it's relaxing, but there's also so much to do and see whilst there. Total relaxation is the aim, with staff ensuring that guests are well looked after whether you are staying for a retreat of up to seven days or for a spa day. The service and whole experience here at Ragdale Hall is the reason me and mum return here every year.
This time around we opted for a spa day, but we had previously also experience the Overnight Reviver Break. The Revive and Refresh Spa Day is their most popular spa day, ideal for those who want to enjoy a blissful day of pampering, sumptuous food and try some of everything Ragdale has to offer! You can arrive from 8.30am and you have all day to enjoy everything Ragdale Hall has to offer.
Including in this package: A Blissful Face and Back Therapy (50-minutes) OR a Pure Radiance Facial (50-minutes) OR a Conditioning Hand Treatment and Conditioning Foot Treatment (both 25 minutes), healthy buffet lunch in the Dining Room and access to the spa, including the brand new rooftop hydrotherapy pool. Prices for this spa day start at: £156 Monday – Friday (£179 weekends) with the option to add additional treatments and upgrade your experience.
After checking in at 8.30am and getting a cup of tea in the cafe, we headed in to the changing rooms to get dressed in to our swimming costume and robes. We knew we had treatments at both 11am and 3pm, so we had to work around those timings throughout the day. On arrival we were given a piece of paper with all the timings for the day so we didn't forget where we needed to be at what time. The timetable also had a set time for lunch, with ours at 12.30pm.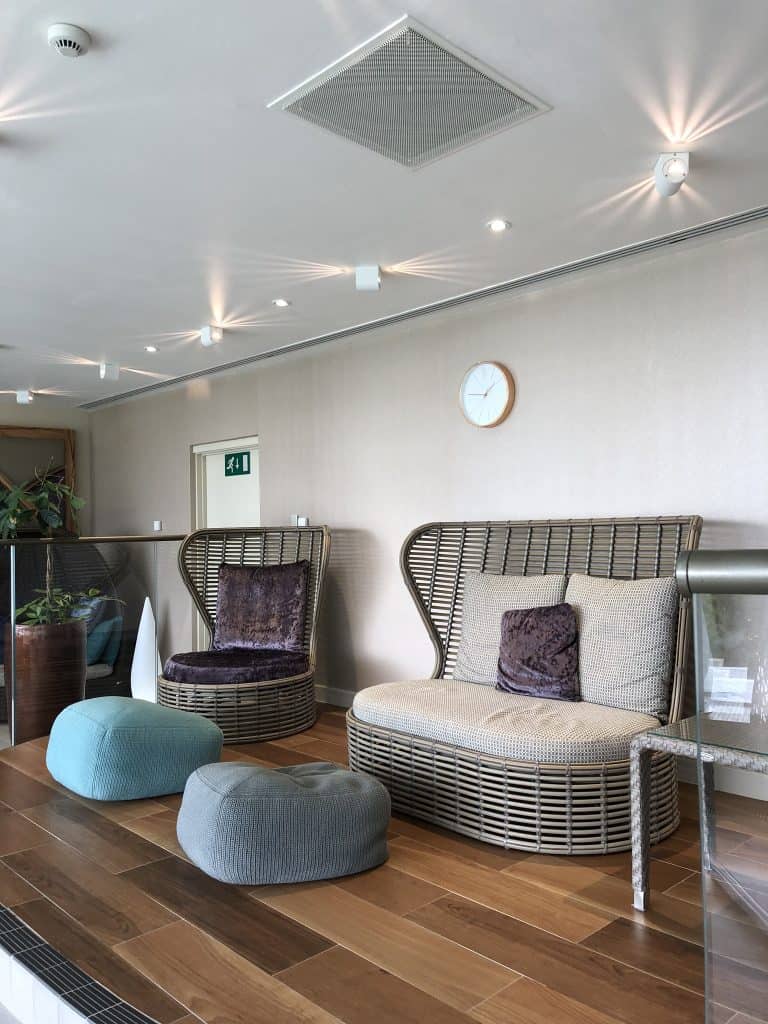 Ragdale has an array of options for you including access to exercise classes, a relaxation area, and chill out rooms. But the best area in the thermal spa, where many of the experiences have been exclusively designed for Ragdale Hall. The Thermal Spa features 12 luxurious and unique heat and water experiences including rocks, stone and lush planting abound Thermal Spa Entrance. And I'd agree with them when they say it is the most contemporary and pampering experience in the UK.
Mum and me spent hours here, and we even popped a stone in to the Wishing Stream where you caress an age-old pebble before throwing it into the stream that runs through the centre of the spa to rid yourself of negative energy before starting your journey around the spa. The Thermal Spa is like an indoor playground for adults so relax, have fun and really enjoy this unique experience!
At 11am me and mum headed over to the treatment area at the far end of the building for our first treatment: A Blissful Face and Back Therapy (50-minutes) which was included as part of our spa day. This treatment was amazing, and was a mixture of a back massage (25 minutes) and facial (25 minutes). After a stressful few months I was in need of a good back massage, to loosen the muscles in the shoulders and then the facial was great at cleansing my skin and calming my acne.
As soon as the treatments were over, it was nearly time for lunch! Lunch is served buffet-style but any concerns are quickly dispelled when you see the buffet which includes an amazing array of salads, rice, pasta and soups, and for main there was roast gammon, jacket potatoes and a pulled pork special. As usual we both ate too much, and left feeling rather bloated, maybe not the point of the break, but I fuelled up with all the good stuff. After we headed back to the spa to read our books, and explore more of the thermal spa area.
After lunch had finished we headed back to the spa, and we both read our books for an hour, to let our food go down and relax, before heading back in to the spa, and up to the rooftop hydrotherapy pool. Because we had opted for an earlier lunch, it meant that we had the whole rooftop pool to ourselves for around half an hour which was amazing. We relaxed, chatted and took in the views across the Leicestershire countryside.
Then before we had time to swim anymore, it was time for our second round of treatments, this time I had booked in for the 'Pick n' Mix' option, where you can choose three options from a list for £54. I opted for:
Reflex Press – A heavenly foot massage melts away tension using acupressure and relaxing massage techniques – the perfect antidote to tired feet.
Tingle Tangle Scalp Massage – Combining the Tingler massager with fingertip massage – Sheer bliss!
Bright Eyes – Banish signs of fatigue around the eyes with our quick-fix treatment.
After we had finished our treatments we headed back to the spa, for a few hours, before getting ready for dinner in the evening. We had opted to add dinner on to our spa day in order to extend our time together. Dinner was, as usual, amazing! And we both had three courses, with wine, followed by the most amazing dessert.
We had another amazing spa day at Ragdale Hall and I would recommend this place time and time again to anyone who is searching for a spa day with their mum, friends or partner.
Two night weekend breaks from £384 per person. Best value spa break: The Unwind and Relax Week Away from £138 per person per night (7 night break) Book at www.ragdalehall.co.uk.
*Thank you to Ragdale Hall for hosting me for this visit, but I have visited three times before and would return again and again.