From charming cottages to lake-side cabins, and from exciting city breaks to hiking in the mountains, there's an abundance of places to visit in North England. A trip to England is full of surprises, and none more so than an adventure in the north of England.
From the tall cathedral of historic York, to the Christmas markets in Birmingham, to the culture-filled Newcastle, to the surfer town of Scarborough, and from the viaduct in Harrogate, to castles in Aberdeen. There are so many things to do in north England…
A week-long vacation to the UK offers adventurers some of the best scenery and experiences, from the far-flung reaches of Scotland to the coast of England and the cliffs of the south coast.
I am from The Midlands and was born and bred there, just outside Northamptonshire, so I grew up in the middle of England, spending weekends travelling both south and north to explore with my family. It's these countless weekends away as a child that inspired me to travel the world, but there's nothing better than exploring your own backyard.
To help you plan your UK adventure, I have pulled together this list of the best places to visit in north England. Northern England offers plenty of unique attractions for tourists to explore from all over the globe. There are so many things to do in northern England.
Check out my other posts 24 Places to visit in the UK and best places to visit in South England for more ideas on travelling in England
In hope that this post inspires some of you to travel closer to home over the coming months, instead of flying elsewhere. Keep reading for the best places to visit on north coast of England.
Here are the places you MUST add to your trip around in North England…
17 Best Places to visit in Northern England
NORTH ENGLAND
Manchester
One of the best places to visit north England is the city of Manchester. The city is slowly becoming my favourite city in the United Kingdom, and this blog post will certainly tell you why.
As with my travels, most of the time I head off on a flight to somewhere in Europe, but back in March, I decided I wanted to head north for a weekend in Manchester. The city is home to football, architecture, rooftop terraces and quirky Northern Quarter.
And it's also a pretty compact city with it being possible to walk from one end of the city to the other in less than 15 minutes, and everything seems so close and accessible. Here's my city guide to a weekend in Manchester….
Check out my blog post on spending a weekend in Manchester.
Durham
Another of my favourite places to visit in Northern England is Durham, located just south of Newcastle upon Tyne. The River Wear loops around the historic and now famous Durham Cathedral and Norman Durham Castle. Durham has many things to do in northern England.
'Durham Castle and Cathedral' was named a UNESCO World Heritage Site in 1986. Among the reasons given for the decision were 'Durham Cathedral being the largest and most perfect monument of "Norman" style architecture in England', and the cathedral's vaulting being an early and experimental model of the gothic style.
Other important UNESCO sites near Durham include Auckland Castle, North of England Lead Mining Museum and Beamish Museum.
And further north of the castle, you will find the 13th-century medieval Crook Hall, which is home to gardens and a maze. South of the river, award-winning Durham University offers a Botanical Garden with woodland and tropical plants, and the Oriental Museum exhibiting Asian, Egyptian and Middle Eastern artefacts. Add this city to your favourite places to visit north England.
Scarborough
Another of the places to visit north England is the popular beach-side town, Scarborough has a long and interesting history. Located on the northeast coast of the UK, the town is famous for ice cream, surfing and limestone cliffs.
Scarborough has a population of just over 61,000 and is the largest holiday resort on the Yorkshire coast, and one of the biggest in the UK. The town has fishing and service industries, including a growing digital and creative economy, as well as being a tourist destination for locals and tourists.
The most striking feature of the town's geography is the high rocky promontory pointing eastward into the North Sea which also supports the 11th-century ruins of Scarborough Castle and divides the seafront into two bays, north and south.
The South Bay was the site of the original medieval settlement and harbour, which form the old town, and this remains the main tourist area today, with a sandy beach, cafés, amusements, arcades, theatres and entertainment facilities.
The harbour has undergone major regeneration over the past decade including the new Albert Strange Pontoons, a more pedestrian-friendly promenade, street lighting and seating. A beautiful town and one of the best places to visit in north east England.
York
Last year I headed up north for a weekend break in York; our third adventure together in 2018! York is a city with Roman roots and a Viking past. York is one of the oldest cities in England and is undoubtedly one of the best places in the north of England for an adventure.
Combining the best of its heritage with modern British life, you'll feel as if you've stepped back in time as you amble down intertwining streets lined with 13th-century walls, but its thriving cultural scene will bring you right back to the present.
We had 48 hours explore this incredible city and made the most of our visit by getting the York Pass, which gives you free access to over 40 York & beyond attractions and it is the only ticket you need to experience and explore York! It also includes discounts on evening entertainment such as ghost walks, escape rooms, plus money off offers at numerous cafes and restaurants across the city.
Whilst we on our weekend break in York we stayed at the wonderful Staycity York and then spent 48 hours exploring the Christmas markets, taking a ghost walk, learning at JORVIK Viking Centre, eating cake at the famous Bettys Tearoom and staring at York Minster. Come along and find out what else we got up to and why you should visit York. Another great place to visit north England.
Check out my guide to a weekend in York.
Birmingham
Birmingham is a major city in England's West Midlands region, with multiple Industrial Revolution-era landmarks that speak to its 18th-century history as a manufacturing powerhouse.
Birmingham is an amazing city to spend a weekend, and there's so much to do including Cadbury World, National SEA LIFE Centre Birmingham, Birmingham Museum & Art Gallery, Black Country Living Museum, Thinktank Science Museum, Dudley Zoo and Castle and The Birmingham Botanical Gardens.
It's also home to a network of canals, many of which radiate from Sherborne Wharf and are now lined with trendy cafes and bars. In the city centre, the Birmingham Museum and Art Gallery are known for pre-Raphaelite masterpieces and some iconic historical pieces of art.
Technically located in the Midlands, but very much the north as far as I am concerned, Birmingham is one of the best places to visit in northern England.
The Lake District
Yorkshire Dales National Park is one of the most beautiful places to visit in the north, with the most amazing hiking. I have visited here many times before and will be heading back again soon to climb Scafell Pike for the second time.
The Lake District is a region and national park in Cumbria in northwest England and it is a popular vacation destination, known for its glacial ribbon lakes, rugged fell mountains and historic literary associations.
If you are looking for the best place to visit in the Lake District, I would stop in the towns such as Kendal, Ambleside and Keswick. They are their perfect base for exploring the area and home to traditional inns, galleries of local art and outdoor equipment shops.
The Lake District is also famous for its literary links, to William Wordsworth, Beatrix Potter and John Ruskin. Have you been to the Lake District? Add is to your bucket list now!
Hadrian's Wall
Hadrian's Wall also called the Picts' Wall, is a former defensive fortification of the Roman province of Britannia, begun in 122AD and is now a UNESCO World Heritage Site.
Stretching 73 miles from coast to coast, Hadrian's Wall was built to guard the frontier of the Roman Empire and it's also a great place to go hiking in England, so dig out your walking boots!
Along the route, you can hike and explore through fields and through history, and uncover the truths about Hadrian's Wall at over twenty English Heritage sites. Whilst hiking here, you will walk through the remains of the forts, see towers, turrets and towns that once kept watch over the Wall and you can stop off at some of the museums along the way and see artefacts for yourself.
Hadrian's Wall is one of the best places to visit north England if you want to combine incredible natural scenery, with a spot of iconic English history.
Check out when I walked Hadrian's Wall.
Liverpool
Most people head to Liverpool for the Beatles, but there's more to Liverpool than just Beatles tours. Liverpool is a city full of culture and is also known these days for its amazing food scene too.
Liverpool is a maritime city in northwest England, where the River Mersey meets the Irish Sea. Liverpool was a key trade and migration port from the 18th to the early 20th centuries, and as mentioned previously, is the hometown of The Beatles.
Ferries cruise the waterfront, where the iconic mercantile buildings known as the "Three Graces" – Royal Liver Building, Cunard Building and Port of Liverpool Building – stand on the Pier Head. And Liverpool has the second-highest number of museums, after London, and the architecture also rivals the capitals so it's a stunning city to spend a weekend if you are heading up north. Don't miss the Baltic Triangle – a delicious street food pop-up!
There's so much to do in Liverpool including Royal Albert Dock Liverpool, The Beatles Story, Cavern Club, Anfield (Liverpool's 45,500-seat football stadium), Liverpool Cathedral, World Museum, and Merseyside Maritime Museum. Liverpool is easily one of the best places to visit in northern England.
Newcastle
A great addition to your UK bucket list is a weekend in Newcastle, one of the best places to visit north England. Also known as Newcastle upon Tyne, Newcastle is a university city on the River Tyne in northeast England.
The city is linked to its twin city, Gateshead, and was a major shipbuilding and manufacturing hub during the Industrial Revolution and is now a centre of business, arts and sciences. Spanning the Tyne, modern Gateshead Millennium Bridge, noted for its unique tilting aperture, is a symbol of the 2 cities.
Newcastle is a wonderful city with some iconic places to visit in north-west England including the Angle of the North, Newcastle United football club and the Tyne Bridge. Since 1981 the city has hosted the Great North Run, a half marathon which attracts over 57,000 runners each year.
Yorkshire Dales National Park
If you like the outdoors then it's worth taking a trip to the Yorkshire Dales National Park when you are visiting England. It's one of the best places to visit in North England, offering tourists plenty of open spaces, hiking and quaint village pubs.
The Yorkshire Dales National Park encompasses thousands of square miles of moors, valleys, hills and villages from the River Wharfe, the Bolton Abbey Estate and a 12th-century monastery to the south, and to the north, Malham Village, Gordale Scar, and the 5-arched bridge crosses the river at Burnsall Village. The area is home to famous British soaps also such as Emmerdale.
Harrogate
Harrogate is a town in North Yorkshire and has been a popular tourist spot for decades, mainly because of the iconic Betty's and the Turkish Baths located in the town centre. Harrogate sits within reach of nearby towns Ripon, Boroughbridge, Knaresborough and Masham.
It is one of the most elegant destinations in the north, with stunning buildings, a famous tearoom, wide-open parks and a long list of shops and restaurants dotted throughout the town.
And if you want to venture a bit further out, the Yorkshire Dales and Ilkley Moors are only 20 minutes away. It is the perfect base for a day, a weekend or a week.
Check out my blog post of spending 48 Hours in Harrogate.
Whitby
And last but not least, Whitby is one of the most popular places to stay in Northern England. Whitby is a seaside town in Yorkshire, northern England, split by the River Esk.
On the East Cliff, overlooking the North Sea is the ruined Gothic Whitby Abbey, which was made famous by being the inspiration for Bram Stoker's classic masterpiece "Dracula". The abbey has become synonymous with the book and many flocks here every year to walk in the footsteps of Stoker and try to realise his vision within the abbey and the nearby Whitby.
Nearby is the Church of St. Mary, The Captain Cook Memorial Museum (the house where Cook once lived) and West Cliff Beach, the perfect place to go in the summer when the sunshine is blazing where you can hire one of the beach huts. There are so many of the things to do in northern England in Whitby.
SCOTLAND
Isle of Skye
One of the most beautiful places to visit in North England, well actually Scotland, is the beautiful island of Isle of Skye.
Connected to Scotland's northwest coast by a bridge, the Isle of Skye is known for its rugged landscapes, picturesque fishing villages and medieval castles. Skye is one of the top locations in Scotland to visit. It is famous for its scenery and landscapes that will take your breath away.
The largest island in the Inner Hebrides archipelago, the Isle of Skye is 50 miles long, and has an indented coastline of peninsulas and narrow lochs, radiating out from a mountainous interior.
The capital is Portree and villages in the north of the Island include Dunvegan, Edinbane, Uig and Staffin and in the south of Skye include Broadford, Armadale, Carbost, Elgol and Kyleakin. The town of Portree, a base for exploring the island, features harbourside pubs and boutiques.
Aberdeen
What a city Aberdeen is! I spent a weekend in Scotland's biggest city outside the central belt, and we were in awe of both the history and beauty of this wonderful city. Aberdeen is both a former fishing and farming settlement, and now boasts a world-renowned university, as well as some of the most beautiful castles within a 45-minute drive of the centre.
Despite its reputation as the 'grey city' due to its granite architecture, there are so many things to do in Aberdeen and beyond.
And it's also super close to the Cairngorms National Park, which means there are a ton of outdoor-based things to do in Aberdeen. Here's an introduction to my favourite things to do in Aberdeen.
Check out my blog post of things to do in Aberdeen.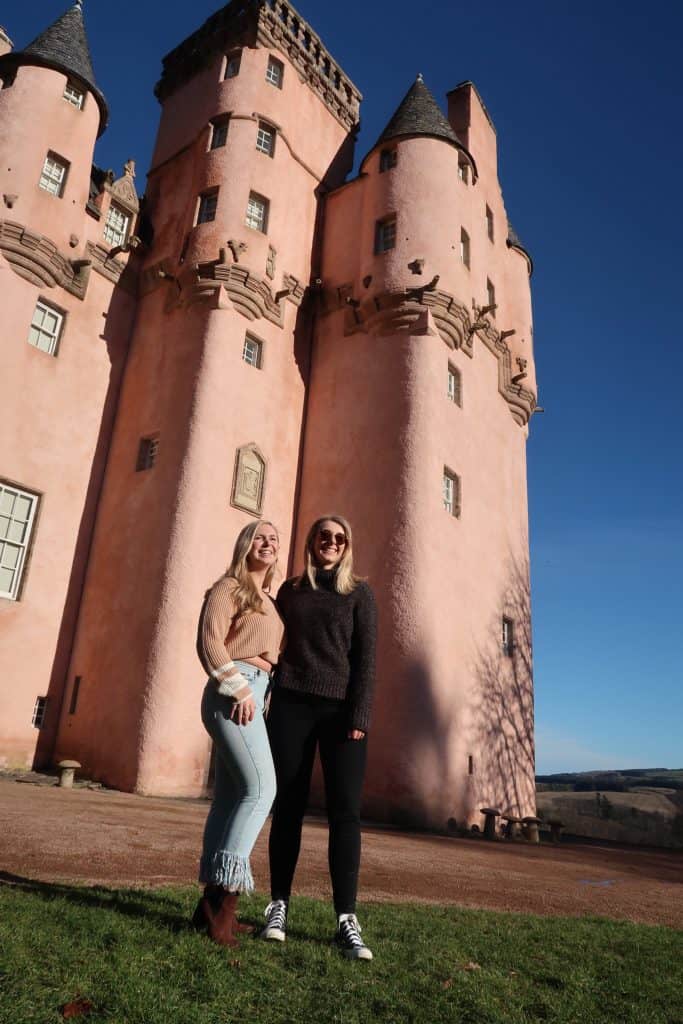 Edinburgh
Edinburgh is Scotland's compact, hilly capital and was a medieval Old Town through the ages. The most iconic building in Edinburgh, looming over the city is Edinburgh Castle, home to Scotland's crown jewels and the Stone of Destiny, used in the coronation of Scottish rulers.
Here you can also find Arthur's Seat, only 20 minutes away, an imposing peak in Holyrood Park with sweeping views, and Calton Hill is topped with monuments and memorials.
From the zoo to the whiskey and the annual Fringe Festival, Edinburgh is a fun and eclectic city with friendly locals and activities galore.
There's also so much to do in Edinburgh including Edinburgh Castle, Palace of Holyroodhouse, Arthur's Seat, Edinburgh Old Town, Edinburgh Castle, the pubs on Royal Mile, National Museum of Scotland, Calton Hill, Princes Street and St Giles' Cathedral.
Glasgow
Glasgow has been voted the world's friendliest city and is also the biggest city in Scotland meaning that it is perfect for a weekend break in the UK.
In a recent article, Lonely Planet named Glasgow as' one of Britain's most intriguing metropolises', thanks to it's a cultural hub, home to institutions including the Scottish Opera, Scottish Ballet and National Theatre of Scotland, as well as acclaimed museums and a thriving music scene.
Glasgow is a port city on the River Clyde in Scotland's western Lowlands. It's famed for its Victorian and art nouveau architecture, a rich legacy of the city's 18th–20th-century prosperity due to trade and shipbuilding.
Where are your favourite north England places to visit? There are so many things to do in northern England.
OTHER BLOG POSTS
17 Destinations You Won't Believe are in England
15 of the Best Hikes in the UK
12 Weekend Breaks for a Staycation in the UK
Photo credit: Pexels.
---
My Travel Tips and Recommendations
Flights
To book flights, I always use flight search engine, Skyscanner, I regularly use the Everywhere tool to find the cheapest places to travel. It's how I get to travel so much all around the world. I find it the easiest way to compare flight prices across airlines and get the best deals.
Accommodation
For accommodation, I usually book most of my hotels or hostels through Booking.com. I love using this platform as it provides me with some amazing deals for accommodation all around the world. Or if you prefer, I also recommend using Airbnb. If you haven't signed up with Airbnb already, you can use this link to get £25 off your first visit!
Photography and Technology
Here is a list of the technology I always travel with:
Travel Insurance
Picking travel insurance that covers you in all eventualities is an essential part of planning a trip for every single person. If you can't afford travel insurance, you can't afford to travel. You never know what's around the corner. World Nomads is an affordable option that I personally recommend. BOOK HERE
Sign up to AirBnB with this link and receive a £23 off your first booking.
To receive my articles and reviews straight to your inbox SUBSCRIBE HERE.
Did you know I also vlog my trips? Make sure you subscribe to my YouTube channel so you get alerted when all my travel videos goes live… CHECK THEM OUT HERE
Thank you for reading and as always happy adventuring! If you have any questions about the destination please leave these in the comments below.
If you've enjoyed this post, please share it for me with all your friends and family!
Sophie X