Lots of us are hankering for a blustery or bright walk along a beach and perhaps even a dip: alone or socially distanced with one of our best friends. The great thing about this island is that we're never that far from a stretch of sand or shingle.
The sunshine is out, and for a lot of us, that means heading to the beach. Britain has some of the most beautiful beaches I have ever seen, and therefore I've listed some of my favourite beaches in Britain.
Whether you fancy splashing around in the sea or strolling along the sand with ice cream, getting sand between your toes, or rolling up your jeans for a paddle, the weather is perfect for a day at the beach.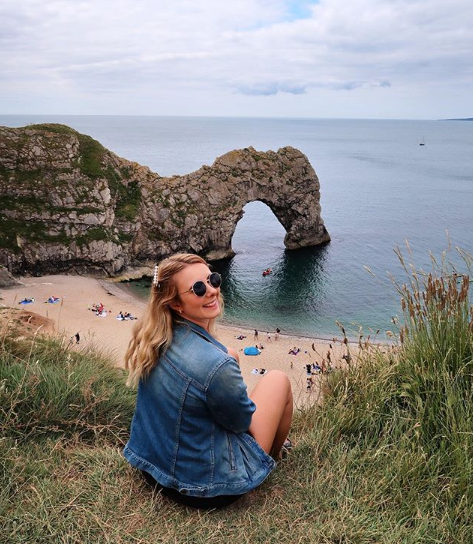 21 of the Best Beaches in the UK
Elie Beach, Fife
Camber Sands, East Sussex
Studland Bay, Dorset
Watergate Bay, Newquay
Beauport Beach, Jersey
Tynemouth Longsands, Tynside
North Sands, Salcombe, Devon
Achmelvich Beach, Lairg in the Highlands
Pentle Bay, Tresco, Scilly Isles
Bamburgh Castle Beach, Northumberland
West Wittering, Chichester
Newborough Beach, Anglesey, Wales
Formby, Lancashire
Cranfield Beach, Kilkeel, Northern Ireland
Luskentyre, Outer Hebrides
Durdle Door and Lulworth Cove, Dorset
Whitstable, Kent
Birling Gap, East Sussex
Shoreham Beach, West Sussex
Botany Bay, Broadstairs
Mersea Stone, Essex
1. Elie Beach, Fife
Best for sports on the sand
Only an hour from Edinburgh, Elie links with the adjacent Earlsferry Beach, giving almost a mile of uninterrupted sand – and the local cricket team historically plays on the sand at low tide. The Ship Inn's pub garden overlooks the beach, making it the ideal spot for fish & chips and an Iron Bru!
2. Camber Sands

, East Sussex
Best for long walks along the shoreline
A beautiful, miles-long wide sandy beach one of the longest dune systems on the south coast and with masses of space for walking or relaxing. The dunes and marshes behind the beach are full of wildlife – there's a basic beach café and, often, a fish & chips van in the carpark – or head to the nearby Dungeness Fish Hut.
3. Studland Bay, Dorset
Best for dunes and heathland
Studland Bay in Dorset offers visitors miles of pristine white sand, set beside milky-blue waters, and dunes and heathland. The northern beach is easiest reached by chain-ferry and is a beautiful part of the UK with a desert-island feel. If you fancy stripping off, head a few miles down to Shell Bay, or with family? Head to Knoll Beach!
4. Watergate Bay, Newquay
Best for activities
This amazing beach located on the north coast of Cornwall is 2 miles of golden sand, backed by cliffs and caves. This area of the UK is also amazing for surfing, due to to where the Atlantic swells hit the warmer waters and you can also find an abundance of wildlife here too. On Watergate Bay beach you can find falcons, gulls and crabs among the rock pools. There are also lots of great walks around here too offering beautiful views from the cliffs.
5. Beauport Beach, Jersey
Best for bay-swims
A secluded bay mostly unknown to tourists. Often accessed by boat to avoid the long stairway down from the cliffs, locals often set up a BBQ on the white sand beach and there are regular sightings of dolphins in the summer. Fabulous fishy-takeaways from the Crab Shack in the next-door St Brelade's Bay.
**This is also the beach where Theo and I got engaged in 2018.
On Sunday 30th December 2018, after a monumental year for both of us, we jumped on a plane and headed off on our last trip together in 2018 to Jersey in the Channel Islands. We headed straight to the beach as soon as we arrived in Jersey, grabbing some snacks from the local shop and headed for a walk on Beauport Beach. As we both wandered around the beach and stared out into the distance across the water, I turned around and Theo was on one knee.
Without a hunt of hesitation, I said yes a thousand times – or I think I did in the haze of emotion. My heart skipped a few beats and after a few tears and a lot of shaking, we hugged it out before admiring the ring. Who knew after all these years, that we'd now be creating this life together, with Arabella and our future children.
6. Tynemouth Longsands
Best for surfing
A Blue Flag award-winning mile-long stretch of golden sand open year-round to both the public and dogs – featuring in the Hollywood movie 'Goal' and home to a renowned surf school. Hop over to the neighbouring King Edward's Bay for fresh fish served from a cool portable fish bar and grill, or walk into Tynemouth village for takeaway fish & chips at Longsands Fish Kitchen.
7. North Sands, Salcombe

, Devon
Best for families
A large, sandy, level beach great for families, with safe swimming in its secluded bay and plenty of rock pools for exploring at low tide. There are plenty of fish & chip shops in Salcombe, walking distance from the beach including the brilliant 'The Plaice'.
8. Achmelvich Beach, Lairg in the Highlands
Best for crystal-clear water
A stunning small beach with unexpectedly white sand and stunning clear blue water, often home to dolphins and whales. You will need a car for this remote part of Britain but after a dip, a walk and a run, Peet's seafood restaurant is just 12 minutes' drive away in the quiet fishing village of Lochinver.
9. Pentle Bay, Tresco, Scilly Isles
Best for the tropical vibe
A beautiful beach with bleached sand and turquoise water on a good day – with its very tropical vibe, on Tresco you definitely feel like you're abroad. Just a 7-minute drive inland finds The Flying Boat where you can enjoy fish & chips and lovely views of the coast.
10. Bamburgh Castle Beach, Northumberland
Best for hiking
With its great hikes and a huge castle perching on a basalt crag at one end of the beach, Bamburg bay is superb for walks, swims and – especially – boogie boarding, as well as being a Site of Special Scientific Interest. Check out the nearby Pinnacles fish & chip shop, nominated by celebrity chefs 'The Hairy Bikers' as their favourite in the UK.
11. West Wittering, Chichester
Best for cleanliness
Another fave of mine is West Wittering, with it's a long, narrow Sussex beach and often feels remote due to its vastness. You can also get views across the Solent from here, and Chichester Harbour. It's also been named one of the cleanest beaches in the UK, always found spotlessly clean. At low tide there are pools for paddling and its a great beach for young children!
12. Newborough Beach, Anglesey, Wales
Best for wildlife
A 3.5mile long sandy beach – with miles of grass-covered dunes and the backdrop of the majestic mountains of Snowdonia and the Lleyn Peninsula. Cut off at high-tide is the 'enchanted' island of Saint Dwynwen, Welsh Patron Saint of Lovers and backing the beach is a nature reserve teeming with red squirrels. Just a 10-minute drive inland finds The Codmother – best fish & Chips in Anglesey.
13. Formby, Lancashire
Best for monumental dunes
The monumental dunes here are classified as a Site of Special Scientific Interest and it's with good reason as they are epic! From the top, there are views of the Cumbrian mountains and you can even see Blackpool Tower on a clear day. I would recommend heading here with family early, and once you've followed the footpaths through the Pinewood, you will uncover a magical beach!
14. Cranfield Beach, Kilkeel, Northern Ireland
Best for rugged nature
With stunning views over the Mountains of Morne and Carlingford Loch, south-facing Cranfield is one of the quieter Northern Irish beaches in an area designated a Site of Special Scientific Interest. Check out The Pitstop or Sharky's for great fish & chips on the go.
15.

Luskentyre, Outer Hebrides
Best for empty windswept islands
And last, but not least, the most hidden, yet magical beach in the UK has to be in the Outer Hebrides. Completely hidden at the end of a winding road on the wild north-west coast of the Isle of Harris, this beautiful long stretch of beach is surrounded by clear, azure water. One of the most beautiful beaches I have ever seen, on the edge of the world, on a windswept island.
16. Durdle Door and Lulworth Cove
Best for iconic Instagram shots
Located on the Lulworth Estate in south Dorset, Durdle Door is an entirely natural limestone arch, formed simply by waves eroding a hole through the middle. As one of Dorset's most photographed landmarks, Durdle Door is worth the car journey. This spectacular coastline was designated England's first natural World Heritage Site by UNESCO in 2001. We visited in July and it was lovely weather but too busy. Also around the corner, only a half-hour walk away, will lead you over to similarly picturesque Lulworth Cove, which is perfect for a picnic.
17. Whitstable, Kent
Best for ice cream on the beach
There are so many things to do in Whitstable including, surfing, eating oysters, fish and chips, salty sea air and beach huts. If you like any of those things, you will be in for a real treat. And it has one of the best beaches in the UK. Whitstable is a seaside town on the north coast of Kent in south-east England, 5 miles north of Canterbury and 2 miles west of Herne Bay. And if you live in London, it's also a really easy day trip from London and the train takes 1 hour 15 minutes approx. It's well worth the journey as there are some amazing things to do in Whitstable and some incredible Whitstable restaurants too!
18. Birling Gap, East Sussex
Best for rock-pooling
If you are after a beach in the UK which is laid back and relaxed, Birling Gap is for you. It's the perfect beach for a lazy afternoon, with ice-creams on the beach, rock pooling and walks close to the Seven Sisters chalk cliffs. You can find rock pools here for crabbing and fossil hunting, and you can also head to Beachy Head, Britain's tallest sea-cliff, for amazing views.

19. Shoreham Beach, West Sussex
Best for picnics
Only a short distance from Brighton, but offering a far more relaxed beach experience, Shoreham Beach in West Sussex is perfect for picnics, walks and relaxing with family. It's a beach not often known by tourists so is very often empty or really quiet, even on weekends. From the beach, there are many things to do including the historic Shoreham Fort. If you fancy some windsurfing head to Lacing, a designated local nature reserve.
20. Botany Bay, Broadstairs
Best for sea caves
Another underrated beach, where crowds are rare is Botany Bay, located between Margate and Broadstairs, and offers visitors an undeveloped and relaxed beach experience. Here you can find clear waters, white cliffs and sea caves for exploring. It's said that smugglers once hid their booty (treasure) here and you can still climb up into them for an adventure.

21. Mersea Stone, Essex
Best for island life
Mersea Island is an island in Essex, in the Blackwater and Colne estuaries and it's name comes from the Old English word meresig, meaning "island of the pool". On the island you can find many things to do, including eating some of the world's best oysters, wandering the long sandy beaches and grabbing ice creams from The Company Shed.
Some other recommendations from you:
Sandwood Bay, Sutherland (Scotland)
Compton Bay, Isle of Wight (England)
Rhossili Beach, Gower (Wales)
Bigbury-on-sea, Devon (England)
Blackpool Beach, Lancashire (England)
Barafundle Bay, Pembrokeshire (Wales)
*Content supplied by Opodo.
---
My Travel Tips and Recommendations
Flights
To book flights, I always use flight search engine, Skyscanner, I regularly use the Everywhere tool to find the cheapest places to travel. It's how I get to travel so much all around the world. I find it the easiest way to compare flight prices across airlines and get the best deals.
Accommodation
For accommodation, I usually book most of my hotels or hostels through Booking.com. I love using this platform as it provides me with some amazing deals for accommodation all around the world. Or if you prefer, I also recommend using Airbnb. If you haven't signed up with Airbnb already, you can use this link to get £25 off your first visit!
Photography and Technology
Here is a list of the technology I always travel with:
Travel Insurance
Picking travel insurance that covers you in all eventualities is an essential part of planning a trip for every single person. If you can't afford travel insurance, you can't afford to travel. You never know what's around the corner. World Nomads is an affordable option that I personally recommend. BOOK HERE
Sign up to AirBnB with this link and receive a £23 off your first booking.
To receive my articles and reviews straight to your inbox SUBSCRIBE HERE.
Did you know I also vlog my trips? Make sure you subscribe to my YouTube channel so you get alerted when all my travel videos goes live… CHECK THEM OUT HERE
Thank you for reading and as always happy adventuring! If you have any questions about the destination please leave these in the comments below.
If you've enjoyed this post, please share it for me with all your friends and family!
Sophie