One of my favourite things to do as a kid was to go on a Bournemouth holidays. And now we've got our own family, I wanted to take her to see what all the fuss was about. Bournemouth is located on Britain's South Coast and offers visitors long sandy beaches, adorable beach huts, the Pier, art exhibitions, dramatic seascapes, tropical gardens, nightlife and traditional fish & chips.
It's the perfect place for a weekend break away with your partner, family or girlfriends. Whether you visit in the summer season or the Christmas period, Bournemouth has so much to do, all year round.
With staycations becoming more popular in recent years and a stay on the coast, one of the UK's favourite types of holidays, Bournemouth is setting the standard for that great British weekend away.
In the heat of summer, you'd hardly guess this was England. But Bournemouth is quite literally a hot spot – it gets warmer weather than most of the UK – and people are making it their go-to holiday destination. Alongside unspoilt coastline, and Blue Flag beaches, Bournemouth really is the coast with the most.
If you love art, history and culture, there are museums and theatres to visit, as well as exhibitions and week-long events in and around the city. If you're taking a Bournemouth holiday with your partner, there are lots of places to head for a romantic walk on the beach, before dinner in a world-class restaurant and a spa experience the following day.
And if you're coming for a Bournemouth holiday with your family, there is an observation wheel, adventure golf, aquarium, and much more.
Here's everything you need to know about having a Bournemouth holidays.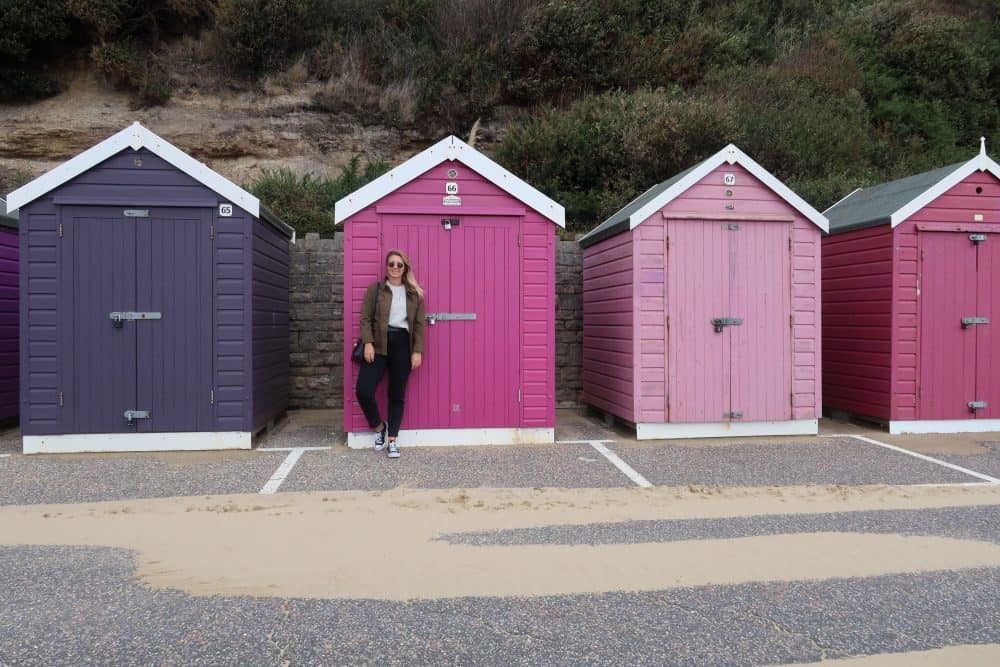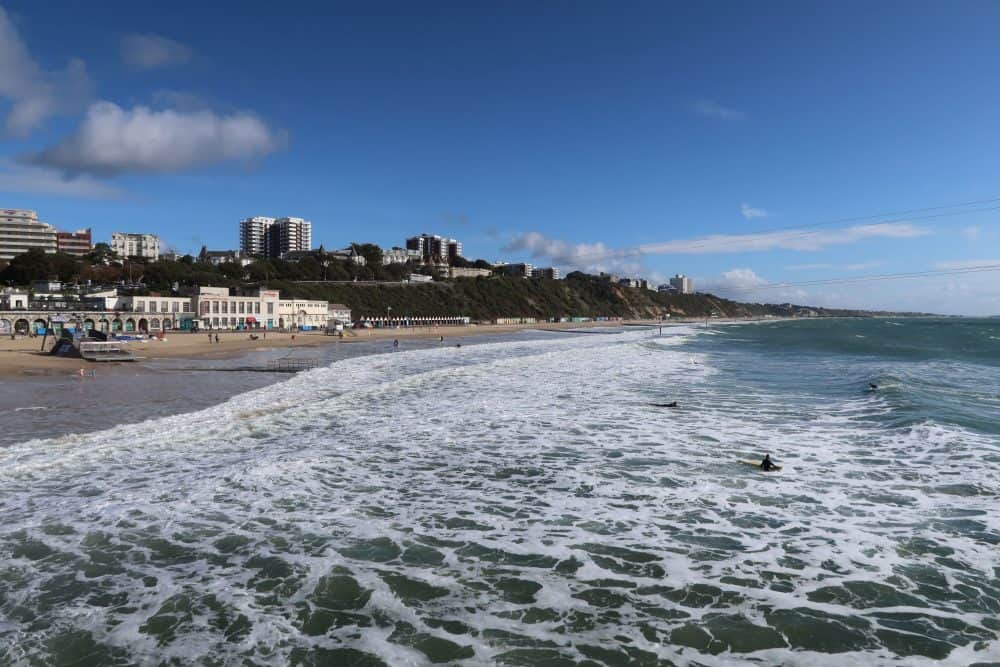 Top 10 things to do in Bournemouth
Bournemouth Pier
The Gardens
Isle of Purbeck
Ski Bobbing at Snowtrax
Hengistbury Head Beach
Bournemouth festivals
Poole
Pier Approach
Smugglers Cove Adventure Golf
All the FOOD!
So, what are you waiting for, here's my weekend guide to Bournemouth…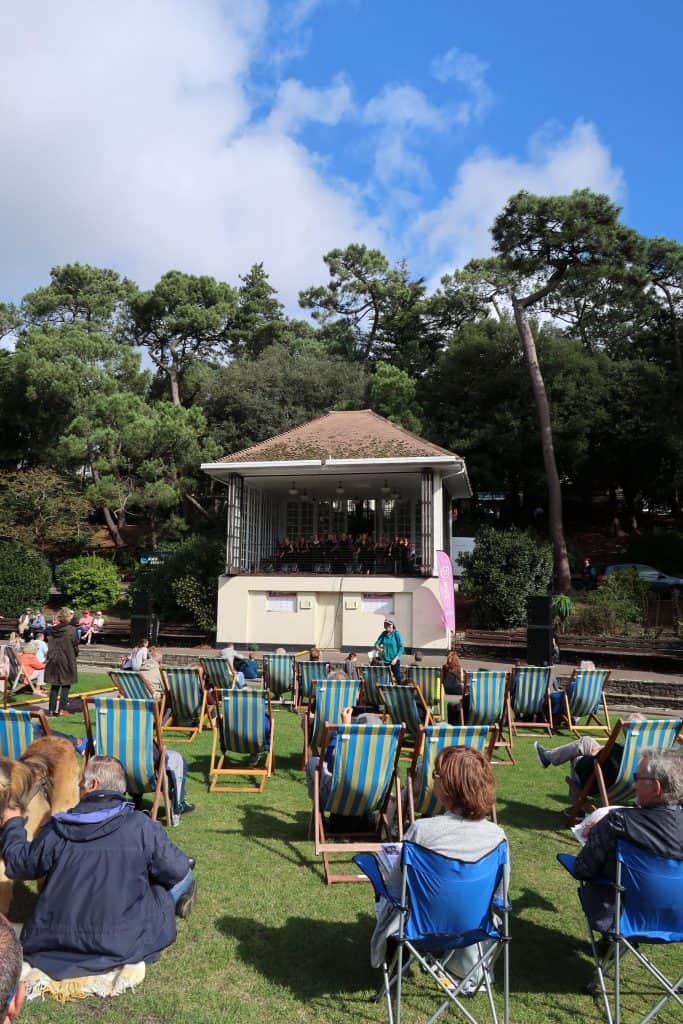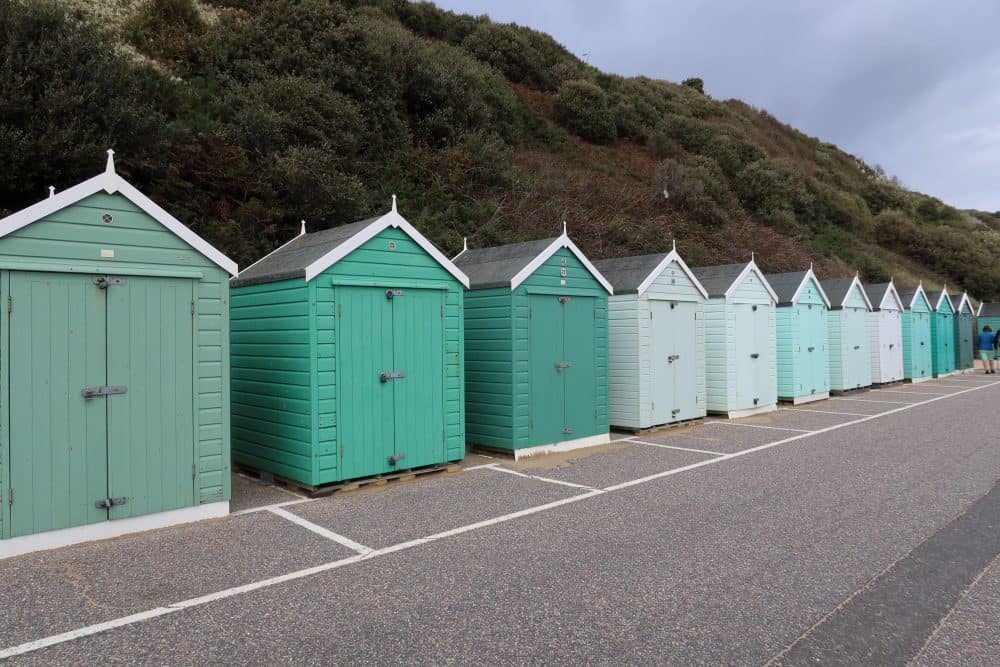 Bournemouth Holidays: Weekend in Bournemouth
When to visit Bournemouth
Of course visiting any coastal town in the summer offers an array of options, with days spent at the beach, kayaking along the coast and ice creams in the sunshine. And whilst the summer months will provide the perfect weekender, winter can also make for a cosy seaside getaway.
Bournemouth Holidays: Weekend in Bournemouth
How to get to Bournemouth
We travelled from just outside London and it took us around two hours to get to Bournemouth. Trains from London also take two hours from London's Waterloo and costs around £40-£60 for a full-price return adult ticket depending on if you go in the peak of summer.

Bournemouth Holidays: Weekend in Bournemouth
Where to stay in Bournemouth and Christchurch
Christchurch Harbour Hotel
On a visit to Bournemouth, don't assume you need to stay in the town centre, head slightly down the coast to the east and you will stumble upon a gorgeous town called Christchurch. Sometimes forgotten, in the shadow of it's popular neighbour Bournemouth, Christchurch offers visitors the perfect balance between relaxation and proximity to the hot spots.
Located to the east of Bournemouth, Christchurch Harbour Hotel is a fantastic stay for couples, families and girlfriends. Offering possibly some of the best views to wake up to, the Christchurch Harbour Hotel & Spa in Dorset is a hotel which delivers. Whatever the season, this hotel offers guests a friendly, warm and attentive experience, through comfy beds, delicious food, and a location so you can take a breath and relax.
The hotel is located in a long Victorian building, painted white, giving off seaside vibes and calm collection. Whilst the exterior can seem a little simple, the interior is not – with luxurious fabrics, stylish decor and striking orange and navy blue palette. Just through the front door you will find a gorgeous open reception, with seating area, and further on through the rooms, you will find Upper Deck, a restaurant that overlooks the harbour.
In the lounge areas, there are plush sofa, chandeliers and fireplaces, and the classy interior extends through in to Upper Deck too, with leather cove seating, set against gorgeous pieces of black and white art, and shiny surfaces. Beyond the polished steel bar is an incredible terrace facing the harbour, where a covered seating area for the autumn time means you can take advantage of the horizon.
The hotel also pushes the boundaries in the space it takes up, with a garden beyond, and a further restaurant called The Jetty, which is located in the garden area next to the water. Alongside there public areas, there are also 67 beautifully designed bedrooms, all decorated in a seaside-like theme, with blue and white tones across the cushions, chairs and throws, set against grey plush carpets.
There are two accessible rooms, four family bedrooms with lots of space, the 'Glimpse' room on the top floor and Best Harbour View Room is my favourite, with its distressed wood four-posted bed and roll top bath tub.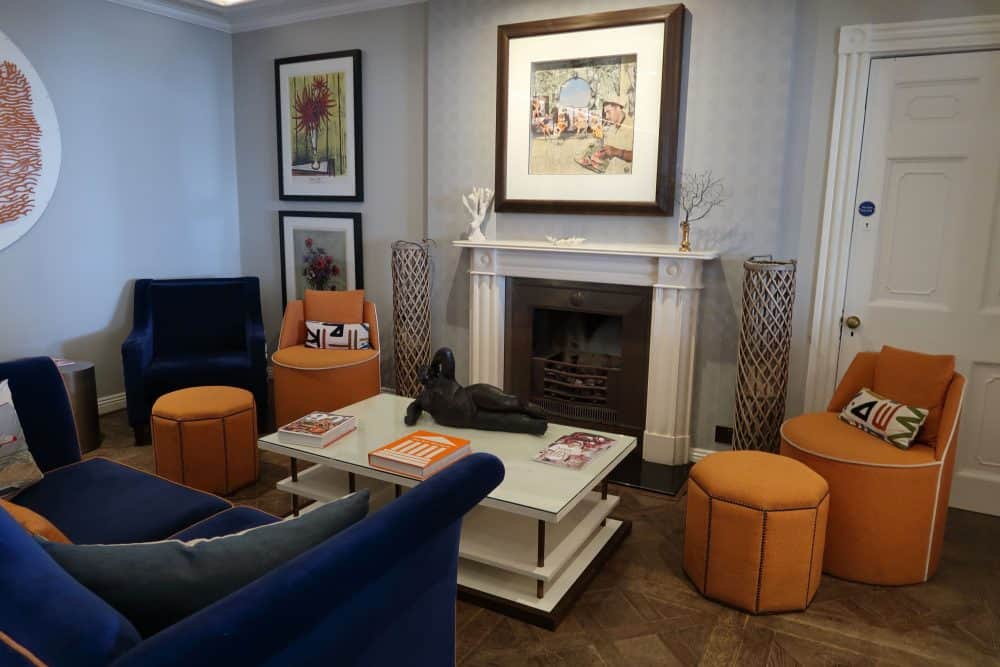 As soon as we arrived at the hotel we felt instantly at home. We were welcomed by reception who checked us in and took us to our room, which was located on the lower ground floor in one of their family rooms. It was a gorgeous room, which had a king size bed, seating area, z-bed for Bella and vanity mirror.
The Upper Deck is the USP of this hotel offering award-winning restaurant in the comfort of your hotel. In the Upper Deck they use local produce, seasonal ingredients, renowned chefs and the most perfect sea views. The vibrant, restaurant with alfresco terrace is the perfect place for a meal when you visit, offering five star food and some of the best service we've had in years. They serve us traditional dishes with a difference, using locally-caught seafood, paired with seasonal ingredients. They serve food here for breakfast, lunch and dinner. And if you are at the hotel for more than one night, why not also dine at The Jetty, perched on the waters edge with views across to Mudeford.
And if you want to relax, there's also a spa in the basement of the hotel – the luxury HarSPA. We didn't visit the spa when we stayed, but we did pop to the pool on the Saturday afternoon before dinner to have a swim and do some lengths. There's a lap pool, hydrotherapy pool, salt grotto, sauna and steam room, as well as treatment rooms. Here you can renew with top-of-the-range ESPA and HarSPA products and treatments so you can relax, feel great and leave feeling refreshed. There's also a gym downstairs too, which is available for guests to use.
Nearby attractions include Mudeford Quay (0.2 miles), Avon Beach (0.5 miles), and Mudeford Sandbank Beach (0.6 miles).
95 Mudeford, Christchurch, BH23 3NT, Dorset, England.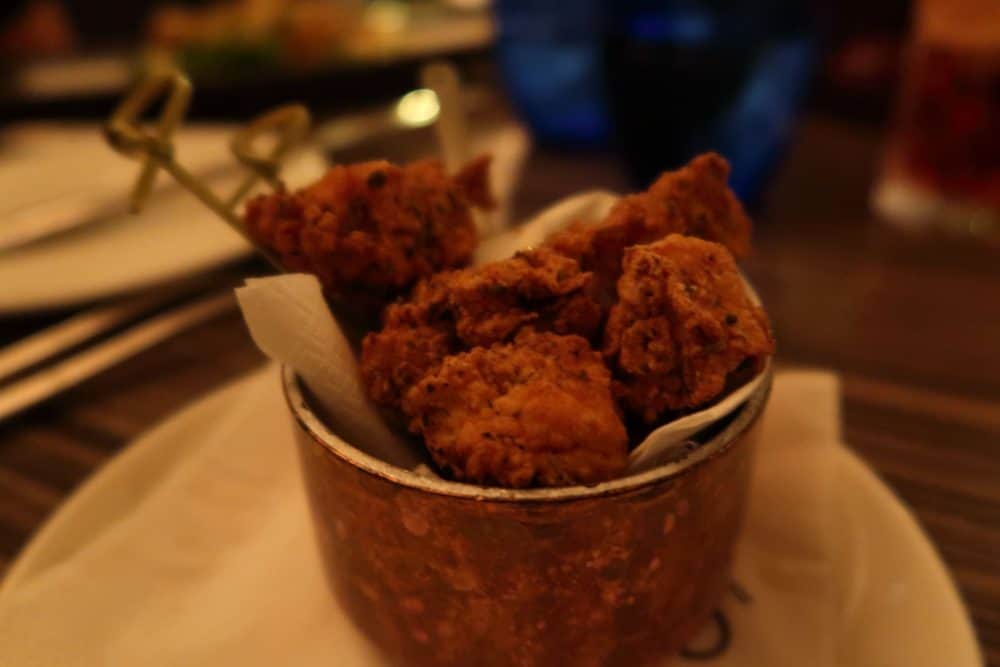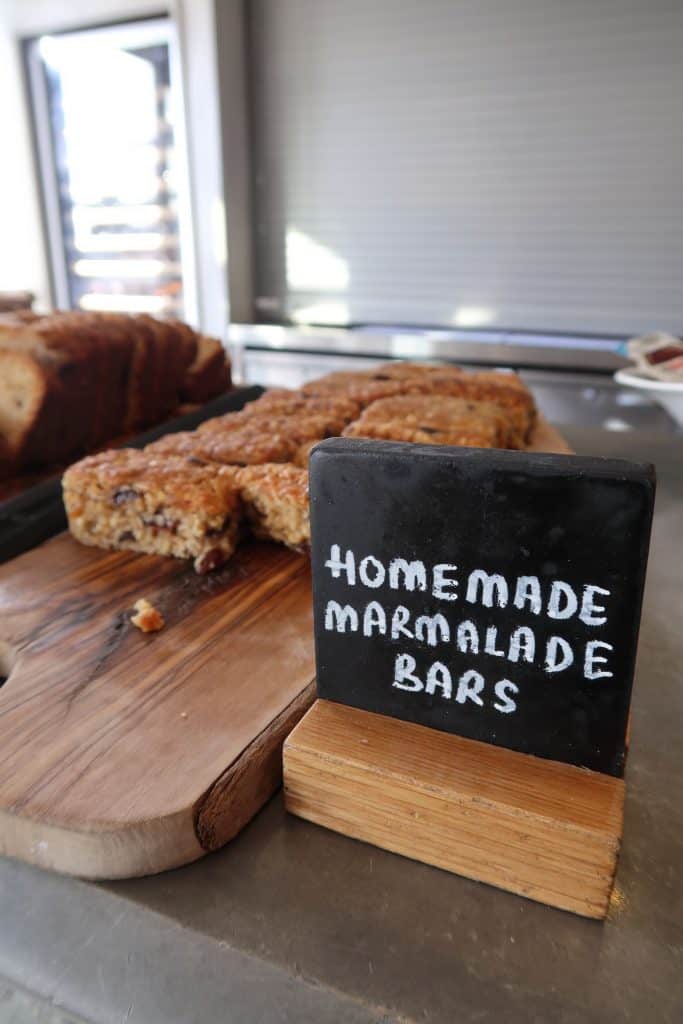 Bournemouth Holidays: Weekend in Bournemouth
Known as the 'coast with the most', this area of England is one of the most beautiful coastal areas I think there is. It's the perfect place spend the weekend with family, as a couple or with your girlfriends.
There is lots of space to head out, and get outdoors, whether you go and play golf, go karting, take to the water, try a spot of surfing or even head inland to the New Forest.
Walk, run or cycle on sandy beaches, through Victorian gardens or along our majestic clifftops. And due to the beautiful seven miles of beaches, you can surf, paddle-board or Jet Ski alongside panoramic sea views and picture-perfect sunsets.
I visited this wonderful region during the summer – autumn months, so the weather was good, but this area is also amazing during the winter months, with an array of events and activities for everyone to enjoy. If visiting during winter, the Bournemouth Christmas market is a must as is the ice rink set among its historic illuminated gardens.
10 Things to do on a holiday in Bournemouth
Bournemouth Pier
Holidays in Bournemouth are all about the Pier is a must-visit attraction with amazing views. There are many attractions including indoor climbing, zip wire, restaurant, cafes & gift shops. Even on a windy day, we found the stroll along the Pier relaxing (although is does cost £1.50 which might put some people off). There is also a lovely cafe at the end of the pier where you can admire the scenery and enjoy watching the surfers who brave the waves.
The Gardens
After a walk down Bournemouth Pier, it's well worth stopping off at the Lower, Upper and Central Gardens just a stone's throw away from the main shopping street and the beach. The lower gardens are probably the most accessible and they've also got aviary. When we were here last month there was also the Bournemouth Arts by the Sea Festival 2019 in the gardens and there were exhibitions, games and performances.
Isle of Purbeck
If you're in the area for more than 3 days then make sure you head to Poole and take a boat trip out to the Isle of Purbeck, including a meander along the Jurassic Coast and a stop-off at Corfe Castle. This strip of coast was once a fossil-hunter's paradise, and is well worth some time here to explore!
Ski-bobbing at Snowtrax
On the Sunday of our Bournemouth holiday we decided to go and do something a little bit different – ski-bobbing! Located just outside Bournemouth, Snowtrax offers a dry slope for adrenaline junkies to experience sledging and skiing, without the snow. We spent the morning sliding down the high speed sledging runs and we all got very competitive with each other on the ski-bobs and ringos! It was a really fun morning and would definitely recommend it for children too!
Hengistbury Head Beach
We headed down to Hengistbury Head Beach on our final day on our Bournemouth holidays and despite the weather we dipped our toes in the ocean and enjoyed a coffee at the local café. This place in summer is where to go when you're in need of tranquillity and sea air. Hengistbury Head is one of the best-known parts of the Dorset coast and the views are legendary. There's also a 'land train' to Mudeford Spit, and some fluffy Shetland cows.
Bournemouth festivals
If you're looking for things to do in Bournemouth this weekend, make sure you check out the schedule for the festivals programme. Throughout the year, the Bournemouth plays host to incredible and diverse festivals, so no matter what time you visit, the town is sure to be buzzing with life and colour. Launched in 2012, the Arts by the Sea Festival has been making waves in the UK's cultural scene ever since.
Poole
When we were on holiday in Bournemouth last month we didn't get chance to head down to Poole, but we did head over to Sandbanks, close by to look over at the beautiful coastal town of Poole. Poole is known for its large natural harbour and sandy beaches and there are also some amazing boat trips from here. The Old Town has Georgian houses and Poole Museum, which explores local history in 4 buildings, including medieval Scaplen's Court. From Poole Harbour, boats head south to Brownsea Island.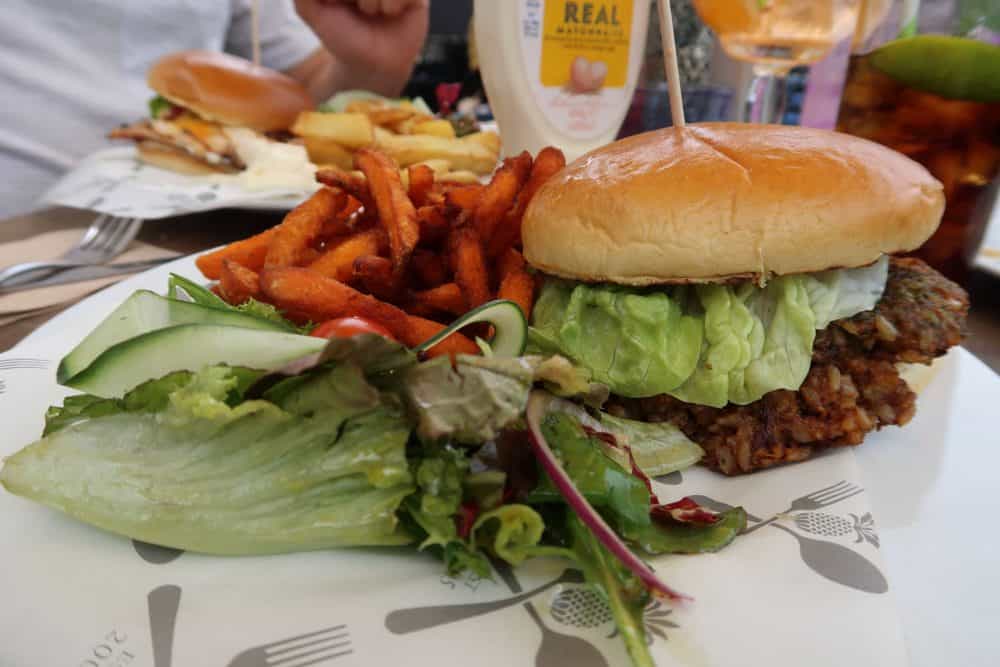 Pier Approach
The recently transformed area of the seafront now boasts an array of things for the whole family to do! The demolition of The Bournemouth IMAX (described by the Daily Mail as the 'most hated building in Britain') made space for an open area with a Big Wheel, interactive water play, cafes, zip wire, concert spaces.
Smugglers Cove Adventure Golf
You can't go to the British seaside without going for a game of mini golf with the family. And we did exactly that. We headed to the Smugglers Cove Adventure Golf at the Pier for a competition family game, and Theo of course won! Become a real life pirate and prepare to be transported to Bournemouth town as it lay in the 1700's with its sights, smells and smugglers…
And lastly but of course not least, FOOD!
Bournemouth has an iconic famous food scene and whether it's a snack, brunch, lunch or dinner, Bournemouth offers both locals and tourists a wide range of cuisines, produce and memorable food experiences. The lush natural landscape of Dorset provides amazing local ingredients and regional produce. Some of our favourites included dinner at Upper Deck Restaurant at Christchurch Harbour Hotel, lunch at Urban Garden and Alpine supper at Snowtrax. Others recommendations I was sent by you guys, included: The Boathouse, The Jetty, Koh Thai, James and White, The Noisy Lobster, Little Pickle Café, Frieda's Tearoom, and Urban Reef.
*Thank you to Bournemouth Tourism for hosting me for a weekend in Bournemouth, Christchurch and Poole.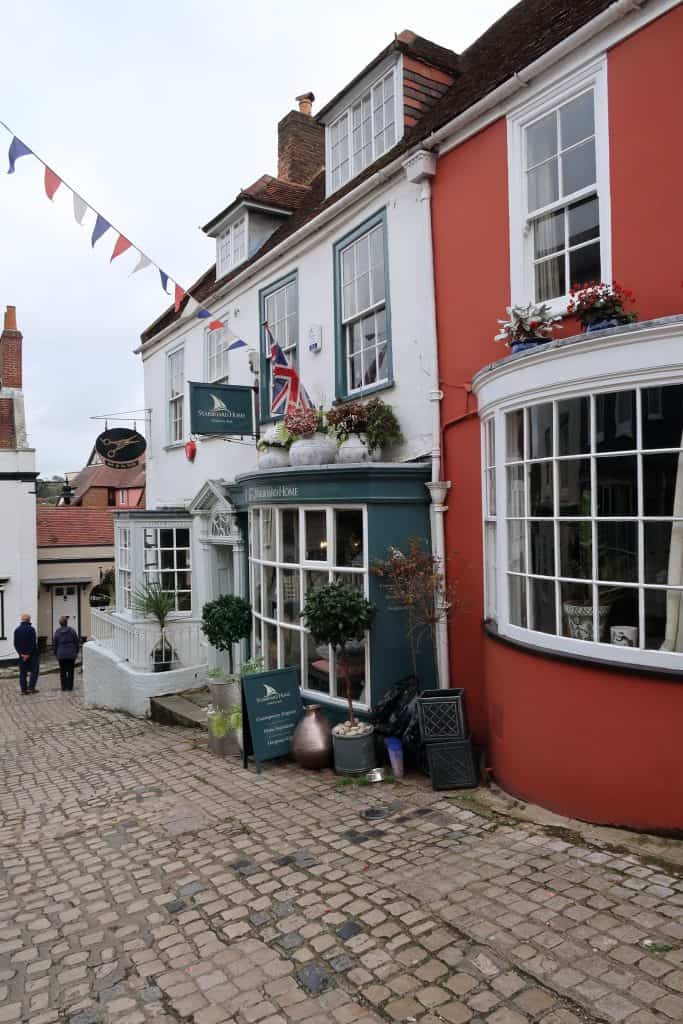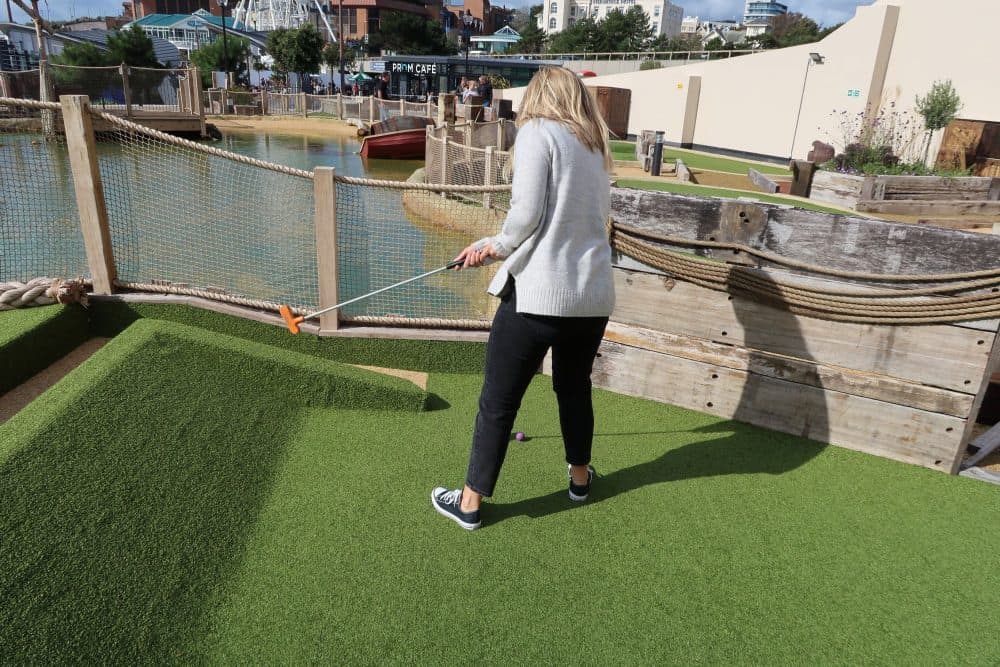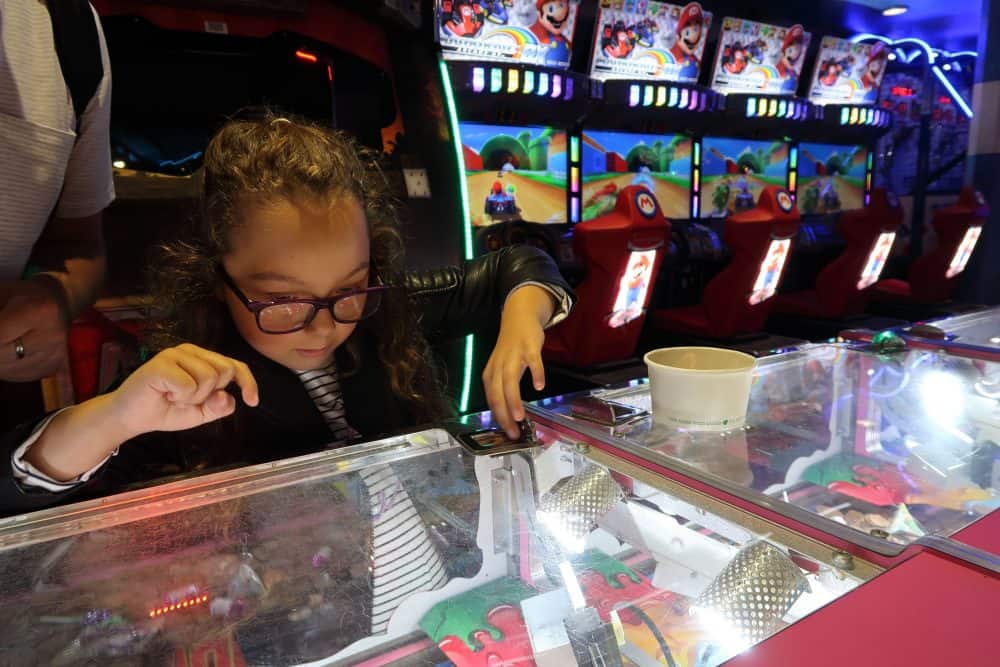 Other posts that may help you:
Ultimate Guide to 48 Hours in Malmö
Best Vegan Restaurants in Malmo
Ultimate Guide to a Weekend Break in York
Ultimate Guide to Bottomless Brunch (& prosecco) in London
10 of the Best places to eat Brunch in London
The Best Weekend Trips in the UK
Sign up to AirBnB with this link and receive a £23 off your first booking.
To receive my articles and reviews straight to your inbox SUBSCRIBE HERE.
Did you know I also vlog my trips? Make sure you subscribe to my YouTube channel so you get alerted when all my travel videos goes live… CHECK THEM OUT HERE
Thank you for reading and as always happy adventuring!
If you've enjoyed this post, please share it for me with all your friends and family!
Sophie X
*This blog is a partnership with Visit Bournemouth but as always opinions are my own.