I travelled to the wonderful city of Aberdeen last year to explore the highlands, the food scene and the amazing castles. Aberdeen is Scotland's biggest city outside the central belt, and it is an amazing city full of culture and history.
Aberdeen is a port city in northeast Scotland, where the Dee and Don rivers meet the North Sea. Aberdeen is both a former fishing and farming settlement, and now boasts a world-renowned university, as well as some of the most beautiful castles within a 45-minute drive of the centre.
With an offshore petroleum industry, the city is home to an international population, which has also created a really amazing food scene across the city.
Despite its reputation as the 'grey city' due to its granite architecture, there are so many things to do in Aberdeen and beyond. From the 19th-century Marischal College – a monumental Victorian landmark to the Cairngorms National Park, where you can find a ton of outdoor-based activities and experiences to do in Aberdeen.
Here's are my favourite things to do in Aberdeen.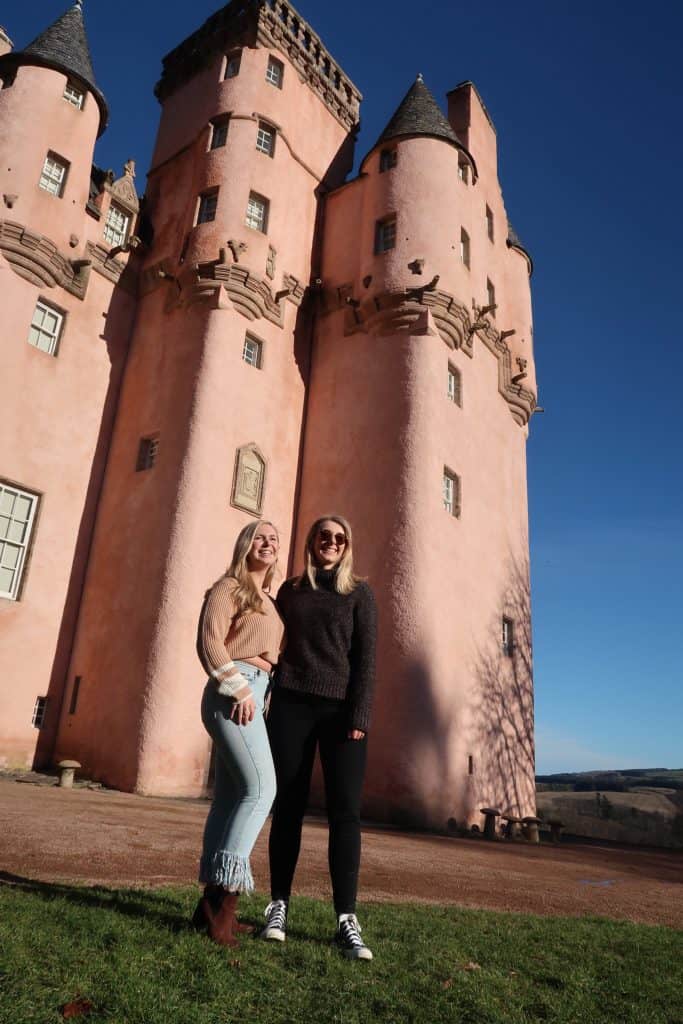 Top 21 Things to do in Aberdeen
Aberdeen Beach
Old Aberdeen
Aberdeen Maritime Museum
King's College
Marischal College
Seaton Park
Footdee
Hazlehead Park
Brig O' Balgownie
Duthie Park
Dunnottar Castle
Newburgh Beach
Slains Castle
Balmedie Beach
Stonehaven
Brewdog HQ
Craigievar Castle
GlenDronach Distillery
Balmoral Castle
Brig o' Balgownie
Crathes Castle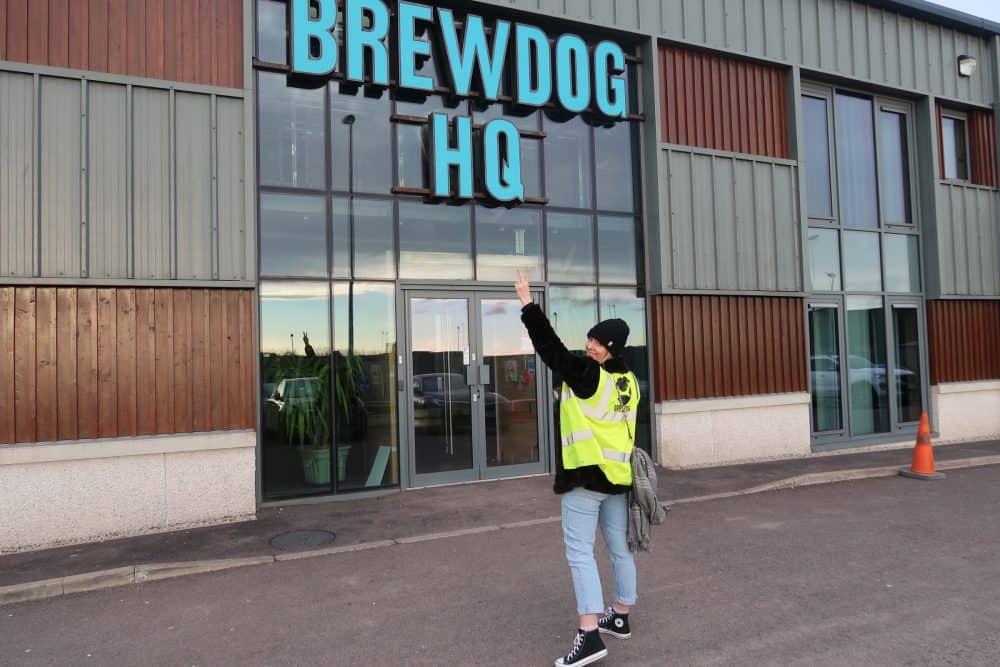 How to get to Aberdeen
We fly on a Friday to a Sunday and flew with Flybe from Heathrow for around £90 each return, but you can get even cheaper flights from other airports such as Birmingham and East Midlands. The flight is only around 90 minutes so it's super quick!
When to visit Aberdeen
Aberdeen is a wonderful city to visit any time of year. In the summer months, you can go hiking, walking and cycling when the weather is warmer and the sunshine across the landscape, there's a visit in winter, when the city becomes alive with the festive period, and then you can visit in Spring and Autumn when the region starts to come to life or get ready for the colder season.
We visited in February and it was the perfect trip for us, as we wanted to experience the colder months in Scotland but it was warm enough to get outside and explore. February was also great as it was Aberdeen Restaurant Week meaning we also got to experience the great variety of food Aberdeen has to offer, from cuisines all around the world.
How to get around Aberdeen
If you're staying in the city centre its easy enough to walk around from one place to the next, however, if you want to head to Footdee, and further afield to places such as Brewdog, Balmoral and beyond, you will need a car.
We couldn't have visited most of the places on our bucket list if we hadn't got a car. The car gave us a lot of freedom and would certainly suggest it! Our car was only £40 for two days Friday – Sunday.
Things to do in Aberdeen City Centre
1. Aberdeen Beach
Top of your list of things to do in Aberdeen? A beach you say?! Yes, a beach in Scotland! And it's just outside the city centre, also called the Esplanade! It has a few beachfront shops, cafes and even an art-deco style ballroom. We visited in February so the weather can super windy and cold, but it didn't stop us heading for a walk along the beach.
It was a little too cold for ice cream and a dip in the sea though! On a day with better weather, I imagine a brisk walk or jog along the promenade, all the way from Footdee to the River Don would be beautiful.
2. Old Aberdeen
The city centre is most well known, but isn't the original location for Aberdeen and just outside of the hustle and bustle of the high street, you stumble across the weaving, windy streets of Old Aberdeen.
There are many buildings here with a long history surrounding the regions past, including political and economical. There are also lots of places to grab coffee, food and brunch. Here you will also find Aberdeen University! This is an amazing addition your list of things to do in Aberdeen!
3. Aberdeen Maritime Museum
Located just off the main high street in the city centre, the Aberdeen Maritime is a must-visit for tourists. The award-winning museum is interesting and educational, providing insight into Aberdeen's historic relationship with the sea, from the petroleum and oil industry to shipbuilding and beyond.
There's lots to do inside, as well as a collection of maritime artefacts, paintings, and touch-screen computers, make the material come to life.
4. King's College
King's College in Old Aberdeen, Scotland, the full title of which is The University and King's College of Aberdeen, is a formerly independent university founded in 1495 and now an integral part of the University of Aberdeen.
Its historic buildings are the centrepiece of the University of Aberdeen's Old Aberdeen campus, often known as the King's or King's College campus. The focal point of the college, as well as it's oldest building, is the late 15th century King's College Chapel. An amazing addition your list of things to do in Aberdeen!
5. Marischal College
Marischal College is a large granite building on Broad Street in the centre of Aberdeen in north-east Scotland, and since 2011 has acted as the headquarters of Aberdeen City Council. However, the building was constructed for and is on long-term lease from the University of Aberdeen, which still uses parts of the building to house a museum and for ceremonial events.
Today, it provides corporate office space and public access to council services, adjacent to the Town House, the city's historic seat of local government. Many Aberdonians consider Marischal College to be an icon of the "Granite City" and to symbolise the zenith of Aberdeen's granite-working industry.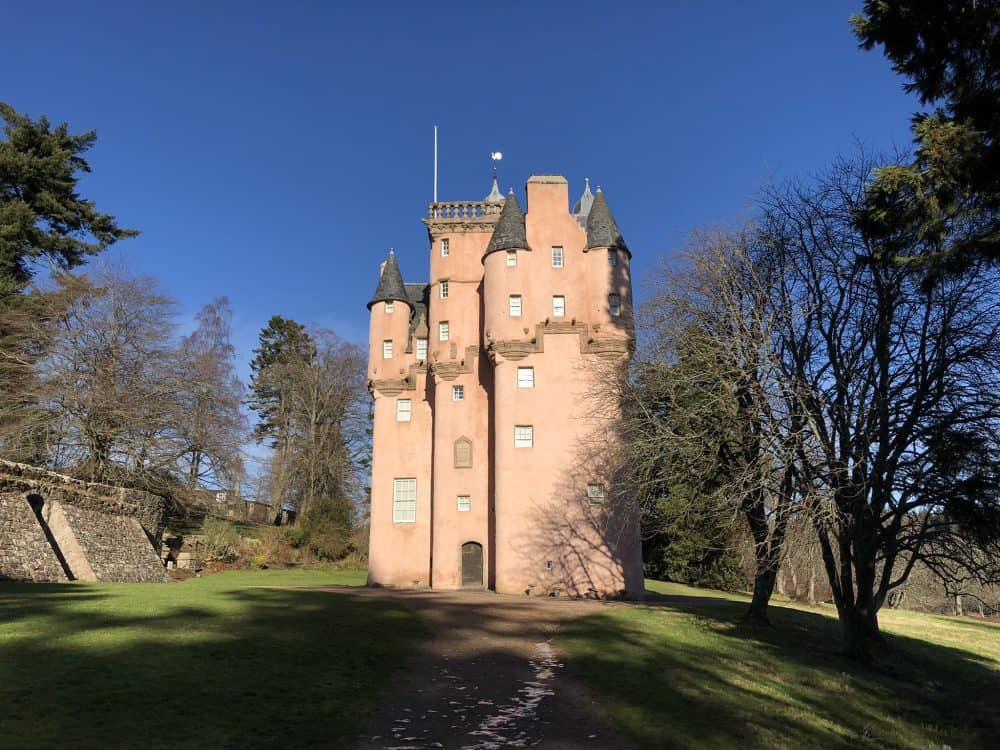 6. Seaton Park
Located right in the city centre, this place is an oasis both in the summer months and winter months. The chilled-out Seaton Park is the cities calm place, with lots of places to walk, run, wander and relax. There are lots of paths around the park, places to sit with a picnic and grassy expanses to let loose. Add this place to your list of things to do in Aberdeen!
7. Footdee
One of the most iconic photos things to do in Aberdeen is the wonderful seaside village of Footdee, around a ten-fifteen minute walk from the city centre. The charming streets of Footdee, known locally as 'Fittie' is a former fishing village with charming cottages and cobbled lanes originally built to rehouse an influx of fishermen to the city.
It's worth a wander around Footdee just to see a different side of the city. And if you're hungry stop by at Moon Fish Café or Silver Darling!
8. Hazlehead Park
Hazlehead Park is a public park in the Hazlehead area of Aberdeen, Scotland. 180 hectares in size, it was opened to the public in 1920, having formerly been the estate of Hazlehead House, home of William Rose, shipbuilder. It is heavily wooded and contains many walking tracks.
9. Brig O' Balgownie
Aberdeen seems to be famous for bridges and Brig O' Balgownie seems to be one of the best in the area. The medieval crossing is somewhat legendary in Aberdeen, both due to the fact it dates back to the 13th century, and also because it supposedly lies over a mystical deep pool known as the Black Neuk and it was famously immortalised in Lord Byron's poem Don Juan. Nowadays, it's a fierce contender for the title of the 'oldest bridge in Scotland'. An amazing addition your list of things to do in Aberdeen!
10. Duthie Park
Duthie Park, situated in Aberdeen, Scotland, by the banks of the River Dee, comprises 44 acres of land given to the council in 1881 by Lady Elizabeth Duthie of Ruthrieston, in memory of her uncle and of her brother for £30,000 from the estate of Arthur seat. The park is noted for the spectacular David Welch winter gardens with tropical and arid houses which contain the second largest collections of bromeliads and of giant cacti respectively in Great Britain (second to the Eden Project in Cornwall, England).
Things to do outside Aberdeen
11. Dunnottar Castle
Only 20 minutes from the city is this medieval fortress ruin, which was integral as a defensive stronghold in the Jacobite risings and is notable for being the hiding place for the Honors of Scotland, the Scottish crown jewels, when Oliver Cromwell's army invaded Scotland in the 1600s.
The Dunnottar Castle makes for a striking silhouette atop a rocky headland, and the ruins comprise several buildings including the tower house and the palace. Beware though, it gets very windy here!
12. Newburgh Beach
Located only 13 miles from Aberdeen, Newburgh Beach makes for a great day trip from the city. Newburgh Beach is famous for its seal colonies, who occupy the beach in their 100's throughout the year. The 400 strong colony of seals at the mouth of Ythan River is a must-visit destination for nature lovers and photographers. This beach is perfect for families too, as children will love watching the seals, as they are comical to watch from a distance.
When visiting Newburgh Beach to see the seals, be careful of getting too close as they can become distressed when visitors get too close. To enjoy the nature reserve visitors must respect the wildlife that is protected here. The seals come to these beaches to rest so for the safety of you and your family, it is also recommended to keep at a distance. If some of the seals raise their heads, then it's a sign you are too close and they are becoming nervous, so step back. An amazing addition your list of things to do in Aberdeen!
13. Slains Castle
We headed over to Slains Castle after we had finished at Brewdog as it's only 15 minutes away. Old Slains Castle is a ruined castle in Aberdeenshire, which overlooks the North Sea from its cliff-top site 1 kilometre east of Cruden Bay.
The core of the castle is a 16th-century tower house, built by the 9th Earl of Erroll and was the inspiration for Dracula! The castle is now abandoned but makes for a great place to explore as the sunsets! An amazing addition your list of things to do in Aberdeen!
14. Balmedie Beach
Another amazing things to do in Aberdeen is head to Balmedie. It is a flat sandy beach with sand dunes to the rear of the beach and here you can explore miles of beautiful flat sandy beach, located only 5 miles from Aberdeen. From Aberdeen, take the A90 North for approximately eight miles and turn right at the second turning for Balmedie. You can access the beach along the boardwalks, through the dunes to the beach.
15. Stonehaven
Stonehaven is a town in Aberdeenshire and has grown around an Iron Age fishing village, now called the old town, and expanded inland from the seaside. As late as the 16th century, old maps indicate the town was called Stonehyve. If you love fish and chips, this is the place to come as the chip shop here, the Bay, was awarded the number one fish and chip shop in Scotland, at the National Fish and Chip Awards in 2012 and 2013. An amazing addition your list of things to do in Aberdeen!
16. Brewdog HQ
I was convinced that Brewdog was an American brand until a friend of ours told us we were in fact wrong and it was a Scottish brewer. Located on a greenfield site in Ellon, north of Aberdeen, Brewdog's state-of-the-art eco-brewery is one of the most fun places I've ever been, combining food, fun and beer.
It is also one of the most technologically advanced in the world, as they constantly challenge people's preconceptions about what beer is and how it can taste. And Ellon is also home to the DogTap taproom, serving up the freshest beer straight from the brewery.
They are now one of the most prominent success stories of the craft beer revolution, so make sure you either head over to Ellon for lunch and a beer or join them on a 90-minute tour of the brewery and factory. It is a must-visit place and the chicken wings are amazing! An amazing addition your list of things to do in Aberdeen!
17. Craigievar Castle
If fairytales were real, all castles would look like Craigievar. We headed out to this wonderful castle on our final day in Aberdeenshire and hired a car to head out into the shire to explore. This castle is said to be the inspiration behind Disney's Cinderella Castle and you can certainly see why.
The outside is stunning and you can also head on inside in the week to admire an impressive collection of artefacts and art – including Raeburn portraits, armour and weapons – or enjoy a peaceful stroll around the garden and estate. The pink elegant tower of Craigievar Castle is beautiful, and the property is now owned by the National Trust for Scotland.
18. GlenDronach Distillery
If you're heading to Aberdeen, you've got to try some local whisky! And GlenDronac Distillery is one of the best. The distillery is located in Aberdeenshire between Huntly and Portsoy and has been producing their signature whiskies for more than 200 years.
The distillery was founded in 1826 by James Allardes (referred to often as Allardice) as the second distillery to apply for a licence to legally produce whisky under the Excise Act of 1823, which passed three years earlier and which allowed for the distilling of Whisky in Scotland. An amazing addition your list of things to do in Aberdeen!
19. Balmoral Castle
Fancy being a royal for the day? Also located in the Aberdeenshire region is one of the official residences of the British royal family. Balmoral is a category A listed building, and the property is a working estate with animals and farmland.
The castle is open all year round so make sure you check the opening times on their website – I believe the gardens and grounds are open to the public daily from April to July (at which time The Queen arrives to stay at the estate).
20. Brig o' Balgownie
The Brig o' Balgownie is a 13th-century bridge spanning the River Don in Old Aberdeen, Aberdeen, Scotland. Construction of the bridge was begun in the late 13th century by Richard Cementarius, although its completion was not until 1320 at the time of the Scottish War of Independence.
21. Crathes Castle
Standing against a backdrop of rolling hills and set within its own glorious gardens, Crathes Castle is every inch the classic Scottish tower house – and a fantastic day out for all the family.
The Burnett family, who lived in the castle for over 350 years, had roots in the area dating back to 1323 when Robert the Bruce granted them nearby land. Alexander Burnett built the castle in the 16th century, an intricate maze of turrets, towers, oak panels and painted ceilings, many of which survive beautifully to this day. (Source: www.nts.org.uk)
Where to stay in Aberdeen
During our weekend in Aberdeen, we stayed at Skene House Rosemount, located in the city centre, and only a few minutes walk to the shops, restaurants and coffee shops. Skene House Rosemount has 78 apartments that come in all shapes and sizes, 1, 2 and 3 bedrooms, all with separate living room, dining area and fully equipped kitchen.
The apartments were lovely with massive king-size bed, offer modern facilities throughout and they come with additional facilities you wouldn't get in a hotel, such as free parking, accessible rooms, pet-friendly rooms, full Scottish breakfast and laundry services. Keep reading for other suggestions on where to stay in Aberdeen…
Other Accommodation Options
Malmaison Aberdeen – £70
Sophisticated lodging with a chic brasserie, a sleek bar and a spa, plus free Wi-Fi.
The Chester Hotel – £90
Posh rooms in a chic 19th-century hotel with a gourmet eatery, a cocktail bar and free breakfast.
Carmelite Hotel – £50
Chic property with sleek rooms, plus a quirky piano bar and an art-filled Scottish restaurant.
Mercure Aberdeen Caledonian Hotel – £52
Classic lodging with a relaxed bistro and a terrace lounge bar with afternoon tea, plus Wi-Fi.
Hilton Garden Inn Aberdeen City Centre – £64
Relaxed hotel featuring complimentary Wi-Fi, plus a restaurant, a bar & a fitness room.
Aloft Aberdeen TECA – £49
Unfussy rooms in a contemporary hotel offering a hip cafe/bar, a fitness centre & a casual lounge.
The Dutch Mill Hotel – £65
Unassuming hotel with free hot breakfast, plus a restaurant/bar with a glass-enclosed dining area.
---
If you on a bigger trip exploring more of Europe check out my guides to France, Germany, Greece, Iceland, Italy, Portugal, Spain and United Kingdom.
My Travel Tips and Recommendations
Flights
To book flights, I always use flight search engine, Skyscanner, I regularly use the Everywhere tool to find the cheapest places to travel. It's how I get to travel so much all around the world. I find it the easiest way to compare flight prices across airlines and get the best deals.
Accommodation
For accommodation, I usually book most of my hotels or hostels through Booking.com. I love using this platform as it provides me with some amazing deals for accommodation all around the world. Or if you prefer, I also recommend using Airbnb. If you haven't signed up with Airbnb already, you can use this link to get £25 off your first visit!
Photography and Technology
Here is a list of the technology I always travel with:
Travel Insurance
Picking travel insurance that covers you in all eventualities is an essential part of planning a trip for every single person. If you can't afford travel insurance, you can't afford to travel. You never know what's around the corner. World Nomads is an affordable option that I personally recommend. BOOK HERE
Sign up to AirBnB with this link and receive a £23 off your first booking.
To receive my articles and reviews straight to your inbox SUBSCRIBE HERE.
Did you know I also vlog my trips? Make sure you subscribe to my YouTube channel so you get alerted when all my travel videos goes live… CHECK THEM OUT HERE
Thank you for reading and as always happy adventuring! If you have any questions about the destination please leave these in the comments below.
If you've enjoyed this post, please share it for me with all your friends and family!
Sophie X