After heading down to Cornwall this summer for a weekend by the sea, I decided to pull together a list of the best places to visit in Cornwall, based on my own experiences. We spent five days down in Cornwall in September, on a road trip of Cornwall. We spent two nights in Falmouth, and then two nights in Newquay and travelled around the region by car.
Cornwall is the ultimate UK summer staycation with its mild climate, breathtaking scenery and long stretches of sandy beaches. Located on the southwestern tip of the United Kingdom, it offers tourists moorlands, beaches, cliff faces, great cuisine and much more. The county of Cornwall culminates at the promontory Land's End, with views out to the Atlantic Ocean. The south coast is often dubbed the Cornish Riviera, due to it's temperate weather and stunning harbour villages.
Some of the best places to visit in Cornwall to go and see include St Austell, Mevagissey, upmarket riverside town of Fowey, St Ives Bay, popular Newquay, enchanting fishing villages and harbours; Port Isaac, Portreath and Mousehole as well as beach towns Perranporth, Porthcurno and Polzeath.
There's also famous Padstow and university town Falmouth, as well as Truro, the only city in Cornwall where the cathedral still dominates the skyline. Head further down the coast and you reach Penzance, one of the largest towns in Cornwall, the busy fishing port of Newlyn, and you can even take a day trip out to the Isles of Scilly.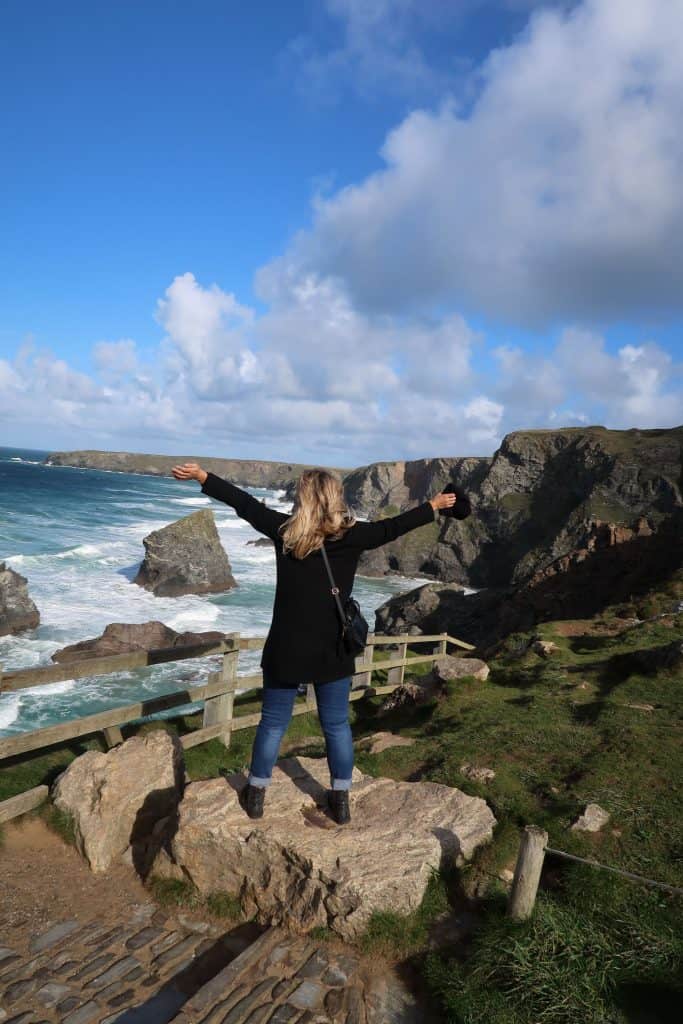 How to get to Cornwall
I would drive, but you can also jump on a bus, fly or get a train. Newquay Airport is 5 mins from Watergate Bay and is served by Flybe which operates from London and Manchester. If you are driving however, be organised for a road trip as it can be a pretty long drive. Trains take quite a while, but go from London-Penzance.
When to go to Cornwall
Cornwall is one of the first places to spring alive in the United Kingdom due to its southerly location. The best time to visit seems to be September and October when the weather is usually glorious. We had a mix of weather, a few days with sunshine but had one day with lots of rain and we visited in October. The south-west coast of Cornwall has the only subtropical climate in the UK with palm trees being found in the area because of the intense heat during the summer and the warm winters.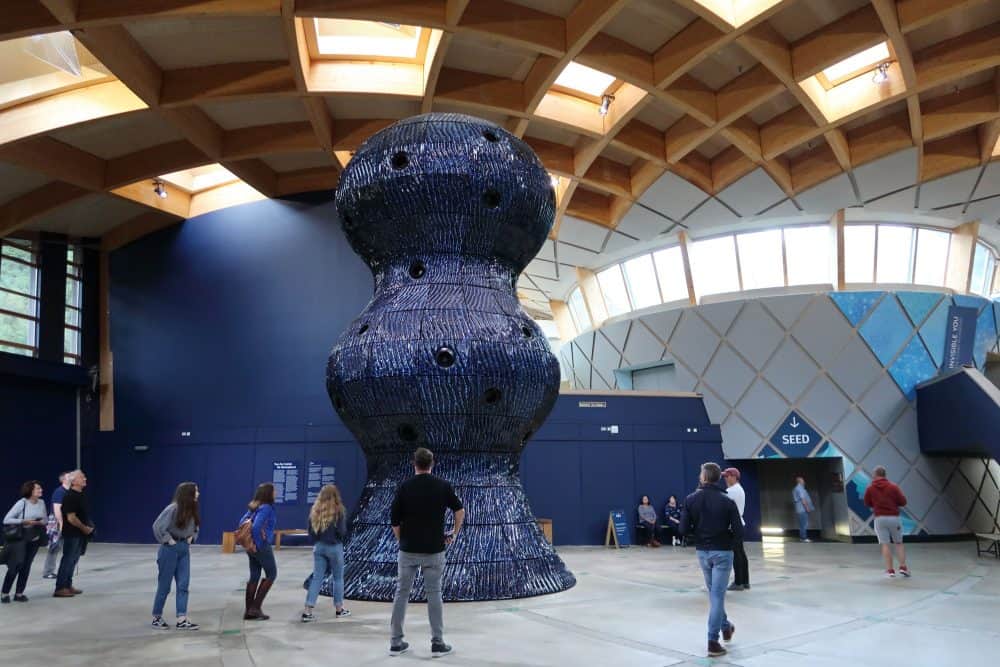 Cornwall Itinerary: Weekend in Cornwall
Top 21 Things to do in Cornwall
Eden Project
St Michael's Mount
Falmouth
St Ages
Newquay
The Lost Gardens of Heligan
Camel Valley Vineyard
Tresco Abbey Garden
Penzance
Mousehole
The Lizard Peninsula
Tate St Ives
Surfing
Bedruthan Steps
Fowey
St Mawes
Kynance Cove
Trelissick
Tintagel Castle
St Isaac
Port Isaac

10 Best Places to visit in Cornwall
The Eden Project
I've visited the Eden Project many a time and love it. Me and Theo first visited the Eden Project together over six years ago when we took our first holiday down to Cornwall when we first got together. And on this recent trip we went back and loved re-living one of our favourite holidays as a couple.
The Eden Project is a popular visitor attraction in Cornwall, and is most famous for the two biomes on the site. Inside the biomes are plants that are collected from many diverse climates and environments. The project is located in a reclaimed china clay pit, and the site is dominated by the biomes and now further exhibitions to do with the environment.
The complex is dominated by two huge enclosures consisting of adjoining domes that house thousands of plant species, and each enclosure emulates a natural biome. The biomes consist of hundreds of hexagonal and pentagonal, inflated, plastic cells supported by steel frames. The largest of the two biomes simulates a rainforest environment and the second, a Mediterranean environment. The attraction also has an outside botanical garden which is home to many plants and wildlife native to Cornwall and the UK in general; it also has many plants that provide an important and interesting backstory, for example, those with a prehistoric heritage. (Description: Wikipedia)
Even if you head here for the domes, it is well worth a visit. It can be a bit busy or pricey but it's a fun day out and the gardens are always perfect and change with the seasons, and the biomes are great fun. There's nowhere else in the world quite like The Eden Project! And I'd definitely recommend a visit to Eden Project Cornwall.

10 Best Places to visit in Cornwall
Penzance
Penzance sits on the very tip of Cornwall (right at the end of the United Kingdom) and although a long drive to get here, it's worth it. This Cornish harbour town is not far from the most westerly and southerly points of the British mainland at Land's End's and the Lizard. The town is protected by the beautiful Mount's Bay, around St Michael's Mount, a magical tidal island.
10 Best Places to visit in Cornwall
Falmouth
Me and Theo visited Falmouth at the end of September this year and had the best time exploring Falmouth and the nearby towns and villages. Falmouth is it an underrated town in Cornwall and is often overlooked by the more popular towns of Newquay and family.
Falmouth is a great town to visit and has a vibrant culture with a great selection of cafés restaurants independent shops at galleries and fish and chip shops. Falmouth is known for its deep natural harbour on the file history and beaches like Swan pool of tourists a great weekend break in the British countryside. The National Maritime Museum in Cornwall has interactive galleries and lots of model boats on display.
Falmouth Has been shaped and influenced by a strong connection to the sea combining fascinating Maritime Heritage and modern creativity.

10 Best Places to visit in Cornwall
St Michael's Mount
Walking across the causeway to St Michael's Mount at low tide is one of Cornwall's true highlights and something that can't be done in many other places around the world. We headed over to St Michaels Mount on the Thursday and checked the tidal times to make sure we could make the crossing from the beach side to the island. St Michael's Mount is a tidal island, linked to the town of Marazion by a man-made causeway of granite setts, passable between mid-tide and low water. It's definitely worth a visit!

10 Best Places to visit in Cornwall
Port Isaac
If you've ever watched Doc Martin, you'll want to visit here. It's also one of the most beautiful towns in Cornwall with its wonderful pubs, little streets and proper Cornish feel. Port Isaac is a small fishing village on the Atlantic coast of north Cornwall, with nearby towns such as Wadebridge and Camelford, both ten miles away. Port Gaverne, commonly mistaken to be part of Port Isaac, is a nearby hamlet that has its own history and is also a part of the TV show Doc Martin at times.


10 Best Places to visit in Cornwall
St Ives
Set on one of the prettiest headlands anywhere in the world, St Ives is a beautiful town and the stunning Porthminster beach attracts thousands every year. The seafront Tate St Ives gallery has rotating modern art exhibitions, focusing on British artists. Here you can find the Barbara Hepworth Museum and Sculpture Garden, and you can also head out on a boat trip if you fancy spending some time on the water to visit the famous seal colony.
10 Best Places to visit in Cornwall
Tate St Ives
Tate St Ives is an art gallery in St Ives, Cornwall, England, exhibiting work by modern British artists with links to the St Ives area.. Art Now Cornwall is the first exhibition at Tate St Ives to present a large sample of artists living and working in Cornwall so it's slightly different to the artwork and exhibitions you would find at the Tate London. Many of the museums artwork was selected during thirty-five studio visits made last autumn, it features recent and new work of twenty eight of the county's most influential artists.

10 Best Places to visit in Cornwall
The Isles of Scilly
Not technically in Cornwall, but another not to be missed. Jump on a boat and head across to the beautifully-raw Isles of Scilly. They are an absolute must, accessed by a 15 minute flight from Land's End. Tip: here you can go swimming with seals!
10 Best Places to visit in Cornwall
Newquay
It's also worth visiting Newquay, whether you are staying close or not. Newquay is a town on the north coast of Cornwall, known for sandy Fistral and Watergate Bay beaches, where waves from the Atlantic Ocean create strong surf. Without even having to go in to the water, at the Blue Reef Aquarium you can see pufferfish, sharks and rays or if mammals suit you better you can visit Newquay Zoo, where you can find lions, tigers and flamingos. We spent some time here over the few days we were staying at Bedruthan Hotel, and loved it's proximity to Newquay.

10 Best Places to visit in Cornwall
Lost Gardens of Heligan
The Lost Gardens of Heligan, near Mevagissey in Cornwall, are one of the most popular botanical gardens in the UK.Twenty-nine years ago, Heligan's historic gardens were unknown and unseen; lost to the brambles of time since the outbreak of WW1. It was only the chance discovery of a door in the ruins that led to the restoration of this once great estate.
Today, The Lost Gardens have been put back where they belong: in pride of place among the finest gardens in England. The gardens are typical of the 19th century Gardenesque style with areas of different character and in different design styles. The house and outbuilding were converted into flats in the 1970s and the garden was considered lost, but it was rescued during a televised project in 1996. The Lost Gardens of Heligan are now open to the public as a tourist attraction. (Credit: The Lost Gardens of Heligan)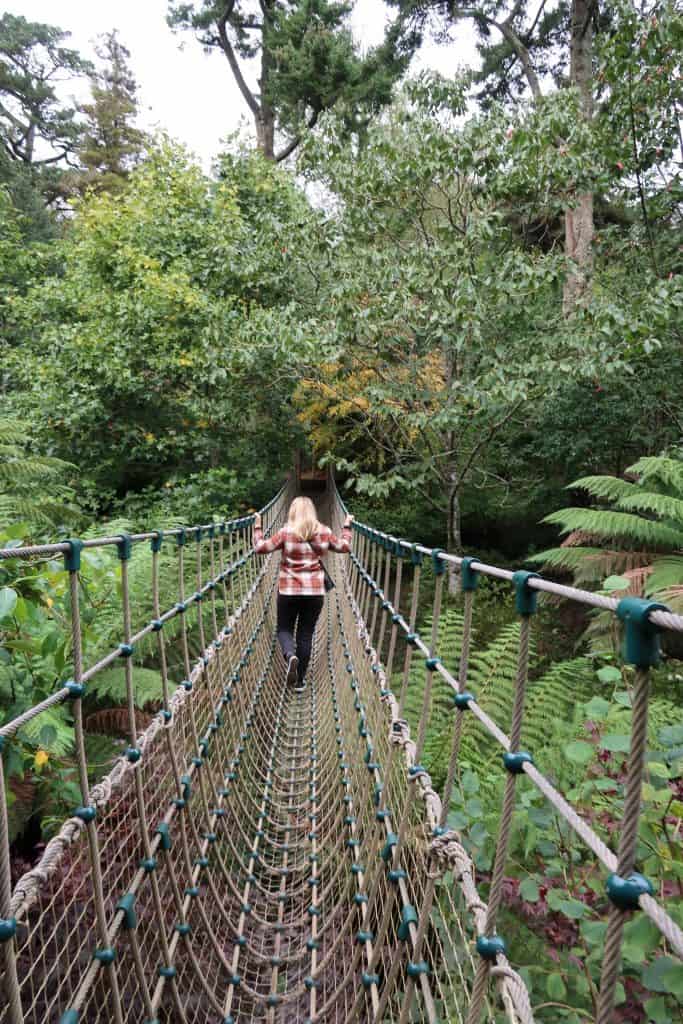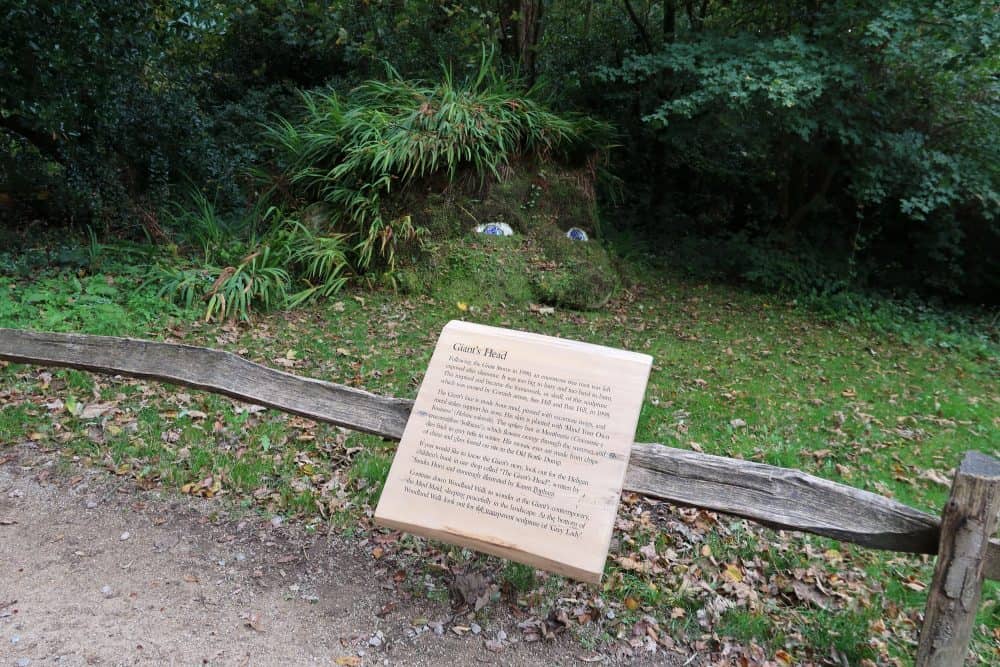 Other posts that may help you:
The Best City Breaks for Couples
Beginner's Guide to Europe Interrail Routes
Copenhagen Chic at the Andersen Hotel
Best Vegan Restaurants in Malmo
Ultimate Guide to a Weekend Break in York
10 of the Best places to eat Brunch in London
The Best Weekend Trips in the UK
Sign up to AirBnB with this link and receive a £23 off your first booking.
To receive my articles and reviews straight to your inbox SUBSCRIBE HERE.
Did you know I also vlog my trips? Make sure you subscribe to my YouTube channel so you get alerted when all my travel videos goes live… CHECK THEM OUT HERE
Thank you for reading and as always happy adventuring!
If you've enjoyed this post, please share it for me with all your friends and family!
Sophie X