Stretching over 5 different counties, The Cotswolds is the largest Area of Natural Beauty (AONB) in the UK. It is also undoubtedly one of the most popular tourist attractions to visit in England, and right at the bottom of the region is the quaint village of Bradford-Upon-Avon.
There are so many things to do in Bradford-on-Avon but I've pulled together my favourites.
What draws people into this magical place is the picturesque and 'post-card' perfect villages that are scattered throughout this region.
What keeps people coming back for more is an opportunity for adventure, the community feel and the delicious local delicacies.
The town of Bradford-On-Avon is one of many stunning towns/villages situated in The Cotswolds. It is located just a stone's throw from the City of Bath and can be found on the edge of the Wiltshire Cotswolds.
Like many of the towns you will find in the Cotswolds, Bradford-On-Avon is home to cute cobbled streets, a tranquil river, cosy tea rooms, gorgeous gardens and much more!
The towns history dates back to Roman times, but most of the architecture you will find here is from the 17th century.
During this period the town expanded due to a boom in the textile industry. When you are walking through the town you will notice that hotels, houses and bars line the river, however, it's interesting to know that these were all once woollen mills.
But what are the best things to do in Bradford on Avon?

10 Things to do in Bradford-on-Avon
Tithe Barn
The Shambles
Town Bridge
Coppice Hill Road
St Margaret's Hill
Holy Trinity Church
River Avon and Kennet & Avon Canal walk
Bradford-On-Avon Wharf
Ilford Manor Estate
Visit the town of Castle Coombe
When is the best time to visit Bradford On Avon?
Bradford-on-Avon is the kind of town you can visit no matter what the season. Whether you want to take a summer bike ride and barge boat trip along the canal or have a cosy winter break sat by the fire, surrounded by fairy lights then there is something for you.
How to get to Bradford On Avon?
When getting to Bradford-On-Avon, you have 3 main options. These are:
Car
The easiest way to get to Bradford-On-Avon is via car. If you are heading here from the London/M25 area it will take you approximately 2.5 hours to get there.
Train
Depending on what area of the country you are coming from, you will either be able to get a train directly to Bradford-On-Avon, or to the neighbouring station of Bath Spa. From Bath spa you can take a 10-minute train journey into Bradford-On-Avon Station.
Coach
Similarly, to the train, depending on where you are coming from will affect whether you are able to get dropped off in the centre of Bradford-On-Avon or a neighbouring town. If, for example, you are getting a coach from London Victoria Coach Station, you will have to catch a coach to either the town of Bath or Box and then get a further train, bus or uber into Bradford-On-Avon.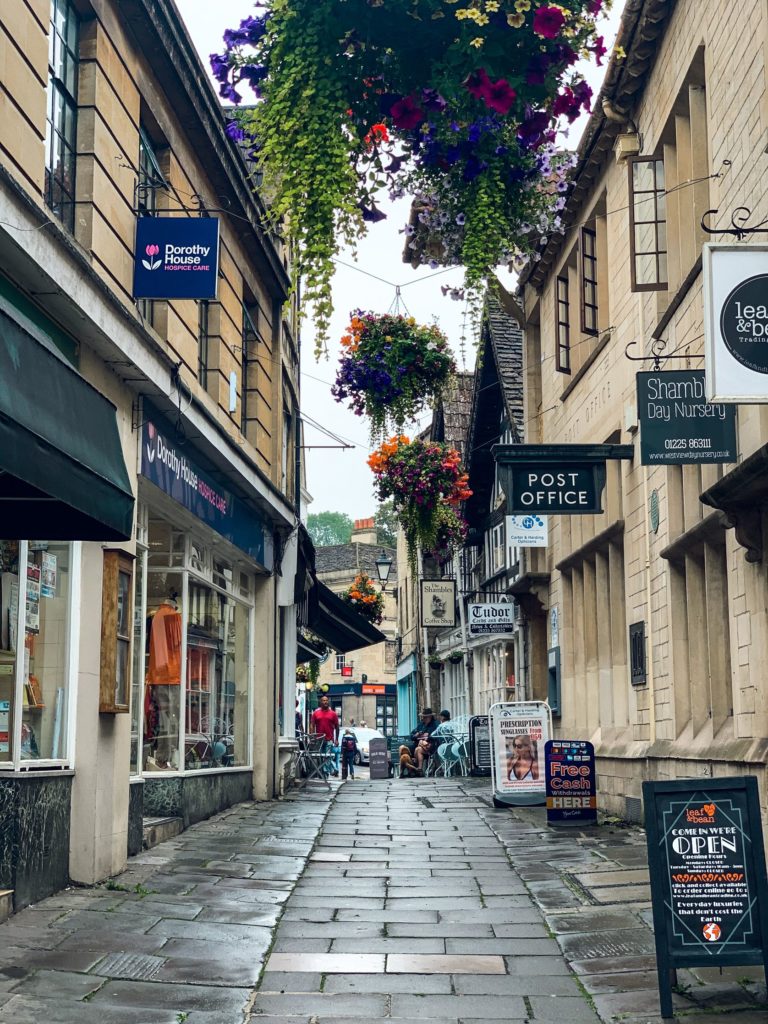 Travel in Bradford On Avon
The town of Bradford-On-Avon is quite small so the best way to explore Bradford-On-Avon is on either foot or bicycle. If you don't have a bicycle of your own you can get information on where to hire one from here.
Budgeting for Bradford On Avon
Prices in Bradford-On-Avon are similar to that of London and most of the south of England. Expect to pay around £5 for a pint, £6+ for a glass of wine or prosecco and around £10-£15 for a single dish.
10 things to do in Bradford On Avon
Bradford-On-Avon is an extremely small town. If you are short on time and can only head down here for the day, then it is possible for you to fit the below in, in just one day. There are so many things to do in Bradford-on-Avon, here are jus ten…
1. Tithe Barn
The Tithe barn is one of the largest medieval barns in England. It dates back to the 1300's and was built to serve Barton Grange, which at the time was the richest nunnery in England. It's impressive architecture and rich history makes it one of the top places to visit on a trip to Bradford-On-Avon
2. The Shambles
The Shambles is a quaint small passage in the centre of town. The street is lined with flowers, buntings and cute coffee shops. This means it's a not only a great spot to grab yourself a latte but is the perfect photo opportunity.
3. Town Bridge
The Town bridge is the most iconic part of Bradford-On-Avon. If you search for Bradford-On-Avon google you will most likely be inundated with images of the town bridge. Once you visit the bridge for yourself, the above won't come as a surprise to you. With 9 arches and decorated with a small domed chapel, the bridge simply adds to the beauty, character and history of the town.
4. Coppice Hill Road
One of the cutest residential streets in Bradford-On-Avon. If you are looking for the 'stereotypical' Cotswold street, with cobbled paving, colourful front doors and a plethora of plants then you can find it here. One of the best things to do in Bradford-on-Avon.
5. St Margaret's Hill
Climb up St Margert's hill to get a panoramic view of the town. Once you get to the top of the hill you will need to walk left for about 100m to get the best view.
6. Holy Trinity Church
Explore the beautiful church grounds of Holy Trinity Church. With gravestones dating back 100's of years you can take a brief step back in time.
7. River Avon and Kennet & Avon Canal walk
Take a leisurely stroll along the canal. There are several routes you can take so click here to find out more.
8. Bradford-On-Avon Wharf
If you are looking for something calming and relaxing to do, then take a visit to the Bradford-On-Avon Wharf where you can book a canal boat trip along the Kennet & Avon Canal.
9. Ilford Manor Estate
Visit the award-winning Ilford Manor Gardens which was home to the set of "The Secret Garden" starring Julie Walters and Colin Firth.
(Currently temporarily closed due to COVID due to reopen April 2021)
10. Visit the town of Castle Coombe
And last, but not least, #10 of the best things to do in Bradford-on-Avon, just a 30-minute drive from Bradford-On-Avon, the town of Castle Coombe is a must-see. It is one of the prettiest and most quaint villages in The Cotswolds and has often been used as a film set.
Where to stay in Bradford On Avon?
When researching accommodation in Bradford-On-Avon, one of the first places to come to my attention was Widbrook Grange. Once I had looked through the gallery and the reviews (and browsed through their Insta of course) I was sold!
You will find Widbrook Grange just outside of the main town. It will take you either a 20-minute walk or a 4-minute drive from the town centre.
Widbrook Grange is a Georgian country house that's been converted into a small boutique hotel with just 19 rooms, that's nestled comfortably amongst 11 acres of the Wiltshire Countryside.
This hotel has it all. It is fully equipped with a gym, swimming pool, an amazing restaurant, large gardens with giant chess and Jenga, a tree swing and the pièce de resistance, a dedicated gin bar.
I also have to make a special mention about the breakfast here. It is simply delicious and made from local produce. This is included in your booking and you can choose from a full English, salmon and eggs, granola, berries and yoghurt and more! The portions are generous, and it really sets you up for a day of exploring.
Finally, the service you receive here is impeccable. The staff are so attentive and do their best to ensure that you have the best possible stay.
Best places to eat and drink in Bradford On Avon
Widbrook Grange: As well as being a hotel, Widbrook Grange has a wonderful onsite restaurant that is open to everyone (not just guests). If you are after some traditional farmhouse food, then this is the best place to come. To top this place off they also have a dedicated gin bar, so if you are a gin fan you will be spoilt for choice.
Boat House: For dinner with a view you can head to the Boat House. This restaurant is located only a 5-minute walk from Widbrook Grange and overlooks the Bradford-On-Avon Marina.
The Dandy Lion Pub: When you are ready to take a break from exploring you can stop off at The Dandy Lion Pub in the centre of town. Here you will find traditional pub grub, which is perfect for a spot of lunch.
Lock Inn Café: The Lock Inn Café is one of the most popular restaurants in town with both locals and tourists. Due to its close proximity to the Kennet and Avon Canal it's a popular drinking spot, especially in the summer months when you can enjoy a pint or a prosecco in their large beer garden.
The Bridge Tea Rooms: The Bridge Team Rooms has twice been voted the best tearoom in the UK. Coming here is like taking a step into the past as their building dates back to 1502. As you would imagine, the interior is steeped in character and history. Picture wooden beams, low ceilings, rickety stairs and vintage ornaments.
If you manage to get a booking here, I would highly recommend ordering the afternoon cream tea. It's delicious and what they are renowned for.
If you on a bigger trip exploring more of Europe check out my guides to France, Germany, Greece, Iceland, Italy, Portugal, Spain and United Kingdom.
Author Bio: Christina is 28 from Hertfordshire and runs the blog The Curly Commute. During the 9-5 Christina works in recruitment, but the rest of her time is spent doing, dreaming or reminiscing about all things travel. She makes it her mission to go on at least 7 a trips year and practice her amateur photography skills along the way. Her favourite country in the world has to be Sri Lanka; the food, the views, the wildlife and the people make it the perfect place to be. You can also find Christina on Instagram.

---
My Travel Tips and Recommendations
Flights
To book flights, I always use flight search engine Skyscanner, I regularly use the Everywhere tool to find the cheapest places to travel. It's how I get to travel so much all around the world. I find it the easiest way to compare flight prices across airlines and get the best deals.
Accommodation
For accommodation, I usually book most of my hotels or hostels through Booking.com. I love using this platform as it provides me with some amazing deals for accommodation all around the world. Or if you prefer, I also recommend using Airbnb. If you haven't signed up with Airbnb already, you can use this link to get £25 off your first visit!
Travel Insurance
Picking travel insurance that covers you in all eventualities is an essential part of planning a trip for every single person. If you can't afford travel insurance, you can't afford to travel. You never know what's around the corner.
Did you know I also vlog my trips? Make sure you subscribe to my YouTube channel so you get alerted when all my travel videos go live… CHECK THEM OUT HERE
Thank you for reading and as always happy adventuring! If you have any questions about the destination please leave these in the comments below.
If you've enjoyed this post, please share it for me with all your friends and family!
Sophie X