One of my favourite things to do is go on a staycation, especially a staycation that includes log cabins with hot tubs. I love retreating to a remote timber-clad log cabin in the middle of a woods, where life just seems simple again and you can sit back and relax in nature.
T
hough we might love the buzz of city life, there's something eternally appealing about log cabins with hot tubs in the middle of the woods, fire crackling in the grate.
And when we do go and stay in a log cabin, we always look for cabins in the wilderness or with a hot tub, as they give you an added element to a romantic getaway.
Hot tubs are perfect for winding down after a long day of exploring the local area and no matter what time of year, you can jump right in and enjoy the warm waters surrounded by the peace and beauty of a forest, lake or beach.
Luckily, the UK has an abundance of places to visit, with varied landscapes, rolling hills, and beautiful
beaches in the U
K. And with the recent lockdown, once that eases isolated holidays are going to be on the rise, and self-catered rented accommodation with be on the rise, particularly the ever popular log cabins with hot tubs
Here are the best log cabins in the UK…
EAGLE BRAE – SCOTLAND
Best for: family-fun in the wilderness
Earlier this year, we travelled up to Inverness to stay at the most gorgeous Scottish highlands accommodation at Eagle Brae, close to Loch Ness.
We landed on a fresh afternoon into the quiet Inverness airport and made our way west through the highlands to our accommodation near the small village of Struy. Situated on the hillside overlooking the river, Eagle Brae lodges stand hidden, almost aligned with the hillside beautifully perched non-intrusively into the land.
The Scottish highlands accommodation complex has 12 lodges of different size spaced nicely account the edges of the hill, each with their own unique view of the surrounding valley and rivers below. Upon our arrival, we were greeted by our lovely host Mike, who told us about the area and showed us the facilities available to us. In the area around there was fishing, sightseeing, river cruises and walks on offer.
HOLIDAY AT HOME – YORKSHIRE
Best for: a romantic retreat
Last January me Theo and our two best friends drove three hours up the M1 to Richmond, North Yorkshire and we stayed at the wonderful Brompton Lakes, which is part of the Holiday at Home family.
We went up to celebrate Theo's birthday in style, with a log cabin on the lake, and a hot tub in the back. After a chaotic festive period, we wanted a trip that would be a mix of adventure and relaxation and when we stumbled across Brompton Lakes we knew it was the perfect location with a hint of luxury, alongside a splash of wellbeing = my perfect trip!
Brompton Lakes is a collection of 5* lakeside holiday lodges with hot tubs in Richmond, North Yorkshire, where you will find everything you need for a weekend retreat away from the chaos of everyday life with family or friends. It was a wonderful weekend with lots of laughs and lots of snow!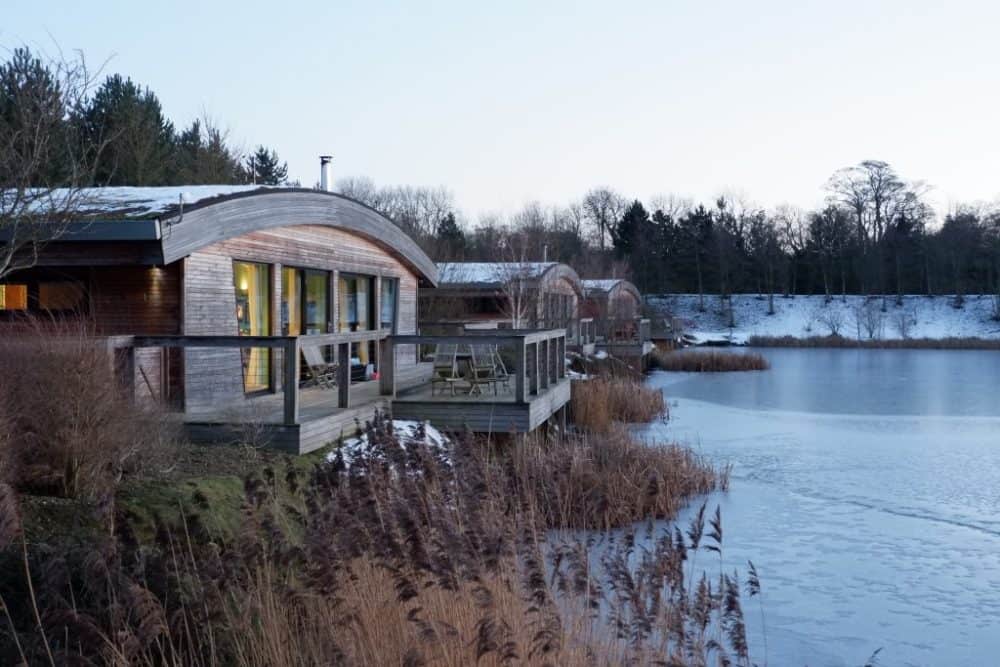 NORTH STAR CLUB – YORKSHIRE
Best for: solo travel isolation
The unique North Star Club is nestled within 500 acres of native English woodland in the peaceful Yorkshire Wolds. Inspired by the legendary American Great Camps and suffused with Yorkshire country style, it blends beautifully into the untamed forest setting.
Theo and I had been after a weekend off-grid, where we could switch off, relax and spent quality time together. Even though the idea of no wifi and no kitchen freaked me out originally I came round to the idea and actually loved the freedom that came with it.
We spent our weekend walking, axe-throwing, cooking breakfast, lunch and dinner on the gas BBQ and having long lie-ins together in our gorgeous cabin with the fire on. It was exactly what the doctor ordered and I am so glad I got to experience the amazing North Star Club, after years of seeing their amazing cabin getaways pop up on Instagram.

LOG HOUSE HOLIDAYS – THE COTSWOLDS
Best for: an escape with friends
Another of my favourite log cabins with hot tubs in the UK is the wonderful Log House Holidays.
We had been meaning to go away together for ages, and when this place appeared on our radar, we knew it was the perfect retreat for a weekend away from the chaos of London. Log House Holidays is a family run 130-acre nature reserve in the Cotswolds, offering something unique to visitors.
It is a small oasis where you can escape the pressures of daily life in your own Scandinavian style log cabin. Started in 1980, the family-run business opens its doors each year to families, and friendship groups from the UK and beyond.
Founder Anthony Edmondson had an idea for a unique and exclusive venue where both conservation and totally secluded holidays would exist in harmony. The log cabins with hot tubs offer the perfect place for family holidays and special celebrations, romantic weekend breaks or a long break with good friends.
These are a little more pricey than others but they are more than worth it!
FOREST HOLIDAYS – ALL OVER THE UK
Best for: woodland wanderers
I've stayed with these guys two times now, both at their Thetford Forest retreat and Sherwood Forest retreat. The Thetford Forest retreat was one of my favourites because of how isolated it was – giving us a weekend of complete relaxation and calm. We stayed in one of their log cabins with hot tubs and enjoyed lots of BBQ's, cycling, kayaking and drinkings lots of wine. Forest Holidays have an array of luxurious cabins in nine woodland locations around the UK and they follow the ethos of simple luxury. The simple is the log cabin, wilderness stuff and the luxury is the private hot tub, state of the art facilities and a great multimedia centre.
We stayed in a Silver Birch cabin which is described as 'affordable quality' with the Copper Cabins which are basic and Golden Oak which are luxury cabins. The Silver Birch ticked the affordable quality boxes perfectly and was a great unique way to do a staycation in the UK with our best friends. All of the log cabins are self-serving (but you can order food in, from the TV!) and if you do forget anything there is a fully stocked shop in the main reception building. They sell everything from milk to bread, to burgers and shepherd's pie.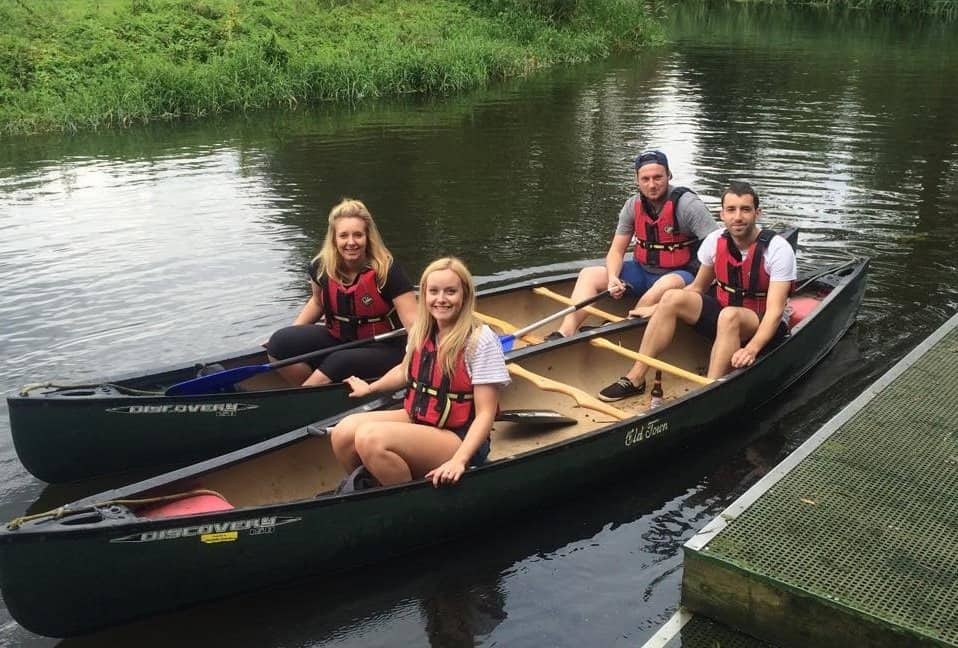 DARWIN ESCAPES – ISLE OF WIGHT
Best for: walking adventure on the IOW
Last summer we headed off to the Isle of Wight for four days of adventures. To give ourselves a 'home' for the weekend we checked in to Woodside Bay Lodge Retreat, located on the North East shore of the Isle of Wight, close to Ryde.
The resort boasts access to a beautiful shingle beach, surrounded by glorious woodland and if you're lucky views across to Portsmouth and Southampton. Luckily for us, we jumped on a Wightlink Ferry from Portsmouth to Fishbourne, which meant we only had a five-minute drive to our resort once we docked in the Isle of Wight.
The tranquil resort offers an array of luxury holiday lodges and one-of-a-kind tree house accommodation, which is located close to the water, but also to all of the action the island has to offer.
Woodside Bay Lodge Retreat was the perfect base for our long weekend away. Unlike the old style holiday parks, Darwin Escapes offers 5* luxury cabins with incredible views, and cabins with everything you could need for a weekend retreat.
KIP HIDEAWAYS – SOMERSET
Best for: Uber-stylish glamping in a beautiful rural setting
Bang on the border of Somerset, Devon and Dorset border lies an organic farm whose fields and woodland are home to a clutch of extraordinary glamping units. We use the word glamping very lightly; true, 2 are Mongolian yurts, but with wooden floors and en vogue furnishings, they utterly contradict their rustic label. A further 2 are cedar-clad roundhouses, ridiculously beautiful, with boho-chic interiors and alfresco bathtubs. And then there's the treehouse, hidden away in its own copse, brilliantly designed to resemble an oversize birdbox with round windows and larch walls.
Strung with fairy lights and full of luxe detail (heated blankets, welcome bubbles), all are superbly romantic, and all have a private garden with a fire pit to toast marshmallows and stargaze; night skies here are enormous. If you're here for a couple of days, just chill – there's a Woodland Sauna, and the fields around you are home to wild deer; beautiful to watch. If you're staying longer, make the most of the nearby Jurassic Coast. And whatever you do, go for dinner at the Lord Poullett Arms, one of our favourite-ever gastro pubs, just 20 mins' walk away – plus a moonlit stroll home.
BARNSLEY HOUSE & SPA – THE COTSWOLDS
Best for: luxury spa getaway
Another trip we took for Theo's birthday (he seems to get a lot of great birthday weekends away doesn't he?!) we ventured out into The Cotswolds for a country retreat at the wonderful Barnsley House, near Cirencester. It is the perfect haven for a weekend of relaxing in style. Now this place isn't log cabins, it is a hotel, but they've got a gorgeous spa on-site, which is for the use of hotel guests only and was empty the whole time we were there, so we had our own private hot tub in the gardens for some relaxation time.
Barnsley House plays host to landscaped gardens, tennis courts, a helipad, holistic spa with hydrotherapy pool, private 30-seat cinema, DVD library, traditional restaurant and 18 stunning bedrooms, ranging in size, bathroom features and style. And the grounds are suitably beautiful, just like the house, with an array of plants, fauna and trees, making you feel a million miles away from the chaos of everyday life. Another great pick for a weekend retreat!
OLD SWAN & MINSTER MILL – OXFORDSHIRE
Best for: countryside jaunts
I've stayed at a lot of hotels over the years, but something about the Old Swan & Minster Mill has stuck with me. It made me feel all warm inside, like I had arrived back at home, and for that, I will keep this review brief.. as I believe that says it all. Romantically set in 65 acres of woodland and orchards, The Old Swan & Minster Mill is over 600 years old and offers guests an array of accommodation choices including apartments, rooms and spa suites.
The Old Swan & Minster Mill is nestled in idyllic grounds in the picturesque village of Minster Lovell, and it is the most quintessentially British hotel I have stayed in. The hotel is home to stunning gardens, wild flower meadows and woodland, that comes alive during the summer, and gives you a chance to explore the British countryside. And the best part is the spa located at the back of the hotel, with hot tub, swimming pool and sauna rooms, as well as a roaring fire in the snug!
Which of these are your favourite log cabins with hot tubs? Let me know in the comments – I need another trip booked asap!
CHECK OUT SOME OTHERS HERE.
---
My Travel Tips and Recommendations
Flights
To book flights, I always use flight search engine, Skyscanner, I regularly use the Everywhere tool to find the cheapest places to travel. It's how I get to travel so much all around the world. I find it the easiest way to compare flight prices across airlines and get the best deals.
Accommodation
For accommodation, I usually book most of my hotels or hostels through Booking.com. I love using this platform as it provides me with some amazing deals for accommodation all around the world. Or if you prefer, I also recommend using Airbnb. If you haven't signed up with Airbnb already, you can use this link to get £25 off your first visit!
Photography and Technology
Here is a list of the technology I always travel with:
Travel Insurance
Picking travel insurance that covers you in all eventualities is an essential part of planning a trip for every single person. If you can't afford travel insurance, you can't afford to travel. You never know what's around the corner. World Nomads is an affordable option that I personally recommend. BOOK HERE
Other posts that may help you:
Ultimate Guide to one week in Bali Itinerary
Visit Lisbon: 9 Day Trips from Lisbon
Berlin City Break: How to spend a Weekend in Berlin Germany
The Best City Breaks for Couples
10 of the Best places to eat Brunch in London
Sign up to AirBnB with this link and receive a £23 off your first booking.
To receive my articles and reviews straight to your inbox SUBSCRIBE HERE.
Did you know I also vlog my trips? Make sure you subscribe to my YouTube channel so you get alerted when all my travel videos goes live… CHECK THEM OUT HERE
Thank you for reading and as always happy adventuring! If you have any questions about the destination please leave these in the comments below.
If you've enjoyed this post, please share it for me with all your friends and family!
Sophie X