One of the best ways to go off the beaten track when exploring the UK is to go glamping. I spent last weekend in a yurt at Brook House Woods in Herefordshire and we had such a wonderful time deep in the woods!
Brook House Woods offers guests the opportunity to come and relax in one of their amazing accommodation experiences. You can stay in a luxury treehouse, a lovely Yurt, a hidden Hobbit House or even a floating Goji Tree Tent.
In the woods and surrounding areas, you can also find wildlife like hares, hedgehogs and deer and there are lots of on-site activities to get involved in too. They hold workshops and classes on everything from, green woodworking, yoga, and tasting sessions. As well as in-room massage and a gorgeous wood-fired hot tub.
And you can even get hot home-cooked meals delivered to your door, locally sourced breakfast hampers and pizza packages to cook in the wood-fired oven. This place really is a relaxing break from the chaos of modern life!
You can be sure to return home after a stay here feeling pampered, relaxed and at one with nature.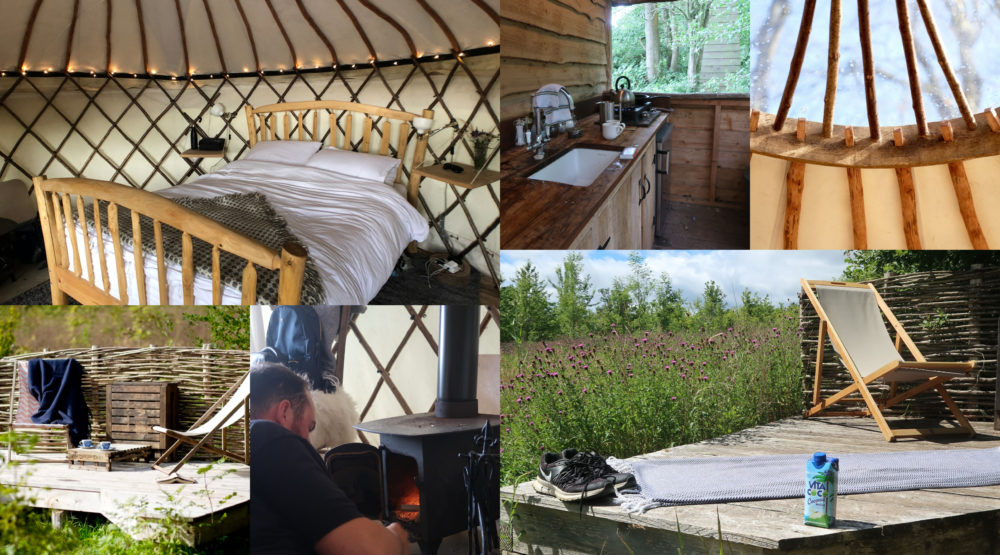 Our Yurt
All accommodation at Brook House Woods is located within the woods, with its own veranda, beside a grassy meadow looking out over the Frome valley and the Malvern Hills.
For our stay at Brook House Woods, we stayed in their gorgeous yurt! A brand new addition to their collection of accommodation, the yurt is a circular dome, with traditional beams and furnished with a wood-burning stove.
Inside you can also find a double bed and feather duvets, with seating space for playing cards. On the decking across the meadow from the yurt, you can find a sitting area with hand-made greenwood chairs and private fire pit with deck chairs for enjoying the sun whilst looking out over the Malvern Hills.
On the same decking area of the yurt, you can find your personal bathroom complete with hot shower, basin and new breed Swedish compost loo. And located behind this is your own kitchen, with fridge, gas hob, le Creuset pans, kettle, cafeitere, tea, coffee and all the little extras you may need for cooking up a storm.
Having stayed at many glamping and self-catered accommodation providers over the years you can really tell the best from the rest by the way they cater for you with the small things. There have been so many times we have headed to an accommodation provider and there is nothing, not even salt and pepper and oil. These guys had all the basics and it was great!
But if you don't fancy doing any cooking yourself, you can order hot home-cooked meals delivered to your door and delicious local produce breakfast hampers for you to cook up at your leisure.
The yurt encompasses everything Will and Penny are passionate about, and they've made this amazing structure from scratch. From the timber platform, it stands on, Roundwood double bed, greenwood chairs and the sculpted criss-cross walls. Everything at Brook House Woods has been hand-crafted!!!
The Woodland Cinema
On our second night at Brook House Woods, we booked our slot for The Woodland Cinema. Guests can book a slot at the cinema after booking their stay, it comes with Bluetooth headphones so as not to disturb anyone, and is totally hidden in the woods.
The Eco Credentials
The woods at Brook House Woods are important to the guys here, they are the reason people visit and are their utmost concern in the building and running of the business. All of the structures are made using locally grown wood from coppiced woodlands, a great example of this is Say it With Wood who not only make beautiful structures, gates and fencing but look after the health of the wood, helping us combat Ash dieback whilst ensuring the health of the woods for generations to come.
In the running of the business, they have taken every 'good for us, good for the world' measure, all the spaces are powered by solar systems from Wind and Sun energy, the water is from a borehole on the farm which is particle filtered and UV treated avoiding harsh chemical treatment.
All the cleaning products are biodegradable and the shower products are all Faith in Nature as the soakaways for the drainage goes directly into the woods. They use recycled paper products from Who Gives a Crap and any printing they do they endeavour to use recycled paper.
The guys at Brook House Woods are always open to new ideas on how they can continue to make the business greener and hope to be an example of how you can be successful and kind whilst working for the highest standards.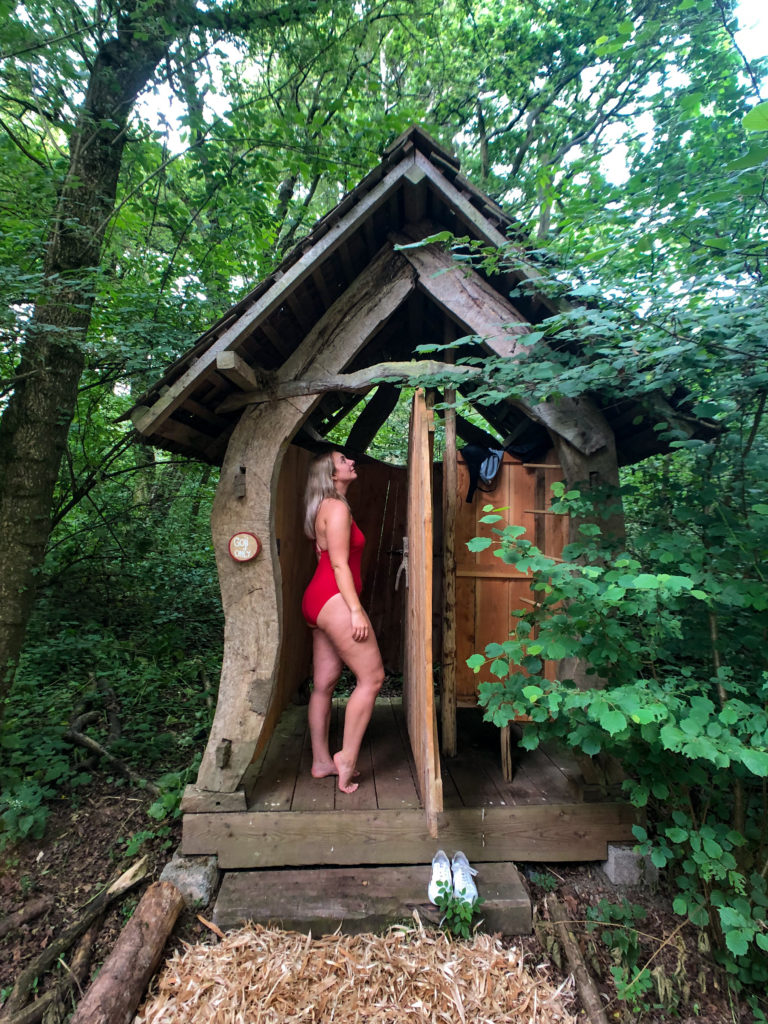 Price
Prices for the yurt start at £90 per night, the hobbit house starts from £100 per night, for Goji £120 per night and for a treehouse £160 per night.
Address
Brook House Woods, Brook House Farm Avenbury Lane Bromyard ​HR7 4LB
The postcode HR7 4LB takes you to Brook House Cottages, a quarter of a mile south of the farm. If you are coming from the A44, turn down Avenbury lane, go straight over at the tiny crossroads and we are the first turning on the right, signposted Brook House Farm.
Brook House Woods is the perfect place to head on a UK glamping adventure, whether you want to go hiking across The Malverns or curl up in your yurt with a book. BOOK YOUR STAY NOW!
---
If you on a bigger trip exploring more of Europe check out my guides to France, Germany, Greece, Iceland, Italy, Portugal, Spain and United Kingdom.
My Travel Tips and Recommendations
Flights
To book flights, I always use flight search engine, Skyscanner, I regularly use the Everywhere tool to find the cheapest places to travel. It's how I get to travel so much all around the world. I find it the easiest way to compare flight prices across airlines and get the best deals.
Accommodation
For accommodation, I usually book most of my hotels or hostels through Booking.com. I love using this platform as it provides me with some amazing deals for accommodation all around the world. Or if you prefer, I also recommend using Airbnb. If you haven't signed up with Airbnb already, you can use this link to get £25 off your first visit!
Photography and Technology
Here is a list of the technology I always travel with:
Travel Insurance
Picking travel insurance that covers you in all eventualities is an essential part of planning a trip for every single person. If you can't afford travel insurance, you can't afford to travel. You never know what's around the corner. World Nomads is an affordable option that I personally recommend. BOOK HERE
Sign up to AirBnB with this link and receive a £23 off your first booking.
To receive my articles and reviews straight to your inbox SUBSCRIBE HERE.
Did you know I also vlog my trips? Make sure you subscribe to my YouTube channel so you get alerted when all my travel videos goes live… CHECK THEM OUT HERE
Thank you for reading and as always happy adventuring! If you have any questions about the destination please leave these in the comments below.
If you've enjoyed this post, please share it for me with all your friends and family!
Sophie X