Scotland boasts inky lochs, a rich history, breathtaking scenery, world-class museums and kind locals. But where should you start when discovering a country so intriguing? You will find our pick of the 21 best places to go to Scotland to help get you started.
Of course, with a country as memorable and beautiful as Scotland, this could have been a list of 100+ never mind only 21.
However, this list will give you an insight into what to expect and the guarantee that you will leave with a sweet taste in your mouth of the range of attractions and beauty that you can experience in Scotland. Are you ready to step into your movie?
Or at least recognise many insanely beautiful film locations and the inspiration behind their original stories.
Looking to drive the N500? Use this blog post as a guide to your epic North Coast 500 Scotland road trip.
How to get to Scotland
It is easy to get to Scotland, whatever your preferred method of transport.
AIR: Scotland has 5 International Airports. Aberdeen, Inverness, Edinburgh, Glasgow and Glasgow Prestwick. You can reach these airports with European, Scandinavian and long haul airlines. It is also possible to fly domestically in the UK and can be the fastest option.
FERRY: There is a direct ferry from Northern Ireland to Scotland, and you drive to Scotland from other ports in the UK, such as Hull.
TRAIN: Luckily, Glasgow and Edinburgh are easy to reach by train from most major cities in England, including London, Manchester and Birmingham.
CAR: The two main ways you can arrive are on the A1 and the M6, A74 (M) and M74. If you decide to drive, you will love the scenic roads!
BUS/COACH: This will be one of the cheapest options with many companies including, National Express and Megabus servicing Scotland with routes to Glasgow, Edinburgh, Aberdeen, Dundee and Inverness (to name a few).
How to get around Scotland
You can rent a car, campervan or take a coach or train service to get around Scotland. Having a vehicle is desirable because you have the flexibility you can reach remote areas at your own pace. However, if you decide to take a coach service or a train service, although you will follow a timetable, it may take some of the stresses out of driving.
When is the best time to visit Scotland?
For smaller crowds and fewer midges, you should visit in April, May, September or October. To coincide your trip with a world-class event or festival, it is worth remembering that the Edinburgh Fringe Festival is on for three weeks in August and Hogmanay Street Party Festival is in Edinburgh on New Year's Eve. There is also Burns Night, celebrated on the 25th of January, where you can attend a Burns Supper.
Top 21 Places to Visit in Scotland
In no particular order, here is the list of the best places to visit in Scotland.
Edinburgh
The capital city is one of the best places to visit in Scotland. It surpasses other destinations for its spectacular blend of architecture, historic sites and sweeping views of the skyline. There is so much to see and do, and there is beauty around every corner.
Do not miss the magic of walking down the Royal Mile to cast your eyes upon St Giles' Cathedral. Taking photos of the famous colourful Victoria Street, strolling through Princes Street Gardens and admiring the Grand Edinburgh Castle. Exploring the charming Dean's Village and finally climbing Arthur's Seat, a 35 million-year-old extinct volcano to admire Edinburgh and its rolling hills from above.
St Andrews
Located on Scotland's east coast and only two hours from Glasgow and Edinburgh is St Andrews. A town that is famous for its prestigious university and known as a 'Home of Golf'. It is a vibrant place with lots of things to do, including St Andrews Cathedral, Scotland's Secret Bunker and plenty of Golf Courses to try. It is high on many people's lists of the best places to visit in Scotland.
Glasgow
There's no denying Glasgow is one of the best places to visit in Scotland. There are so many exciting things to do in the city, including museums, galleries, large green parks and impressive architecture.
Make time to visit the Kelvingrove Art Gallery and Museum, the Glasgow Cathedral and Necropolis and the Lighthouse. There's also the incredible mural trail, which rivals Melbourne's street art. Finally, have some delicious food at one of Singl-end's restaurants (Garnet Hill or Merchant City) who are known by the locals to serve the best brunch in the city.
Oban
Oban is a harbour town, known as the 'gateway to the islands'. However, there is something special about Oban, and there are plenty of things to do in the town. Including the Oban Distillery (established in 1794), walking around the harbour and promenade and climbing McCraig's Tower – the Scottish Colosseum (for views over the islands). For these attractions, it is one of the best places to visit in Scotland.
Isle of Mull
The Isle of Mull is one of the best places to visit in Scotland because of the abundance of wildlife and family-friendly attractions. It is the fourth largest island in Scotland. It is an island of peace if you are looking to escape the chaos of urban life. You will be able to enjoy its beautiful beaches and bays, go on exciting hikes, go island hopping to Iona and Staffa and discover charming villages, such as Tobermory.
Loch Lomond and the Trossachs National Park
Loch Lomond is one of the most famous lochs and is the largest freshwater lake in Scotland (24miles long). It is close to Glasgow, which means it can get busy, but the raw beauty is like something out of a fairy-tale. The best things to do are climbing Conic Hill, renting boats at Balmaha, exploring the small town of Luss and admiring the Falls of Falloch.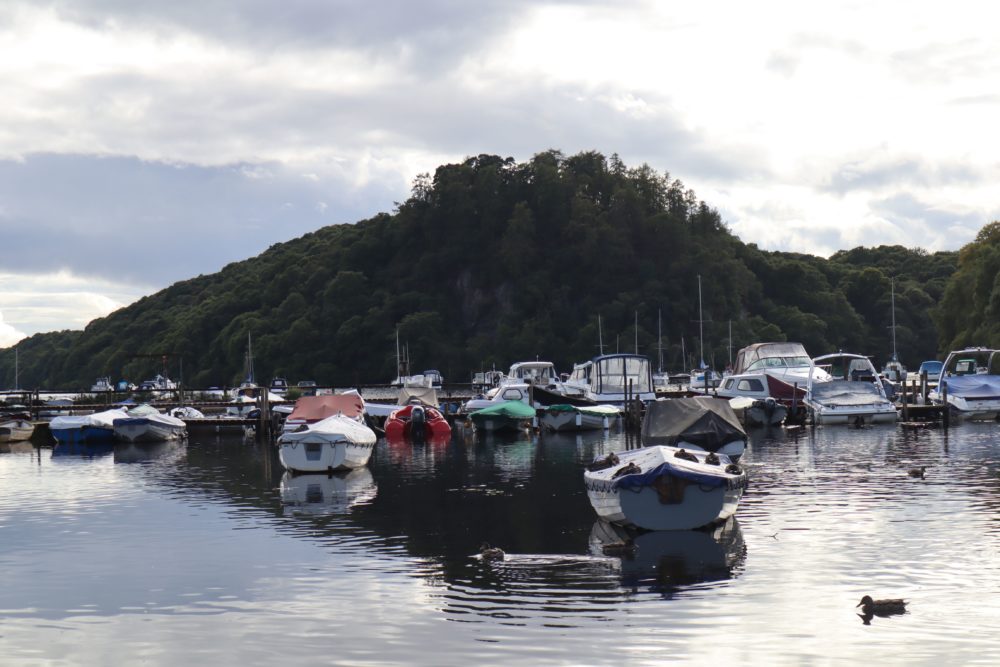 Finnich Glen
Known also as the Devil's Pulpit, Finnich Glen is a natural 100-feet-deep gorge near the village of Croftamie. It appeared in the TV series Outlander, can you recognise it? The sight of the ruby coloured river will stay with you. It's not too far from Loch Lomond, so it's a great place to visit if you are in the area and is one of the most unique and best places to visit in Scotland.
Loch Ness
Loch Ness is well known for those searching for the mythological monster 'Nessie'. The loch is striking at 42km long, and it is 300m deep. The best things to do in Loch Ness are visiting the 13th century Urquhart Castle, going on a boat trip on the loch, the Loch Ness Discovery Centre and enjoying the pubs in Drumnadrochit village.
Inverness
Inverness is a fantastic option for a city break in Scotland because it has everything you could want from a city, right next to the sensational Scottish Highlands. Don't miss the Victorian Market, the Eastgate Shopping Centre, the Inverness Castle and St Andrew's Cathedral. There's plenty to do to keep you busy and is one of the best places to visit in Scotland.
Isle of Skye
It is wild, natural and striking. It is also waiting for you. The Isle of Skye is on so many people's bucket lists, and there's no doubt that it has made this list. You can expect rolling hills, hiking and magical castles. The list of the best things to do on Skye is endless, but to get you started, do not miss the following: the town of Portree, Bride's Veil Waterfall, The Old Man of Storr, Kilt Rock and Mealt Falls Viewpoint, the Quiraing, Falls of Rha, The Fairy Glen, Neist Point Lighthouse, and the Fairy Pools.
Shetland Islands
The Shetland Islands are between Norway and mainland Scotland and is an archipelago made up of around 100 islands. It is the best place to go in Scotland if you are searching for outdoor adventures and awe-inspiring coastlines. You can explore the capital of Lerwick and enjoy the wildlife it offers. Look for the Shetland ponies, seabirds, otters, seals, and maybe if you're lucky – orcas!
Glencoe
Glencoe is mythical and is one of the most magical and best places to visit in Scotland. Prepare yourself for insane views of lochs, mountains and sensational hikes. Have you got your camera ready? Do not miss the Three Sisters (viewpoint and trails), the site where they filmed Hagrid's Hut in Harry Potter and The Clachaig Inn (one of the UK's cosiest pubs).
Isle of Arran
The Isle of Arran is a year-round destination and is full of natural beauty. There is a range of exciting things to do on the island. These include a tour of the Arran Distillery, discovering wildlife, enjoying the dramatic coastline and beaches and eating lots of delicious food. There are many adventure attractions, and you can scale Goatfell, the grand mountain on the island.
Aberdeen
On the east coast, you will find the wonderful city of Aberdeen. It is well-known for its granite and is a year-round destination that boasts lots of exciting things to do. Visit the Aberdeen Maritime Museum, Slains Castle, Craigievar Castle, the village of Footdee, Aberdeen Beach and Brewdog HQ. If you are lucky, you might hear people speaking the ancient dialect, 'little Doric'.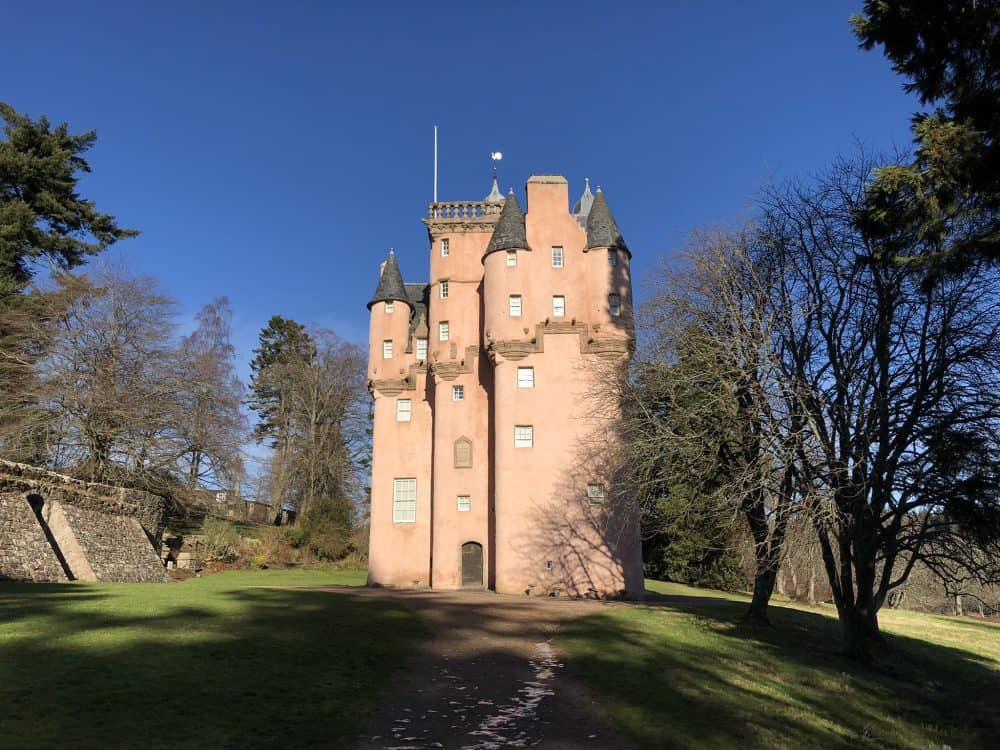 The Cairngorms National Park
The Cairngorms is Britain's largest national park and is full of vast, rolling hills. There are many different and unique things you can do in the national park. You can climb Ben Macdui, which is the UK's second-highest mountain, see a herd of reindeer and visit a green loch, to name just a few.
Fort William (Ben Nevis)
One of the best places to visit in Scotland is Fort William because you can climb the mighty 4406ft mountain – Ben Nevis. The tallest mountain in the UK with impressive views over the river glens. There are many different ways to reach the top, and the best track for beginners is the 'Mountain Track', which follows the old pony route up the steep staircase. The views at the top (if you have clear weather) are breathtaking, and it is worth the burn on your legs.
Glenfinnan Viaduct
Are you ready to be in your movie? You can watch the Jacobite Steam Train (The Hogwarts Express) go over the impressive viaduct. The best tips would be to watch from next to the viaduct itself and not from the visitor centre viewpoint and check the train times carefully, as there are usually only two crossings a day and it is seasonal.
Orkney Islands
The Orkney Islands are UNESCO World Heritage-listed and are well-known for their Viking history, Neolithic monuments, stone circles and tombs. Make sure you visit the Standing Stones of Stenness. The Old Man of Hoy, a 450-foot sea stack on the Isle of Hoy, is one of the most notable attractions. The islands are unique and are waiting for you to discover them.
Stirling
Stirling City is one of the best places to visit in Scotland because of its rich history and independent shops. The best things to do in Stirling are visiting the Stirling Castle, the Old Town Jail, the Old Bridge, and climbing up for views and a history lesson at the 75m tall Wallace Monument.
Dundee
Dundee is the first UNESCO City of design, and if that's not enough to convince you to go, the surrounding countryside will. Some of the best things to do in Dundee include the RRS Discovery, the castle of Broughty Ferry, Arbroath Abbey and McManus Art Gallery and Museum. It is also Scotland's sunniest city, so if it is a drizzly day, you know where to go!
Dornie
Dornie is an old fishing village in Wester Ross. It is famous because it is on the road to the Isle of Skye and because it is home to one of the most photographed castles in the world. The Eilean Donan Castle is a 13th-century castle, where you can travel back in time and see the incredible art on display. The village is charming, is full of colourful houses and has breathtaking Scottish scenery as a backdrop. A top tip is to grab a bite to eat at the Dornie Hotel. It is delicious!
There is no such thing as a bad trip to this magical destination, and this list of the 21 best places to visit in Scotland only scratches the surface of this unmissable country. The only question left is where are you going first?
If you on a bigger trip exploring more of Europe check out my guides to France, Germany, Greece, Iceland, Italy, Portugal, Spain and United Kingdom.
---
Author Bio: This post is by Rachel and Nico. Passionate travellers, who love road trips, affordable travel and the outdoors. They share their stories and travel tips on their travel blog AverageLives and Instagram @average_lives. Nico is a Sardinian traveller, who has lived in Lithuania, Slovakia, Australia and the UK. They aim to promote a love of affordable travel and shares their extraordinary travel stories.
---
My Travel Tips and Recommendations
Flights
To book flights, I always use flight search engine Skyscanner, I regularly use the Everywhere tool to find the cheapest places to travel. It's how I get to travel so much all around the world. I find it the easiest way to compare flight prices across airlines and get the best deals.
Accommodation
For accommodation, I usually book most of my hotels or hostels through Booking.com. I love using this platform as it provides me with some amazing deals for accommodation all around the world. Or if you prefer, I also recommend using Airbnb. If you haven't signed up with Airbnb already, you can use this link to get £25 off your first visit!
Travel Insurance
Picking travel insurance that covers you in all eventualities is an essential part of planning a trip for every single person. If you can't afford travel insurance, you can't afford to travel. You never know what's around the corner.
Did you know I also vlog my trips? Make sure you subscribe to my YouTube channel so you get alerted when all my travel videos go live… CHECK THEM OUT HERE
Thank you for reading and as always happy adventuring! If you have any questions about the destination please leave these in the comments below.
If you've enjoyed this post, please share it for me with all your friends and family!
Sophie X