London, the capital of England, is one of the most iconic cities in the world offering tourists, food, history, people and culture.
The dynamic city of London is home to a population of around nine million and is a multi-cultural city, blended with traditional charm. London is the largest city in Europe and you could spend a lot of time exploring everything this amazing city has to offer.
One of my favourite things to do in the city is to seek out fun restaurants in London. This London food guide will help you find some of the best eateries in London.
From pubs along the River Thames to pop up shops at Southbank, to restaurants at Covent Garden to cafes in Hyde Park, London is a city of exciting contrasts and the food is just as varied.
Here are my top 21 fun restaurants in London…
Bar & Block Steakhouse
The Langham London
Box Park Shoreditch
Busaba Eathai
Foxcroft & Ginger
Belgo
The Rum Kitchen
Ember Yard, Soho
Golden Arrow Restaurant
Hummingbird Bakery
Dishoom
Hunter 468 at The Arch London
Bourne and Hollingsworth
Island Grill at Lancaster London
Bake a Boo
Chiltern Firehouse
Duck & Waffle
The Riding House Café
Gaucho
Berber & Q
Christopher's Covent Garden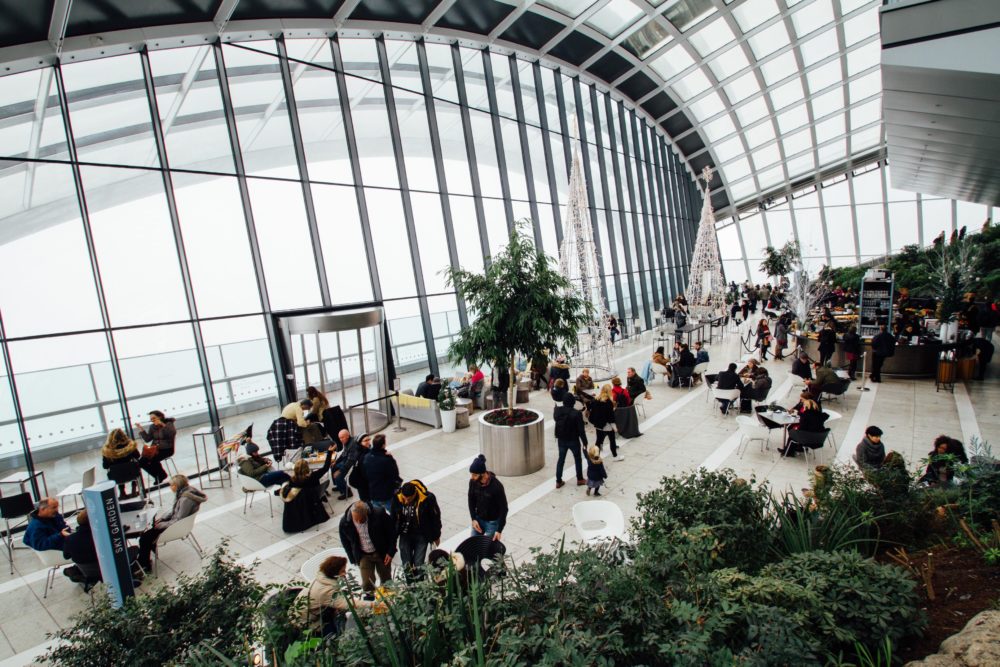 21 Fun Restaurants in London
How to get to London
London is really easy to get to by plane, train or by car. You can travel to London via flights from nearly every country in Europe, as well as globally. London has five airports; Heathrow, City or Luton, Stansted and Gatwick. If you are flying into London the best way to get to the city is on the train.
You can also travel to London by train from France via Eurostar, and you can also travel by ferry, coach, or car. Or if you are like me, based in the UK, the quickest way to get to London from anywhere in the country. If you are flying into London the best way to get to the city is on the train. The transport network in the UK is great all year round making the best time to travel to London anytime.
When to go to London

London can be visited at any time of year, as it has a mild climate. Of course, I am biased as I love London in the summer when the sunshine comes out, it finally stops raining and everyone it outside. But London is also great in spring when the parks come alive, in autumn when the city celebrates Halloween and in winter when Christmas is everywhere. So there is no 'best time to travel to London' as it's great all year round and you will see why during this London Food Guide.
Weather in London
London Weather in January: 4° – 9° with avg. 12 days of rain
London Weather in February: 5° – 9° with avg. 9 days of rain
London Weather in March: 6° – 12° with avg. 9 days of rain
London Weather in April: 7° – 15° with avg. 9 days of rain
London Weather in May: 10° – 18° with avg. 8 days of rain
London Weather in June: 13° – 21° with avg. 8 days of rain
London Weather in July: 15° – 23° with avg. 7 days of rain
London Weather in August: 15° – 23° with avg. 8 days of rain
London Weather in September: 13° – 20° with avg. 8 days of rain
London Weather in October: 10° – 16° with avg. 10 days of rain
London Weather in November: 7° – 12° with avg. 10 days of rain
London Weather in December: 5° – 9° with avg. 10 days of rain
**As you can see it rains A LOT in London!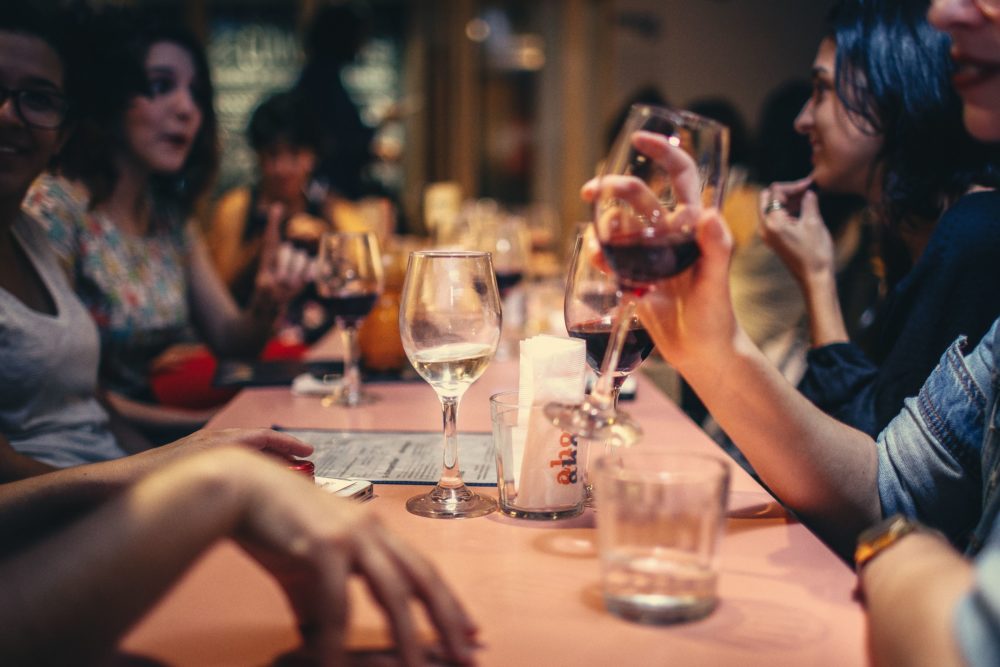 Photo by Helena Lopes from Pexels
---
21 Fun Restaurants in London
1. Bar & Block Steakhouse
he food at Bar + Block Steakhouse was just INSANE. The other week me and a few of my favourite blogging ladies including Kara from Heels in my Backpack, Liv from Liv on a Shoestring, Sam from Yoko Meshi and Ellie from The Wandering Quinn headed for our quarterly brunch somewhere in the UK and this time we opted for the trendy Bar + Block at Kings Cross.
I love brunch, a meal where putting prosecco, bread, steak and pancakes together all at the same time is completely acceptable. Bar + Block have just launched their new bottomless brunch and my god was it good. And it is only £15 for a meal with unlimited prosecco for 90 minutes……
Bar + Block is originally a steakhouse for lunch and dinner but when they announced their new bottomless brunch me and the girls jumped at the chance to try it out, and we were so glad we did. The restaurant is trendy with interesting patterned flooring, wooden beams and bar stools dotted around the place, with high tables and even a chef's table near the kitchen.
How it works is that when ordering your food at Bar + Block, let their team know that you'd like the bottomless drinks offer, then they come over to your table and take a photo with a polaroid. This photo then acts as your pass to all the prosecco you could ever need for up to 90 minutes (they write the time on the back so you know when you are close to time running out)!
Check out my blog post on eating at Bar& Block Steakhouse
2. The Langham London
A great addition to my London Food Guide. I love afternoon tea in London, and one of the best places to go is The Langham London.
Located in the heart of West End, the five-star Langham hotel has one of London's most enviable addresses. Commanding a position at the top of Regent Street, it's one of the best places to take a break from a hard day of exploring London to enjoy the tradition of afternoon tea, served in stunning Palm Court.
The Langham has been serving Afternoon Tea since 1865 and, in keeping with their reputation for innovation, they have now been awarded as 'Best Afternoon Tea Service 2018'.
They now also serve SeasonaliTea, which features savouries, scones and patisserie all created with the very best ingredients when they are at their absolute peak, meaning the flavours are sublime and changes regularly as the best produce comes in. They also have an array of specific teas on offer including The Langham Blend, a traditionally-styled black tea, and the signature Palm Court Blend, an aromatic infusion.
OTHER BLOG POSTS
Photo by Dmitry Zvolskiy from Pexels
3. Box Park Shoreditch
Boxpark Shoreditch is the world's first pop-up mall, home to more than sixty carefully chosen fashion brands and food and drink retailers. Boxpark is a living, fertile community of brands packed with talent, innovation and attitude that puts creativity and fashion back where they belong: on the street.
Nestled in the East End just beside Shoreditch High Street. This permanent pop-up mall is home to a wide range of restaurants and cafés, and here are the best. BOXPARK Shoreditch fuses modern street food & pop-up shops to deliver a community of independent brands specialising in fashion, arts, food & drink. Find here Chop'd, FalafeLicious and Cottons Rhum Shack.
Effortlessly fusing the concepts of the modern street food market and the pop-up retail mall, Boxpark stands proudly in the heart of London's Shoreditch to deliver a community of brands specialising in fashion, arts, food and drinks. Boxpark is the world's first pop-up mall.
4. Busaba Eathai
What's the best thing about London? I'd 100% say eating out. The array of restaurants, cafes, pop-ups and food joint on offer in London is 100% is the ultimate selling point to both locals and tourists. A real favourite of mine is Busaba Eathai, where you can eat some of the best Thai food in London.
Busaba Eathai is modern Bangkok eating in the heart of London, and they've got loads of restaurants across the city. We opted for Covent Garden as it was central and we could all meet easily after work on a Friday evening. The dishes at Busaba are made to share and include a flavoursome selection of freshly prepared salads, pad Thais, wok noodles, stir-fries, curries and grills, to accompany our deliciously moreish small plates.
The sleek hideaway in Covent Garden founded by acclaimed restaurateur Alan Yau is the perfect place to relax after a hard week at work. You can dine at funky communal-bench seating in a minimalist, softly-lit dining room and you can eat the night away, indulging in an array of stir-fry, curry, soup and noodle dishes. A sterling addition to my London Food Guide.
Check out my blog post on eating at Busaba Eathai Covent Garden.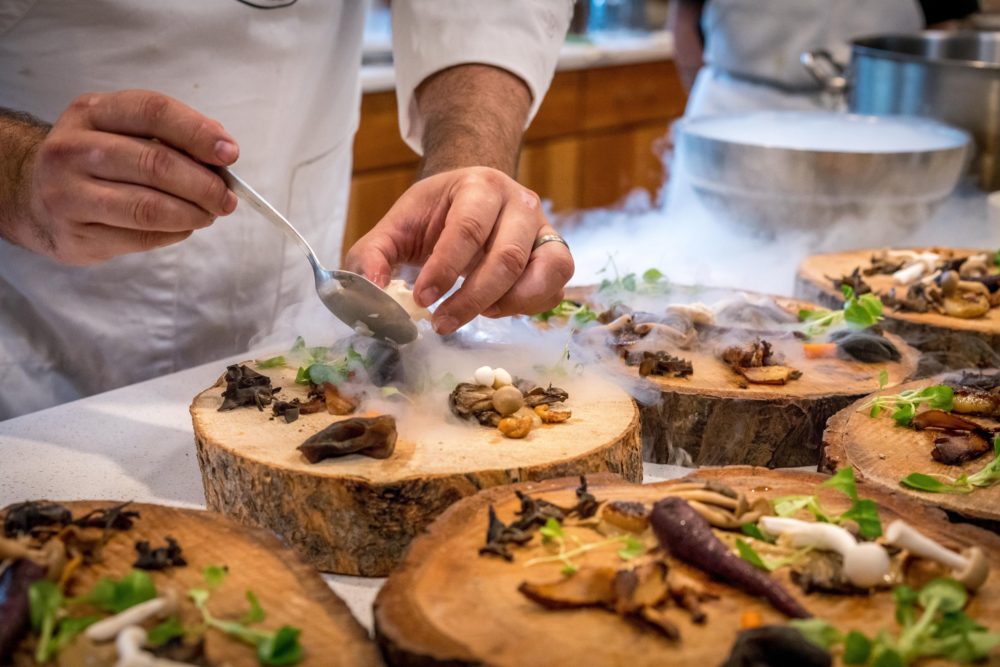 Photo by ELEVATE from Pexels
5. Viet Food
A favourite of mine, Viet Food serves up some of the best traditional Vietnamese street food dishes, by Michelin-starred chef, Jeff Tan. The menu reflects those long-loved dishes, including Chilli Grilled Sirloin Salad, Five Spice Soft Shell Crab, or Tan's version of Crispy Coconut Calamari. I was also obsessed with their Saigon beef soup with shimeji mushrooms and vermicelli. YUM!
6. Foxcroft & Ginger
Located around the corner from Piccadilly Circus, Foxcroft & Ginger sits on Berwick Street on the cusp between Soho and Covent Garden. The little café may not look much from the outside but once you enter the café you are immersed in a wooden ski shack vibe and muffins as far as the eye can see.
The café is founded on the principles of great British food, made with locally sourced ingredients, and given an original twist. Where possible they try to make all of their bread and pastries in house and I could clearly see this downstairs as I made my way to the toilet. The chaos downstairs was like a French patisserie at noon with flour being thrown and baker's passionate working on their bread.
F&G are proud of their coffee, bread and pastry offering and so should they! The pastries we took away with us to our hotel were amazing and the man serving us was kind enough to recommend us one pastry and then we picked two others. We had a nougat pie style pastry, a blueberry apple pie and a cruffin (a mix of a muffin and croissant).
In the evenings they also do a pizza menu, which given their passion for bread and dough, I would imagine is AMAZING. I will be heading back soon to try their famous pizzas!
7. Dumplings Legend
If you are after dumplings, this is the place to go! The iconic dim sum is a must-try when visiting Chinatown and at Dumplings' Legend, they stick to traditional methods but adding a twist, with additions including spicy pork and crayfish, or even Xiaolongbao. They serve an impressive 47 variations of the much-loved dim sum, all made in their open-plan, glass-walled, kitchen right before your very eyes. I loved the vegetarian dumplings, and the dumpling platter.
8. Belgo
Belgo is renowned and revered as London's first and best Moules & Bieres restaurant. This iconic brands put tasty food first and offer an extensive range of 52 craft beers that go really well with the dishes we serve, from their famous moules to lobster to rotisserie chicken, all freshly cooked by their expert chefs in their open kitchens.
Belgo people are a bunch of amazing individuals who love the Belgo brand. Everyone is tasked with leaving each customer with a lasting memory of their experience that will transform guests into lifelong friends who rave about the great times that they have at Belgo.
Photo by Flo Dahm from Pexels
9. The Rum Kitchen
There really can't be a better way to spend a rainy Autumnal Sunday afternoon than at Notting Hill's most colourful venue The Rum Kitchen as part of the London Restaurant Festival.
It's the sort of place I'd have expected to find on a beach along the beaches of Saint Lucia, but instead, they've made their home on All Saints Road, Notting Hill.
Their decor is on point, with colourful wooden walls, quirky furniture in the upstairs bar and down in the party-time basement there's good reggae and lots of rum. Their laid-back atmosphere is what you'd expect with some chilled reggae tunes, and the distinct smell of spices and rum travelling through the restaurant.
The mismatched seating and patterns alongside the walls, emblazoned with patois phrases, make for a very colourful and Jamaican atmosphere!
The menu on offer is wonderful with an array of dishes including jerk chicken, wings, burgers, red snapper, shredded salads, saltfish fritters and sweet potato fries. The rum menu is even more extensive, with lots of choice of imported rums and beers from Jamaica and Barbados.
Check out my blog post on eating at The Rum Kitchen.
10. Bubblewrap
This is the place to come for waffles, or more specifically bubble wraps! You start by picking your waffle base – plain, chocolate or matcha and then add your toppings. It could be strawberry cheesecake or pistachio gelato, white chocolate stars or even edible flowers.
11. Ember Yard, Soho
Ember Yard is a new-style tapas bar, taking inspiration from Spanish and Italian techniques by cooking over wood and charcoal. I headed here for lunch on the first day in London and it was relaxed, friendly and the food was amazing. We opted for an array of small plates from the open plan kitchen and dived into a cocktail or three.
The menus are influenced by travels around the regions of Spain and Italy, in particular, the Basque Country and Tuscany, enjoy cleverly curated tapas options, charcuterie and puddings.
Head Chef Cristian Parisi creates exceptional small and large sharing plates. No-fuss. No fanfare. Just flavour. Located in the heart of Soho over two floors, including an exciting downstairs space known as The Ember Bar, a slick area in which to indulge on small plates over an impressive cocktail list.
12. Cuppacha
I have fallen for bubble tea and it seems so has everyone else. Those chewy tapioca balls make it the perfect treat for a day exploring London. We stopped here last week to try authentic Taiwanese bubble tea, with a twist: Matcha Red Bean Bubble Tea.
13. Golden Arrow Restaurant
The Pullman London St Pancras puts on an incredible truffle menu, designed by Head Chef, Michael Penn, which utilises the truffle in every dish – from starter to dessert. We experience this luxurious feast and discover the culinary potential of the truffle in the heart of London.
The Pullman London St Pancras hotel is a King's Cross landmark and Golden Arrow, their award-winning restaurant (1 AA Rosette), offers a range of delicious modern European dishes and an immense wine library offering a wide range of fine wines by the glass.
Throughout April, the Golden Arrow were offering guests and visitors a taste of luxury with their indulgent tantalising truffle menu. It was celebrating truffle season with a bespoke truffle menu crafted by Head Chef, Michael Penn. The menu consisted of a choice of three mains: Kelverton wild mushroom risotto, pan-fried Scottish hand-caught diver scallops, and black truffle tortellini.
To begin with, you are served an aperitif of bread, butter, olives, oil and balsamic vinegar. The black truffle tortellini, with Wye Valley asparagus butter sauce and Parmigiano Reggiano cheese, was extremely well seasoned and sported just the perfect amount of truffle. The truffle shone through the pasta and the fragrant cheese and the serving was just right.
After the mains were finished the pudding was served. Who knew truffle could be used in so many different ways!
The warm 86% dark chocolate and hazelnut brownie with black truffle ice cream were beautifully presented and you could smell the truffle in the ice cream as soon as it arrived. The pudding looked like chocolate heaven.
14. JinLi
Named after the famous gastronomy street in Chengdu, Sichuan, Jinli serves up some of the best Sichuan in the city. JinLi's signature dish, JinLi Grilled Fish in Chilli Oil, is a must-eat and I would also recommend the vegetarian spring rolls and the Duck Tongue.
15. Hummingbird Bakery
The Soho branch of this successful mini-chain of Hummingbird Bakery is a busy spot, there are also branches in Notting Hill, South Ken, Spitalfield,s and Islington. Most customers come here for the colourful frosted cupcakes, which are displayed in long glass cabinets, alongside whoopee pies, tiered American cakes, and varieties of brownies.
The most famous has to be the raspberry cheesecake brownie with a dense chocolate brownie base topped with a baked cream cheese layer and finished off with whipped raspberry cream. It also has an excellent 'Made Without' range where you can get all sorts of cupcakes without gluten.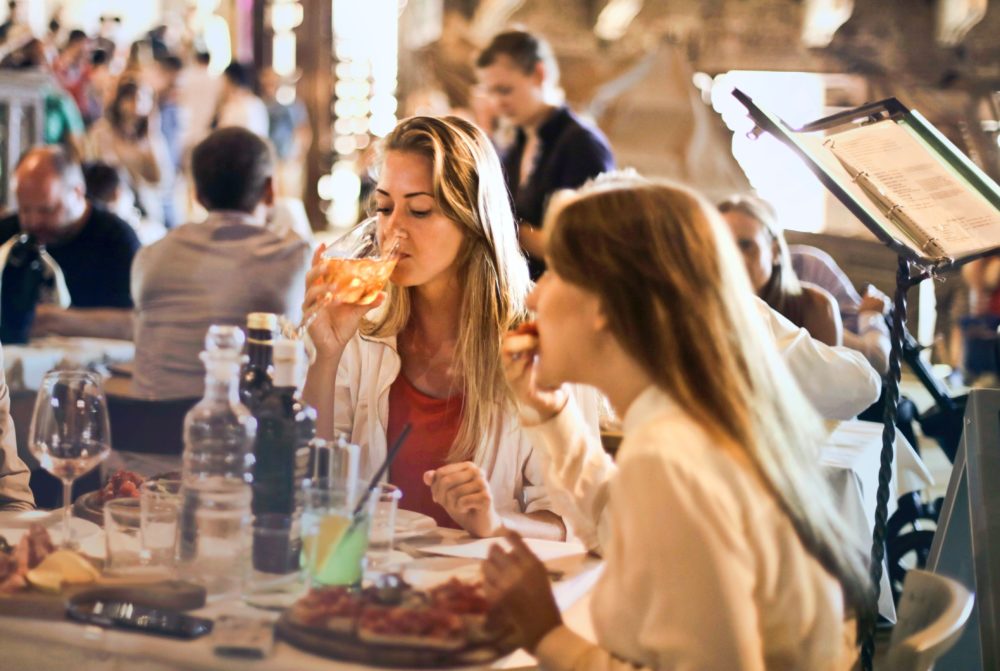 Photo by Andrea Piacquadio from Pexels
16. Dishoom
There are now four branches of Bombay Café Dishoom around London, due to their incredible success around the city. But you should still be prepared to queue.
I would recommend heading here earlier than later to get a table and make sure you order the bacon naan roll, a cult modern classic and also make sure one of your friends tries the Kejriwal – two fried eggs on chilli cheese toast. The food here isn't a traditional brunch, but it's bloody good. And leaves you feeling feel and happy!
They are an amazing business tool, and for Ramadan 2015 (as their 'zakat' or act of charity) they supported two wonderful charities – Magic Breakfast in the UK, and The Akshaya Patra Foundation in India. At Diwali the same year, they then made this partnership permanent and now for every meal they serve, thet donate a meal to a child who would otherwise go hungry. A meal for a meal. HOW AMAZING IS THAT?!
17. Hunter 468 at The Arch London
Last weekend I went for a lovely lunch at the sophisticated Hunter 486 at Belgravia's The Arch London. The restaurant is located just through the main entrance to the hotel off Cumberland Road and we dined on olives, quinoa salad, fillet steak, whilst drinking cocktails and Chardonnay wine. If you know me, you'll know this is my perfect kind of Saturday.
Hunter 486 is an award-winning food and fine wine in a laid-back luxury setting with open plan kitchen and an enticing menu to suit all tastes. Think heavenly food and drink in a casual, relaxed atmosphere, featuring leather booths, blown glass chandeliers and imaginative pieces of artwork.
To begin with, me and Theo started with a cocktail for me called Our Mojito and Theo enjoyed a £10 glass of Marlborough white wine. We then treated ourselves to some olives and you also get served fresh bread as you wait for your starters. It was such a great little touch!
For starters, I had a quinoa salad with roasted vegetables and rocket, whilst Theo indulged in Cornish crab salad. The quinoa salad was absolutely gorgeous and the dressing was insane. Next, we ordered our mains which included me getting stuck into a Fillet Steak with peppercorn sauce and sweet potato chips, whilst Theo had an incredible tasting seared duck breast with a lentil garnish and spinach side. It was one of those moments whilst we were eating when neither of us spoke for over three minutes.
18. Wing Wing
This place serves THE BEST fried chicken!! Inspired by Korea's chicken-and-beer "chimaek" joints and their NYC imitators, Wing Wing serve fried chicken with a difference. The crispy chicken is incredible, and is served with an array of sides. Oh and try their ginger beer slush!!!
19. Bourne and Hollingsworth
Bourne and Hollingsworth in Clerkenwell. B&H has earned a strong presence and reputation from establishing innovative and successful experiential event brands, such as The Chap Olympiad, The Tweed Run, Cocktails in the City and The Prohibition Party, all of which are widely considered landmark events.
With two cocktail bars in the West End and a larger multi-faceted clubhouse, bar and restaurant which we visited, B&H is recognised for conceiving and creating beautiful and original interiors with keen attention to detail and a unique and singular aesthetic.
I went here the other month with the girls, and we loved the atmosphere here; relaxed yet stylish! It's a firm favourite with the Instagram celebs too, for its stunning interior and plant-covered walls.
20. TSUJIRI
One of the best places to try Matcha in London! TSUJIRI is a dessert tea house specialising in everything matcha! They serve amazingly good matcha ice cream and matcha lattes, and I especially love Matcha Strawberry Kakigori, with matcha shaved ice, kanten (agar jelly), yoghurt, strawberry sauce and topped with matcha soft serve, kinako warabi mochi and 2 shiratama dango!
21. Island Grill at Lancaster London
One of my favourite things to do in London is eating! London has some of the best restaurants in Europe including The Lancaster London's Island Grill.
Lancaster London is a beautiful hotel, and inside the décor makes you feel like a queen. Downstairs at the side of the hotel, literally just outside the tube station is one of their restaurants, Island Grill where I met Kara and she was sat with a glass of wine writing a blog post.
For mains I was super excited, I swear every time I go out to eat I get steak, but it's because I love the taste. I chose a dish from the grill section, a 10oz Rib-Eye. It had a delicate texture and was 21 day-dry aged so had lots of flavours.
I paired with peppercorn sauce and thyme roasted carrots (I am on a diet so had to try cut on the carbs!) and Kara, on the other-hand copy-catted me and indulged in a Roast Butternut Squash Risotto with toasted pumpkin seeds and sage as they didn't have her original choice of the Cannelloni.
Then to finish we both decided to treat ourselves and have a pudding; I had an apple and blackberry crumble with Granny Smith apples & blackberry compote, golden crunchy crumble and the best thing in the world, English custard. As we sipped away at our drinks after our meal we felt truly stuffed. Full of delicious goodness, but ready for a walk around Hyde Park.
Photo by Daria Shevtsova from Pexels
22. Sakurado
Well known for their Japanese Wobbly Cheesecake, Sakurado is a cake lover's dream. They serve an incredible array of cakes all beautifully handmade with 30 mille crêpes carefully layered between velvety rich cream. They use ingredients including Matcha, Yuzu, Hojicha and Black Sesame Charcoal.
23. Bake a Boo
Located in West Hampstead, hidden away from the main streets, is the gorgeous bakery Bake a Boo. The proudly kitsch tea room and 'party parlour' serves delicate cakes, biscuits and fizz. This charming venue serves a scrumptious range of 'speciality cakes' which are made so that those with allergies such as common allergens of wheat, gluten, and dairy are able to enjoy a bite to eat. Boo's Afternoon tea, as featured in The Times, consists of finger sandwiches, scones, and many more delicious delights served all weekend.
24. Chiltern Firehouse
Five years ago Chiltern Firehouse was the celebrity haunt of many and was literally impossible to ever get a table. It seems to have become more grounded over the coming years and you can now grab a table here, as likely as any other restaurant.
The Chiltern Firehouse is located at 1 Chiltern Street, Marylebone, London, occupying the Grade II listed building of the former Marylebone Fire Station, also known as Manchester Square Fire Station. It is owned by André Balazs, a hotel chain owner, who also owns the Chateau Marmont in Los Angeles, California and The Mercer Hotel in New York City.
25. Duck & Waffle
It doesn't get more unique than this! Duck & Waffle London offers a playful take on traditional British cuisine with broad European influences emphasizing local, rustic, seasonal and sustainable ingredients. Dishes are designed for sampling and sharing and are complemented by an iconoclastic cocktail experience served in a vibrant atmosphere that welcomes guests 24/7.
I would recommend brunch here as it's a decadent start to any weekend at London's highest restaurant. The menu includes their famous duck and waffle – crispy leg confit, fried duck egg, mustard maple syrup – along with ox cheek doughnuts, shakshuka, duck egg cocotte and freshly baked pastries.
26. The Riding House Café
I've been to The Riding House Café twice and loved it both times! Located close to Oxford Circus it's the perfect place to grab some food before heading out for a day shopping.
The Riding House Café is an all-day, fun and informal neighbourhood brasserie situated amidst Fitzrovia's creative and media community, split across a variety of areas to eat, drink, meet and socialise. I've been to The Riding House Café twice and loved it both times! Located close to Oxford Circus it's the perfect place to grab some food before heading out for a day shopping.
A bustling canteen, more formal dining room and a relaxed lounge are all joined together by the large dining bar and open kitchen. The predominantly Modern European menu features a range of small and large plates to suit any time of day. Dishes are wholesome, with an emphasis on fresh, light ingredients.
Photo by Victor Freitas from Pexels
27. Gaucho
If you're after something a little more eclectic, Gaucho' Electric Brunch is the place for you. You can order as many dishes as you like from a menu of both Argentinian and brunch classics with food including steak, eggs Benedict, avo on toast and oven-baked chorizo. Drinks are also just as free-flowing, with Bloody Marys, Argentine sparkling wine and a weekly-changing 'morning' cocktail all bottomless.
Gaucho first opened in London in 1994, taking inspiration from Argentina with a vision of bringing the world's best steak to London. Our food has a contemporary global influence, based strongly around modern Argentina. Notably the best quality steak in the world, our beef comes from Argentinian, premium Black-Angus cattle bred at hand-selected farms. Its such good food here and I would highly recommend.
28. Berber & Q
If you want a brunch which doesn't serve another eggs benedict, make sure you head to Berber & Q, as they offer a middle eastern experience you'll love. Located beneath the railway arches of Haggerston, Berber & Q is a divine place to hang out with your best friends. The food and service is incredible, serving up pitta bread and avocado, alongside meats and pomegranate seeds.
Born in an old taxi repair shop in 2015, housed in the most beautiful converted railway arch in Haggerston was the birthplace of Berber & Q Grill House.
The menus take inspiration from pretty much anywhere they can find it, but with a bias towards the ingredients and flavours of the Middle East, North Africa and across the Ottoman. They favour vegetables as much as meat and fish, they like their wines natural and cocktails kick ass.
They cook over live fire because it makes food taste better and they love simple, honest cooking with loud colours and big, bold flavours.
Photo by Clem Onojeghuo from Pexels
29. 100 Wardour Street
If you are exploring London, make sure you add a visit to 100 Wardour St to your foodie bucket list. This Soho restaurant and club is located at a legendary address, offering live music and cocktails over two levels in the Restaurant, and some of the most amazing food. The diverse menu offers something for everyone, from crispy squid and Thai beef salad to vegan dishes such as harissa roasted pomegranate with pistachios and quinoa.
30. Christopher's Covent Garden
And last but not least in my London Food Guide, set in a Grade II-listed building with a rustic spiral staircase leading to the stylish dining room, Christopher's is a great place to head on a Saturday morning with the girls.
It's super relaxed at the weekends, and serves an array of American and European dishes, including Texas grill Cumberland sausage with maple-cured bacon to corn beef hash with Béarnaise sauce, to American classics like buttermilk pancakes and macaroni cheese.
And if you prefer the healthier options, it also delivers with a "superfood" brunch. Their USP is the buckwheat pancakes served with camu powder, made from the camu berry which is said to have 60 times more vitamin C than an orange.
Did you love my recommendations for the most fun restaurants in London?! Keep this London Food Guide saved for future visits to London.
---
Visiting London on a Sunday? Take a wander over to Columbia Road Flower Market London
One of my favourite things to do in London is to spend the weekend at Columbia Road Flower Market London. The market is actually named after a street located in the eats of London and has now become famous amongst both locals and tourists. The street market in Bethnal Green is a road of Victorian shops off Hackney Road in the London Borough of Tower Hamlets and is open on Sundays only.
I had a spare Sunday last month so we decided to drive into London and spend the day exploring the lesser-known areas of London, including Tower Hamlets, Hackney and Brent. Columbia Road Market is London's principal flower market devoted to selling plants, flowers, garden fittings and gardening equipment at reasonable prices and is the best flower market I've ever been to so it's a must-visit if you are visiting London.
---
My Travel Tips and Recommendations
Flights
To book flights, I always use flight search engine, Skyscanner, I regularly use the Everywhere tool to find the cheapest places to travel. It's how I get to travel so much all around the world. I find it the easiest way to compare flight prices across airlines and get the best deals.
Accommodation
For accommodation, I usually book most of my hotels or hostels through Booking.com. I love using this platform as it provides me with some amazing deals for accommodation all around the world. Or if you prefer, I also recommend using Airbnb. If you haven't signed up with Airbnb already, you can use this link to get £25 off your first visit!
Photography and Technology
Here is a list of the technology I always travel with:
Travel Insurance
Picking travel insurance that covers you in all eventualities is an essential part of planning a trip for every single person. If you can't afford travel insurance, you can't afford to travel. You never know what's around the corner. World Nomads is an affordable option that I personally recommend. BOOK HERE
Sign up to AirBnB with this link and receive a £23 off your first booking.
To receive my articles and reviews straight to your inbox SUBSCRIBE HERE.
Did you know I also vlog my trips? Make sure you subscribe to my YouTube channel so you get alerted when all my travel videos goes live… CHECK THEM OUT HERE
Thank you for reading and as always happy adventuring! If you have any questions about the destination please leave these in the comments below.
If you've enjoyed this post, please share it for me with all your friends and family!
Sophie X