As part of my amazing weekend away in Dorset, I stayed in one of the most adorable Dorset holiday cottages!
The cottage was perfect for our adventure in Dorset and provided us with a great base to explore both Dorset and beyond. We spent the weekend following the coastal roads, spending the morning at Durdle Door, the afternoon at Lulworth Cove, and then sunbathing in the sunshine in the morning at Hive Beach just down the road.
We spent the weekend driving around Dorset, up and down the coastal roads, spending the morning at Durdle Door, the afternoon at Lulworth Cove, and then sunbathing in the sunshine in the morning at Hive Beach Cafe just down the road.
The Dorset cottage was perfect for our adventure in Dorset and provided us with a great base to explore both Dorset and beyond.
For our weekend by the sea, we decided to take a relaxed approach to explore, heading out to the eastern tip of the county on Saturday, heading back west, through Durdle Door and Lulworth Cove.
And then on Sunday we explored the villages around Bridport, before heading on to the west coast, and exploring the towns around Axminster.
Dorset is a county with a long history and provides visitors with the best of both, the countryside and the ocean. You can venture to inland Dorset, with its hamlets of thatched Dorset cottages, wooden-beamed pubs and watermills and then within minutes, you can be looking out to sea, with the pebbled beaches and ice cream huts dotted along the beaches.
We only spent a weekend in Dorset, but you could easily spend a week here exploring the AONB, eating ice creams at the beach, and dining with Hugh at River Cottage. I would highly recommend booking a holiday cottage in Dorset.
Here are some of my favourite Dorset cottages to rent..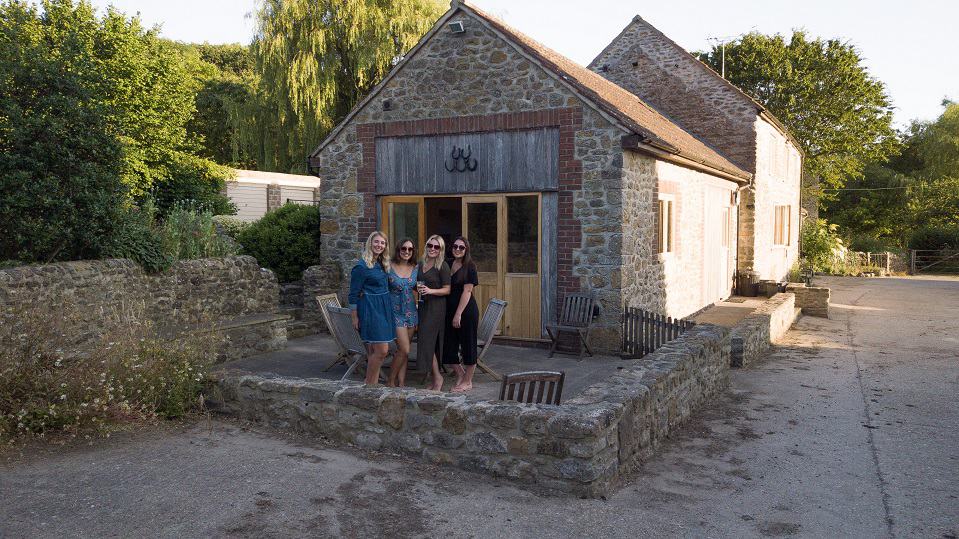 .
One of the best companies to book with when you are looking for Dorset cottages is Classic Cottages provide the most amazing holiday Dorset cottages in Dorset are perfectly placed for exploring our amazing ancient county.
As well, as beautiful views across the hills, the coastline is also pretty special, with cliffs rippling up out of layers of centuries-old sediment, bringing fossilised treasures for lucky beachcombers. For the ultimate adventure in Dorset, you'll need good walking boots and perhaps your swimming gear to have a paddle around Lulworth Cove and swim through Durdle Door.
There are many historic and beautiful towns to explore; Sherborne with its Abbey and distinctive architecture, Cerne Abbas home of the famous giant, from Lyme Regis in the west, past Charmouth, Weymouth, to Corfe Castle near Swanage and Studland, and Bournemouth in the east of the county, you'll need to keep coming back for more.
Whether you choose country or coast, choosing your base for the weekend won't be hard, with an amazing array of options through Classic Cottages. Whether you fancy a pretty village setting, a farm stays like us or somewhere along the Jurassic Coast, you'll always be close to the sea, or around the corner from an amazing view.
There are also an array of dog-friendly Dorset cottages if you want to bring your four-legged friend.
In this blog post, I have reviewed the cottage we stayed in for our weekend in Dorset but also included another four amazing Dorset cottages to rent.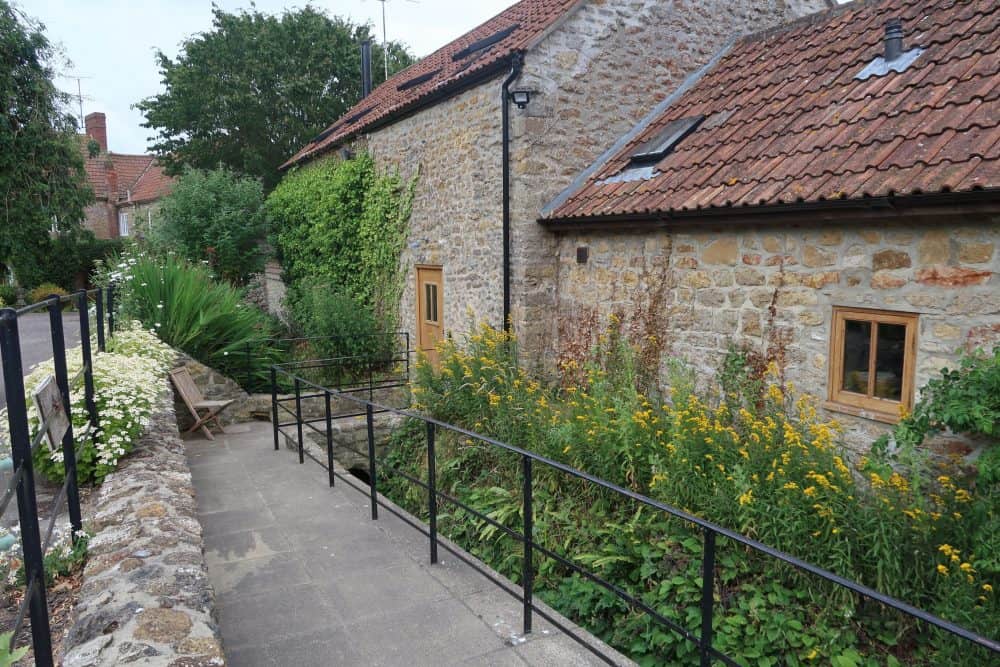 My favourite five Dorset Cottages
Dorset Holiday Cottages: Sturthill Stable
Located 3 miles east of Bridport / Sleeps 6 + cot
Our home for the weekend was the wonderful Sturthill Stable, a beautiful barn conversion at the heart of a working dairy farm is and only 15 minutes from Dorset's spectacular Jurassic Coast. The cottage is set in a rural setting which will please the whole family, with tennis courts on-site, countryside walks, village pubs and cows just outside your window.
When we arrived after a weary four-hour drive from Buckinghamshire, we were welcomed with open arms, by the lovely owner who showed us the cottage and where everything was.
The cottage was surprisingly big, with a large open plan kitchen and dining room, large lounge, games room and wash facilities downstairs, and then upstairs there were three bedrooms, one of which was a master bedroom with ensuite and king-size bed, whilst the other two rooms were set out as twin rooms, with an adjacent bathroom.
I managed to reserve the master bedroom for myself, which was lovely to get some space and relax in a large bed, with a skylight looking out up to the stars, whilst the other girls split themselves between the two other rooms. We spent most of our time at the cottage in the huge kitchen and dining room, where we had dinner both nights and played games in the evening.
Nearby is the bustling town of Bridport, which has some great cafes, and a street market on Wednesdays and Saturdays, and also a great fish and chip shop which we dined from after our long drive from London on a Friday night.
Also just around the corner is the Hive Beach Cafe at Burton Bradstock, overlooking the beach, which serves locally caught seafood, and delicious cakes. And this is also where some of the scenes for Broadchurch were filmed a few years ago.
Also, a short drive away is the seaside town of Lyme Regis, with its iconic Cobb, and Monmouth Beach, where you can hunt for fossils, enjoy the cafes and restaurants or just relax on the beach with ice cream.
We loved Sturthill Stable for our weekend adventure in Dorset and we would love to come back soon, to explore this region even more. It is a great base for exploring this beautiful part of Dorset!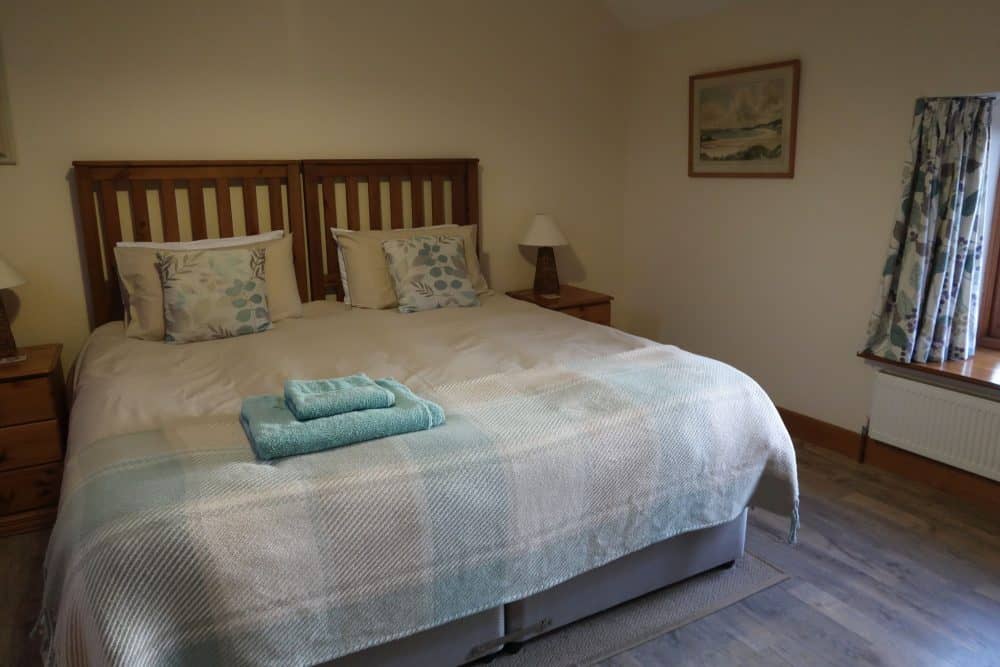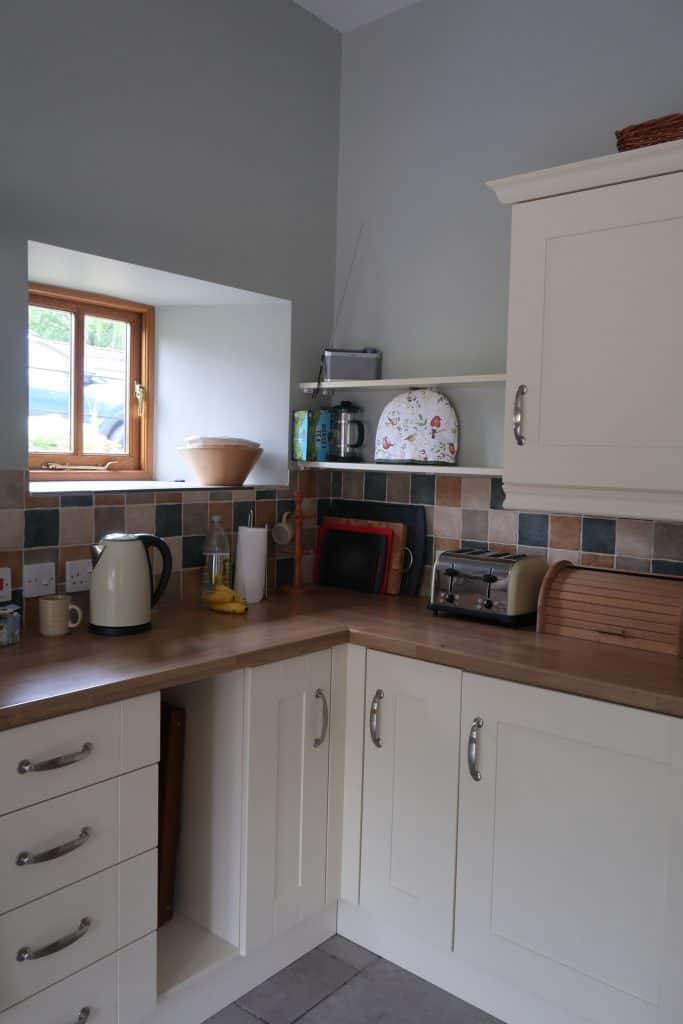 Dorset Holiday Cottages: Tolpuddle Cottage
Located in Tolpuddle / Sleeps 6 + cot
If you're looking for a stereotypically British cottage, this pretty thatched cottage is in the tranquil historic village of Tolpuddle, and also is perfectly located for an adventure along the coast, as it's only 15 miles from the World Heritage Jurassic Coast.
Tolpuddle Cottage is an ideal base for a family holiday or perfect for friends to meet up, the village is surrounded by beautiful countryside, perfect for relaxing walks and there is a great little play area for children of all ages just two minutes from the cottage.
The cottage has handy cosy underfloor heating and offers families and groups of friends a very sociable open plan ground floor, with kitchen, dining and living areas along with a ground floor cloakroom. Upstairs you will find the master bedroom with a king-size bed and ensuite shower room. The second bedroom has a super-king size bed which can be split into two singles and the third bedroom has a truckle bed.
Tolpuddle is also a great location itself, with a great local pub where guests will receive a 10% discount.
Located in the area is Monkey World and Bovington Tank Museum, Casterbridge (Dorchester), the Tutankhamun Museum, historic Athelhampton House and Gardens, Swanage Steam Train, National Trust's Corfe Castle and the Dinosaur Museum, which children will remember long after their visit.
And if you want to venture further afield along the coast, there are beaches at Studland and Weymouth only a short drive away, or you can visit the impressive Lulworth Cove and Durdle Door.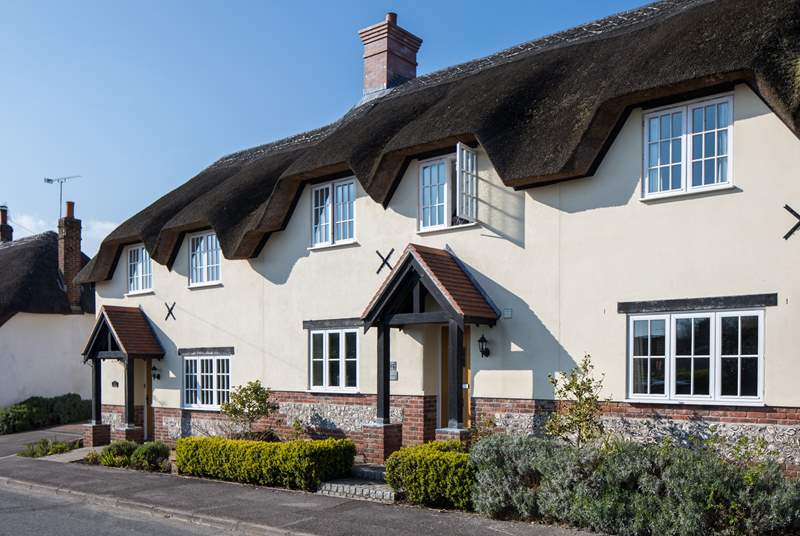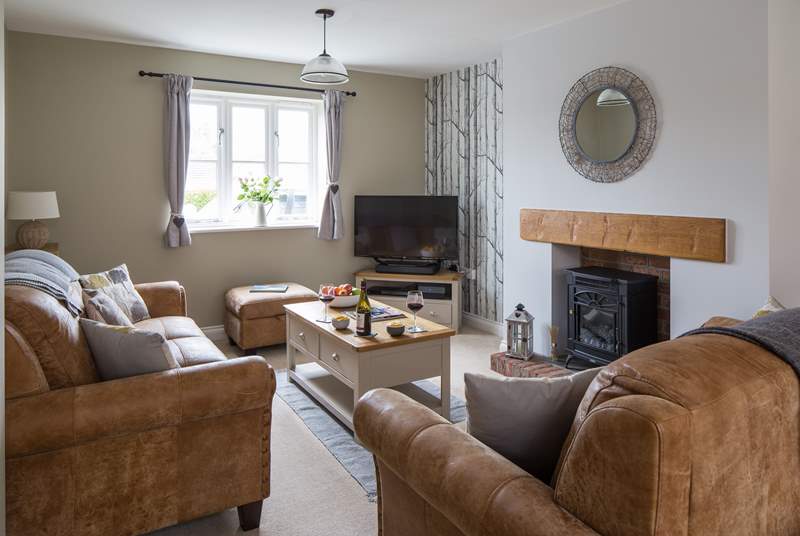 Dorset Holiday Cottages: The Stables
Located 6 miles east of Dorchester / Sleeps 2 + cot*
If you and your partner fancy a romantic weekend in Dorset, The Stables is the perfect base. This single-storey spacious cottage sleeps two people and is only around the corner from Dorset's World Heritage Jurassic Coast.
Located in rural Dorset, between within Dorchester and the Saxon town of Wareham, within the grounds of the owners' home, The Stables is self-contained with its own private garden, which is a gardener's delight – secluded, west-facing and with wonderful flowers, shrubs and trees dividing the lawned areas.
The cottage offers an entrance hall with access to the ensuite bedroom and the comfortable sitting-room with French windows out to the garden. On a separate level, down a small slope is the separate kitchen/diner where you can cook dinner in the evening together and breakfast in the mornings.
This cottage is within easy reach of Lulworth Cove and the beaches of Studland and Weymouth, and offers break-taking scenery along the coast, with a choice of sandy beaches, rocky coves, clifftop walks and woodland strolls.
The Purbeck peninsula takes in: Studland, where there are miles of sandy beaches and shallow waters, with a backdrop of pine woods and heathland surrounding the eastern fringes of Poole Harbour; Swanage, a traditional seaside town; and then the dramatic rock formations of Lulworth Cove and Durdle Door as you head to the west.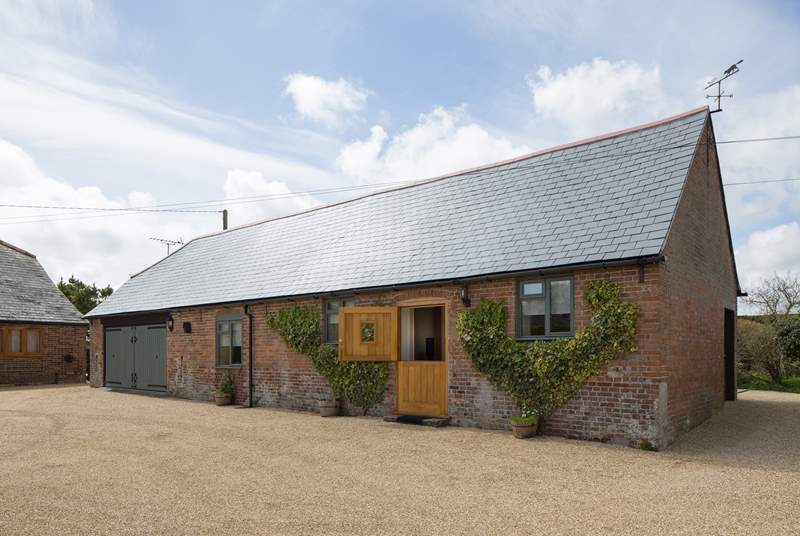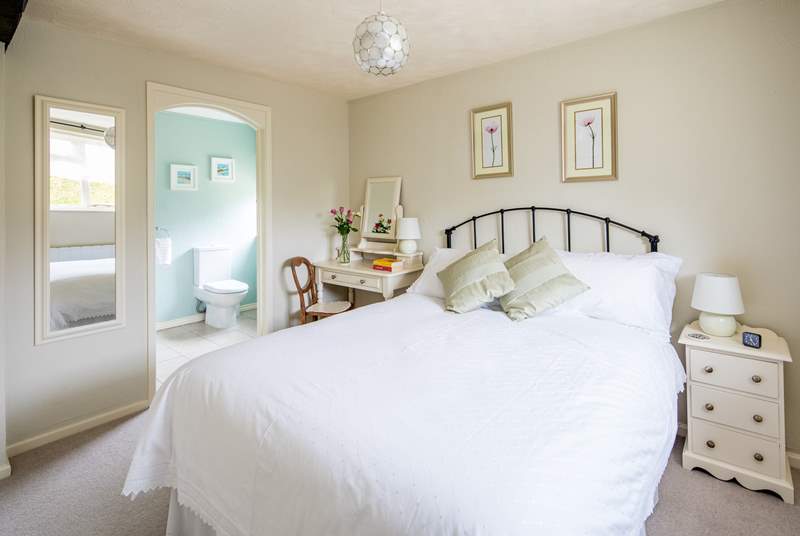 Dorset Holiday Cottages: The Chalet on the Beach
Lyme Regis / Sleeps 2 (no children under 16)
If you're looking for a holiday right on the beach, this is the cottage for you. At Chalet on the Beach, you can relax on your veranda with a glass of something refreshing, as you watch the gentle waves of Monmouth Beach.
It's a great location for an exploration of the world-famous Heritage Site, the Jurassic Coast, where you can find dozens of large ammonites on the exposed boulders and bedrock at low tide; some of the rocks date back to 199 million years ago.
The open plan living area has a compact fitted kitchen with an under-counter fridge, complete with ice-box for that perfect gin and tonic. The wet-room has a shower, with WC and washbasin and for that added luxury it has under-floor heating.
The stairs lead up to the mezzanine level sleeping area, with a super comfy mattress and views looking up to the stars!
Monmouth Beach is much quieter than the main town beach, a mixture of sand and rock, and is a fantastic location all year round. From your deck you can look across Lyme Bay to Golden Cap, the highest point along the south coast, an energetic but very worthwhile walk, The Anchor Inn at Seatown your reward at the end; further out in the bay you may be lucky enough to see a pod of dolphins.
If you can tear yourself away from the coast, River Cottage HQ is a 5-minute drive, treat yourself to a special holiday meal or even a one-day cookery course and the River Cottage Canteen and Deli, in nearby Axminster, is just 15 minutes away.
Dorset Holiday Cottages: Ivy Cottage
Located 8 miles from Dorchester / Sleeps 4 + cot*
The teal green door sold this place immediately after I saw it.
It is quintessentially British, located in a tranquil Dorset village. Ivy Cottage is just the sort of place you may picture in your mind when someone says British village cottage, set in the midst of an Area of Outstanding Natural Beauty, in the pretty village of Cattistock.
This traditional ham stone and flint, Grade II Listed terraced cottage has been renovated to provide a delightful country retreat, full of character, with modern kitchen and bathroom facilities. This cottage to rent in Dorset has all the space you need, with a sitting room with wood burner, south-facing patio, enclosed garden, double bedroom with king-sized bed and a twin bedroom.
Ivy Cottage is also a great base to explore this wonderful part of the UK, with Lyme Regis being well worth a visit, The Isle of Purbeck only an hour's drive, and Durdle Door, Lulworth Cove, Old Harry's Rocks, and the South West Coast Path connecting them all.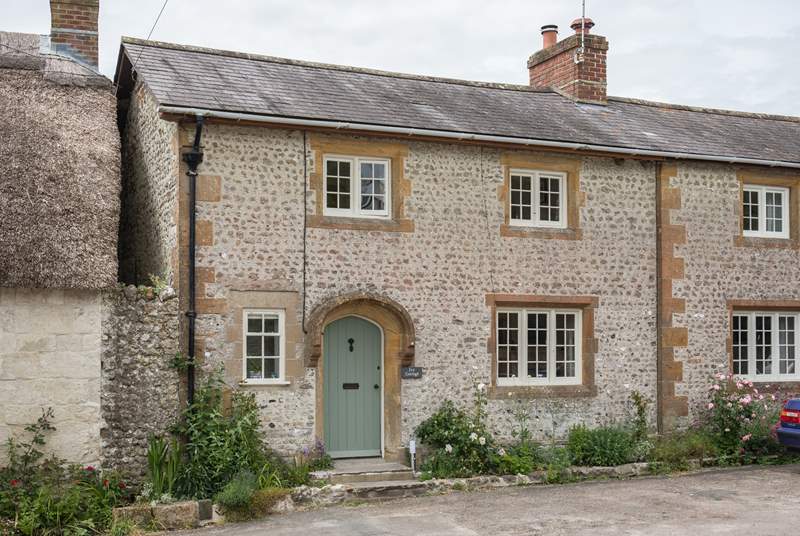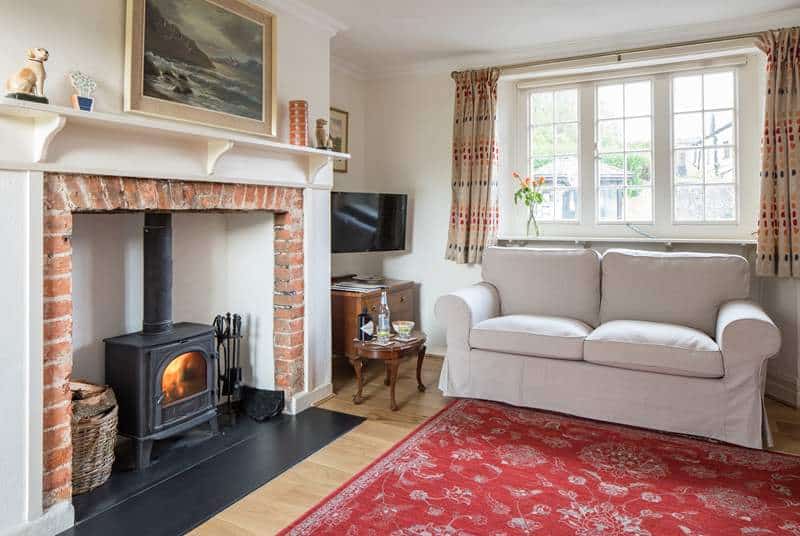 Dorset Holiday Cottages: Phoebes House
3.5 miles NW of Beaminster / Sleeps 4 (no children under 8)
A stunning west Dorset location, amazing rural views and a truly luxurious property, Phoebes House and neighbouring property Lottie's Loft (2565) both hidden gems just a short drive inland from the famous Jurassic Coast.
Phoebes House is a detached single-storey cottage and enjoys a private setting on the edge of the farmstead at West Farm. It has its own parking area and a secluded enclosed garden.
Every detail has been thought of, from complimentary logs for the wood-burner throughout your stay, to chocolates on your bed!
West Farm is at the end of a mile-long unmade farm track, setting the scene for your 'away from it all' holiday and yet an easy drive from the lovely local towns of Beaminster and Bridport. Although it is no longer an agricultural-based farm it is still a working farm where the owners run a thriving kiln-dried log business.
The ethos is to run this as eco-friendly as possible using locally-sourced timber and drying in professional kilns with all the waste wood being recycled. It is worth noting you may smell wood smoke on occasions in the air. Great care is taken to ensure that the operation of the business has minimum impact on guests, and on the plus side, you are never short of free supply of kiln logs for your wood-burning stove!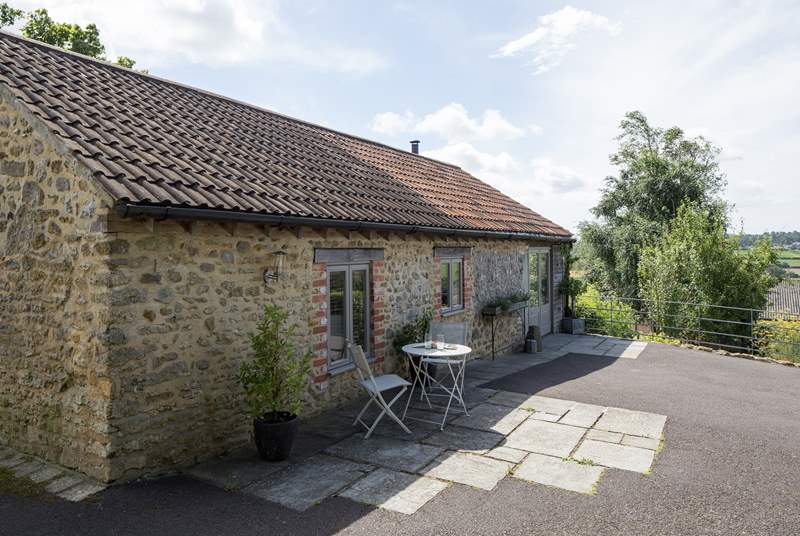 Dorset Holiday Cottages: Owl's Nest Cottage
6.2 miles E of Sherborne / Sleeps 2 (no children under 2)
This cosy, compact, delightful bolthole for two is set in a wonderfully tranquil hamlet in north Dorset with village shops and a choice of two pubs within two miles.
Built in local stone, Owl's Nest Cottage was once the home of a breeding pair of Barn Owls. The cottage is all on one level; the well-equipped kitchen has a sitting-area with a wood-burner for snug evenings in, and the dining-area in the conservatory allows for meals with a view. There is a comfy 5′ bed, and the en suite has a fully tiled shower cubicle with drench head shower.
The unobtrusive owners live on site and are happy to help in any way.
Owl's Nest Cottage is on the edge of the Blackmore Vale and provides all you need for a very comfortable stay. The conservatory/dining-room is the perfect place to enjoy a cup of coffee whilst planning your adventure for the day. The outside space has parking and a patio with furniture, and there is a store with a freezer for guests' use; miles of paths and tracks are accessible from your doorstep.
Dorset Holiday Cottages: The Linhay
2.3 miles W of Bridport / Sleeps 2 + cot
The Linhay is a tucked away single-storey retreat – and an ideal base for exploring the wonderful coastline. The cottage nestles alongside the barns, with a fully enclosed gravel courtyard, but just steps away is the start of the track leading down to the coast and some stunning views.
The cottage is completely independent yet has the possibility of an internal link to The Parlour (2662) when the two cottages can be booked together for an extended family holiday; the link door consists of two doors with sound insulation between.
This working farm on the edge of the historic village of Chideock stretches gently downhill to the Jurassic Coast where one of Dorset's most famous landmarks – Golden Cap – rises above the sea. This is a great section of the South West Coast Path – a challenge to get to the top but rewarded with the stunning views.
Dorset Holiday Cottages: Beehive Cottage
4.7 miles NE of Dorchester / Sleeps 4 (no children from 1 to 4)
Beehive Cottage is a charming and cosy cottage on a quiet lane opposite St Mary's church in the village of Puddletown. Surrounded by farmland, the pretty village is nestled in the heart of Thomas Hardy country and well placed to explore the rest of Dorset. The county town of Dorchester is just six miles away and the spectacular World Heritage Jurassic Coast is within a 30-minute drive.
This gorgeous thatched cottage dates back over 200 years and used to be home to the district nurse. As soon as you step through the door you will be met with a wealth of original features including traditional cottage stairs, low lintels/beams and quirky sloping floors; all enhancing the cottage's charm and appeal.
The fabulous ornamental inglenook fireplace in the sitting-room is such a special feature. Tucked away behind a wooden door, the stairs lead to the master bedroom, with a king-size double bed, and the second bedroom, with a 'zip and link' which can be turned into a king-size double bed or twin beds.
The sheltered courtyard garden is a tranquil sun-trap, fully enclosed to keep children and dogs safe.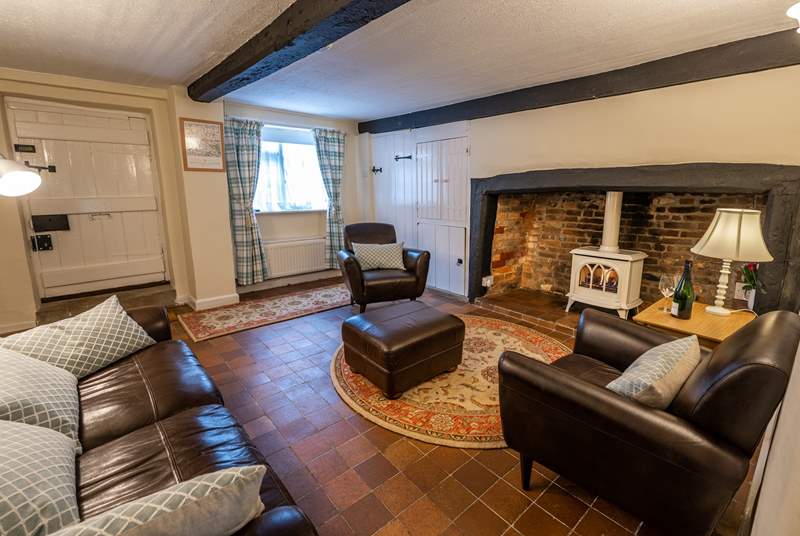 Dorset Holiday Cottages: Badgers Cottage
3.8 miles E of Bridport / Sleeps 2 + cot
Badgers Cottage, a snug semi-detached cottage for two, is set in a farmyard, beautifully converted from an 18th Century stone barn. All on one level, the open plan design gives a welcoming feel. The very stylish deVOL kitchen is a cook's delight, with ceramic hob and double oven, perfect for creating delicious meals and the wood-burner ensures you can be toasty warm. The super-comfy six-foot bed can be made up as a double or two singles.
West Hembury Farm is situated in an Area of Outstanding Natural Beauty; a walker's paradise. Just four miles from the bustling market town of Bridport, and a short drive to the World Heritage Jurassic Coast and West Bay, where some of Broadchurch was filmed.
From the farm you can gaze across the valley towards Eggardon Hill, a National Trust owned Iron Age hill fort; with magnificent views towards Golden Cap and diverse wildlife, it is well worth a visit.
This working farm has Gotland sheep and lambs in springtime; resident chickens roam the farmyard and the owners' Shetland ponies, horses and spaniels give the yard an appeal that children will remember a long time after their holiday.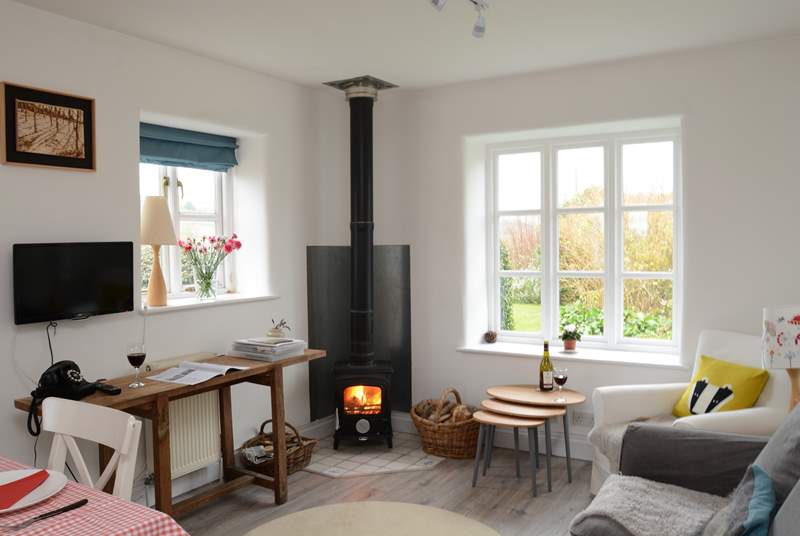 *This was a sponsored press trip in collaboration with Classic Cottages.
---
Other posts that may help you:
Ultimate Guide to a Weekend Break in York
The Best Weekend Trips in the UK
Ultimate Guide to Columbia Road Flower Market London
Log cabins with hot tubs in the UK
Thank you for reading and as always happy adventuring!
If you've enjoyed this post, please share it for me with all your friends and family!
Sophie X