I love a quote about the wilderness. Its where I feel most at peace. Whether I am camping, hiking or exploring. Some of these are my favourite wilderness quotes you need to read.
For me, and for many others, they provide a source of inspiration every single day, motivating me to explore more of the world, go deeper into communities and fall in love with cultures.
Whether you are planning a trip or looking for some inspiration I have pulled together my favourite wilderness quotes to inspire you to get outdoors!
There are so many amazing quotes about the wild to inspire travel, these are some of my favourites…
There are 21+ of the best wilderness quotes listed here, but if I have missed any please do send them my way and I will add them to this list. The quotes range on topics such as adventure, journeys, self-discovery and more.
Looking for more quotes? Check out my the BEST Travel Quotes
1. "An early-morning walk is a blessing for the whole day." – Henry David Thoreau
2. "All good things are wild and free"
3. "A woman is at heart, a wild creature"
4. "Go where you feel most alive." – Unknown
An unknown credit but one of the best wilderness quotes out there.
5. "She was a wild one, but some of us need the storm to stay safe" – Atticus
6. "Let go, run wild with me"
7. "The wilderness is not a luxury, but a necessity of the human spirit"
8. "Into the wild I go…"
Simple but effective. One of the best wilderness quotes.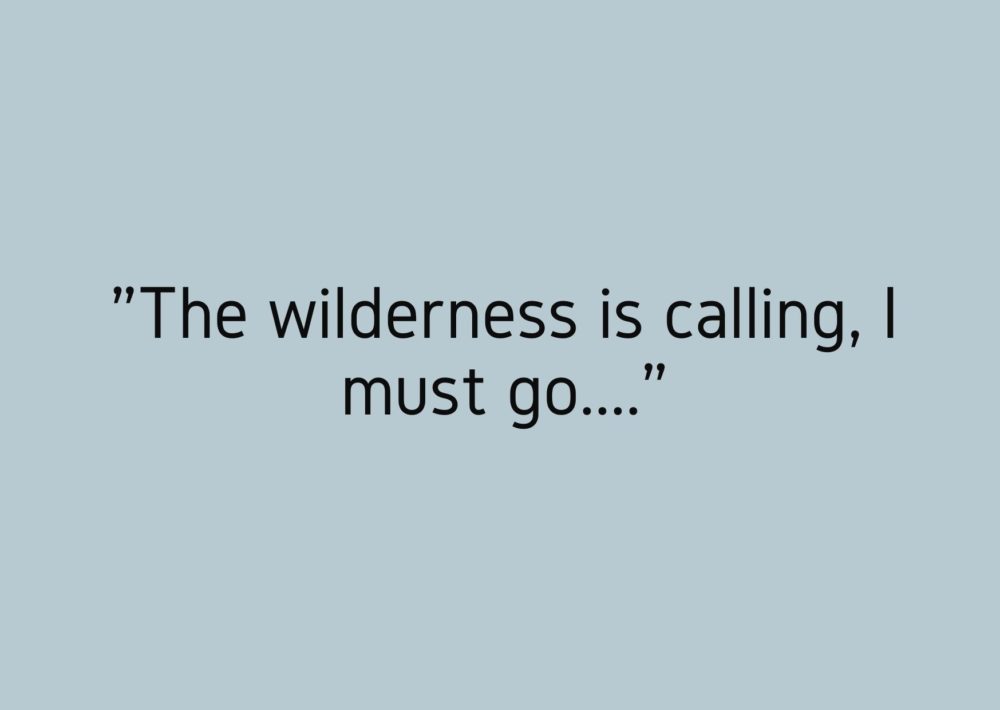 9. "The wilderness is calling, I must go…."
10. "You can never conquer the mountain. You can only conquer yourself." – Jim Whittaker
11. "I enjoy the wild things, call me at 3 am and tell me you're waiting at my door." – Nikki Rowe
12. "I have climbed my mountain, but I must still live my life." – Tenzing Norgay
13. "As for me, I am tormented with an everlasting itch for things remote" – Herman Melville
14. "The wild is inside all of us"
15. "The clearest way into the Universe is through a forest wilderness." – John Muir
One of my favorite wild quotes…
16. "Don't surrender all your joy for an idea you used to have about yourself that isn't true anymore." – Cheryl Strayed
17. "Why this cult of wilderness?… because we like the taste of freedom; because we like the smell of danger." – Edward Abbey
18. "The mountains are calling and I must go." – John Muir
A favourite John Muir wilderness quote!
19. "The wild winds called to her soul and through the ground she felt the thundering hooves of freedom." – Shikoba
20. "I feel the wind in my hair, lift my gaze to the sky, raise my arms and invite the thunder. I remember how great it feels to be exposed and wildly alive." – Adrienne Enns
21. "How wild it was, to let it be." – Cheryl Strayed
---
My Travel Tips and Recommendations
Flights
To book flights, I always use flight search engine Skyscanner, I regularly use the Everywhere tool to find the cheapest places to travel. It's how I get to travel so much all around the world. I find it the easiest way to compare flight prices across airlines and get the best deals.
Accommodation
For accommodation, I usually book most of my hotels or hostels through Booking.com. I love using this platform as it provides me with some amazing deals for accommodation all around the world. Or if you prefer, I also recommend using Airbnb. If you haven't signed up with Airbnb already, you can use this link to get £25 off your first visit!
Travel Insurance
Picking travel insurance that covers you in all eventualities is an essential part of planning a trip for every single person. If you can't afford travel insurance, you can't afford to travel. You never know what's around the corner.
Did you know I also vlog my trips? Make sure you subscribe to my YouTube channel so you get alerted when all my travel videos go live… CHECK THEM OUT HERE
Thank you for reading and as always happy adventuring! If you have any questions about the destination please leave these in the comments below.
If you've enjoyed this post, please share it for me with all your friends and family!
Sophie X