If you love to travel as much as me, you'll also love a great travel quote. After all who doesn't love travel quotes?!
For me, and for many others, they provide a source of inspiration every single day, motivating me to explore more of the world, go deeper into communities and fall in love with cultures.
Whether you are planning a trip or looking for some inspiration I have pulled together my favourite quotes on travel and some of the most famous travel quotes, by people such as Anthony Bourdain and Paul Coelho.
Considering the situation in the world right now, I think we could all use some of the most inspirational quotes on travel for 2021. There are so many amazing quotes about travel and quotes to inspire travel, these are some of my favourites.
There are 50 of the best travel quotes listed here, but if I have missed any please do send them my way and I will add them to this list. The quotes range on topics such as adventure, journeys, self-discovery and more.
I hope you love this list of the best travel quotes…

50+ Quotes on Travel
1. "Not all those who wander are lost." – J.R.R. Tolkien
A favourite of the best short traveling quotes.
2. "To travel is to live" – Hans Christian Andersen
3. "A journey is best measured in friends rather than miles." – Tim Cahill
4. "If you think adventures are dangerous, try routine: It's Lethal." – Paul Coelho
5. "It seems that the more places I see and experience, the bigger I realize the world to be. The more I become aware of, the more I realize how relatively little I know of it, how many places I have still to go, how much more there is to learn." – Anthony Bourdain
Which of these quotes on travel is your favourite?
6. "Travel is the only thing you buy that makes you richer"
Another of my favourite short travel quotes.
7. "Twenty years from now you will be more disappointed by the things that you didn't do than by the ones you did do. So throw off the bowlines. Sail away from the safe harbor. Catch the trade winds in your sails. Explore. Dream. Discover." – Sarah Frances Brown
8. "Live life with no excuses, travel with no regret" – Oscar Wilde
9. "Remember that happiness is a way of travel – not a destination." – Roy M. Goodman
10. "The real voyage of discovery consists not in seeking new landscapes, but in having new eyes" – Marcel Proust
50+ Quotes on Travel
11. "Travel changes you. As you move through this life and this world you change things slightly, you leave marks behind, however small. And in return, life — and travel — leaves marks on you." – Anthony Bourdain
Another favourite of my quotes about wanderlust.
12. "To awaken quite alone in a strange town is one of the pleasantest sensations in the world" – Freya Stark
13. "Because in the end, you won't remember the time you spent working in the office or mowing your lawn. Climb that goddamn mountain." – Jack Kerouac
14. "Life was made for good friends and great adventures." – Unknown
Which of these quotes on travel is your favourite?
15. "The journey is part of the experience — an expression of the seriousness of one's intent. One doesn't take the A train to Mecca." – Anthony Bourdain
16. "Take only memories, leave only footprints." – Chief Seattle
One of the best adventure travel quotes…
17. "I haven't been everywhere, but it's on my list." – Susan Sontag
18. "Once a year, go someplace you've never been before." – Dalai Lama
19. "The most beautiful in the world is, of course, the world itself." – Wallace Stevens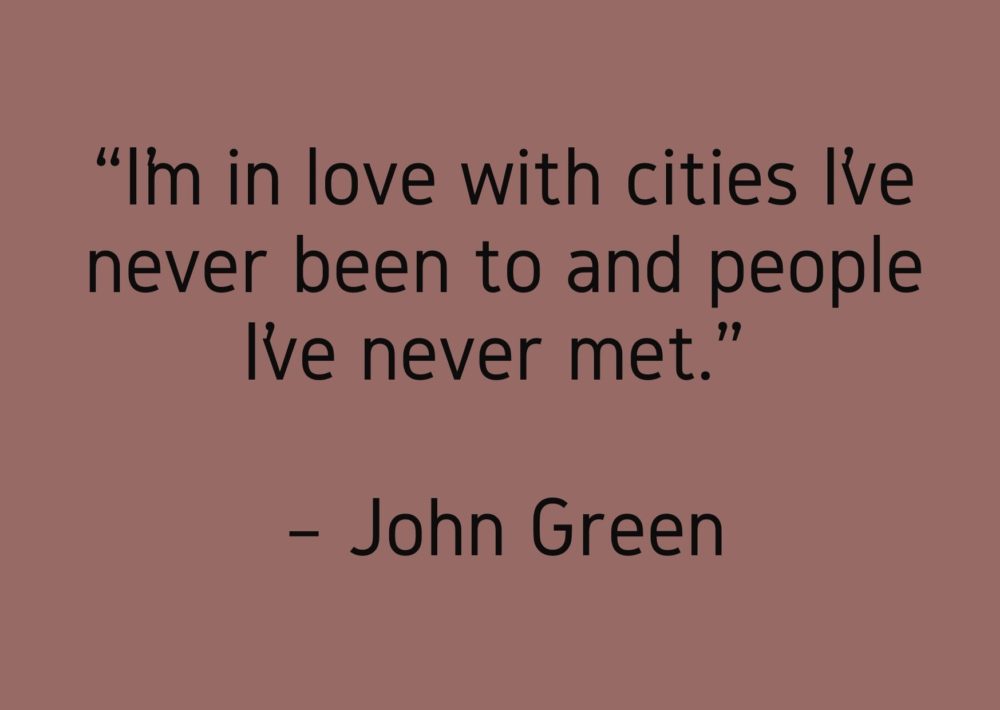 20. "I'm in love with cities I've never been to and people I've never met." – John Green
But which of these famous travel quotes is the best??
21. "People don't take trips, trips take people." – John Steinbeck
22. "Perhaps travel cannot prevent bigotry, but by demonstrating that all peoples cry, laugh, eat, worry, and die, it can introduce the idea that if we try and understand each other, we may even become friends" – Maya Angelou
23. "With age, comes wisdom. With travel, comes understanding." – Sandra Lake
24. "The world makes way for the man who knows where he is going." – Ralph Waldo Emerson
I used to have these travelling quotes on a necklace when I was backpacking in 2017.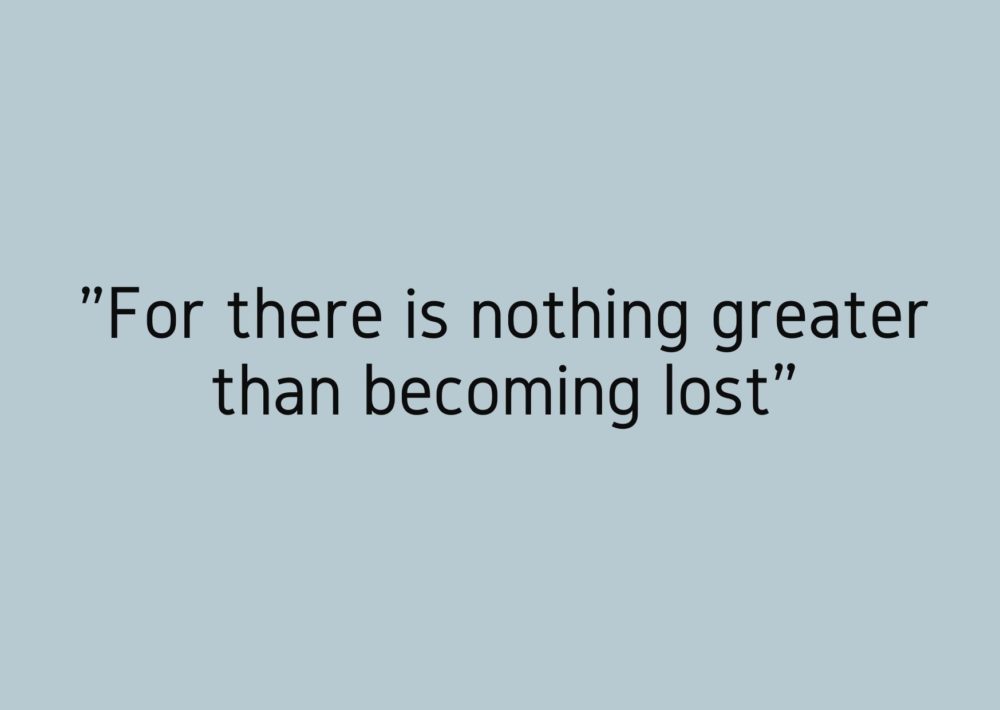 50+ Quotes on Travel
25. "For there is nothing greater than becoming lost"
26. "Wherever you go, go with all your heart" – Confucius
27. "Oh the places you'll go." – Dr. Seuss
Another favourite inspirational quote for travel.
28. "Man cannot discover new oceans unless he has the courage to lose sight of the shore." – Andre Gide
29. "To travel is to discover that everyone is wrong about other countries" – Aldous Huxley
30. "If you're twenty-two, physically fit, hungry to learn and be better, I urge you to travel – as far and as widely as possible. Sleep on floors if you have to. Find out how other people live and eat and cook. Learn from them — wherever you go." – Anthony Bourdain
31. "We travel for romance, we travel for architecture, and we travel to be lost." – Ray Bradbury
32. "Life is either a daring adventure or nothing at all." – Helen Keller
33. "Adventure is worthwhile." – Aesop
Which of these quotes on travel is your favourite?
34. "I met a lot of people in Europe. I even encountered myself." – James Baldwin
35. "Where we travel, is where our soul stays"
36. "Once the travel bug bites there is no known antidote, and I know that I shall be happily infected until the end of my life" – Michael Palin
37. "I once found myself whilst travelling, I left a part of my heart there"
I adore these wanderlust quotes.
38. "Paris is always a good idea" – Audrey Hepburn
39. "If I'm an advocate for anything, it's to move. As far as you can, as much as you can. Across the ocean, or simply across the river. The extent to which you can walk in someone else's shoes or at least eat their food, it's a plus for everybody. Open your mind, get up off the couch, move." – Anthony Bourdain
40. "Two roads diverged in a wood and I – I took the one less traveled by, and that has made all the difference" – Robert Frost
41. "Wherever you go becomes a part of you somehow." – Anita Desai
This is the best quote about travel.
50+ Quotes on Travel
42. "Wanderlust: n. a strong desire for or impulse to wander or travel and explore the world"
43. "See the line where the sky meets the sea, it calls me. And no one knows, how far I'll go" – Moana
But which of these famous travel quotes is the best??
44. "Never go too long without watching a sunset" – Atticus
45. "Collect moments, not things."
46. "The gladdest moment in human life is a departure into unknown lands." – Sir Richard Burton
46. "Travel is about the gorgeous feeling of teetering in the unknown." – Anthony Bourdain
I adore these wanderlust quotes.
47. "Go where you feel most alive"
48. "Traveling's not something you're good at. It's something you do. Like Breathing." – Gayle Foreman
49. "Travel isn't always pretty. It isn't always comfortable. Sometimes it hurts, it even breaks your heart. But that's okay. The journey changes you; it should change you. It leaves marks on your memory, on your consciousness, on your heart, and on your body. You take something with you. Hopefully, you leave something good behind." – Anthony Bourdain
50. "We travel not to escape life, but for life not to escape us."
---
My Travel Tips and Recommendations
Flights
To book flights, I always use flight search engine Skyscanner, I regularly use the Everywhere tool to find the cheapest places to travel. It's how I get to travel so much all around the world. I find it the easiest way to compare flight prices across airlines and get the best deals.
Accommodation
For accommodation, I usually book most of my hotels or hostels through Booking.com. I love using this platform as it provides me with some amazing deals for accommodation all around the world. Or if you prefer, I also recommend using Airbnb. If you haven't signed up with Airbnb already, you can use this link to get £25 off your first visit!
Travel Insurance
Picking travel insurance that covers you in all eventualities is an essential part of planning a trip for every single person. If you can't afford travel insurance, you can't afford to travel. You never know what's around the corner.
Did you know I also vlog my trips? Make sure you subscribe to my YouTube channel so you get alerted when all my travel videos go live… CHECK THEM OUT HERE
Thank you for reading and as always happy adventuring! If you have any questions about the destination please leave these in the comments below.
If you've enjoyed this post, please share it for me with all your friends and family!
Sophie X