When most people think about a luxury vacation, images of white sandy beaches will often be the first thing which pops into their mind.
And when I book a tropical holiday, I am always looking for the best beach holiday destinations, where I can sit back on my sun lounger and relax with a Mai Tai.
This setting is synonymous with relaxation, offering the chance to let your normal worries drift away, and enabling you to enjoy some time with those you care about. Of course, though, when it comes to picking your location, it can be surprisingly hard to figure out where the best beaches are found.
To help you out with this, this post will be exploring some of the world's most popular coastal areas, giving you the chance to choose the right one for your next adventure.
Best Beach Holiday Destinations
Hawaii
This place is high up on my bucket list, and its a potential for our honeymoon next year! If you're interested in beaches, you've probably spent some time inspecting the offerings which Hawaii brings to the table.
This small island is part of the US, despite being far from its coast, and this makes it nice and accessible for those who speak English or Spanish. With dozens of stunning beaches on offer, it is hard to choose the best example. Honokalani Beach is often considered to be the crowd favourite, offering white sand and a rainforest backdrop worthy of any Instagram profile.
Check out this blog post for the best ethical swimwear brands to wear ready for your Hawaii trip.
Australia
Australia has long been one of the most popular places for those on vacation to visit, offering the chance to enjoy a wide range of different landscapes. For this post, though, it's time to move away from the mainland, moving to a small island called Fraser.
Home to the largest Dingo population in the world, along with loads of glorious beaches, it's easy to fall in love on your first Fraser Island Tour. Of course, though, it's still worth going to the main island. Bondi is one of the favourites, not because of its beauty, but because it's iconic.
No Aussie beach visit is complete without having it on the must-visit list. Less about the actual quality of the beach itself and more about the surroundings, atmosphere, history and people watching.
Another favourite of mine is 75 Mile Beach, Fraser Island. It's only fitting that the largest sand island in the world should also play host to one of Australia's best beaches. 75 Mile Beach does a great job of carrying the card while serving as the unofficial face of Queensland's Fraser Island. 75-mile beach is of course 75 miles long, and is stunning! Read about my East Coast of Australia road trip itinerary for more information.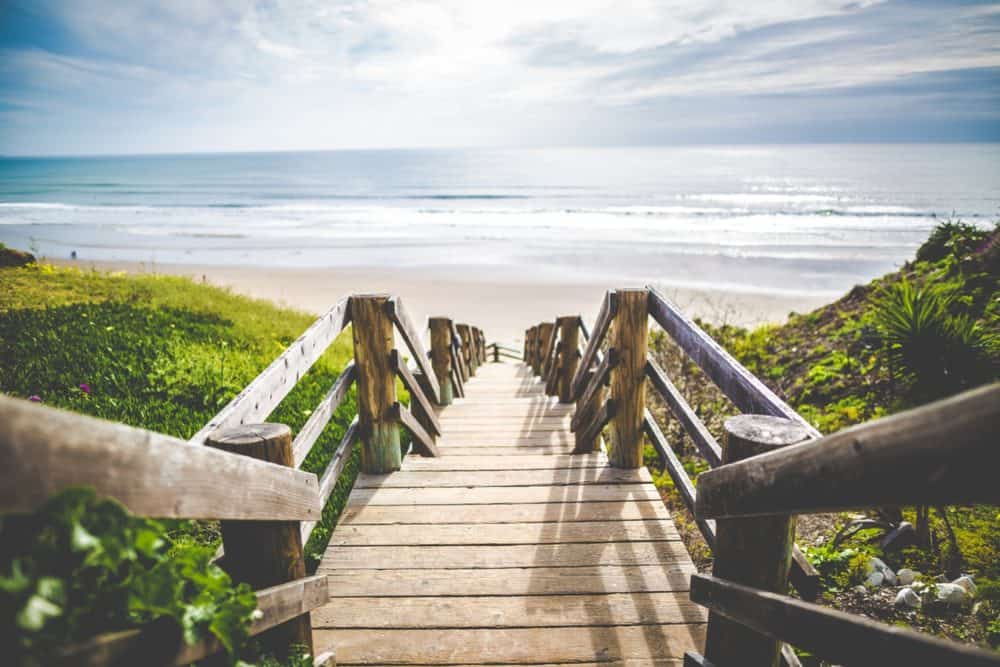 Best Beach Holiday Destinations
Caribbean
Once one of the most important shipping areas in the world, the Caribbean has been home to a lot of different settlers over the course of history. This has created a very diverse area which is great for those on vacation.
Reduit beach, on the island of St Lucia, is arguably the most popular beach on offer amongst this set of landmasses. You can even see some of the other local islands from this beach, creating a scene akin to a tropical paradise.
I visited Saint Lucia last summer and loved this magical island. What we found was a lot more exciting than we imagined with activities galore spread across this tiny 24-mile long island in the West Antilles.
There was so much to do, from snorkelling to zip-lining and spa treatments to chocolate making – seven days on this wonderful island was not enough.
We stayed at the luxurious St James' Club, Morgan Bay, took many road trips up and down the country, jumped on a catamaran boat for the day, visited the Toraille Waterfall and Sulphur Springs. It really is one of the best beach holiday destinations! Have a read of my guide to Saint Lucia!
French Polynesia
Finally, as the last area on this list, it's time to think about French Polynesia. Located East of Australia, this area enjoys many of the benefits of the other Islands found in the Pacific. The weather will be warm, the ocean will be blue, and you will have the chance to see loads of interesting animals during your trip.
Of course, though, a big part of this will involve hunting them down. Tahiti and French Polynesia just might be the closest version of paradise on our little planet.
With 118 islands spread across a distance the size of Western Europe, island hopping in French Polynesia can pose serious dilemmas – which island should you visit?
Best Beach Holiday Destinations
New Zealand
New Zealand isn't the typical place you'd expect to find the best beach holiday destinations but there are some amazing ones across both the south island and north island. My favourite beach in New Zealand has to be Cathedral Cove on The Coromandel.
It is a must-do when in New Zealand, and you can get to Cathedral Cove by boat, kayak or walking. The best time to go is early morning or evening time, and you can also take a photo under the stunning, naturally-formed archway before finding a shaded spot for a picnic on the golden sand.
If you have time, stop off at another favourite, Hot Water Beach, just 10 minutes drive away!
Malta
There may not be many of them, but the beaches in Malta are incredible. They are beautiful, with white sand and clear waters, are mostly relaxed and offer everything you could need from a day at the beach.
The island was perfect for me, with an amazing mix of relaxation, alongside culture and history. If you want to combine the two, Malta is the place to visit. You just have to know where to find the little beaches, as they are hidden and fairly small.
I popped together a list of my favourite beaches in Malta after my visit last summer, my favourite being the Blue Lagoon at the north of the island (actually not on Malta island, but part of the isles).
I couldn't pull together a list of the best beach holiday destinations without including this gem. The Blue Lagoon is on the island of Comino and with it's clear waters, white sands and great hikes close by, I had to include it in the list.
Take a boat from the north of Malta over to the Blue Lagoon early morning to miss the crowds for a great day in paradise. I have pulled together a full blog post on visiting the Blue Lagoon here.
With all of these beaches in mind, you should be feeling ready to take on the challenge of seeing all of the best coasts the world has to offer. A lot of people set out with this goal, only to settle once they find a beach which they like the look of. If you want to have the best experience, though, you have to be willing to do some research, even with this post starting it off for you.
---
My Travel Tips and Recommendations
Flights
To book flights, I always use flight search engine, Skyscanner, I regularly use the Everywhere tool to find the cheapest places to travel. It's how I get to travel so much all around the world. I find it the easiest way to compare flight prices across airlines and get the best deals.
Accommodation
For accommodation, I usually book most of my hotels or hostels through Booking.com. I love using this platform as it provides me with some amazing deals for accommodation all around the world. Or if you prefer, I also recommend using Airbnb. If you haven't signed up with Airbnb already, you can use this link to get £25 off your first visit!
Photography and Technology
Here is a list of the technology I always travel with:
Travel Insurance
Picking travel insurance that covers you in all eventualities is an essential part of planning a trip for every single person. If you can't afford travel insurance, you can't afford to travel. You never know what's around the corner. World Nomads is an affordable option that I personally recommend. BOOK HERE
Sign up to AirBnB with this link and receive a £23 off your first booking.
To receive my articles and reviews straight to your inbox SUBSCRIBE HERE.
Did you know I also vlog my trips? Make sure you subscribe to my YouTube channel so you get alerted when all my travel videos goes live… CHECK THEM OUT HERE
Thank you for reading and as always happy adventuring! If you have any questions about the destination please leave these in the comments below.
If you've enjoyed this post, please share it for me with all your friends and family!
Sophie X