In September I boarded the iconic Crown Princess in Barcelona with seven other bloggers for the trip of a lifetime. We headed off on an incredible week-long adventure around the Mediterranean, stopping at five cities, in four countries in only one week. I have written another article about 12 Reasons to do a Cruise in your 20's so make sure you read that too….
During our Mediterranean cruise we stopped in some incredible places, some I had wanted to visit for years, and some lesser known destinations like Gibraltar. During our cruise we explored Barcelona, Gibraltar, Marseille (Provence), Genoa (Cinque Terre) and Pisa. However if Europe isn't your bag they also offer cruises to other amazing destinations around the world including the Caribbean, Alaska, the Norwegian Fjords and many more. 
Here is my guide to visiting Europe's best cities on a Mediterranean Cruise.
AN OVERVIEW OF MY

MEDITERRANEAN

 CRUISE ITINERARY
Day 1 – Embark in Barcelona, Spain
Day 2 – At sea
Day 3 – Gibraltar, Spain
Day 4 – At sea
Day 5 – Marseille, France
Day 6 – Genoa, Italy
Day 7 – Pisa, Italy
MY MEDITERRANEAN CRUISE ITINERARY
DAY 1 – EMBARK IN BARCELONA
On our first day of the trip I made the journey from London Luton to Barcelona Airport, where I met Jess from Gap Year Guru. We jumped in a taxi and headed to the Port of Barcelona, before checking in. The check-in process was super simple, and in minutes me and Jess (not everyone had arrived with us) were having our bags taken from us to be delivered to our room and had been given our keys to our staterooms.
Once we had all checked in to our rooms, we headed off the boat for a few hours with the rest of the girls and guys to explore Barcelona. Firstly we headed to the Columbus Monument at the northern tip of the city, and then we slowly wandered down La Rambla, taking in all the sights and smells surrounding us. La Rambla was as busy as I remember it, with people everywhere. After a short stroll we crossed the road away from La Rambla in to the Gothic Quarter, where the architecture changed dramatically. The buildings became beautiful yet moody, mostly with brown shutters adorning their windows.
Once we had explored the square, we were led in to a building and up some stairs where we were welcomed by sisters Angeles & Carmen, who run the wonderful cookery school Foodie Experience Barcelona. For three hours the wonderful sisters told us all about Spanish cuisine, and then taught us how to make Paella, Spanish Omelette, Catalan Cream and Sangria, as well as a lactose-free pudding! It was such a wonderful way to start the holiday and I will be returning next time I am in the city!
After we'd finished being chefs we headed back to the port, and jumped onboard for our first sail away!
DAY 2 – SEA DAY
After one of the best night's sleep I had had in a while I awoke early for a tour of our ship, Crown Princess with the rest of the gang. We were taken to The Bridge, The Galley and everywhere in between, from the top deck and pool area, to the various restaurants that are dotted all across the ship. It was a really interesting experience to see the galley and bridge, often also referred to the stomach and the brain of any ship. I enjoyed messing around at The Bridge and pretending to be navigating the ship…
Then after a relaxed lunch I headed to the adults-only pool on deck 16 with Emily from London City Calling for a few hours respite before the evenings antics began!
After a quick change in my formal attire for the evening, I met the other ladies in the Atrium for the champagne waterfall. The champagne waterfall is a tradition for Princess Cruises, and it happens before dinner on the first formal night of every cruise. The staff go around handing drinks out to everyone in the Atrium whilst those that want to, have a photo with the ships Director. Then after watching copious amounts of champagne being poured we headed for a formal dinner in one of the ships many restaurants. I really enjoyed dressing formal, and it was so nice to see everyone of the boat dressed up, with women in their dresses and men in their suits and bow tie!
The highlight of the evening was certainly watching Encore in the Princess Theatre. Encore is a production show of music and glamour, set amidst the romantic splendor of a beautiful Montecito garden. Inspired by Princess Cruises' top-rated show Bravo!, and accompanied by an impressive onstage orchestra, Encore celebrates the traditions of pop, opera and musical theatre.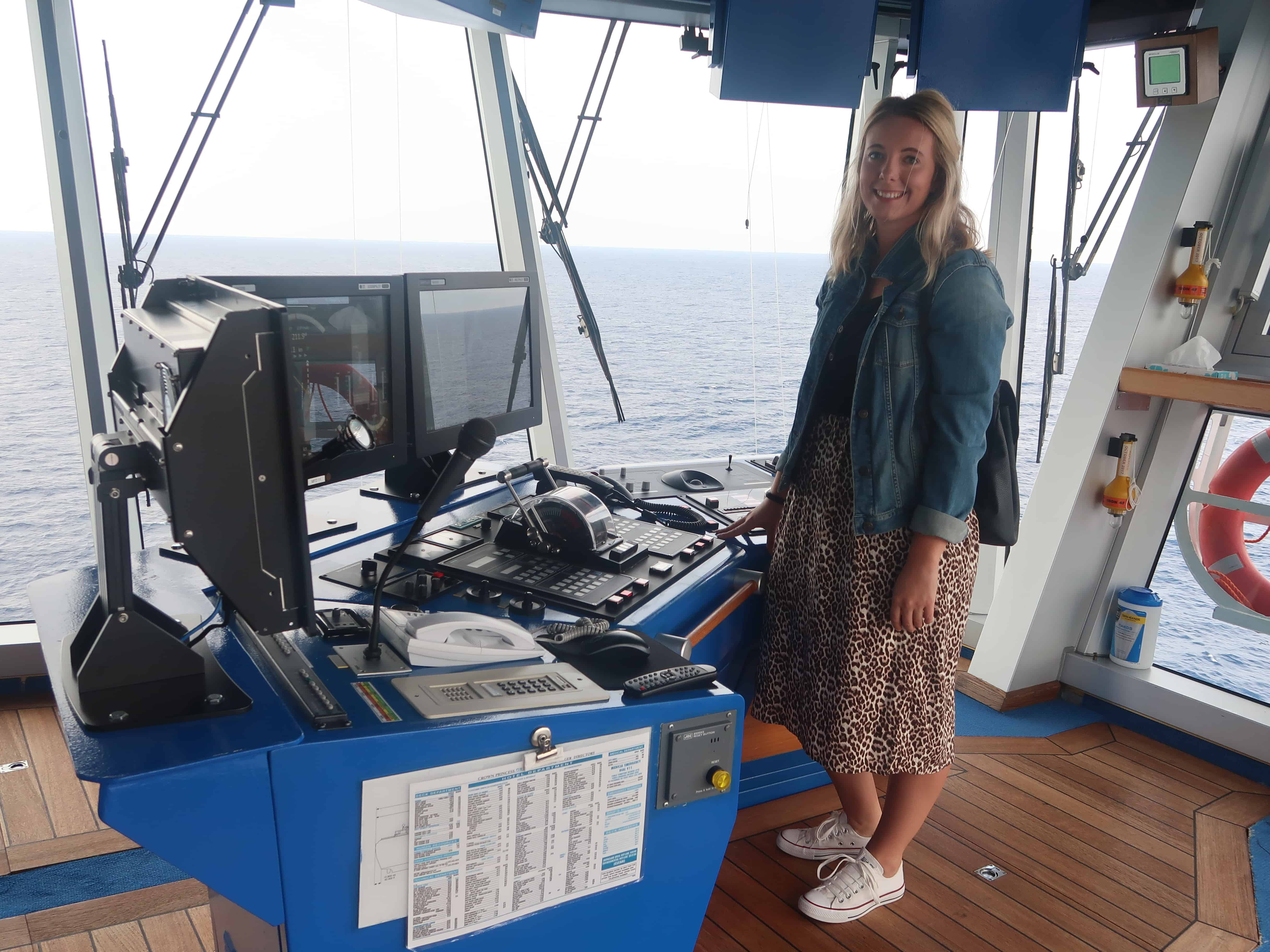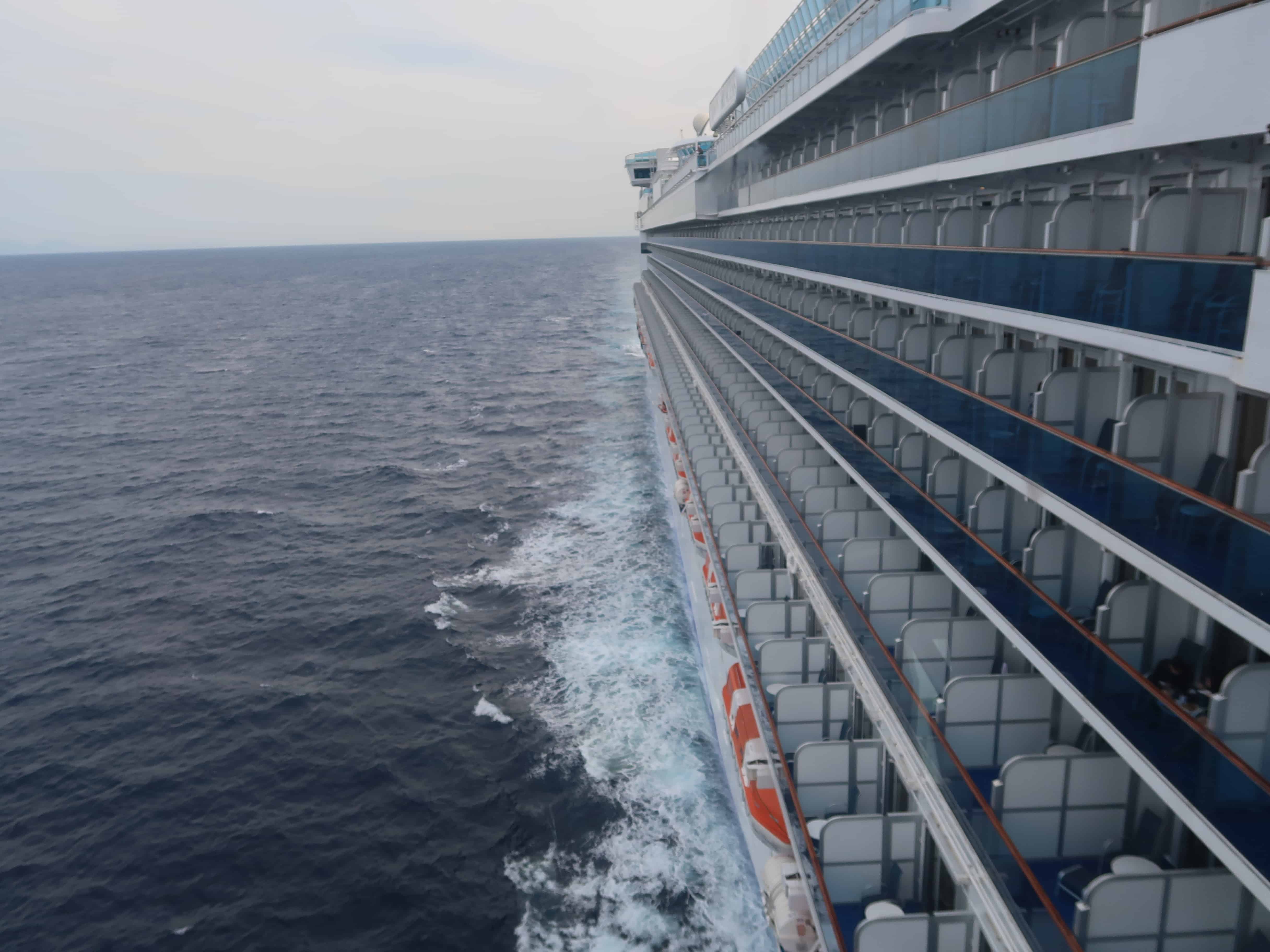 DAY 3 – GIBRALTAR
After a whole day at sea and a bout of seasickness, we disembarked in Gibraltar for our first day off-board the ship! We jumped on a transfer from the port to the bottom of the Mediterranean steps, where we began our 2 hour hike to the top. The beginning of the trail starts near the "GOHNS Gibraltar Ornithological and Natural History Society" building and then you walk up "Windmill Hill Road" until you reach the start of the Mediterranean Steps Trail. The trail starts quite level as you'll wind along the side of the rock, but intermittently you'll hit points of steep, switchback stairs that bring you closer and closer to the top. From the start of Mediterranean Steps trail, the route to the top is 1400m (.86 mile) with an elevation gain approximately 240m (780 ft). The terrain is rocky with large steps at times; shoes with good traction are a must.
When you reach the top of the trail, you'll crest the rock at its highest point, near O'Hara's Battery. Once you've reached the summit and you've taken in the view, you can either return down the rock the same way you came, or follow O'Hara Road toward a wide variety of historical and natural sites such as St. Michael's Cave, Douglas Lookout, and Charles V Wall and take the cable car back to the bottom. This is what we did, and it was much appreciated after a hot and windy walk to the top! The views were of course to die for, offering views across to Africa on a good day, and of the country! Then after we'd taken in the views we headed back down to the town centre for a bite to eat, before exploring the town some more.
That evening we headed to Sabatini's Italian Trattoria, located at the back of the ship, just above the wake. The restaurant was amazing, and the waiter was incredibly useful, answering all my questions about what I could and couldn't eat (lactose intolerance). Sabatini's offers rustic Italian cuisine featuring exquisite specialties from acclaimed chef Angelo Auriana. (Here is the Sabatini's Princess Cruises menu)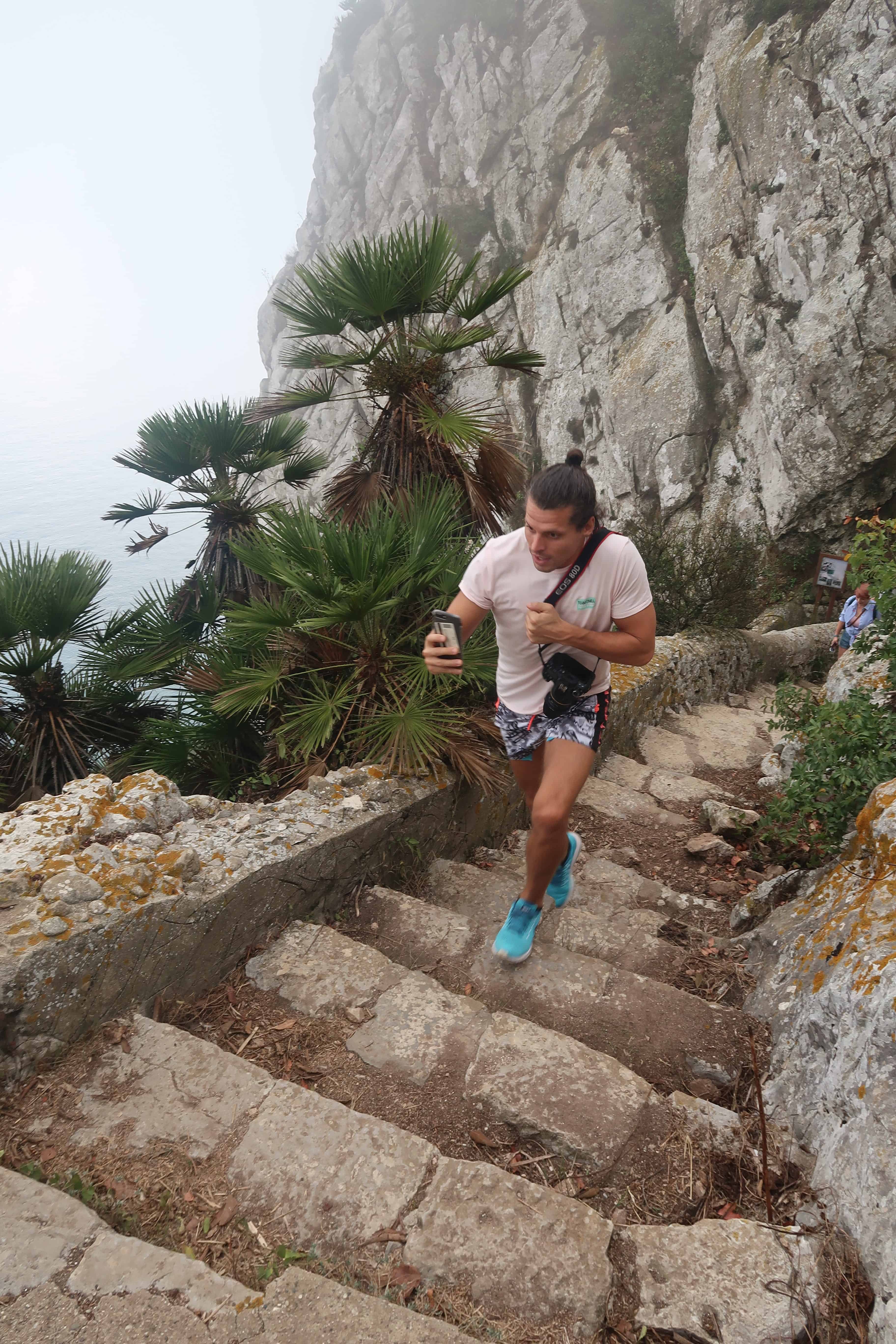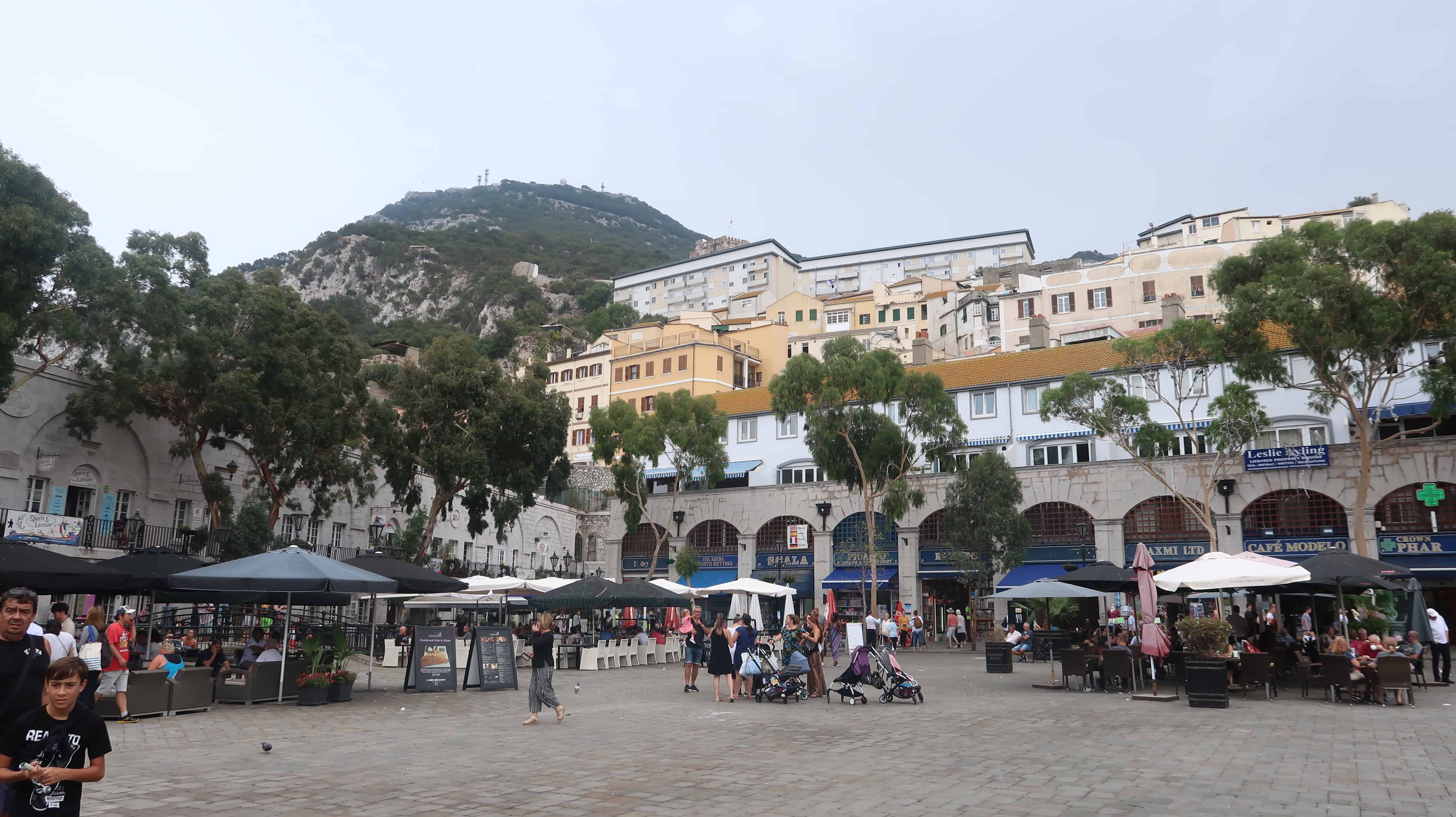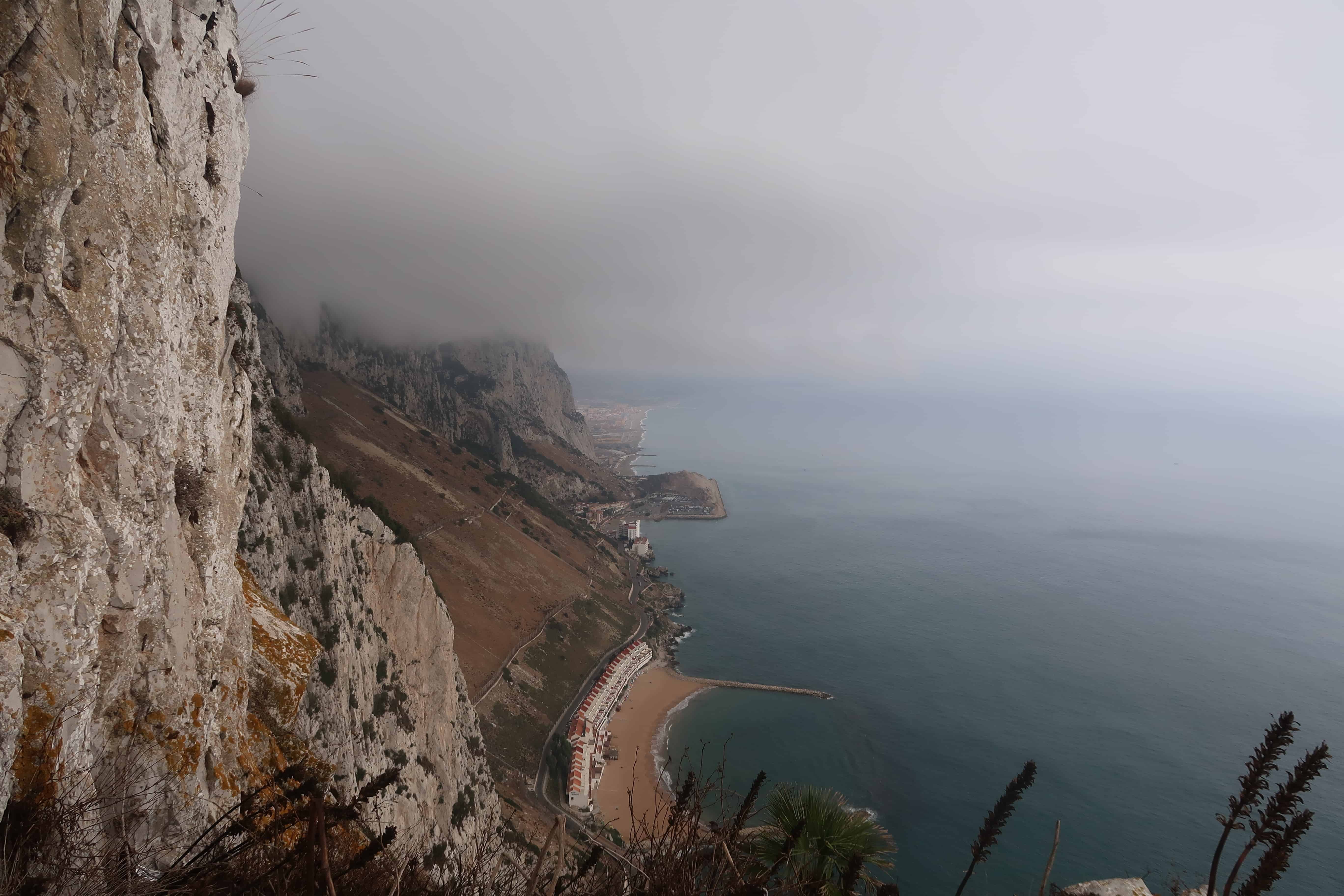 DAY 4 – SEA DAY
After three days of non-stop adventures we had another day at sea, as we navigated back up the coast of Spain to Marseille, our third stop. As I had a whole day to relax, I started it with a lie-in in my room, with breakfast on my balcony, before heading down to The Lotus Spa just after lunch for a treatment with their wonderful spa staff. I opted for an Exotic Lime and Ginger Salt Glow with Massage which was incredible, and my whole body felt smooth and silky for the rest of the trip.
As if I couldn't get more relaxed I then headed to The Sanctuary in the afternoon with Sandy Makes Sense, Teacake Travels and London City Calling. Our sunbeds were laid out right at the front of the ship, with views across the ocean. I sat there all afternoon reading my book 'Big Magic' before we were served an incredible Afternoon Tea by the staff. They bought us tea, coffee, scones and jam, cream cakes and much more. One of the cakes was even in the shape of a swan (you can see it below).
Then for dinner we headed to the Crown Grill, a  worthy stop for any meat lovers boarding Crown Princess. Crown Grill is the line's signature steakhouse offers an extensive menu of steaks and seafood — there's even a selection of flavoured gourmet salts to titillate diners' taste buds. Come very hungry, and make sure you leave room for dessert. (Here is the Crown Grill Princess Cruises Menu)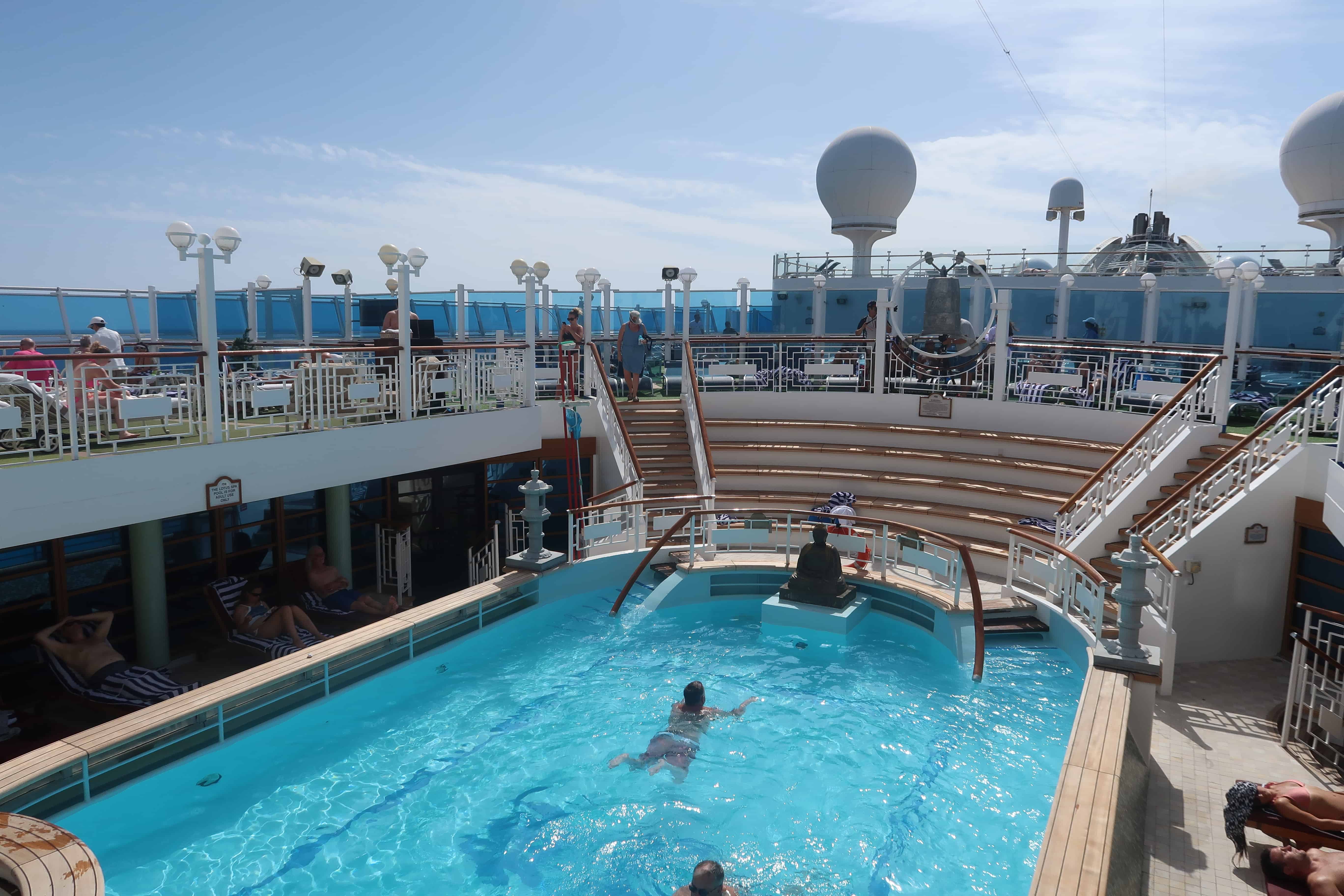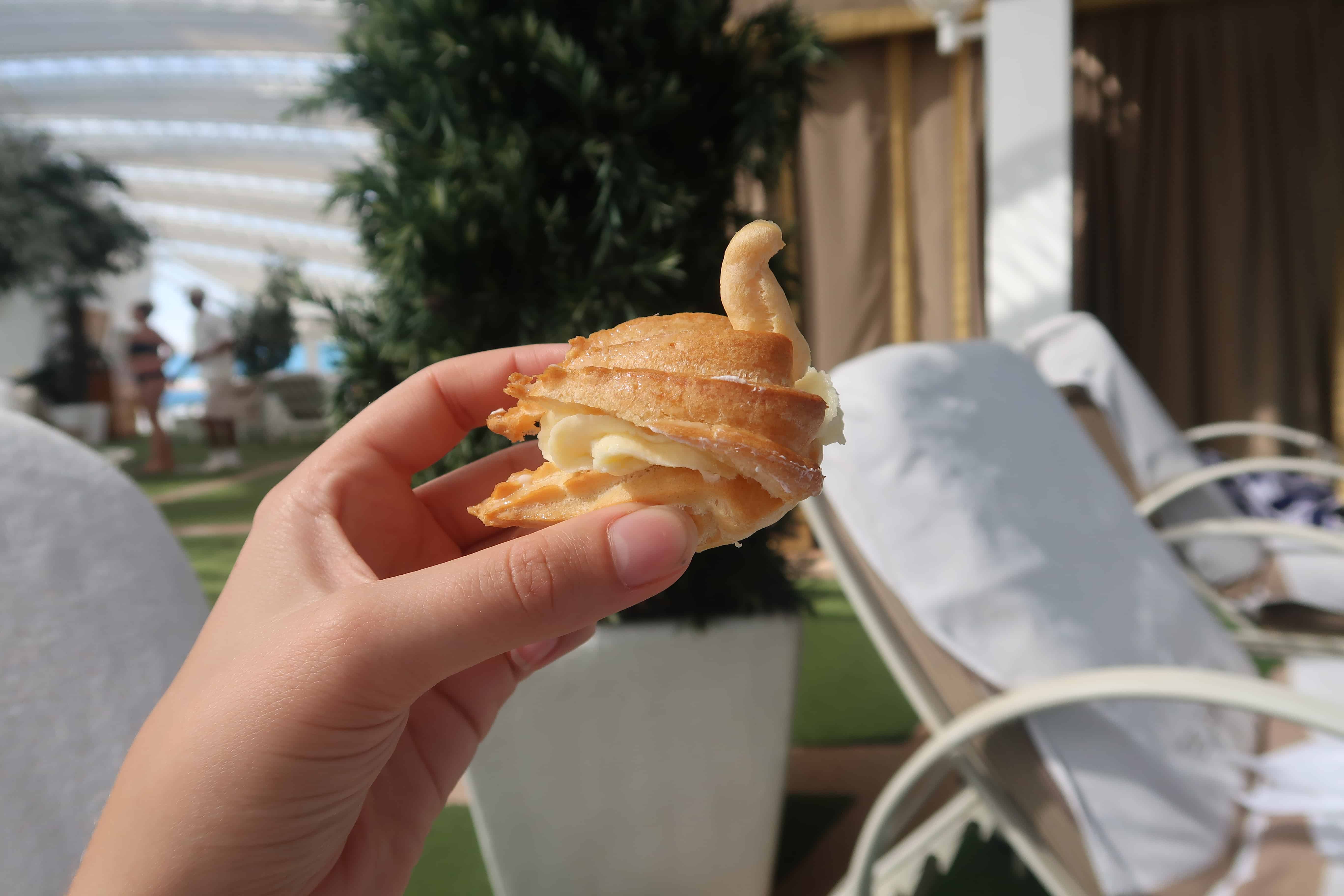 DAY 5 – MARSEILLE
For our fourth day aboard Crown Princess we embarked at one of my favourite regions, the French Riviera, on the south east coast of France on the Mediterranean Sea, at the foot of the Alps. We jumped in a taxi and headed an hour away from the coast to Provence – one of the most popular holiday regions in the south of France located within the French Riviera and is famous for its sunny weather, colourful countryside, tradition, wine, food, and language. Our day was planned for us, as we embarked on a wine tour of the region, stopping off at three different vineyards, tasting as we went….
Our first stop was Domaine Lou Capelan, which looks out onto the pretty Provençal village of La Cadière d'Azur. The Lou Capelan estate produces Bandol AOP wines in Red, Rosés and Whites and welcomes both wine tasting and vineyard tours for their multiple international award-winning wines. You can take a tour of the cellar and be engrossed in an introduction to wine tasting.
Our next stop was Domaine La Garenne, also located in La Cadière d'Azur the Estate of la Garenne, it owes its fame to its red and rosé wines in the Bandol appellation. Its microclimate allows the Mourvèdre, king varietal of the Registered Designation of Origin (AOC), ensures they can produce rich red wines and outstanding rosés which stand out from the other wines of Provence. We only stopped here for a short time, before our stomachs told us it was lunch time and we jumped back on the bus.
For lunch we were treated at lunch at the award-winning Hostellerie Bérard, located in the hilltop village of La Cadière d'Azur, with panoramic views over Bandol vineyards and even a seasonal outdoor pool. Chef Jean-François Bérard owns the gastronomic restaurant which also boasts one star in the Michelin Guide and serves elegant and flavourful Mediterranean cuisine, marrying authenticity and modernity to perfection in line with the seasons. The food here was simply incredible, served beautifully, and the flavours and textures were second to none.
And for our final stop of the day we stopped at the biggest vineyard of the day, Domaines Bunan, located at Moulin de Costes. Any wine lover at large in Bandol will soon encounter the output of Domaines Bunan who are amongst the leading producers of wine in the region, and are now even stocked in Marks & Spencer. The Bunan family produce delicious, aromatic, dry white and rosé wines together with dense, dark, spicy Mourvédre based reds which are approachable from release but can age well for at least a decade.
Then after a long day we headed back to the ship, for another evening onboard Crown Princess. We got dressed up again for Formal Night and dined in our main dining room, before the incredible production Magic To Do in the Princess Theatre. Magic To Do is brought to you by the Oscar®, Grammy® and Tony® Award winning composer of Wicked, Godspell and Pippin, Stephen Schwartz, where you'll encounter some of history's greatest magical illusions along the way. Every show we went to was packed out and people were even sitting along the steps to catch a glimpse of the production!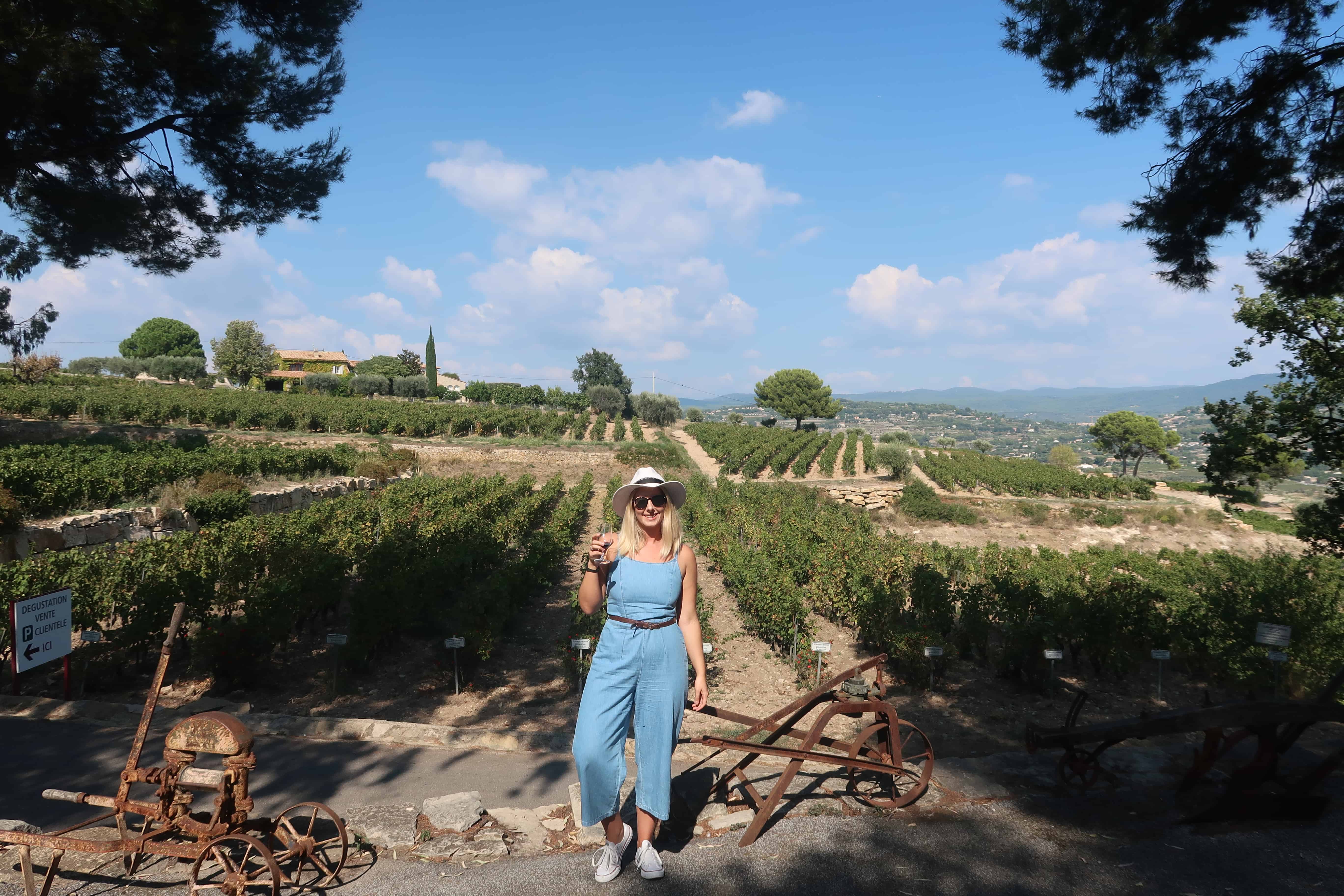 DAY 6 – GENOA
On our penultimate day aboard Princess Cruises we docked in Genoa, and took an excursion to the world-famous (and Instagram famous) Cinque Terre. Cinque Terre not a town itself, like most assume, but is in fact is a string of centuries-old seaside villages on the rugged Italian Riviera coastline. In each of the 5 towns, colorful houses and vineyards cling to steep terraces, harbors are filled with fishing boats and trattorias turn out seafood specialties along with the Liguria region's famous sauce, pesto. Cinque Terre consists of five beautiful hillside towns Monterosso, Vernazza, Corniglia, Manarola and Riomaggiore. We took a tour of the region, and stopped off at both Manarola and Monterosso al Mare.
Manarola may be the oldest of the towns in the Cinque Terre, with the cornerstone of the church, San Lorenzo, dating from 1338. The local dialect is Manarolese, which is marginally different from the dialects in the nearby area. The name "Manarola" is probably a dialectical evolution of the Latin, "magna rota". In the Manarolese dialect this was changed to "magna roea" which means "large wheel", in reference to the mill wheel in the town. Whereas Monterosso al Mare is far more populated and the biggest of the towns with the most amenities. Many hotels are situated in the newer part, Fegina. In the old town you will find seafood restaurants and nice shops. Monterosso has the only long and sandy beach in the area where you can rent chairs and umbrellas or a kayak to explore the many coves around the coast. Whilst in Monterosso al Mare we also had a wonderful lunch at L'Enoteca Internazionale.
Then in the evening we headed to top deck for our evenings entertainment, the Love Boat Disco Party! In their words "Return to the Golden Era of Disco with our Love Boat Disco Deck Party! These fun-filled parties include dancer performances, a Movies Under the Stars® sing-along, live Love Boat Kiss Cam and other great cruise ship entertainment!" It really was like nothing I've ever seen before!
DAY 7 – PISA
And before I knew it, it was time to pack up my suitcase and disembark the wonderful Crown Princess. For our final day of the trip we explored the wonderful Italian city of Pisa! And the best bit? We did it by segway! This wouldn't have been an excursion I would have chosen myself, but I am super happy we did it as it was so much fun! And bonus: I didn't fall off either… It was a wonderful day as we explored the lesser known areas of the city, visited a few markets, took our Instagram shots in front of the Leaning Tower of Pisa and the Piazza dei Cavalieri and stopped for a bite to eat at a local Pizzeria restaurant.
Top things to do in Pisa
Leaning tower and Campo dei Miracoli
Piazza dei Cavalieri
Torre Guelfa
Riverside walks
Pisa Baptistery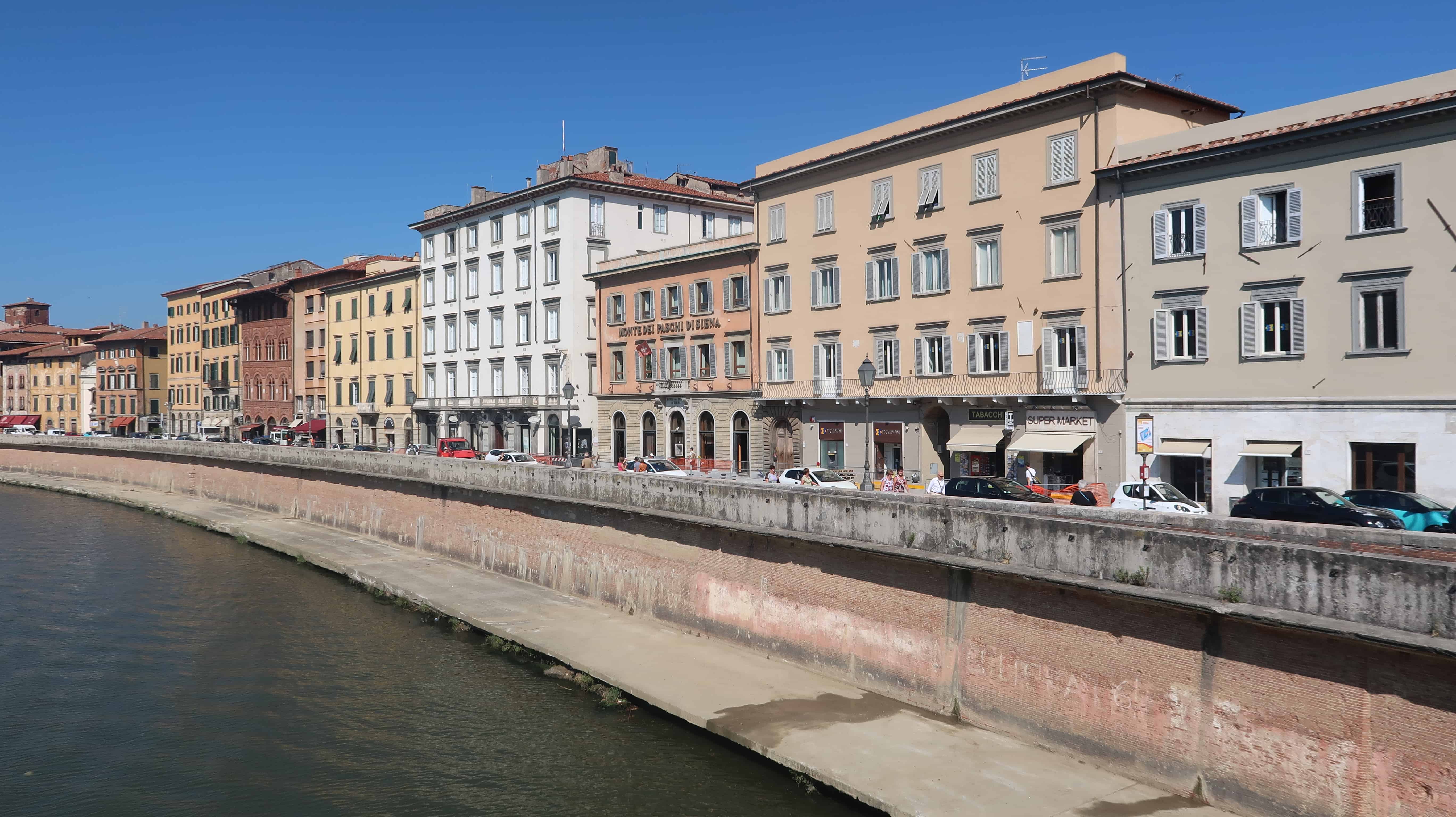 Would you consider trying a cruise? Has my cruise experience and blog post made you think differently about cruising? I'd love to hear your opinion, so please leave a comment in the box below.
I was onboard Princess Cruises Crown Princess cruise around the Mediterranean from Barcelona, Spain to Rome, Italy taking place over 7 Days | 4 Ports of Call. Staterooms start at £849.99. For more cruise deals click here.
This post has been created as part of a sponsored collaboration with Princess Cruises, however as always all views are my own.