For me, the most exciting way to combine travel and wellbeing is going to a spa, and if you've read my blog for a while now you will know how much I love a good old' spa day. I especially love going to the spa with Theo, as we can really unwind, relax and calm down from the chaos of life.
I've stayed at so many hotels with spas over the years, and therefore I decided to pull together my favourite overnight Spa Breaks for Couples. Mostly I do UK-based spa retreats, where I stay overnight, but every now and again venture to one abroad. In this post, I will be talking about my ultimate guide to overnight Spa Breaks for Couples in the UK, but check out my other guide to spa retreats around the world.
My lovely friend Clare at Weekend Candy has also written a really useful guide to Detox Retreats UK.
Overnight Spa Breaks for Couples
Rockliffe Hall, North Yorkshire
On a road trip up north last year I arrived in Hurworth-on-Tees at the stunning 5* hotel Rockliffe Hall & Spa. Me and Theo had decided to embark on a four days adventure travelling through Darlington, County Durham, Newcastle and Northumberland. We opted to spend a night at Rockliffe Hall as it had been recommended by a friend and we had been told it was luxury at its best!

Rockliffe Hall & Spa is a stunning 18th century red brick mansion set in 375 acres of grounds with 5* restaurant, award-winning spa and 18 hole championship golf course. The hotel was beautiful from the moment we arrived, heading down the long road lined with trees to the front of the main building where a valet met us and took our bags and parked the car.
To read the full post, click here.
Overnight Spa Breaks for Couples
Ragdale Hall, Leicestershire
Set amongst the soothing peace of the Leicestershire countryside, the 93 bedroom Ragdale Hall Health Hydro and Thermal Spa offers luxurious pampering with a huge range of facilities, including five pools and eleven heat experiences, Tennis, boules, pitch 'n' putt, croquet, cycling, and a mind gym are all available. I mean, it's relaxing, but there's also so much to do and see whilst there.

Total relaxation is the aim, with staff ensuring that guests are well looked after whether you are staying for a retreat of up to seven days or for a spa day. The service is next level which I think is one of the reasons me and mum return every now and again. It's an amazing spa with lots of great facilities and you can easily spend a whole weekend here! Perfect for a trip with your mum or best friend.
To read the full post, click here.
Overnight Spa Breaks for Couples
Daylesford Haybarn, The Cotswolds
Over thirty-five years ago, Daylesford was born out of a family's farmland. Bring it back to 2017 and Daylesford Organic Farm is an all-encompassing lifestyle experience, with farm, workshops, events, organic cafe, restaurant, luxury spa, accommodation, supermarket, and Creche.
After we'd finished lunch we headed over to the Haybarn Spa, for some relaxation, taking in the smells of the iconic Bamford scent. The spa is a wellness retreat, situated next to the Daylesford Farmshop, with a strong commitment to caring for the mind, body and spirit, it provides a calming day retreat. Emphasising the human connection with nature, the Haybarn Spa offers a range of activities that nurture inner peace, including yoga, pilates, meditation, facial and massage treatments.

To read the full post, click here.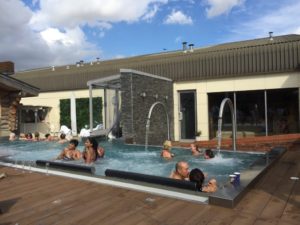 Overnight Spa Breaks for Couples
Y Spa, Bedfordshire
When my best friend Katie told me she was departing for South America in September for four months, I knew we needed a serious catch up before she went travelling the world. As a good halfway point between me in Milton Keynes, and her in Peterborough, we decided on Y Spa at Wyboston Lakes near St Neots.

Y Spa is about health, wellness and rejuvenation and many of those things rely on pleasure. They work on the principle of pleasure, enjoying a lot of what's good for you and a little of what you like! And as you'll already know, I love a good spa break…

The Y Spa facilities include 11 treatment rooms including three double treatment rooms, a private treatment suite, Manicure and Pedicure stations, a rasul, relaxation areas, Big Sleep and a Time Out area. As well as their multiple thermal experiences including a hydrotherapy pool outside on the terrace, kelo sauna, moderate sauna, salt steam room, experience showers and frost wall.
To read the full post, click here.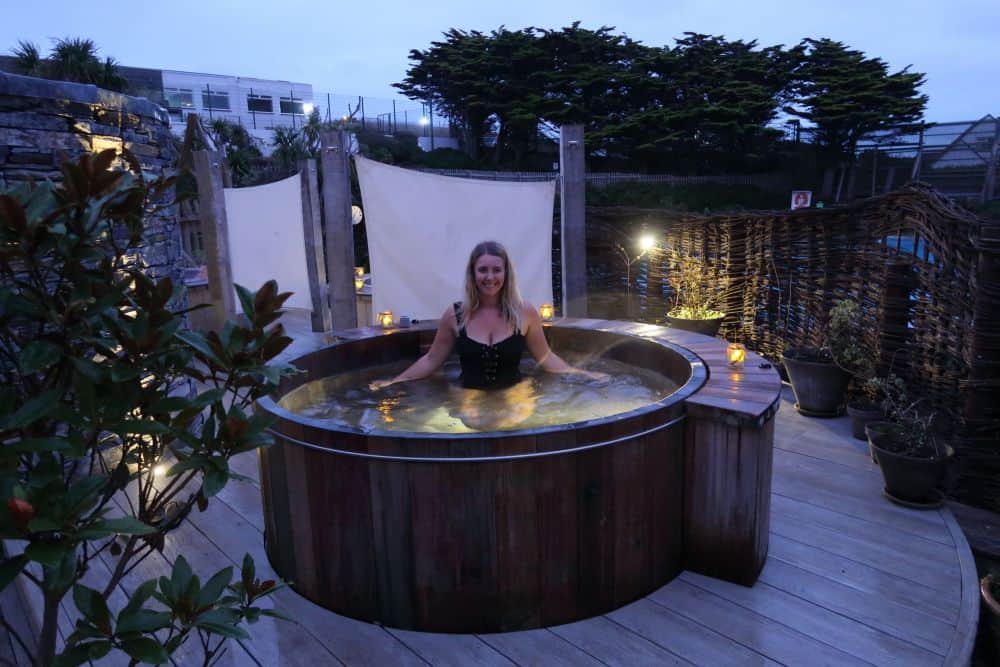 Overnight Spa Breaks for Couples
Bedruthan Spa, Cornwall
Last month, Theo and I headed down to the Cornwall countryside for a weekend by the sea. During our adventure on the Cornish coast, we stayed at two hotels, one close to the seaside town of Falmouth and another hotel close to Newquay called Bedruthan Hotel & Spa. If you are looking for some where to stay in Cornwall, then this hotel offers location, facilities and great Cornish cuisine all within the confinement of the hotel.
Overlooking the bay, The Bedruthan Hotel & Spa is a 4-star hotel offering both couples and families the chance to unwind. Theo and I stayed here for two nights last September during our five-day Cornwall getaway, and we loved the fun elements this hotel bought to our trip.
Another wonderful element of this hotel, is how it's centered around relaxation and the water. At Bedruthan Hotel & Spa you can head to the Sensory Garden Spa for a one-hour experience inspired by fire, earth, water, air and space. During your one hour experience you will move through seven stages designed to detoxify and renew your body. Each stage draws on the sights, sounds, aromas and textures of nature, and the refreshing properties of our sea air.
Here you can take some restful time in the sauna which incorporates the wonderful view, experience the open shower snuggled in with the trees, and enjoy views of the gardens while soaking in our deep cedar wood hot tubs. The Sensory Spa Garden is available as part of one of the hotel's lovely Day Spa Packages, starting from £55, on its own for £45, and for hotel guests the Sensory Spa Garden costs £30.
The Sensory Spa Garden is open from 10:00am – 6:00pm daily, with the last booking slot at 4:45pm. Please contact the spa directly for availability and to book.
To read the full post, click here.
Overnight Spa Breaks for Couples
Aqua Sana Spa, Buckinghamshire
Give me a spa day, anytime, anywhere! You can imagine my delight when Good Spa Guide invited me to a bloggers spa day, to check out a pretty new pop up spa from [comfort zone] at Aqua Sana Spa Woburn.
I hadn't visited Aqua Sana Spa before but I was blown away by its sheer size and modernity. Set amongst the natural forest at Center Parcs' Woburn Forest location the spa is the first of its kind in Europe spanning 7,200sq metres. Located just 50 minutes from London St Pancras, Aqua Sana offers a truly relaxing experience with six unique, nature-inspired spas to journey through, with 25 experience rooms and two of the experience rooms are world firsts – Mineral Room and Sensory Experience – and there's a spectacular outdoor infinity pool with views of the forest and six beautifully designed Spa Suites.
To read the full post, click here.
Overnight Spa Breaks for Couples
Pennyhill Park Hotel & Spa, Reading
Home to the England Rugby training ground, Pennyhill Park Hotel & Spa in Surrey, is the ultimate luxury retreat and spa. In addition to spending time with my wonderful friends and family for my birthday, I was also treated to a wonderful spa weekend at the highly recommend Pennyhill Park Hotel & Spa, located close to Reading. Here is what we got up to during our overnight spa weekend at Pennyhill Park Hotel & Spa….
The hotel itself dates back to the 19th century and after many owners was bought by Exclusive Hotels in 1982 who expanded it considerably from its original 17 bedrooms. The hotel now has 120 bedrooms, ranging from doubles to suites and junior suites, some with four-poster beds, balconies, private patios and even a Roman-style marble bath.
We booked in for an overnight spa detox, staying in one of their beautiful suites, complete with double bathtub, walk-in showers and four-poster bed. We also had a small lounge area to sit, with super high ceilings, and a decadent feel. The room got a thumbs up from me for containing lots of information about the hotel itself, a full list of spa treatments and a walking map of the grounds. I certainly needed the map to find my way across the hotel complex to the spa and to find where we were to go for Afternoon Tea.
During our stay we spent the two days exploring the hotel, eating all the afternoon tea, getting massaged and sunbathing in the sunshine in their wonderful outdoor pool area. We also dined in their restaurant in the evening where we were treated to a wonderful dinner, and the best Gin & Tonic I've had in a while. I really enjoyed our two days here and can't wait to return!
To read the full post click here.
Overnight Spa Breaks for Couples
Eden Hall, Lincolnshire
At the beginning of the month I treated my longest friend Harriet to a spa day at Eden Hall in Nottinghamshire. My friend Sophie had recommended Eden Hall a while back, telling it was even better than another spa I love and she was right, it was stunning!
Set within acres of luscious lawns this beautiful listed mansion, built in 1875 is an absolute sanctuary. Whether you want to refresh and revive or unwind and relax, the first class facilities make sure all of your needs are met and it is the perfect, peaceful getaway. Eden Hall is a great place to sit back, relax and have some well-needed chill-out time in tranquil surroundings.
From the moment we arrived we were treated like royalty, from the check-in to being taken on a quick tour of the grounds so we knew where to find everything.
We had both booked in for a standard Eden Hall spa day with a treatment each, including full use of the salt-water vitality pool, water therapies, heated rooms, gymnasium, exercise and relaxation classes, a delicious three-course lunch and use of a fluffy white robe and towels. The Eden packages are designed to suit your every need, whether it's de-stressing, relaxing, indulging or pampering – all you have to do is decide!
To read the full post click here.
Overnight Spa Breaks for Couples
Rudding Park, Yorkshire
Set in 300 acres of landscaped gardens and woodland, Rudding Park is one of the most beautiful privately owned luxury hotels. The hotel has 90 bedrooms, two restaurants and a kitchen garden, private cinema, two golf courses and conference, and added to the plethora is a £9.5 million spa, with rooftop spa, spa garden, and leisure facilities. Located only a few miles from Harrogate, and 20 miles from Leeds, Rudding Park is well-connected.

Me and Theo decided to plan our visit to Rudding Park with my birthday weekend, and I was so pleased I got to spend it here. The staff really looked after us, and made it feel special. They also left a bottle of prosecco in our room on arrival, so I was sold…

And they've got some some accolades too including: the only UK Hotel in TripAdvisor 2017 Hall of Fame for Hotels, the Best Hotel Rooms in UK, Trivago 2017 and a decade in the Top 3 Best Hotels in the UK, TripAdvisor 2016. So it's fair to say I had high expectations….
To read the full post, click here.
Overnight Spa Breaks for Couples
Bath Thermae Spa, Somerset
This year I took a trip to Bath for my birthday and ventured to the iconic Bath Thermae Spa. What a magical place it is.. and what stories it has to tell! Did you know that Bath is is the only place in the UK where you can bathe in warm, mineral-rich thermal waters, which come directly from the natural hot springs? Because of the cities Roman history it has become a big tourist spot for millions across the world. The entire city is a World Heritage Site!
The springs are situated deep beneath the city and there is archaeological evidence that there were people hanging about the hot springs at least 8,000 years B.C! Just 100 metres from the original Roman Baths sits the restored Spa which draws its thermal waters from the Hetling Spring, the Cross Spring and Kings Spring which deliver over one million litres of water every day at a temperature of 44 – 46 degrees centigrade.

To read the full post, click here.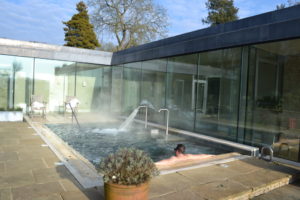 Overnight Spa Breaks for Couples
Barnsley House, The Cotswolds
Set in an 11 acres of grounds, Barnsley House, near Cirencester is the perfect haven for a weekend of relaxing in style. The Cotswolds has always been one of my favourite places, the rolling hills, access to countryside and how you can feel at one with nature. I stayed at Ellenborough Park last spring and loved being back there so I was suitably excited when I booked a stay at Barnsley House.

Barnsley House plays host to landscaped gardens, tennis courts, a helipad, holistic spa with hydrotherapy pool, private 30-seat cinema, DVD library, traditional restaurant and 18 stunning bedrooms, ranging in size, bathroom features and style. And the grounds are suitably beautiful, just like the house, with an array of plants, fauna and trees, making you feel a million miles away from the chaos of everyday life.
To read the full post, click here.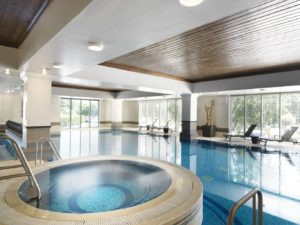 Overnight Spa Breaks for Couples
Runnymede-on-Thames, London
the runnymede-on-thames hotel & spa is a 4* hotel in Egham, Surrey, situated on the banks of the River Thames, only 10 minutes from Windsor, and half an hour on the train from London. It is the perfect location; close to the bustle but far enough away that you can truly escape.
As soon as we arrived we felt welcomed and our bags were taken to our room whilst we checked in. As we made our way up to our room I felt like I could finally feel the 'calm' – if you know me, you'll know even a journey can stress me out, and once I arrive in a destination I need to feel completely at ease.

To read the full post, click here.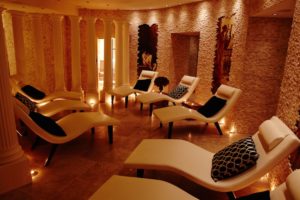 Overnight Spa Breaks for Couples
Thai Square Spa, London
In 2016 me and my fellow blogger Kara headed Thai Square Spa for an afternoon of relaxation, massages and reading time. Located on Northumberland Avenue near The Stand and Trafalgar Square, the spa is a touch of Thailand within central London. The award-winning spa lives up to its name from the moment you walk through the door as you are transported to the beauty of South East Asia. The spa has been voted Best Spa in the UK by national newspapers and magazines and you can see why.
As she began to massage I felt my stresses melt away, she focused on every part of me, especially my shoulders and legs (I had been to the gym that morning!) and my legs felt instantly less weighty. I am also sure at some point she kneeled on, stood on me or also got on to the couch as there was a lot of pressure (yes, really!).

To read the full post, click here.
---
And if you're heading to New Zealand, I visited the wonderful Polynesian Spa, Rotorua. Overlooking Lake Rotorua, Polynesian Spa has a huge variety of hot mineral spring pools, as well as tempting spa therapies at the Lake Spa Retreat. If you want to chill out then the Polynesian Spa is the place for you!

Now, being a backpacker I am constantly on the go, always with my backpack on and trekking somewhere or other. But when it comes to relaxing and spare days I am always adamant that you must take advantage of what is around you and take the time to chill out. I believe that spa days are that retreat for a lot of travellers and for me the Polynesian Spa was the perfect location! To read the full post, click here.
Other posts that may help you:
How to spend 5 days in Switzerland Itinerary: Basel, Zurich and Lucerne
Ultimate Guide to Honeymoon in The Maldives
Bio-Luxury Resort in The Maldives
Sign up to AirBnB with this link and receive a £23 off your first booking.
To receive my articles and reviews straight to your inbox SUBSCRIBE HERE.
Did you know I also vlog my trips? Make sure you subscribe to my YouTube channel so you get alerted when all my travel videos goes live… CHECK THEM OUT HERE
Thank you for reading and as always happy adventuring! If you have any questions about the destination please leave these in the comments below.
If you've enjoyed this post, please share it for me with all your friends and family!
Sophie X