Last month I drove over to Oxford with Kara from Heels in my Backpack to spend the day with the lovely team at Marco Polo Travel Guides to celebrate the launch of their new Oxford guide. I went along to the event with some of my blogger pals – Kara and Ellie and also got to meet some friends off the internet in real life too – Sam, Jessica and Freya.
Oxford is a city of many attractions, and it's near impossible to see all of this wonderful city in 48 hours, however I am going to give it a go within this guide. During the time I spent in Oxford, I did a walking tour of Oxford's most famous tourist spots including the Thames, we visited the oldest pub in Oxford, Turf Tavern, we dined at The Handle Bar and explored The Covered Market.
I've actually only been to Oxford a handful of times before, despite it only being 45 minutes away from Milton Keynes, and my last trip to Oxford really reminded me why I need to spend more time here. There is so much to do and see here – from the university, to the river, and from all the amazing top-notch restaurants, to the blinding nightlife.
Here is my ultimate guide to 48 hours in Oxford. Read some of my other guides here.
BOOK TRAVEL INSURANCE BEFORE YOU FLY

Picking travel insurance that covers you in all eventualities is an essential part of planning a trip for every single person. If you can't afford travel insurance, you can't afford to travel. You never know what's around the corner. World Nomads is an affordable option that I personally recommend. BOOK HERE
HOW TO GET THERE
Oxford is located in the south east of England, only 90 minutes outside of London and only 45 minutes by car for me from Milton Keynes. It's easily accessible with a train station, bus station and lots of car parks dotted around the city.
If travelling by London jump on the Oxford Tube as it is a very popular way to get to Oxford by bus. The company runs buses 24 hours a day. They leave London Victoria Coach Station every ten to 15 minutes, throughout the day and have frequently scheduled departures throughout the night. The trip takes about an hour and 40 minutes. If travelling by train, trains leave for Oxford Station every 5 to 10 minutes from Paddington Station. The journey takes about an hour and costs around £25.
WHEN TO GO
Oxford experiences a maritime temperate climate, which is characterised by moderate temperatures all-round the year. Summers: May through September is the best time to visit Oxford, with the weather being relatively warm and sunny at around 20°C. But of course, remember, it's England and it's going to rain so make sure you pack a raincoat or umbrella throughout the year.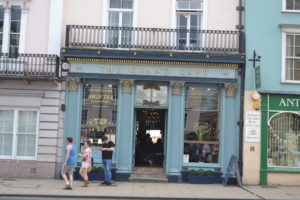 WHERE TO STAY
Oxford has an array of places to stay in the city, from the basic hostels to the luxurious 5* hotels. I haven't actually ever stayed in Oxford due to it being so close to home, so I asked a load of my blogger friends for their recommendations and they suggested the five hotels below.
1.The Head of the River – The hotel flanks a delightful riverside terrace on two sides with historic Folly Bridge on the other. It is next to Christchurch Meadow, while Oxford's colleges, museums, galleries, shops and theatres are all within a 10-minute stroll. For more energetic guests, punts and river cruisers leave the opposite bank, while the Ice Rink and Hinksey Park Lido are close by.
2. The Old Bank – Neighbouring some of the oldest Oxford colleges, including University and Merton, the Old Bank has a superb position, half way down the High Street opposite St Mary's Church and the Bodleian Library. Within walking distance of shops, theatre and the city's Botanical Gardens and Christchurch Meadows, the hotel has a secure car park, which is complimentary for guests, provides bikes and a free, daily walking tour of the city with an in-house guide.
3. The Vanbrugh House Hotel – Opposite the Oxford Union buildings (which houses the famous debating society), and within a few paces of the Ashmolean Museum, Oxford Playhouse, many colleges and the main shopping streets, this hotel couldn't be better placed for exploring the sights. Carousing students can sometimes affect front rooms in the early hours during term time, so ask for one of the beautifully quiet rooms at the back if you want to be sure of a tranquil night.
4. De Vere Oxford Thames – The sandstone manor has riverside lawns and a walled garden, like an Oxford college. Newer buildings extend comfortably into the 30-acre park. Frequent buses run into Oxford. Blenheim Palace and Bicester Village are easily reached by car.
5. The Porterhouse Grill & Rooms – Set a couple of minutes' walk from the train station, the Saïd Business School and the River Thames on a quiet residential street, The Porterhouse is conveniently central but also wonderfully quiet. The Castle Quarter is 10 minutes' walk away, while the Ashmolean, the Radcliffe Camera and the main colleges can be reached on foot in 15 minutes.
WHAT TO DO
1. Have lunch at Handle Bar – I love a good brunch spot and this place was the cutest. It was rammed for Saturday brunch but the atmosphere was amazing – taking place above a bike shop, this place was the best. I opted for smashed avocado and eggs on toast, with a smoothie and a peppermint tea. We all chilled out for an hour, chatting and relaxing (despite it being 100 degrees that day) getting prepared before our day of exploring Oxford.
2. Wander The Covered Markets – Another great place to explore in Oxford are The Covered Markets where there are many a stall selling food, flowers, artisan products and much more. It's a great place to stop and grab a coffee in here and look at the little displays about the building's history.
3. Rooftop Views at The Varsity Club – After we had visited The Covered Markets, Jess recommended we went and grabbed a drink at the famous Varsity Club. It also seems to be Oxford's worst-kept secret, and it was really busy but offers great views across the city so it's 100% worth a visit.
4. Visit the coloured houses on Holywell Street – This street was the most colourful street I've seen in a long time and it was the perfect backdrop for some Instagram shots whilst we were wandering the streets of Oxford. And it was also really quiet here, so we had time to take a load of shots and take our time before heading to our next destination for the day.
5. Go punting on the river – I used to live in Cambridge so we went punting many times, but I'd never done it in Oxford before. It's basically the same thing, so why not jump on a punt, grab some drinks and head down the river with your friends, boyfriend or family.
6. Have a drink at Turf Tavern – The Turf Tavern pub is supposedly the oldest pub in Oxford with lots of famous customers and even an in-house ghost. It's a great spot to stop off and grab a drink whilst exploring Oxford. It's a favourite with the students too and was rammed!
7. Check out the university buildings – I want to go back again to do some more exploring of this kind, and there's some great spots. There are so many to see including Queen's College, The Bridge Of Sighs and the Radcliffe Camera.
8. Afternoon tea at The Vaults – Make sure after a busy day exploring Oxford you stop off at the The Vaults & Garden to grab some afternoon tea. It's lovely in there was vaulted ceilings and low beams, and the afternoon tea is just as good, with scones, finger sandwiches and prosecco.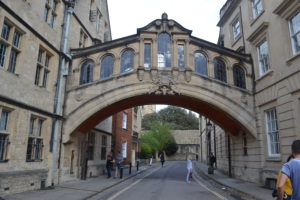 WHAT TO PACK
1. Marks & Spencers Culottes – An essential for walking around Oxford, pair with trainers and a slogan tee (see above) – BUY HERE
2. Very "Women of the world unite" t-shirt – Great with many outfits, pair with culottes and/or dungarees – BUY HERE
3. ASOS Black Dungarees – An essential comfy item which is great for road tripping and means the whole outfit is sorted! – BUY HERE
4. New Look Hat and scarf – essential for staying warm alongside all of your other gear PS. It gets ready bloody windy here!
5. Mini Kanken Backpack – Essential to keep your ski pass, piste map, mobile phone, camera, water bottle, sun cream etc. – BUY HERE
There you have it, my ultimate guide to 48 hours in Oxford. This city is one of my favourites, with so much to see and do. I love exploring the city with Marco Polo Guides! Are you heading to Oxford yourself? Then grab a copy for yourself! BUY HERE
Let me know in the comments below, tweet me or find me over on Instagram!