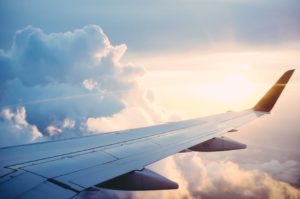 God I hate early morning flights. I don't know why I do it to myself really but for my up-coming trip to Paris it was essential as I was off to Paris for only 48 hours (1 night) and therefore me and my best friend needed to make the most of our time there. But once you realise it means getting up at stupid o'clock to get to the airport and being tired for the first day of your holiday, NO THANKS. Here are my tips on how to prepare for an early morning flight…

Be organised
Plan ahead, way ahead. And make sure you have checked-in, printed off the boarding passes, worked out what time you need to be in the departures terminal, how long it'll take you to get through security and what time the gate closes. Everything should be meticulously planned out so there is no room for error.
Stay in a hotel at the airport

This only became 'a thing' to me last year when a flight for a trip only left from Gatwick and me living in Midland meant there was no way I was getting up at 1am to drive three hours to Gatwick. I was offered a hotel room and wham I slept in till 6am. Last week I also flew from Luton, and I did the same again, this time staying at the Hilton Garden Inn Luton North. I arrived at 8pm with Katie, so we could chill out, grab dinner and settle for an early night.
My room was great; spacious with large comfortable twin beds, deluxe bathroom with shower, WiFi access, refrigerator, coffeemaker (needed at 5am!) and HDTV. In the hotel there is a gym, and a restaurant downstairs where you can grab dinner the night before your flight at a reasonable price, without having to venture out of the hotel. The food was great, locally-sourced and a drinks menu which you can't help yourself to. There is also breakfast in the morning, from early morning, as they know a lot of people will be up and gone by 7am.
The hotel is also located only ten minutes from Luton and offered outstanding service and design-conscious accommodation, ensuring you can be ready for your flight refreshed and calm. Guests can also make the most of the onsite parking and jump in a taxi to the airport for only a tenner. Overall, I had a great stay and it kicked off our trip to Paris perfectly!
Check your baggage
I was flying with Ryan Air (balls!) and we hadn't got luggage as we were only going Paris for one day. But it is still worth getting the luggage checked as Ryan Air can be stingy with weight and size, and they are dickheads when they want to be. Ryan Air allow you a 10kg limit on carry on which isn't a lot and easy to go over. Make sure you know what your limit is and have weighed your bag with an at-home suitcase weigher.
Pack a travel pillow
I hate mornings, that's just how it is and I will never find it easy getting up for an early morning flight. But one thing that keeps me sane is knowing the moment I am on that plane, I can sleep. However only with a travel pillow! It's a dream, I fall asleep just before take off and wake up when we land meaning I've caught up slightly on the sleep I have missed.
Pack the wellbeing kit
I am a big believer that fear of flying and travel is aided by carrying around your personal wellbeing kit. This for me is lavender oil, my Tisserand Travel Survival Kit, an eye mark, travel pillow and my book. It helps me relax the night before a flight and can also keep me calm when the dreaded anxiety hits the morning after. Don't worry, you are not alone, and everyone is as tired as you. Plus just think, in a few hours you'll be in a beautiful city, exploring, eating and drinking!
*This posts is sponsored. I stayed at the Hilton Luton North for free in return for a review. However as always opinions are my own and I only work with brands that are relevant for you guys!
Follow me on
Twitter | Instagram | YouTube | BlogLovin | Pinterest | Facebook