I hate early morning flights. I don't know why I do it to myself really but for my upcoming trip to Paris, it was essential as I was off to Paris for only 48 hours (1 night) and therefore me and my best friend needed to make the most of our time there.
But once you realise it means getting up at stupid o'clock to get to the airport and being tired for the first day of your holiday, NO THANKS.
Here are my tips on how to prepare for an early morning flight…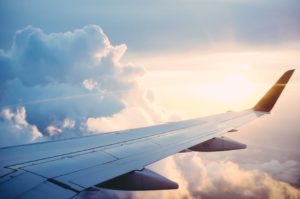 Be organised
Plan ahead, way ahead. And make sure you have checked-in, printed off the boarding passes, worked out what time you need to be in the departures terminal, how long it'll take you to get through security and what time the gate closes. Everything should be meticulously planned out so there is no room for error.
Give Yourself Plenty Of Time
If the actual travelling part of going away is what stresses you out, there are plenty of ways to cope with it. One good idea is to create a plan with generous timings. Forcing yourself to get from your home to the airport to the plane in a brief window is a recipe for disaster. You're better off organising your schedule so that you arrive several hours early and aren't rushed for time if anything goes wrong.
Although you might find yourself sitting in an airport with little to do for several hours, at least you won't add any extra stress to your plate. Plus, once you're there, you can read a book, listen to music, or something else that will help keep you calm while you wait.
Travel With A Companion
It's always good having someone else around who can relieve some of the burden of travelling. Whether they're a friend, family member, or your other half, their presence can work wonders on your mental wellbeing.
If you go away with someone else, you'll always have a person around who you trust and can share your concerns with. Whenever things get too much for you, you can let them know and find a way to cope together. You'll never have to worry about being alone, which is sometimes the biggest cause of stress for people when in another country.
Stay in a hotel at the airport

This only became 'a thing' to me last year when a flight for a trip only left from Gatwick and me living in Midland meant there was no way I was getting up at 1am to drive three hours to Gatwick. I was offered a hotel room and wham I slept in till 6am. Last week I also flew from Luton, and I did the same again, this time staying at the Hilton Garden Inn Luton North. I arrived at 8pm with Katie, so we could chill out, grab dinner and settle for an early night.
My room was great; spacious with large comfortable twin beds, deluxe bathroom with shower, WiFi access, refrigerator, coffeemaker (needed at 5am!) and HDTV. In the hotel there is a gym, and a restaurant downstairs where you can grab dinner the night before your flight at a reasonable price, without having to venture out of the hotel. The food was great, locally-sourced and a drinks menu which you can't help yourself to. There is also breakfast in the morning, from early morning, as they know a lot of people will be up and gone by 7am.
The hotel is also located only ten minutes from Luton and offered outstanding service and design-conscious accommodation, ensuring you can be ready for your flight refreshed and calm. Guests can also make the most of the onsite parking and jump in a taxi to the airport for only a tenner. Overall, I had a great stay and it kicked off our trip to Paris perfectly!
Check your baggage
I was flying with Ryan Air (balls!) and we hadn't got luggage as we were only going Paris for one day. But it is still worth getting the luggage checked as Ryan Air can be stingy with weight and size, and they are dickheads when they want to be. Ryan Air allow you a 10kg limit on carry on which isn't a lot and easy to go over. Make sure you know what your limit is and have weighed your bag with an at-home suitcase weigher.
Avoid A Big To-Do List
There's so much to see and do in a new country that you could probably make an itinerary covering several pages. However, planning too much of your time away in advance could be asking for trouble. The more that you decide to do, the more stressed out you'll get if you struggle to complete the list. You're supposed to be immersing yourself in all these new experiences, not freaking out because you've got two days left and still have a dozen different things you've yet to try.
If you're going to make an itinerary, keep it very basic. Just note down a few things you want to enjoy and let the rest happen naturally. Nothing is stopping you from returning to this country in the future, so you don't have to do everything in one trip.
Take A Stress Relief Supplement
A surefire way to ease your mind when travelling is to take something that's designed to relax you. If you don't feel comfortable using anti-anxiety medication, a CBD supplement may be more beneficial to you. These products are designed to help with a variety of issues, including stress and anxiety, and they're perfectly safe to use.
To find a CBD supplement that works for you, it's worth checking out this selection of CBD capsules. Handpicked CBD prides themselves on only selling lab-certified products, meaning anything you purchase does exactly as advertised. Taking some CBD capsules could really help to relax you before a flight or make it easier to sleep in an unfamiliar location. Just remember to take them around an hour in advance because the effects aren't immediate.
Do Some Daily Exercise
Not many people go travelling just to spend their time exercising. However, trying to fit in some yoga or a short run while you're away could do wonders for your mental wellbeing.
Exercise is always praised as a great way to relieve stress because it releases endorphins, the positive chemicals in your brain. So, starting your day with some physical activity could be an excellent way to set yourself up for what's ahead. That's particularly beneficial if you're anxious about what you've got planned and need some help relaxing.
Pack a travel pillow
I hate mornings, that's just how it is and I will never find it easy getting up for an early morning flight. But one thing that keeps me sane is knowing the moment I am on that plane, I can sleep. However only with a travel pillow! It's a dream, I fall asleep just before take off and wake up when we land meaning I've caught up slightly on the sleep I have missed.
Pack the wellbeing kit
I am a big believer that fear of flying and travel is aided by carrying around your personal wellbeing kit. This for me is lavender oil, my Tisserand Travel Survival Kit, an eye mark, travel pillow and my book. It helps me relax the night before a flight and can also keep me calm when the dreaded anxiety hits the morning after. Don't worry, you are not alone, and everyone is as tired as you. Plus just think, in a few hours you'll be in a beautiful city, exploring, eating and drinking!
Use Coping Techniques
Sometimes, an anxiety attack is impossible to avoid, even if you've followed all of these other tips. In such a situation, it can be easy to freak out, especially if you're in an unfamiliar place.
If your anxiety does get the best of you, try to get yourself somewhere comfortable and use these coping techniques. Deep breathing can help, as can affirmations that everything will be okay. If you're able to distract yourself, that can also make it easier to calm down. Hopefully, the issue will pass quickly enough, but if not, that's why it's always good to have a travel companion with you.
Travelling is the most amazing experience, so you deserve to enjoy it without stress getting in the way. Of course, fear and anxiety don't go on holiday when you do, which is why these tips are so helpful. Following them should make your life a little less stressful, so you can enjoy everything there is to see and do out there.