When I first went backpacking in New York, I realised I should have booked more time to get to know the city properly, to see the sights, to fit in with the locals and just walk around.
You can definitely enjoy the main tourist sites in a few days, but it just gives you an opportunity to take your time getting to know the Big Apple from a deeper perspective.
Whether you're walking on Brooklyn Bridge during the summer, strolling through Central Park during the Autumn months or spending Christmas shopping until you can shop no more, there is something to do, whatever the weather and whatever time of year you visit.
One week in New York is the perfect amount of time to spend in this magical city!
It's known as the city that never sleeps for a reason, and we're going to find out exactly why that is with this itinerary for backpacking New York. Let's get exploring!
Backpacking New York
How to get to New York
New York is a great place to visit not only because there's so much to do, but flights are just SO cheap. Have a look at Norweigan Air and British Airways because it's incredibly likely you'll find a return for just over £200 and I'm not even joking. Getting to New York is so easy and one week in New York is enough time!
When is the best time to visit New York?
This is entirely dependent on what you want to do there, and what kind of weather YOU prefer.
Christmas is an incredibly popular time of year to visit New York, full with Christmas markets, extravagant shop fronts sparkling with Christmas lights, ice skating and of course the Rockefeller Christmas Tree lights are a big highlight.
But with that comes expensive flights and it's full of people. If you visit during the summer months, you can spend time exploring Central Park, visit the Top of the Rock and have an incredibly, clear view over New York City, or jump on a ferry and visit the Statue of Liberty.
What is the best way to get around New York?
Whether you're flying into JFK, Newark or LaGuardia Airport, you have the option of a taxi from the airport, but public transport is always available – just be careful on the subway, I definitely got lost a few times during my first trip backpacking New York.
If you're flying into JFK airport, the easiest way to travel into the city centre is by the AirTrain and a single subway to Penn Station, the main intercity railroad station in NYC.
Otherwise, you can take the AirTrain and then the Long Island Rail Road to Penn Station, which takes less time but is slightly more expensive. For your one week in New York I would recommend taking the train.
Newark Liberty International Airport has the option of train or bus to Penn station, but I would just take the Newark Airport Express straight to Penn station for sake of ease (and it's only approximately 15 minutes longer than taking a train!) LaGuardia Airport provides a shuttle direct from the airport and runs every 30 minutes, straight to Penn station.
When I visited New York, I walked a LOT – I could have taken the subway but I decided I wanted to explore everything on foot. But, I'm one of the few because NYC is absolutely massive, and it took several hours.
The subway is the easiest way of travelling around, and you have the option of either paying 2.75 dollars per trip or buying a week's subway card for 33 dollars. Also, don't forget to take a yellow cab! You're in New York after all.
How to spend a week in New York
Budgeting for New York
Again, this is entirely dependent on what you want to do on this trip. When I visited New York, I stayed in a hostel and then at a friend's house which automatically made things cheaper. We cooked a lot, ate in a few restaurants and visited the shops (you have to!) but didn't buy anything.
That was a different budget to friends I know who visited, stayed at deluxe hotels and ate in fancy restaurants.
Decide which attractions you want to visit, and look into whether buying a New York Explorer Pass, which provides admission to top attractions, can help you save some money if you want to visit a few. You can find the ticket here. This is a great way to stay on budget during your backpacking New York trip.
Sometimes it works in your favour, sometimes not. To conclude, New York isn't a cheap city, but you can travel it with any budget. You can spend anything from 50 dollars to 100 dollars per day minimum, not including shopping you might be doing, the subway ticket or the attraction ticket above.
Top 10 things to do in New York
Let's split this into separate parts of NYC to make this easier for a trip backpacking New York.
It might surprise you that New York isn't just about Manhattan – there's so much to do outside of it – make sure you pay a visit to Brooklyn during your one week in New York!
Uptown Manhattan
Central Park
Start your backpacking in New York, with Stroll (or cycle the loop!) through Central Park with a cup of coffee from the Loeb Boathouse. I don't rate New York coffee (sorry!) but it was really nice to wander through and take a moment of silence.
The park is usually full of runners and dog walkers which is nice, and if you visit in Spring, then keep your eyes peeled for the Cherry Blossom and the Magnolias, pretty and pink.
There are some great places for a photoshoot too – The Mall and Belvedere Castle are particular favourites. If you fancy, you can visit the Shakespeare Garden for free, inspired by beautiful, English, country gardens during your one week in New York.
Museums
Conveniently, Central Park is situated near some really interesting museums. I would visit at least one if not two. Particular favourites are the famous Met Museum (Metropolitan Museum of Art), the Guggenheim Museum and the American Museum of Natural History. During the summer, the Met has a rooftop bar, so pay a visit to it if you've got time.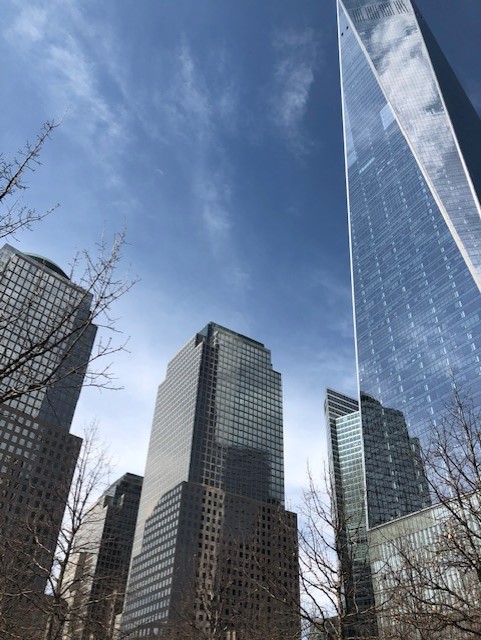 Midtown Manhattan
Chelsea Market and the High Line Walk
A great spot during your one week in New York is the Chelsea Market which has an assortment of delicious food to choose for lunch, with various delicacies to tickle your fancy. After you've eaten, walk along the High Line for beautiful scenes across the city. Previously a rail line, the Highline is now a popular tourist hotspot and many people just sit there, relax and take in the view.
The New York Public Library
The New York Public Library is one of the most beautiful libraries I have ever seen, with its steps and famous marble lions guarding the entrance. Entry is free and you can go inside and visit the beautiful reading rooms – just make sure to keep quiet as people do work in here! A must-see when you are backpacking New York.
Hudson Yards
One of the most visually appealing buildings, you'll need a free ticket for admission to this building. It's a great place for shopping and dining, with offices alike but even if you just want to pay a visit to the exterior for a quick snap, it's worth it.
Top of the Rock VS Empire State Building
You've got the option of choosing between the Empire State Building or the Observation Deck at the top of the Rockefeller Centre (otherwise known as the Top of the Rock) to access panoramic views across the city. I would choose one of these because both are expensive and can take ages to queue for. I recommend the Top of the Rock because you can see the Empire State Building WITHIN that panorama. Buy a ticket in advance to guarantee entry at the specific time you want to go and enjoy.
Times Square
You obviously have to pay a visit to buzzing Times Square. I loved seeing it during the day and also at night when all the billboards are lit up in the dark. I would highly recommend a visit here during your 1 week in New York.
If you fancy a Broadway show, you either need to book in advance or arrive EARLY (pre the booking office opening at 11 am) and try your luck buying cheap tickets at TKTS in South Street Seaport (near the Prudential Building in 199 Water Street). A must-do when backpacking New York!
Grand Central Station
The architecture here is wonderful, the ceiling and the clock are iconic and well known from various movies.
Shopping
Pay a visit to the well-renowned 5th Avenue, with its wide array of department stores – and check out Saks (popular for not only its name but its spectacular, Christmas window displays) and then grab a yellow taxi to the famous Macy's in Herald Street. If you visit during the summer months, you could always take a picnic and sit in Bryant Park after you've shopped 'til you've dropped. Also if you've got time, visit the Chrysler building – it's really striking.
Downtown Manhattan
Financial District
Home of the financial district, Downtown Manhattan generally consists of the area past 14th Street. It's a great area to explore during your 1 week in New York.
Wall Street and The New York Stock Exchange are points of interest around Lower Manhattan, although interestingly a lot of the finance district has actually moved to other parts of New York.
9/11 Memorial and One World Trade Centre
A ten-minute walk away lies the memorial to 9/11, built on top of where the twin towers collapsed in 2001. The museum is a very emotional experience featuring personal accounts, photos and actual pieces of the towers.
You'll then visit the memorial which has all the names of the people who tragically lost their lives engraved on it. There is now a new building aptly named One World Trade Centre which is currently the tallest building in North America.
It provides an observation deck where visitors can access beautiful views across the Hudson River and New Jersey. A must-visit attraction during your backpacking New York.
Statue of Liberty and Ellis Island
Book AHEAD of time to secure your tickets for this memorable experience.
You have two options here, jump on the ferry and disembark at Liberty Island to view the statue in person or witness it as you sail past it to Ellis Island. I did the latter, explored Ellis Island and then caught the ferry back to Manhattan.
Book your ferry tickets from Statue Cruises which is the only company allowed to let ferries arrive on this island. There is airline-style security before boarding the ferry – don't bring backpacks and do bring your passport/ID.
Brooklyn
And the top thing to do during backpacking New York is visiting Brooklyn. It is a must to add into your itinerary. Make sure you walk across Brooklyn Bridge and take in the sunset. I started walking the Brooklyn Bridge from Chinatown actually, it was long but I really enjoyed it.
Wander around the popular hotspots of Williamsburg – a previously artsy area which now has some wonderful rooftop bars and a great summer market called Smorgasburg by the waterfront.
Pay a visit to the seriously trendy Bushwick, with its vintage cafes, great beer and even better pizza, and try to explore DUMBO – another point of interest – with its interesting murals, wall art and its stunning view of Manhattan Bridge off Washington Street.
If you are visiting from April to October, then visit the Flea Market! It's quite upmarket and sells everything from handmade jewellery, vintage clothing to arts and crafts. It makes for a really fun day out during your 1 week in New York.
Top places to eat in New York
Ellen's Stardust Diner
Ellen's isn't hard to spot as the queue usually snakes around the corner, and they don't take reservations. The '50s inspired diner features talented singers who wait on your tables whilst you enjoy the show. Get there ahead of the time you'd like to eat and pray you to get seated for an incredible experience!
The Cheesecake Factory/Juniors Cheesecake
You cannot visit New York without trying their infamous cheesecake. I know my friends in the States are shaking their heads right now, but I LOVE The Cheesecake Factory chain – I can't help it! If you fancy cheesecake elsewhere, you've also got Junior's which, yes, is the most famous restaurant for cheesecake.
Katz Bakery
Prepare for another queue! One of the most iconic places to grab pastrami or corned beef bagel – or actually, pretty much ANY Jewish deli classic you can think of. You must add this absolute, legendary place to your list, I had one of the best salt beef and mustard bagels of my life here (no exaggeration).
Dun-Well Doughnuts – Brooklyn
Absolutely, delicious, vegan doughnuts with over 200 varieties – need I say more?
Roberta's – Brooklyn
A famous pizzeria in Brooklyn for good reason – their pizzas are fantastic.
Top places to drink in New York
What I loved about NYC is despite partying into the early hours, there just always seemed to be people around – so I guess the 'city that never sleeps' title is correct here.
Bushwick has some great little bars – I really liked ' Yours Sincerely' which you can visit during happy hour for some good deals on some funky drinks or grab a glass of vino at 'Sunrise/Sunset' which has its own wine store.
If you fancy going out in Williamsburg, pay a visit to Fresh Kills bar which provides inexpensive, tasty cocktails or if you're looking for a more flashy crowd, dress up and watch the sunset at Westlight bar, situated at the top of the William Vale hotel.
If you fancy going out in Manhattan, the streets around Washington Square Park have bars that are usually populated by the university crowd and Bleeker Street provides a variety of upscale bars and small places to drink.
The Bowery area is another great spot to go out in the Lower East Side too where you can grab a drink at Bar Goto before dancing the night away at places like Kind Regards or Phebes.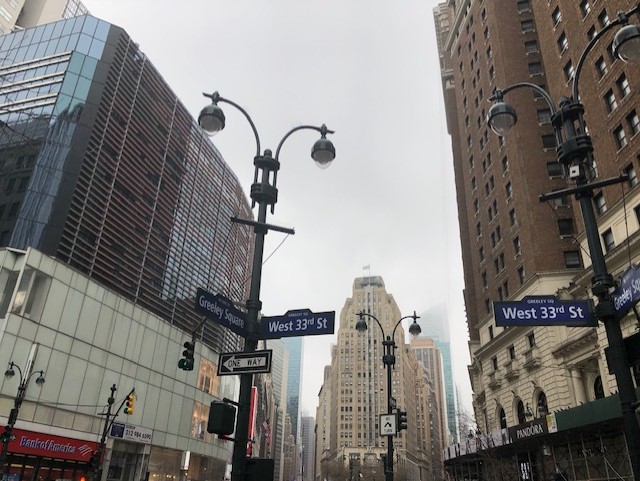 Where to stay in New York
New York isn't the cheapest of cities to stay in, so if you're tighter on your budget, then I'd recommend a hostel although even the rooms here aren't your typical Asia-style £3/night prices.
You can search on booking.com or trivago for some great deals but the below are my personal favourites:
I've always trusted the HI establishment – they're a good hostel chain, dotted around many locations in the USA and I've met some great people here. You can choose a mixed or female-only dorm for peace of mind. Prices start from £19/night. They also offer family rooms for extra.
I would recommend staying in Midtown Manhattan if this is your first time to New York, as it makes a great base to start your exploring. Prices start from £90/night for a double room at the Hyatt or for a slightly more luxurious experience, £202/night at the Westin.
You can find numerous hotel rooms on Airbnb in NYC, and sometimes the price is even more reasonable than on hotel booking websites.If you're looking for an entire place for yourself, you've got more expensive options at over £500/night or the Airbnb I was recommended I linked above at only £72/night.
Happy exploring!
If you on a bigger trip exploring more of the world, check out my guides to France, Chile, Iceland, Italy, Saint Lucia, Spain and United Kingdom.
Author Bio: Emily runs the blog Emilys Eyes Explore. She has been travelling the world since September 2018, after finally being diagnosed with depression and anxiety. Determined to change her life and mentality around, she moved to Spain for two months to learn Spanish, flew to South America, travelled around India, explored Malaysia, ventured around SE Asia and started life in Australia. Emily blogs to raise awareness of travelling solo as a female who suffers from depression and anxiety and it is her hope that people in the same position will be able to relate to the stories she shares and in turn feel less lonely and isolated as she shares her thoughts, feelings and emotions along this journey. Check out her Instagram too!
*Images either authors or from Pexels.
---
My Travel Tips and Recommendations
Flights
To book flights, I always use flight search engine Skyscanner, I regularly use the Everywhere tool to find the cheapest places to travel. It's how I get to travel so much all around the world. I find it the easiest way to compare flight prices across airlines and get the best deals.
Accommodation
For accommodation, I usually book most of my hotels or hostels through Booking.com. I love using this platform as it provides me with some amazing deals for accommodation all around the world. Or if you prefer, I also recommend using Airbnb. If you haven't signed up with Airbnb already, you can use this link to get £25 off your first visit!
Travel Insurance
Picking travel insurance that covers you in all eventualities is an essential part of planning a trip for every single person. If you can't afford travel insurance, you can't afford to travel. You never know what's around the corner.
Did you know I also vlog my trips? Make sure you subscribe to my YouTube channel so you get alerted when all my travel videos go live… CHECK THEM OUT HERE
Thank you for reading and as always happy adventuring! If you have any questions about the destination please leave these in the comments below.
If you've enjoyed this post, please share it for me with all your friends and family!
Sophie X