One of my favourite things to do in the UK is go for a romantic weekend UK break with my boyfriend. We love exploring more of the UK and a staycation is the perfect trip. Over the past few years UK breaks have become increasingly popular with both couples and families, due to the quality and volume of amazing and unique staycation accommodation in the UK. Cheap UK breaks are so easy to come by, but there's also an array of luxury quality accommodation all over the UK.
UK getaways are the best way to explore our amazing country, from the foothills of the Chilterns, to the lakeside cabins in the Lake District. I have been up and down this country searching for the very best hotels and accommodation for a staycation in the UK. So keeping reading if you fancy a romantic weekend breaks with your partner…
Old Swan & Minster Mill Oxfordshire UK
I've stayed at a lot of hotels over the years, but something about the Old Swan and Minster Mill has stuck with me. It made me feel all warm inside, like I had arrived back at home, and for that, I will keep this review brief.. as I believe that says it all. Romantically set in 65 acres of woodland and orchards, The Old Swan and Minster Mill is over 600 years old and located only 14 miles from Oxford.
The Old Swan and Minster Mill is nestled in idyllic grounds in the picturesque village of Minster Lovell, and it is the most quintessentially British hotel I have stayed in. The hotel even has a river (River Windrush) running next to the hotel, and an adjoining mill, which seamlessly blend the rural charm of these historic buildings with modern design, luxurious comfort and delicious menus crafted from the best seasonal produce.
The hotel is home to stunning gardens, wildflower meadows and woodland, that comes alive during the summer, and gives you a chance to explore the British countryside. You can also partake in some fishing, walking, croquet and tennis, whilst during the winter there is nothing better than sitting in the snug, next to the roaring fire.
Minster Mill is just 15 miles from the dreaming spires of Oxford and 11 miles from the inspiring Blenheim Palace. The charming Cotswold stone buildings and barns are flanked by 65 acres of idyllic grounds set in the picture-perfect Oxfordshire village of Minster Lovell.

Port Lympne Reserve and Hotel Kent UK
Last year me and Theo went on a safari weekender at the wonderful Port Lympne Reserve. We visited for a whole weekend in order to get the most of our time exploring their 600 acres, and hundreds of animals. Port Lympne Zoo are a conservation charity dedicated to protecting wildlife, who also work alongside The Aspinall Foundation, as they aim to introduce animals back to the wild.
Our trip to Port Lympne Zoo consisted of a private safari, a stay in their decadent Rhino Lodge, toasting marshmallows in the Port Lympne Treehouse Club, feeding the giraffes lunch, meeting Rosie the Rhino and whizzing round the park on our very own golf buggy. It really was a weekend we will NEVER forget!
Port Lympne Zoo is home to over 700 animals and 88 species and there is more than enough time to see all of these magnificent animals during your stay. There are an array of animals, from rhino, wolves, bears, giraffe, zebra and many more. We were so impressed with this place from the moment we arrived, staff were attentive, we were given an itinerary for the day and before we knew it we were whisked off on our private safari tour.
Alongside the safari, there is also sections of the zoo to walk on foot, including visiting the gorillas, lions and tigers, or you can visit the landscaped gardens and maze, take in the views from the Trojan stairs and even visit their new attraction Dinosaur Forest (Theo was thrilled, as you can see further down the post!)
Rudding Park Hotel Yorkshire UK
Set in 300 acres of landscaped gardens and woodland, Rudding Park is one of the most beautiful privately owned luxury hotels. The hotel has 90 bedrooms, two restaurants and a kitchen garden, private cinema, two golf courses and conference, and added to the plethora is a £9.5 million spa, with rooftop spa, spa garden, and leisure facilities. Located only a few miles from Harrogate, and 20 miles from Leeds, Rudding Park is well-connected.
And they've got some accolades too including: the only UK Hotel in TripAdvisor 2017 Hall of Fame for Hotels, the Best Hotel Rooms in UK, Trivago 2017 and a decade in the Top 3 Best Hotels in the UK, TripAdvisor 2016. So it's fair to say I had high expectations….
The new Rudding Park Spa is one of the finest in the country and recaptures Harrogate's spa heritage using natural waters from the grounds at Rudding Park. If you know, you'll know I love a spa. I've been to three spas in four weeks this month. And I am all the wellbeing of mind, body and soul, so I could not wait to visit Rudding Park spa.
As soon as we arrived we changed into our robes and swimsuits in the room and headed over the spa, for a quick visit before dinner. We registered with reception where we were given our wristbands that would give us access to the whole of the spa. We started downstairs with a quick swim in the pool, before heading up to the Rooftop Spa and garden.
Barnsley House Hotel & Spa The Cotswolds UK
Last weekend, to celebrate Theo's 25th birthday, we ventured out into The Cotswolds for a country retreat. Set in an 11 acres of grounds, Barnsley House, near Cirencester is the perfect haven for a weekend of relaxing in style. The Cotswolds has always been one of my favourite places, the rolling hills, access to countryside and how you can feel at one with nature.
The Cotswolds has always been one of my favourite places, the rolling hills, access to the countryside and how you can feel at one with nature. I stayed at Ellenborough Park last spring and loved being back there so I was suitably excited when I booked a stay at Barnsley House.
Barnsley House plays host to landscaped gardens, tennis courts, a helipad, holistic spa with hydrotherapy pool, a private 30-seat cinema, DVD library, a traditional restaurant and 18 stunning bedrooms, ranging in size, bathroom features and style.
And the grounds are suitably beautiful, just like the house, with an array of plants, fauna and trees, making you feel a million miles away from the chaos of everyday life.
Our bedroom for the night was stunning; a deluxe attic room with gorgeous views of the famous kitchen garden out the back of the property with a spacious lounge area and open plan bedroom with en-suite bathroom, with the most stunning bathtub, and walk-in shower. From the moment we stepped inside our room I felt like I had come home.
Log House Holidays The Cotswolds UK
Last month I visited Log House Holidays with a few of my favourite blogging ladies including Ellie from The Wandering Quinn, Kara from Heels in my Backpack, Sam from Yokomeshi and Liv from Liv on a Shoestring! We had been meaning to go away together for ages, and when this place appeared on our radar, we knew it was the perfect retreat for a weekend away from the chaos of London. Log House Holidays is a family run 130 acre nature reserve in the Cotswolds, offering something unique to visitors to The Cotswolds; a small oasis where you can escape the pressures of daily life in your own Scandinavian style log cabin.
Started in 1980, the family-run business open its doors each year to families, and friendship groups from the UK and beyond. Founder Anthony Edmondson had an idea for a unique and exclusive venue where both conservation and totally secluded holidays would exist in harmony. The log cabins offer the perfect place for family holidays and special celebrations, romantic weekend breaks or a long break with good friends.
The log cabins are all modern eco-friendly homes, finished with beautiful interiors, all with modern appliances and amenities – completed with a wood burner, lakeside hot tub, rowing boat, fire pit, private beaches and BBQ. Our cabin was called Kaiser and was situated on the inlet road in the middle of the lakes, with its own driveway and parking. As soon as I arrived I was taken aback at the cabin interiors and the atmosphere. From the lit Christmas tree, to the immaculate bedroom spaces, and roll top bath in the upstairs bathroom.
The Painswick The Cotswolds UK
Another Friday means another weekend break, and this time I headed back to one of my favourite places in the UK, The Cotswolds. This time however I was staying at The Painswick in the south of the region for a night away with one of my friends Anastazja. You could argue that every inch of idyllic England is wrapped up in the Cotswolds with the region running through five counties and countless towns and villages. The Cotswolds is the most beautiful place I know with rolling hills, ancient woodlands, houses oozing with history, world renowned arboretums and villages built upon honey colored stone of course…
The Painswick was the ideal location for our girls weekend away, situated in a handsome, 18th-century house with a restaurant and 16 stylish bedrooms. Formerly the oddly garish Cotswold 88 hotel, it was acquired by the Calcot Manor group who have given it a wonderful makeover, injecting panache for this former local historical manor.
From the moment we checked in, we were blown away by this magnificent building and the exterior is just the beginning. Inside there is witty artwork, striking prints, coffered ceilings, wooden flooring, velvet chairs and a comforting feeling throughout.
I have previously stayed at their sister property Barnsley House around 30 minutes away, and it led with a similar décor. Read my review of Barnsley House.
The Royal Yacht Hotel Jersey
This is where me and Theo got engaged, well in Jersey not at this hotel, but it was where we celebrated our first day of being engaged! We had an incredible stay at The Royal Yacht in St Helier! The hotel is a super stylish hotel with views over the marina and the square. It's such a great hotel to enjoy the ambience of a luxury yacht (as the name suggests), but without the seasickness – PERFECT!
If you want a great location, with the added benefit of being in the thick of it, surrounded by cafes, restaurants and shops, this is the Jersey accommodation for you. Located smack bang in the middle of St Helier, the Royal Yacht Hotel is the place to visit, eat, and drink for both locals and tourists.
Downstairs you'll find the popular Zephyr café spill onto Weighbridge Place, the classy cocktail bar on the second floor Drift bar, as well as fine dining Sirocco restaurant on the first floor. You really are spoilt for choice at this stunning hotel, and from the outside you'd never guess there was so much incorporated within their four walls. Make sure you check out Sirocco restaurant, with its open kitchen, Zephyr's all-day dining and in the old building is the Grill, where you can order steak any which way.
The decor at the hotel is luxury with dashes of wood and chrome throughout both the lobby and common areas, as well as the bedrooms. Most of the rooms also have balconies overlooking the harbour, which are created with sheets of curved glass to create waves across the front of the building.
The hotel is full of elegance and style, around every corner. Our room was stunning, with a massive double bed, hardwood furniture offset by deep blue and bronze soft furnishings, as well as a stunning bathroom, with underfloor heating and separate bath and shower in most rooms.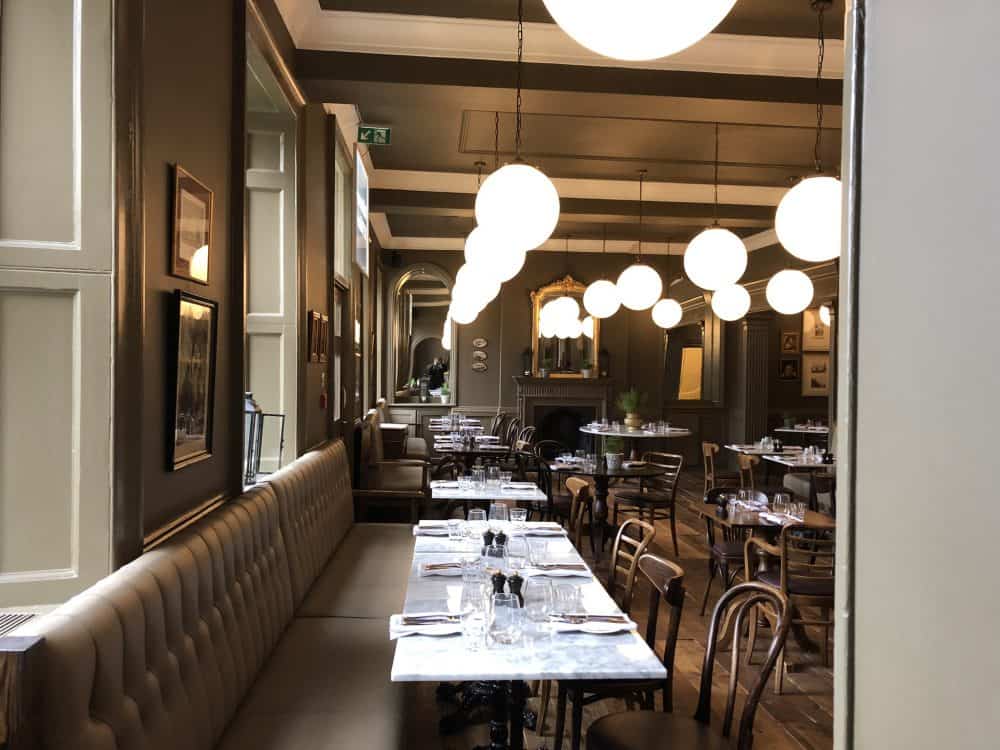 Abbey Hotel Bath UK
To celebrate World Sleep Day in March, I took a 24-hour trip to the wonderful city of Bath in the UK to stay at the newly refurbished Abbey Hotel. The stylish Abbey Hotel is perfectly located for a weekend break in Bath, with art-filled corridors, a classy bar and glamorous bedrooms. It was the perfect base to spend some time in the city with my friends Monica, Vicky and Emily, providing us with great access to the tourist hotspots but also somewhere to relax, unwind and get some sleep.
The Abbey Hotel spreads over three interconnected 18th-century townhouses overlooking an open, triangular area close to the rear of Bath Abbey known as Bog Island. The location is possibly the best selling point for me, as it is only a minute's stroll from Bath Abbey, the Roman Baths and Thermae Bath Spa. And to re-fuel afterwards, there are lots of cafés and restaurants virtually on the doorstep.
The hotel has a bold and unique look, offering stylish interiors, using leather, wood and strong dark colours to add luxury to every corner of this lovely hotel. This is particularly true in the plush and fun-looking ArtBar, where lampshades made out of decanters and dozens of glasses hang from the ceiling, and in the restaurant, which is painted pink and has long, beige drapes framing modern art.
Brompton Lakes Yorkshire UK
In January, we drove three and a half hours up the M1 to Richmond, North Yorks. We were staying at the wonderful Brompton Lakes,, Yorkshire, part of the Holiday at Home family. We went up there with our best friends Tom and Sophie to celebrate Theo's birthday in style.
After a chaotic festive period, we wanted a trip that would be a mix of adventure and relaxation and when we stumbled across Brompton Lakes we knew it was the perfect location with a hint of luxury, alongside a splash of wellbeing = my perfect trip! Brompton Lakes is a collection of 5* lakeside holiday lodges with hot tubs in Richmond, North Yorkshire, where you will find everything you need for a weekend retreat away from the chaos of everyday life with family or friends.
St Michaels Resort Falmouth UK
Are you ready for the ultimate Cornwall getaways? Located in the beautiful seaside town of Falmouth in the UK, the gorgeous St Michaels Resort is a hotel and spa worth visiting. Since 2002, St Michaels Resort & Spa has provided guests from all over the world with an environment in which they can relax unwind and enjoy the best in Cornish hospitality.
Their 'feel good again' philosophy is embraced in all aspects of the hotel including their health club and spa to the food in the restaurant and proximity to the open ocean. They believe that well-being is all about balance and your weekend break in Falmouth can be a mixture of relaxation and activities.
Me and Theo visited Falmouth at the end of September this year and had the best time exploring Falmouth, and the nearby towns and villages. Falmouth is it an underrated town in Cornwall and is often overlooked by the more popular towns of Newquay.
---
Sign up to AirBnB with this link and receive a £23 off your first booking.
To receive my articles and reviews straight to your inbox SUBSCRIBE HERE.
Did you know I also vlog my trips? Make sure you subscribe to my YouTube channel so you get alerted when all my travel videos goes live… CHECK THEM OUT HERE
Thank you for reading and as always happy adventuring!
If you've enjoyed this post, please share it for me with all your friends and family!
Sophie X
Credit: Some content has been taken from the hotel website for accuracy when describing the hotel.