It's no secret that Croatia has its fair share of stunning islands, but very few can compare to Hvar. There are so many amazing things to do in Hvar, so I have listed some of the best.
The island is absolutely gorgeous, and the town of Hvar even more so – with a spectacular old town, breathtaking views everywhere you look and the best nightlife in the country, Hvar is popular with everyone looking to have the time of their life.
What makes this Croatian island even better is that even though it's known for the wild nightlife, the island is also full of secluded bays and coves where you can have an entire beach to yourself.
Whether you're looking to party day and night or have a fun family vacation, Hvar will cater to your needs. And our guide to everything you should know about Hvar will help you iron out all the details on your perfect vacation itinerary!
Keep reading for everything you need to know on visiting this magical place, as well as the best things to do In Hvar…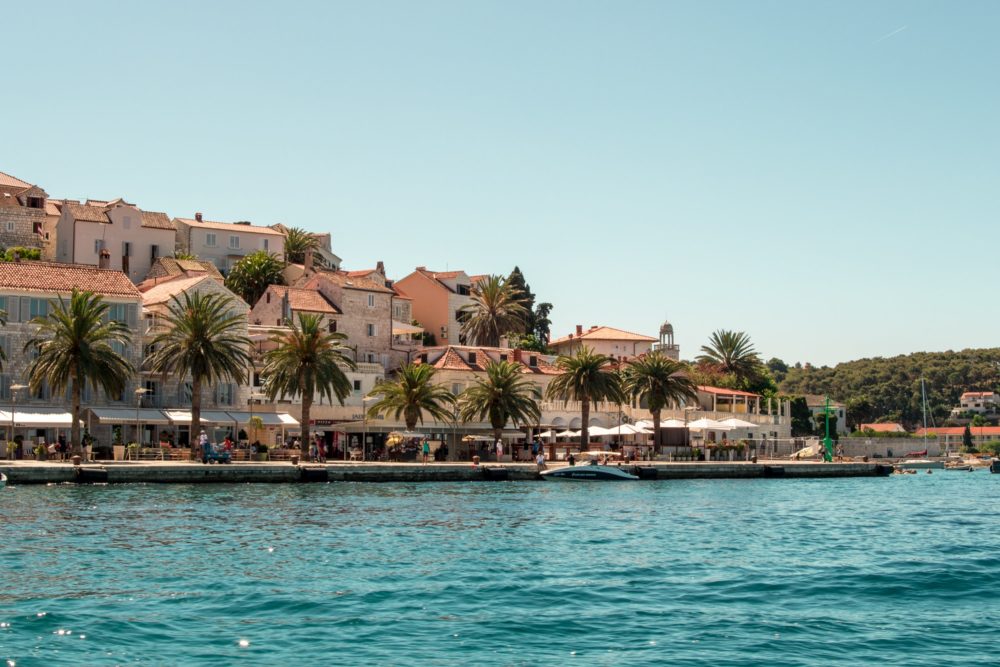 How To Get To Hvar
Hvar is an island, so there's not really the best way to reach it – more like the only way to reach it. Ferries to the island depart every day from Drvenik and Split and they each arrive at a different port on Hvar island. For international travellers, it's best to fly to Split and then take a ferry to Stari Grad (Hvar) from there. It is also possible to take a ferry from Ancona (Italy).
Best Time To Visit Hvar…
… is obviously the summer! With spectacular beaches, a warm Meditarennaean climate and an abundance of beachside resorts, Hvar is the ultimate spot for a summer vacation. Especially if you're looking to lounge on the beach as much as possible.
How To Get Around Hvar
Hvar is one of the few Croatian islands that has a decent network of public transportation. And by that, we mean that there are busses that take you to and from most larger towns on the islands. If you want to visit some of the more secluded areas of the island, your options are renting a car, taking a taxi, cycling or just hiking.

Tips For Responsible Tourism In Hvar
With a pretty wild nightlife, Hvar has been extremely popular with younger tourists for a long time. And with young adults comes irresponsible behaviour; in an effort to change that, the town's mayor implemented some rules for the tourists to follow.
You are not allowed to walk around Hvar in a swimsuit or without a proper top on. It's also not allowed to consume alcohol in public places or to walk around with a drink in your hand. The fines range from 500 to 700 Euros, so they're high enough to make people put on a t-shirt when heading to the store.
It's not really clear whether or not the rules apply to footwear. We wouldn't recommend walking barefoot anyway because the cobblestone tends to be scorching hot under the summer sun. Some comfortable water shoes might be the best option if you really can't make yourself wear uncomfortable flip flops!
Budgeting For Your Hvar Vacation
The island – and especially the town – of Hvar is one of the priciest destinations in Croatia. But that doesn't mean you can't experience it on a tighter budget – avoiding overpriced restaurants and bars is key to not breaking the bank.
An average traveller will spend about $100 per day in Hvar, with eating at least two meals in restaurants and paying for taxis to get around the island. But if you have no intention of leaving the town of Hvar and you prefer to cook your own meals, you could easily get by with as little as $20 for groceries or frozen meals. And if you rent a car or a bike, you can save a fortune on taxi rides.
Top 10 Things To Do In Hvar
While it's possible to enjoy Hvar without actually getting up from your lounge chair on the beach, you can't truly discover the town (or the island) if you just work on your tan. Here are some tips on the best things to see in Hvar town, as well as which other places on the island it's worth making time for! Here are the best things to do in Hvar…
St. Stephen's Square & Cathedral
St. Stephen's Square and Cathedral are of great historic significance for this charming town. The Baroque cathedral and its 17th-century tower truly dominate the entire public square. If you decide to sit down for a cup of coffee in one of the many cafes at the square, just remember to put on a t-shirt! One of the most beautiful things to do in Hvar!
Pakleni Islands
A day trip to Pakleni Islands is a must for anyone who finds the town of Hvar to be a tad overcrowded. With picturesque coves and plenty of secluded areas, these rocky islets are perfect for all of you who want to spend some time surrounded by beautiful nature.
Fortica (Spanish Fortress)
Fortica is a hilltop fortress that offers some of the best views of the town and Pakleni Islands. The uphill hike is a bit tiring, but the spectacular panoramic views make you forget about the throbbing pain in your thighs in a matter of seconds.
Franciscan Monastery
The Franciscan Monastery is a Hvar sight you just can't miss – it's right next to the main port in town and its bell tower can be seen from virtually everywhere in Hvar. The Renaissance exterior of the building is very interesting, but it gets better when you go inside the monastery – there's a massive depiction of the Last Supper, among other stunning paintings. A stunning things to do in Hvar!
Dubovica Beach
Dubovica Beach is just a 15-minute drive from Hvar town, and it's definitely worth it to make the trip, especially if you're not a fan of the crowds at the public beaches in the town. The pebble beach is in a secluded bay and it features crystal clear turquoise water as well as a beach bar with refreshing drinks and delicious food.
Grapčeva cave
This one is for the history buffs – Grapčeva cave is one of the most significant prehistoric sites in the Adriatic. Items discovered here date all the way back to 4 B.C. and they showed that the inhabitants of the island were familiar with polychrome ceramics from the Aegean and the Ionian Sea.
Hike To Napoleon Fortress
If you're in the mood for the proper hike, one of the best things to do in Hvar is to head to the Napoleon Fortress. You'll be glad to know that there is a good trail just above the old town that takes you to Napoleon Fortress. It's a short trail of some 3.2 kilometres, but it's all uphill – perfect if you also want to feel the burn in your legs. And the views from the top are even better than those from the Spanish Fortress!
Sveta Nedjelja – Bay Lučišća
Bay Lučišća is another absolute gem you should make time to visit. It's pretty far from all the busy towns on the island, so it's usually just deserted. And there's not even a beach bar or a restaurant here, which makes it even less attractive for people – if you're looking for a serene spot where it's just you and nature, this is where you should go.
Adventure Park In Jelsa Town
Head to Jelsa town if you're looking for a day full of fun. The town boasts the island's only adventure park, which offers some excellent entertaining activities like paintball, archery and go-kart rides.
Visit Malo Grablje
Malo Grablje is an abandoned village north of Milna – the inhabitants were all evacuated to Milna in the 60s in search of a better life. Nowadays it's an ethno village, and it's an excellent spot to escape the crowds of Hvar town.

Top Places To Eat In Hvar
Another one of the best things to do in Hvar is eat!! Dalmatino is one of the best restaurants on the entire island, and it's perfect for foodies who appreciate Mediterranean cuisine. It's recommended that you make a reservation at least a day or two before you plan to eat here since it tends to be really busy during peak season.
If you visit the Pakleni Islands you should grab a bite at Bacchus Palmižana. The restaurant has classic Mediterannean cuisine, but with a stronger focus on traditional Croatian dishes.
In case you get hit by an irresistible craving for something sweet, head to Garip patisserie. With traditional Croatian desserts and delicious gelato, you will be spoiled for choice.
Top Places To Drink In Hvar
And of course, with these perfect sunset views, another of the best things to do in Hvar is head to a beach bar.
Hula Hula Beach bar is a great place for the younger crowd. With live music, parties all day long and all the cocktails you need, it's the spot in Hvar to have fun and do some day drinking.
Head to Wine Bar Pršuta if you're looking to try some of the best local wines. The place is a true hidden gem and it might just make you fall in love with Croatian wine.
If you want the experience of all those celebrities that flock to Hvar, head to Carpe Diem. The beach bar is known for the luxurious interior and some of the best parties on the island, with all the overpriced cocktails you could possibly want to have.
Colnago Winery and Snack bar is the best winery on the Pakleni Islands. It's also nowhere near as crowded as the beach bars, so it's the best spot for those of you who prefer more peaceful settings, with delicious local wines.
If you decide to visit Dubovica beach as we suggested, you'll have no other option than having drinks at the Dubovica beach bar. They also serve great food, with a side of some gorgeous scenic vistas of this enchanting bay.
Where To Stay In Hvar
The prices of accommodation on the island of Hvar vary drastically depending on the exact town you want to stay in. The town of Hvar is obviously the most expensive, and the further you go from it the cheaper apartments get. But, Hvar town is also the most popular and luxurious destination on the island, so the high accommodation prices shouldn't come as a surprise.
If you decide to stay in Hvar town, we highly recommend you rent an Airbnb. They're by far the best value for money, especially for couples and groups of friends.
The prices listed below are the average prices of accommodation in Hvar town. The rest of the island is usually 20-30% cheaper.
Hotel: The average price of a hotel room for two in Hvar is between $150-200, depending on the exact time you're visiting. Hotels are priciest in the last two weeks of July and first two weeks of August – visiting in the off-season means prices slashed by as much as 50%.
Airbnb: The average price for a double bed for two (studio apartment usually) is around $60-70. The closer you are to the beach, the more expensive the apartment.
Hostel: Hostels are the worst value for money. The average price for a double bed in a shared dormitory is $60 – as much as an entire Airbnb.
Good luck planning your trip, and I hope this blog post of the best things to do in Hvar really helps!
If you on a bigger trip exploring more of Europe check out my guides to France, Germany, Greece, Iceland, Italy, Portugal, Spain and United Kingdom.
Author bio: Anna was born to travel the world having studied languages all her life. Although she has travelled the world, she now calls Switzerland home and spends her time writing about her experiences on Expert World Travel (https://expertworldtravel.com/). You can follow her on Facebook and Twitter.
---
My Travel Tips and Recommendations
Flights
To book flights, I always use flight search engine, Skyscanner, I regularly use the Everywhere tool to find the cheapest places to travel. It's how I get to travel so much all around the world. I find it the easiest way to compare flight prices across airlines and get the best deals.
Accommodation
For accommodation, I usually book most of my hotels or hostels through Booking.com. I love using this platform as it provides me with some amazing deals for accommodation all around the world. Or if you prefer, I also recommend using Airbnb. If you haven't signed up with Airbnb already, you can use this link to get £25 off your first visit!
Photography and Technology
Here is a list of the technology I always travel with:
To receive my articles and reviews straight to your inbox SUBSCRIBE HERE.
Did you know I also vlog my trips? Make sure you subscribe to my YouTube channel so you get alerted when all my travel videos goes live… CHECK THEM OUT HERE
Thank you for reading and as always happy adventuring! If you have any questions about the destination please leave these in the comments below.
If you've enjoyed this post, please share it for me with all your friends and family!
Sophie X