When life gives you lemons (aka COVID), you instead book a last-minute motorhome Scotland road trip.
This post includes my top tips for hiring a motorhome in Scotland, as well as more information about our Scotland road trip itinerary and any Scotland road trip ideas I have!
Last month I went on the ultimate UK adventure, travelling the length of Scotland and England, for our summer holiday of 2020.
We stopped in some of the most beautiful places I have ever seen, from the banks of Loch Lomond to the views from Kinder Scout. We conquered the Peaks, Yorkshire, and the southern Scottish Highlands. Our Scottish road trip was amazing and one I will never forget.
But one of my favourite parts to our trip exploring the UK, was when we hired a motorhome in the Peaks and headed north into Scotland.
After driving our motorhome in England two hours north we have arrived in Scotland. I couldn't be happier to be back in the land of Haggis, lochs and whisky. We stopped at Loch Lomond, Glasgow, Balloch, The Trossachs and then Edinburgh.
Scotland is one of my favourite places in the world, and I have been lucky enough to visit three times in two years.
And a Scotland road trip route is one of my favourites trips to plan. You know that around every corner you are going to see beautiful lochs and stunning mountain ranges.
We didn't get very far north as there was so much to see, but next time I'd like to do the Scotland North Coast 500 drive!! That would be the ultimate Scottish Highlands Tour.
Keep reading for my guide to a Scottish Highlands Road Trip…
Scottish Road Trip: DAY ONE
On the first day of our Scotland highlands road trip, we headed north. My brother and his girlfriend set off from Luton, just outside London in the morning and by the late afternoon had arrived in Yorkshire to pick us up. From there we headed across the bottom of the Yorkshire Dales, to pull over the night in Penrith on a campsite.
We settled in, hooked up to the electricity, and then got comfortable for the evening. We pulled up here to give us a rest and a good start for the morning, as we were to get up early and head across the border first thing to start our Scottish Highlands Tour.
The campsite we stayed at was Riverside Tourer Park, around 20 minutes from Penrith. Riverside Tourer Park is located on the outskirts of the rural hamlet of Millhouse, around 1.5 miles from the village of Hesket Newmarket and 3 miles from the village of Caldbeck.
We parked up in the "Millrace" area which is widely used by Caravan & Motorhome Club Members and others. Next to the campsite is the dominating River Caldew and its tributary Beck, (Gillcambon) converge on the site, and are completely open and accessible to site users, and form over half of the perimeter. Both the Gillcambon Beck and the River Caldew form the actual border of the Lake District National Park.
It was a great campsite, despite only being there for the evening! We grabbed some dinner locally and then played some games of Uno and I read my book on my Amazon Kindle Paperwhite. I am currently reading Becoming by Michelle Obama and I am hooked!
Note: Due to COVID the showers and toilets were closed.
Scottish Road Trip: DAY TWO
Up bright and early, we all showered, made breakfast, and then emptied our water waste before jumping on the road towards Scotland.
Our first stop on our road trip in Scotland was at the world-famous Gretna Green.
Gretna Green is a parish in the southern county of Dumfries and Galloway, Scotland, and is situated on the Scottish side of the borders of Scotland and England, defined by the small river Sark. It's been made famous over the decades for being the place young couples would come to get married.
It's been known as the marriage capital of the world for decades, mostly due to the English laws prohibiting under 21's from marrying back in 1754.
Gretna Green is still famous for marriages with around 5,000 couples tying the knot here and in Gretna every year.
Historically it was to Gretna Green that young English runaway couples eloped so that they could be married 'over the anvil' from the age of 16. Gretna Green Famous Blacksmiths Shop, where couples have come to marry since 1754, is still there and you can have a tour as long as there's no one getting married.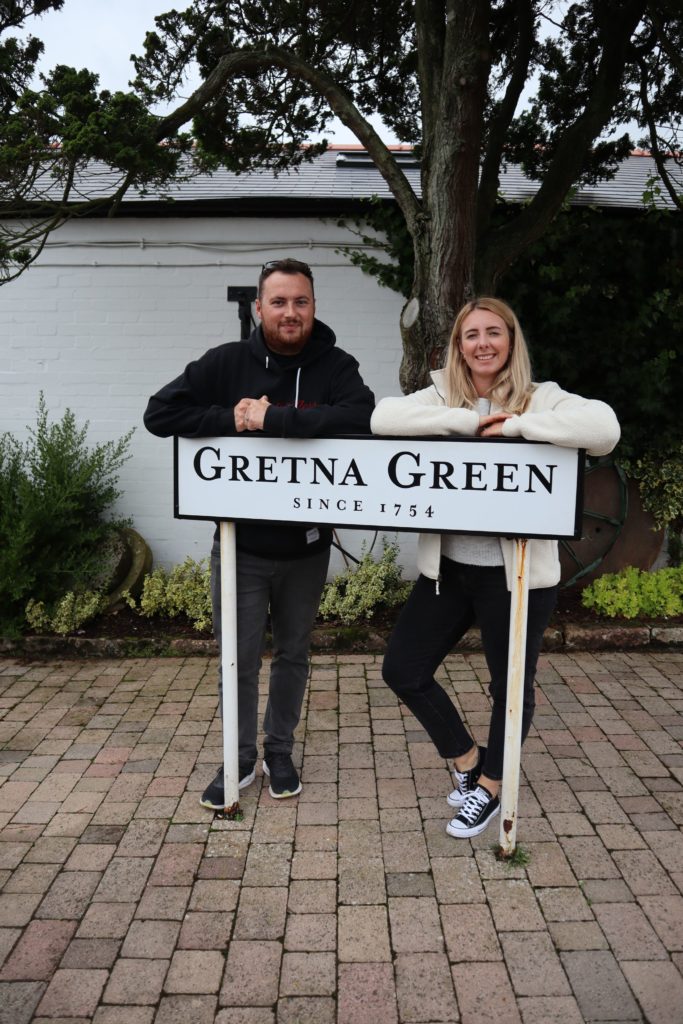 Next up, after we'd left Gretna, we headed through Glasgow, to the banks of Loch Lomond. We parked up and headed off for an explore around Balloch, and Balloch Castle and Country Park, Loch Lomond. This was a must-see on our Scotland road trip itinerary.
Balloch is an enchanting town on the south shores of Loch Lomond and is often referred to as the gateway to the Loch Lomond & The Trossachs National Park.
It is a popular place to visit for a day trips or long break and a good place to start exploring the National Parks. We stopped off here to stretch our legs after a three-hour drive from Penrith.
We grabbed some lunch, and then wandered around the country park and up to Balloch Castle! Balloch is a beautiful place to visit on your Scotland highlands road trip.
Loch Lomond Shores is a wonderful place to visit, offering a wide range of indoor, outdoor and water-based activities alongside fantastic shopping and dining for all the family.
There is lots to do here, including Treezone, an aerial adventure course, or watch a variety of magnificent species at the Loch Lomond Bird of Prey Centre, or you can jump on a boat tour, on the restored paddle steamer, the Maid of the Loch. The iconic Maid of the Loch is a must-do during any road trip around Scotland.
Then before we knew it, it was reaching the end of the day, so we made a super quick pit stop in Balmaha, before heading on to our campsite for the night.
The picturesque village of Balmaha is a bustling village, situated on the eastern shore of Loch Lomond and is a great place to stop off, for a walk, some ice cream or for a boat trip.
The village is an important pleasure boating centre and there are a number of companies offering cruises around Loch Lomond from the village and visitors can take scheduled ferries to a number of the beautiful villages around the loch from here.
We then headed to Three Lochs Forest Drive, an area in The Trossachs which takes visitors past three lochs, Reòidhte, Drunkie and Achray. As well as enjoying the views of these picturesque lochs you can go hiking, walking, kayaking and more. One of the best things to do during your trip in a motorhome in Scotland is to pull up at the side of the road and admire the views.
The seven-mile (11.5km) one-way Three Lochs Forest Drive begins about two miles north of the popular town of Aberfoyle on the A821, The Duke's Pass. It was launched 40 years ago in 1977 to celebrate the Silver Jubilee of Queen Elizabeth II. A beautiful stop on this Scotland road trip itinerary.
The drive is open to vehicles from Easter to October, daily from 9 am, although you can walk or cycle the route at any time of year. The entrance is at grid reference NN 517 036 and the nearest postcode is FK8 3SY. Please note that the entry barrier is locked at 4 pm while the exit barrier is locked by 5 pm.
Note: The cost per vehicle is £5 per night, or £2 per day payable at a machine, which takes coins and cards.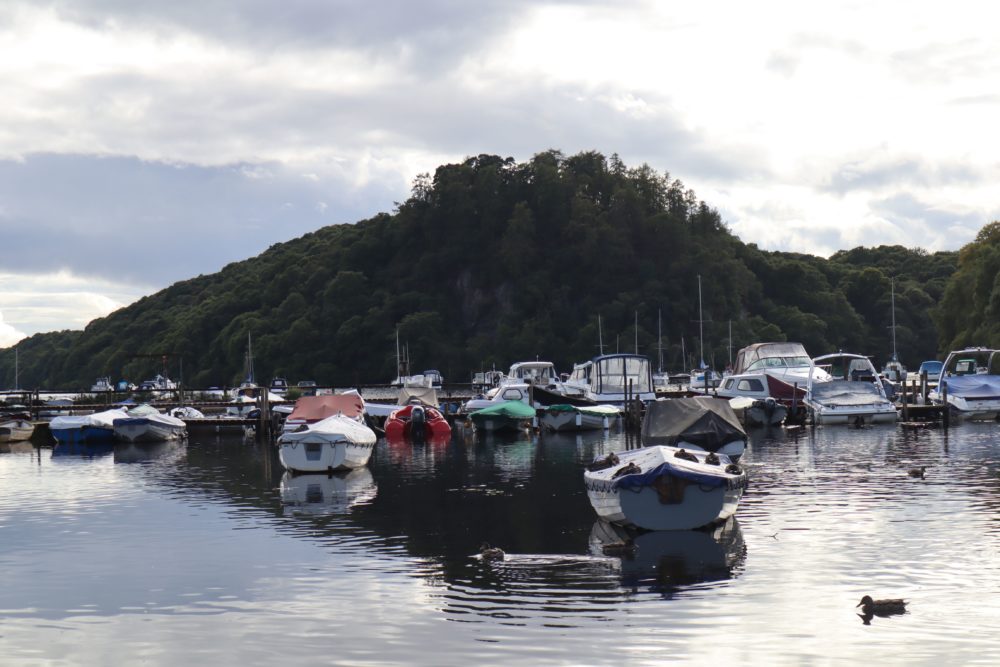 Scottish Road Trip: DAY THREE
After a fun evening cooking dinner and play Uno, we awoke the next day to the most beautiful views. The sun rose along the top of the mountains and we took full advantage by going for a walk.
Once we had packed up our motorhome we drove through the rest of the Three Lochs Forest Drive, around bendy roads, alongside beautiful lochs, along the one-way route to the exit point.
We had an active morning planned, heading down the A821 past Loch Venachar, to Bracklinn Falls, just north of Callander.
Mostly well-known for its impressive waterfalls, Bracklinn Falls is a great place to stop at the edge of The Trossachs.
"There is a circular walk taking in the idyllic Bracklinn Falls, a very popular local beauty spot. Once over the bridge, the route climbs through forestry before descending tothe quiet upper glen, with a return by a minor road." – Walk Highlands
From Bracklinn Falls car park you simply follow the marked route to the lower section of the area, and it's here you will be able to hear the roar of the Falls.
This impressive waterfall is stunning, as you approach it, stick to the hairpin bend and head down to Bracklinn Bridge, where you can gaze over at the falls.
The Bracklinn Falls bridge was installed in 2010, and is 20m long, with a unique A-shaped roof. When you arrive here we took a moment to take in the falls and adore the 100m gorge.
We walked for about an hour here, and despite the rain, it was a lovely walk on our Scotland road trip itinerary!
Next up we headed back to the motorhome, grabbing some lunch quickly, before hitting the road.
Our final destination was our final campsite for the night at Lochore Meadows Country Park, so we opted to head through Stirling to see the castle ourselves.
Stirling is a city in central Scotland. At the heart of its old town, medieval Stirling Castle is on a craggy volcanic rock. On the Abbey Craig outcrop, the National Wallace Monument is a 19th-century tower. It overlooks the site of the 1297 Battle of Stirling Bridge, where William Wallace defeated the English.
The city is beautiful, with dramatic scenery and landscapes on one side, and culture and history on the other. It is the gateway to the Loch Lomond and Trossachs National Park, so makes for a great place for outdoor adventurers.
As our day rolled to an end we pitched up at Lochore Meadows Country Park, in the heart of Fife. The country park has over 1,200 acres to explore and is a great place to visit with a wide range of leisure and recreational activities that cater for all the family.
With a beautiful loch at the heart of the park, you can enjoy spending time walking, bird-watching, cycling, fishing, paddling, playing in the playpark or enjoying a picnic or barbecue with friends and family. A lovely stop on our road trip in Scotland.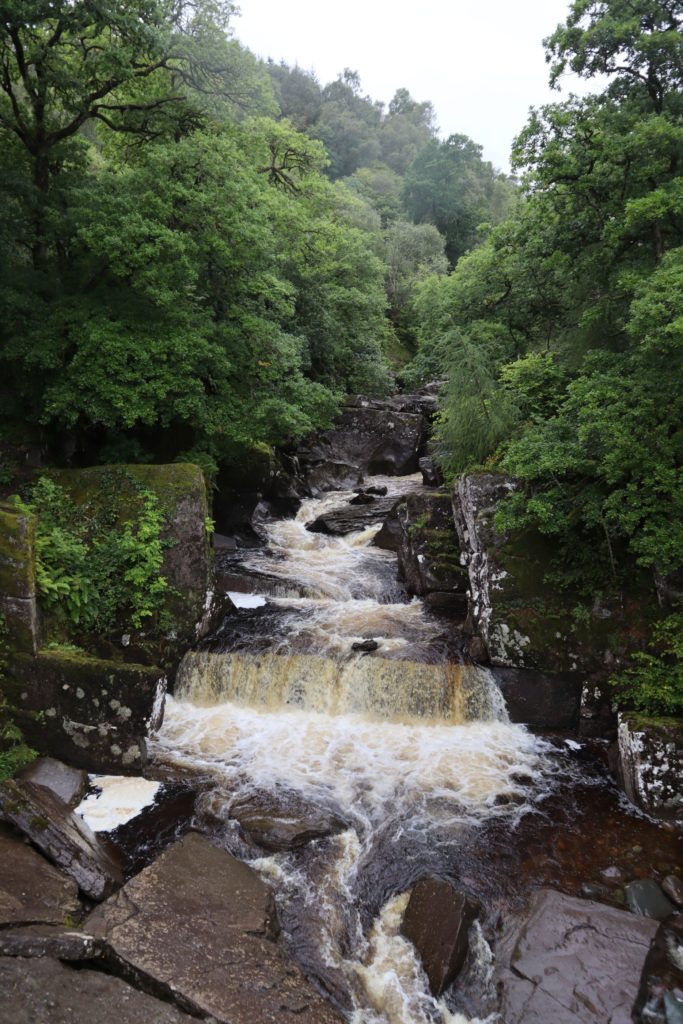 Scottish Road Trip: DAY FOUR
Our final day in Scotland rolled around so quickly and it was time for us to take our beautiful motorhome back. It needed to go back to the airport, so we got up early and headed to the airport, before spending our final day in Edinburgh.
Edinburgh is Scotland's compact, hilly capital and was a medieval Old Town through the ages. The most iconic building in Edinburgh, looming over the city is Edinburgh Castle, home to Scotland's crown jewels and the Stone of Destiny, used in the coronation of Scottish rulers. A must-visit city on your Scotland highlands road trip.
Here you can also find Arthur's Seat, only 20 minutes away, an imposing peak in Holyrood Park with sweeping views, and Calton Hill is topped with monuments and memorials.
From the zoo to the whiskey and the annual Fringe Festival, Edinburgh is a fun and eclectic city with friendly locals and activities galore.
There's also so much to do in Edinburgh including Edinburgh Castle, Palace of Holyroodhouse, Arthur's Seat, Edinburgh Old Town, Edinburgh Castle, the pubs on Royal Mile, National Museum of Scotland, Calton Hill, Princes Street and St Giles' Cathedral.
A great end to any road trip around Scotland!!
*We hired our motorhome from London and drove it to Scotland, but there are lots of companies who provide campervans in Scotland. And the company we used also do campervan hire in Edinburgh.
Are you heading off on a Scottish Highlands Tour? Let me know in the comments or on Twitter about your Scotland road trip itinerary!
If you on a bigger trip exploring more of Europe check out my guides to France, Germany, Greece, Iceland, Italy, Portugal, Spain and United Kingdom.
---
My Travel Tips and Recommendations
Flights
To book flights, I always use flight search engine Skyscanner, I regularly use the Everywhere tool to find the cheapest places to travel. It's how I get to travel so much all around the world. I find it the easiest way to compare flight prices across airlines and get the best deals.
Accommodation
For accommodation, I usually book most of my hotels or hostels through Booking.com. I love using this platform as it provides me with some amazing deals for accommodation all around the world. Or if you prefer, I also recommend using Airbnb. If you haven't signed up with Airbnb already, you can use this link to get £25 off your first visit!
Travel Insurance
Picking travel insurance that covers you in all eventualities is an essential part of planning a trip for every single person. If you can't afford travel insurance, you can't afford to travel. You never know what's around the corner.
Did you know I also vlog my trips? Make sure you subscribe to my YouTube channel so you get alerted when all my travel videos go live… CHECK THEM OUT HERE
Thank you for reading and as always happy adventuring! If you have any questions about the destination please leave these in the comments below.
If you've enjoyed this post, please share it for me with all your friends and family!
Sophie X