WE DID IT! Last week, we hiked a popular Kinder Scout walk from Upper Booth, via Jacobs Ladder to Kinder Scout, and then on to Woolpacks! We finished in Edale with a celebratory hike after a tough hike, with wind, sunshine and rain. This is one of the best walks from Edale!
Our hike was approx 11km over five hours and an elevation of around 2,000ft. We stopped at Jacob's Ladder Peak District, Kinder Scout, Edale, Woolpacks, Kinder Low, Kinder Downfall and more.
It was an epic hike, so I wanted to pull together a little overview of where we walked, our experience, any top tips we have and whether we would do it again…
"In 1932 around 500 walkers, mostly from Manchester, trespassed en masse and walked from Hayfield to Kinder Scout to secure access right to open country for all to enjoy forever. So walk in the footsteps of the trespassers and enjoy what others fought so hard for." – The National Trust
Kinder Scout Peak District Circular
Kinder Scout and Edale Walk is an 8-mile loop trail located near Castleton, Derbyshire, England that features a waterfall and is rated as moderate.
This is one of the most popular Peak District circular walks, starting from Edale, via Jacob's Ladder, following some of the Pennine Way, up to Kinder Scout and across the Woolpacks!
As the highest point in the Peak District, Kinder Scout is one of the most challenging places to walks in the Peak District but offers those that take on the challenge some of the most unforgettable views.
The kinder scout walk offers some of the most rewarding walks in the Peak District, where you'll encounter gentle streams, steep rocks, peat fields and the waterfall, Kinder Downfall.
Walk highlights include Pennine Way, Jacobs Ladder, Woolpacks, Kinder Low, Kinder Downfall, and finally Edale.
Distance: 10 miles
Elevation: 636 m
Approx Time: 6-7 hours with stops for lunch
Starting point: Edale – see further info below.
Map: OS Explorer OL1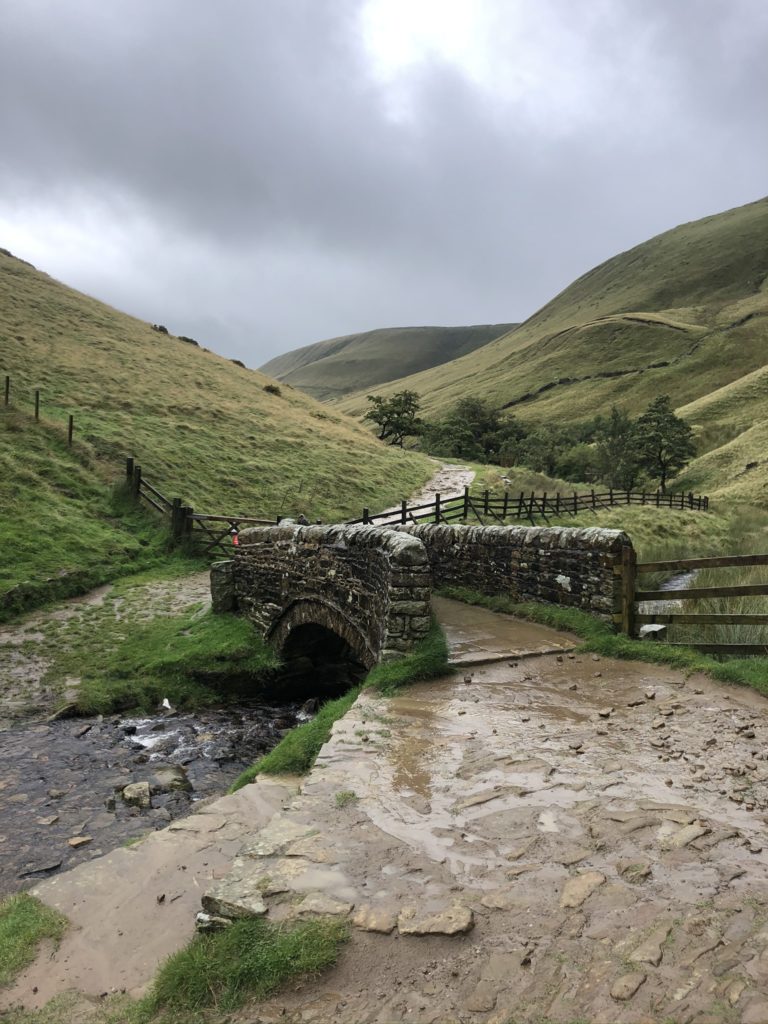 Best Walks with a view: Peak District Walks
Check out this map for an approximate of what we did during the Kinder Scout Peak District walk.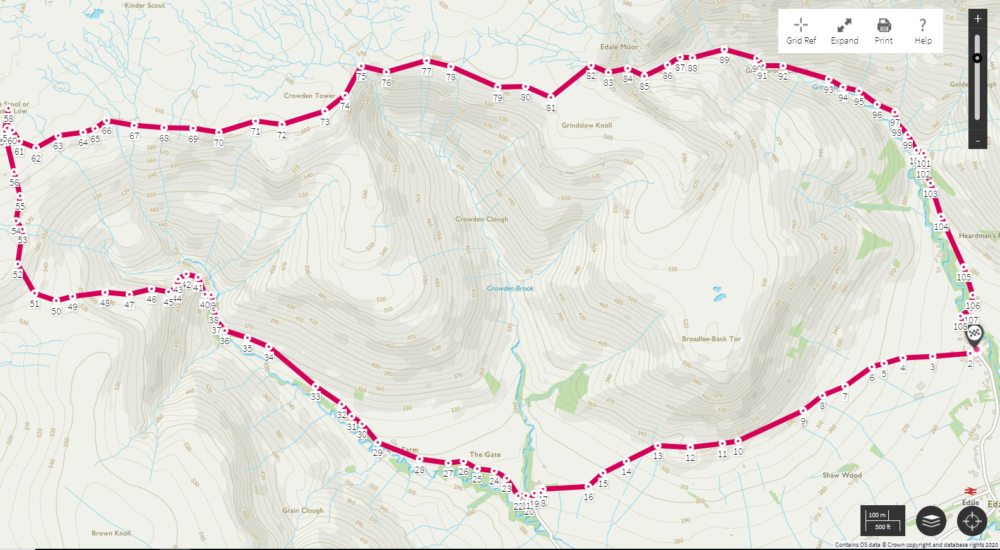 Credit: Ordnance Survey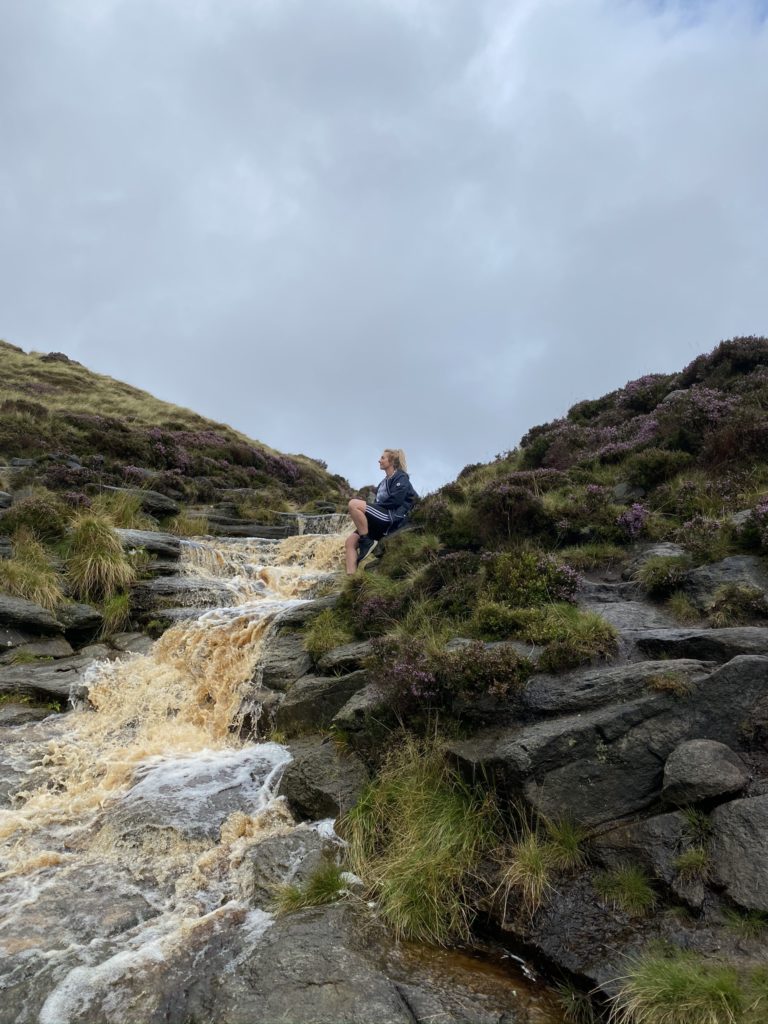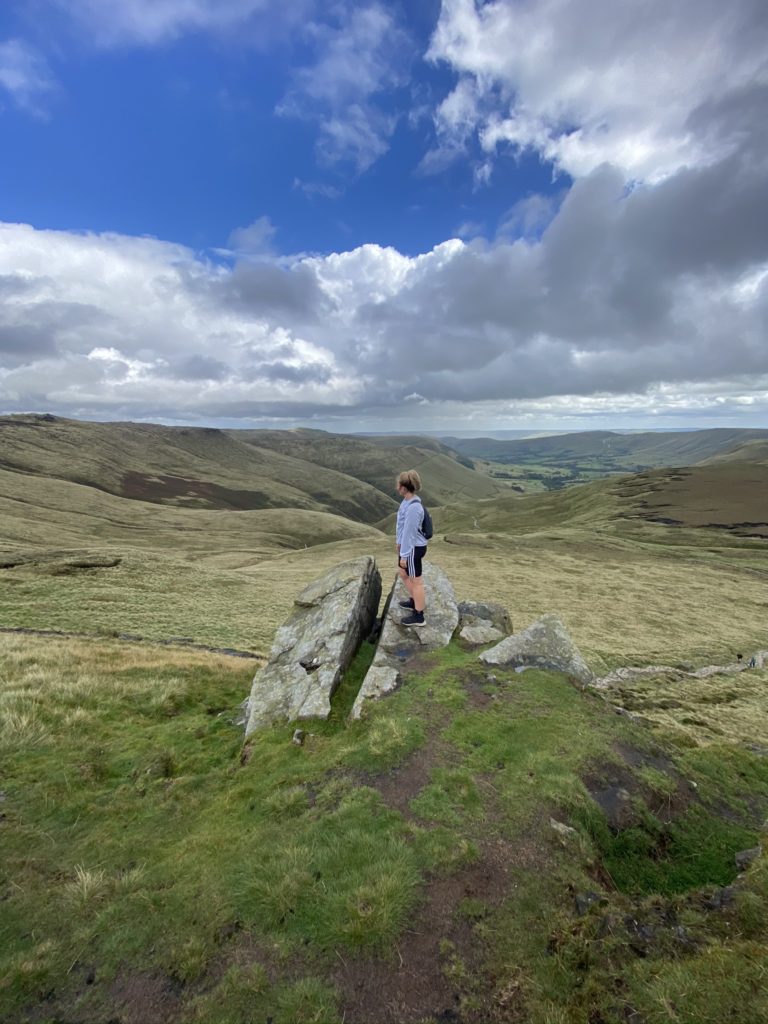 Kinder Scout walk via Jacob's Ladder Peak District
This epic walks from Edale, starts at either Edale village or Upper Booth car park, we decided to start from Upper Booth, as there were free car parking here, but it does get busy so bear this in mind.
This is also the official starting point of the Pennine Way, the oldest and most iconic National Trail which offers a rugged taste of Northern England – stretching from the Peak District to the Scottish Borders. It's over 268 miles long and can take weeks to complete!
The signage is good from either of the starting points, and you will find this most of the route. From the car park, we headed out the top of the road, along an old tarmac road, on route to Jacob's Ladder. It's here you will pass over some small bridges before starting at the bottom of the ladder.
At this point, you'll cross another small stone bridge, and then be given two options to follow. One goes up Jacob's Ladder and the other follows the official Pennine Way route. Both meet at the top in the same place so it's more personal preference.
This section takes around 15 minutes but it's an intense start to the walk, with a steep incline up to Kinder plateau. Here you can stop for a drink and some food.
Then you continue and reach Edale Rocks, a distinctive rocky outcrop with short distance to the high point with views across the valley. But we careful it's exposed and very windy up here.
A short distance further along this path, up the path, is the Kinder Low trig pillar, which is the highest marked point on the Kinder Scout walk route.
Then from here, we headed across the top of the Kinder plateau for around 2 miles. It's a much less strenuous part of the route here, as you are walking along the top of the mountain range, but beware where you step as it's uneven and rocky.
**Note: you could carry on here to Kinder Downfall, a beautiful waterfall flowing from the River Kinder. During our walk, the weather turned so we didn't want to add extra miles to our walk, but it would be a lovely stop on a summers day. You can also keep going north here to the Kinder reservoir!
We instead headed east towards the Woolpacks. The Woolpacks are a clump of interesting gritstone formations high up on Kinder Scout, just west of Crowden Head.
The Woolpacks is one of the best places to see some of these weird and wonderful rock formations, and offers some incredible views from here too, as you are on the 600m high plateau.
It's also here you say goodbye to the Pennine Way and loose some of the more stable roads and paths, to bogland and slabs.
It's along here, the path splits into two, you want to take the concrete slabs to the right-hand side in the fork, as this follows the route along the top side of the woolpacks to River Kinder.
A little further on, and you'll find Crowden Brook, a beautiful low-level waterfall, which you have to walk through, or jump over to get to the other side.
Then it's time to descend, and it's here we had some of the most beautiful views of the Edale valley and Great Ridge. The weather had cleared for us, to we made a slow 2 mile walk down to the bottom of the valley. The path winds through the valley, before arriving in the Peak District village of Edale.
Then if you walk through Edale village, you will end up back at the Old Nags Head pub. We finished up here with a pint, before heading home! A wonderful Kinder Scout walk route!
This is one of my FAVOURITE walks in the peak district, and I hope you can see why!
Are you interested in more walks from Edale?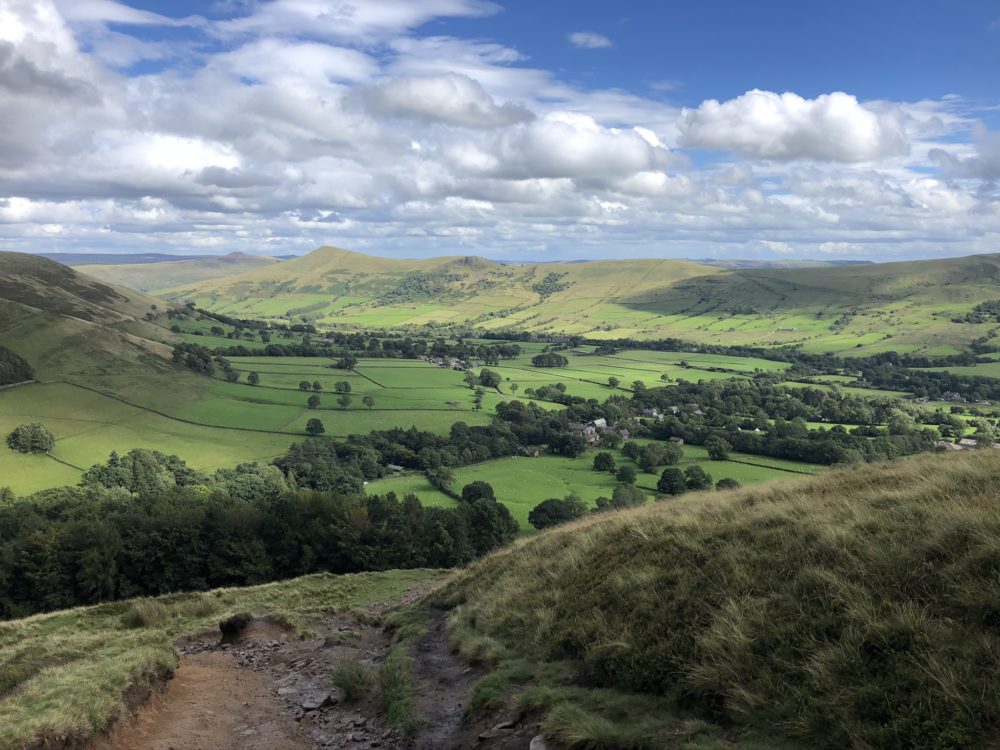 If you on a bigger trip exploring more of Europe check out my guides to France, Germany, Greece, Iceland, Italy, Portugal, Spain and United Kingdom.
---
My Travel Tips and Recommendations
Flights
To book flights, I always use flight search engine Skyscanner, I regularly use the Everywhere tool to find the cheapest places to travel. It's how I get to travel so much all around the world. I find it the easiest way to compare flight prices across airlines and get the best deals.
Accommodation
For accommodation, I usually book most of my hotels or hostels through Booking.com. I love using this platform as it provides me with some amazing deals for accommodation all around the world. Or if you prefer, I also recommend using Airbnb. If you haven't signed up with Airbnb already, you can use this link to get £25 off your first visit!
Travel Insurance
Picking travel insurance that covers you in all eventualities is an essential part of planning a trip for every single person. If you can't afford travel insurance, you can't afford to travel. You never know what's around the corner.
Did you know I also vlog my trips? Make sure you subscribe to my YouTube channel so you get alerted when all my travel videos go live… CHECK THEM OUT HERE
Thank you for reading and as always happy adventuring! If you have any questions about the destination please leave these in the comments below.
If you've enjoyed this post, please share it for me with all your friends and family!
Sophie X