When's the best time to visit London?
The answer of course is, ALL YEAR ROUND!
London, the capital of England, is one of the most iconic cities in the world offering tourists, food, history, people and culture. The best time to travel to London depends entirely on your London itinerary and the places you want to visit in London.
The weather in London can be changeable, and due to the fact a lot of London's main attractions are outside, will change the time of year you want to visit London.
The dynamic city of London is home to a population of around nine million and is a multi-cultural city, blended with traditional charm. London is the largest city in Europe and you could spend a lot of time exploring everything this amazing city has to offer.
There are so many things to do in London. From the River Thames to Southbank, to Covent Garden to Hyde Park, London is a city of exciting contrasts!
But when is the best time to travel to London?!
Here is the best time to go to London…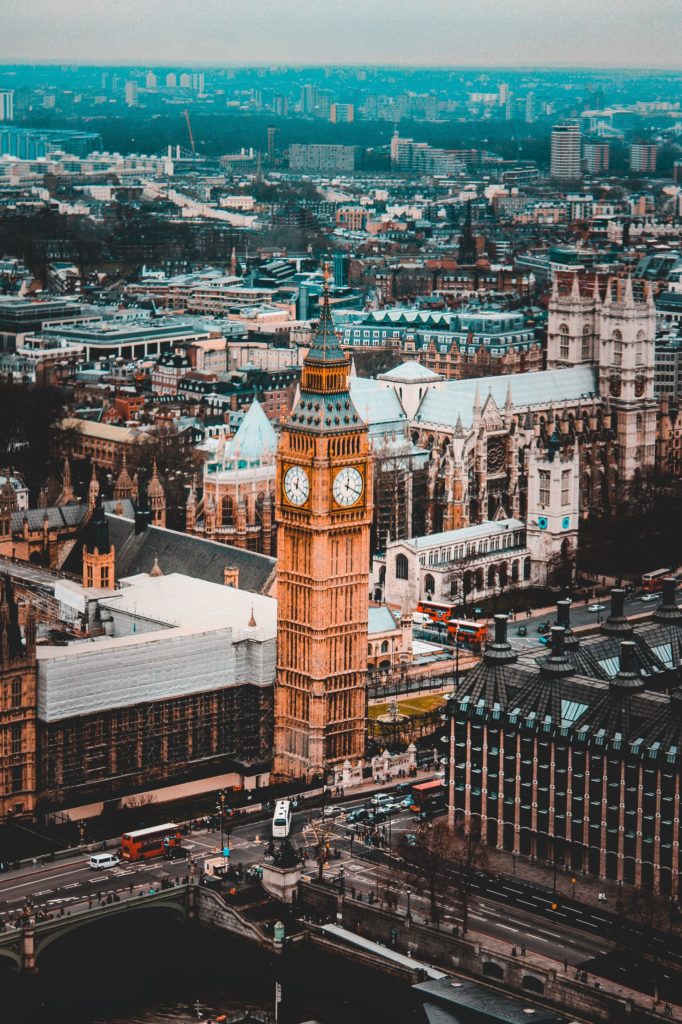 Photo by Oleg Magni from Pexels
How to get to London
London is really easy to get to by plane, train or by car. You can travel to London via flights from nearly every country in Europe, as well as globally. London has five airports; Heathrow, City or Luton, Stansted and Gatwick. If you are flying into London the best way to get to the city is on the train.
You can also travel to London by train from France via Eurostar, and you can also travel by ferry, coach, or car. Or if you are like me, based in the UK, the quickest way to get to London from anywhere in the country. If you are flying into London the best way to get to the city is on the train. The transport network in the UK is great all year round making the best time to travel to London anytime.
What type of traveller are you? Take the travel personality quiz to find out!
Weather in London
London Weather in January: 4° – 9° with avg. 12 days of rain
London Weather in February: 5° – 9° with avg. 9 days of rain
London Weather in March: 6° – 12° with avg. 9 days of rain
London Weather in April: 7° – 15° with avg. 9 days of rain
London Weather in May: 10° – 18° with avg. 8 days of rain
London Weather in June: 13° – 21° with avg. 8 days of rain
London Weather in July: 15° – 23° with avg. 7 days of rain
London Weather in August: 15° – 23° with avg. 8 days of rain
London Weather in September: 13° – 20° with avg. 8 days of rain
London Weather in October: 10° – 16° with avg. 10 days of rain
London Weather in November: 7° – 12° with avg. 10 days of rain
London Weather in December: 5° – 9° with avg. 10 days of rain
**As you can see it rains A LOT in London!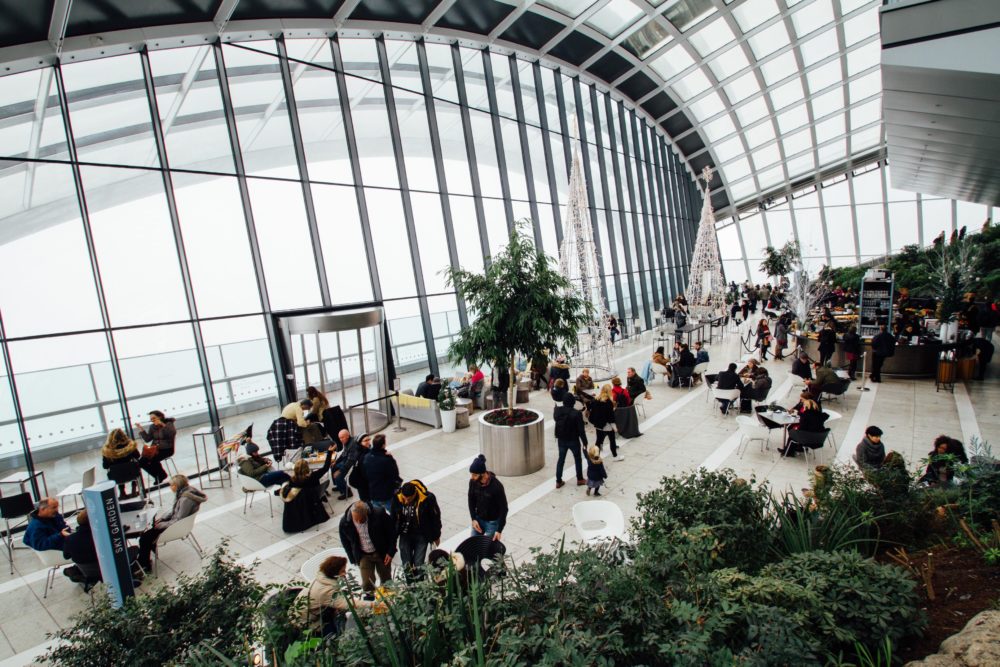 Photo by Riccardo Bresciani from Pexels
When to go to London

London can be visited at any time of year, as it has a mild climate. Of course, I am biased as I love London in the summer when the sunshine comes out, it finally stops raining and everyone it outside. But London is also great in spring when the parks come alive, in autumn when the city celebrates Halloween and in winter when Christmas is everywhere. So there is no 'best time to travel to London' as it's great all year round.
Things to do in London in January
January is one of the best months to visit on a budget. The January sales are on, so you can shop at some of London's top shopping destinations for less. Plus, many hotels offer reductions at this time of year.
Twickenham Stadium
Twickenham stadium as Theo is a big rugby fan, but we had never visited the stadium outside of game day, and we both wanted to be nosy and have a look around the member's areas, changing rooms and go pitchside.
We had such a great time as we wandered around the stadium with our wonderful tour guide (I can't remember his name) but he was adorable and such a great guide telling us all the little facts, secrets of the stadium, and keeping us entertained throughout the tour.
'Pretty Woman: The Musical'
Every hit rom-com is destined to become a musical, the inevitable has now happened. Bryan Adams (yes, that Bryan Adams) and Jim Vallance's take on Julia Roberts's breakthrough hit received mixed reviews when it premiered on Broadway last years. Now, you can make up your mind.
London Aquarium
Let your imagination soar as you explore the wonderful riches of underwater life, from the beautiful coral reefs of the Indian Ocean to the dark, mysterious depths of the Atlantic and Pacific. Located on the popular South bank of the River Thames, within the historic County Hall building, London Aquarium is home to one of Europe's largest collections of global marine life, as well as playing an important role in helping safeguard our seas and their inhabitants for the future.
The Shard: Silent Disco
The silent disco phenomenon reaches new heights at these exclusive Time Out events. Pick your channel and choose your side as three DJs battle it out over separate wireless channels, playing the best in pop, rock and party classics, while you dance the night away at 1,000ft.
Burns Night in London
Raise a wee dram to Scotland's national poet, Robert Burns! From foot-stomping ceilidhs to haggis-fuelled feasts, London's got Burns Night celebrations covered. Take a look at our pick of the best Burns bashes.
'Hello Dolly'
Director Dominic Cooke and Imelda Staunton are reuniting after their stellar revival of Sondheim's 'Follies' for a crack at another classic musical, 'Hello, Dolly', which hasn't had a London revival in over a decade.
Photo by Samuel Wölfl from Pexels
Things to do in London in February
Get loved-up or celebrate being single on Valentine's Day, flip-out during Pancake Day and treat the kids during half-term. But here it is, it's back, things to do in London in February.
Bethnal Green's Affordable Vintage Fair
The UK's largest travelling marketplace for retro clothes, homewares and accessories return to York Hall in Bethnal Green for a shopping event where you'll find vintage bargains dating from the Twenties onwards. Be sure to bring cash as there will be gems to be found on over 50 stalls.
The Shard
The View from The Shard, at the top of Western Europe's tallest building, has put together a special programme of events for Valentine's Day. The attraction is the perfect place to take your loved one, and is continually voted the most romantic place in London, thanks to its stunning views stretching up to 40-miles. It provides the perfect chance to sip on champagne and marvel as the sun sets over the city's skyline.
Feline Lonely?
Meet your pawfect match at Battersea this Valentine's Day. Visit the Cattery, enjoy a complimentary glass of bubbly and potentially meet the cat-ch you've always dreamed of. Visitors that find feline love can give a second chance and a new home to one of the 3,000 cats the charity takes in each year.
Super Bowl Sunday in London
It's the biggest sporting event – and usually the biggest telly event – on the American calendar, so be sure to catch the Super Bowl in London. Whether you're a die-hard NFL fan, a major sports fan or just a beer fan who welcomes any excuse for a late-night session, these are the places to soak up the Super Bowl.
Magical Lantern Festival
The Magical Lantern Festival floats back to Chiswick House and Garden for a second year. The theme is the Silk Road, and visitors can follow a mini-trail mirroring part of the Road, featuring over 50 dazzling illuminations. These include the Houses of Parliament and Big Ben, plus colourful scenes from India, Asia, the Middle East and the tale of Aladdin featuring a giant lantern genie. There'll also be a virtual reality area, an ice rink, a pop-up ice bar made entirely of ice and street food stalls.
Celebrate Valentine's Day at Lancaster London
It's only a matter of time before florists are awash in a sea of red roses and shelves are decked with 'secret admirer' cards. It's official: Valentine's Day is upon us. To celebrate the occasion Lancaster London has created an array of fanciful feasts to set hearts fluttering. Why not spoil your sweetheart at Lancaster London this year by opting for a memorable afternoon tea or a romantic dinner?
Gin Festival
This boozy affair returns to London for three days dedicated to championing the juniper berry drink. Gin bars will be serving all manner of cocktails, and distillers and brands will be on hand to chat about their ware. Sign up for masterclasses and feast on street food once you've worked your way through every gin and tonic combo you can. Advance booking essential.
Craft Beer Rising
Another alcohol-induced event. Who said Dry January? The Craft Beer Rising festival returns to the Old Truman Brewery for an eight-year, pouring the very best brews from top exhibitors to thirsty punters. Beer, cider and street food are all covered and accompanied by live music. If you want to get in first, we've got tickets to a preview event here. Find the best craft beer bars and pubs in London.
Things to do in London in March
March is a great month to get out and about in London. Whether you fancy dressing up as Where's Wally and running around London or indulging in an array of gourmet chocolate in Islington, there are lots going on in the city this month. I will be heading to London this month for afternoon tea in Soho for a friends birthday, and later in the month for a weekend visit on Easter weekend.
Cocktails in the City
The UK's biggest cocktail celebration, taking place in London from Thursday 30th March to Saturday 1st April. Cocktails in the City, the UK's biggest cocktail party, is back in London for another three-day cocktail extravaganza. Inviting both cocktail aficionados and curious bar-gazers from all over the world to celebrate its 5th anniversary, Cocktails in the City showcases the world's greatest bars, finest drinks and creative bartenders all under one roof.
London Beer Week
See the launch of this year's edition of London Beer Week, a city-wide celebration of all things hop-tastic. Alongside a vast range of breweries breaking out their goods, there'll also be beer-pairing dinners and brewery tours – with a rickshaw service to zipping between them – a 'dedicated beer village', parties, masterclasses and much more. Cider drinkers – there's plenty on offer for you too, as well as the jaw-dropping selection of ales, lagers and other beery bits and bobs.
Where's Wally Fun Run
Walk, jog or run the 5 or 10 km course dressed as Martin Handford's cheerfully elusive creation – along with hundreds of other Wallys.
St Patrick's Day in London
Singing, dancing, a parade and a pint or two – the Irish have always known how to party and celebrating St Patrick's Day in London is no exception. St Patrick's Day in London is a chance for Irish London (and, of course, anyone and everyone who's Irish-at-heart) to hit the streets and show the city the true meaning of the word 'craic'.
The House of Holi
To mark India's festival of colours, Cinnamon Kitchen's special party-pod returns to Devonshire Square. The 12-day pop-up invites city workers to swap their ties and heels for protective suits before pelting each other with paint. No Indian festival is complete without a feast of delicious dishes, so Cinnamon Kitchen will be serving up a vibrant five-course Holi menu and colourful cocktails from their pop-up bar.
Imad's Syrian Kitchen
Tuck into some of Syria's favourite dishes at this pop-up Syrian kitchen set up by Imad Alarnab, a Syrian chef and refugee living in London. This is a family-style supper affair with a 3-course set menu designed for sharing. The menu includes traditional dishes such as Fattoush (toasted flatbreads, pomegranate molasses, tomato and cucumber), and Tabakh Rohoo (aubergine, squash and tamarind stew). Imad's vision was made possible by Appear Here, Unicef NEXTGeneration and The Hampstead Kitchen Feeding Fund and 10% of the ticket sales will benefit Unicef and #CookForSyria.
Amy Winehouse Street Art Trail
Explore the area the late singer called home in this street art tour through Camden Town. Produced in collaboration with Global Street Art, the trail features Amy-themed street art by artists such as Captain Kris, Mr Cenz, Philth and Amara Por Dios. The walk leads to a newly commissioned installation at Jewish Museum London by renowned street artist Pegasus called 'Love is a Losing Game'.
Photo by Samuel Wölfl from Pexels
Things to do in London in April
You can guarantee that April in London has some pretty amazing things in store. Spring has officially landed in London and Easter is just around the corner. With warm, sunny weather on the way, hit up the city's rooftop bars, which are just starting to open, take a walk around London's fabulous parks, and start picking out your spot to wave on the brave souls taking part in the London Marathon.
Easter in London
There's a lot to like about Easter in London – two whole days off, gratuitous chocolate consumption and if we're lucky, some springtime sunshine. Spend the year's first bank holiday hitting up spring fairs, wild nights out and giant Easter Egg hunts.
London Marathon
The race is on and the London Marathon is nearly upon us! Join cheering crowds and fancy dress fundraisers at the world-famous London Marathon. Covering 26.2 miles and shutting down roads left, right and centre, it takes over the city for one weekend every April.
Ahead of this year's race, here's everything you need to know about running the London Marathon 2020, whether you're a road-pounding-pro or a newbie dressed as a stormtrooper. What is the London Marathon? Attracting professionals, celebrities and some truly ludicrous outfits, the London Marathon is a 26.2-mile race around the streets of London.
St George's Day in London
Sharpen your jousting lance for St George's Day. The capital is putting its dragon-slaying skills to the test again and we've rounded up London's best St George's Day themed festivals, events and activities below. The best part is, many of them are free. How very English.
Things to do in London in May
May is one of my favourite months of the year. Spring has sprung, everyone wants to get outdoors and it means it is finally time for some summer clothes. Why not head to a rooftop bar, the Chelsea Flower Show or even Brixton Beach, and dip for toes in the sand. As summer approaches London becomes a hive for activity. There is an abundance of more and more events, social gatherings and shows all across London.
With Wimbledon approaching in June, Udderbelly kicking off in a couple of weeks and Ascot already in full swing it is time to get your diary out and start planning a wonderful May. Oh and don't forget we also have two bank holidays this month so make sure you make the most of your annual leave. Always make the most of bank holidays when you work 9-5 full time!
RHS Chelsea Flower Show
Over 500 exhibitors will already be making plans and tending to their most prized plants in preparation for the Chelsea Flower Show, which has taken place annually (apart from a few gaps during the two world wars) for over 100 years now. More information about exhibitors and show gardens will be released nearer the time, but tickets are already available to buy via the RHS website.
Brixton Beer and Bread Festival
2016 marked the 200th anniversary of the Brixton Windmill and to celebrate they had a jam-packed programme of events scheduled throughout the year. One of the highlights includes this Beer and Bread Festival organised in collaboration with Brixton Brewery. The event will see the launch of Brixton Windmill Flour and milling of malt for beer.
National Pet Show
A fair for pet owners, or those looking for a suitable pet. Visitors can meet and get advice from owners and breeders on the choice of breed, care and training. The Stables this year will include micro pigs, alpacas and shetland ponies. There's also an Animal Action Area – who doesn't want to see a skateboarding dog?
Open-air theatre season in London
Read our round-up of open-air theatre events for the summer ahead. You'll find London's best outdoor productions at venues as world-famous as Shakespeare's Globe, in parks as pretty as Regent's Park or at festivals as vibrant as More London Free Festival. Not sure what you'll need for an open-air theatre trip? Then don't miss our guide to all the practical open-air theatre info you could need.
Urban Village Fete
This modern version of the traditional British fair (courtesy of Wayne Hemingway, MBE) takes place in the Greenwich Peninsula. Bringing together London's finest portable performers, vendors and designers, Urban Village Fete will feature creative workshops, gigantic slinkies, hula hooping classes and street food from Paris, Thailand, Caribbean, Mexico and, well, that universal treat: mac'n'cheese.
Brixton Beach
London might not have Cuba's fleets of classic cars or choice of cool Panama hats, but this summer, Brixton is trying to bring a little Havana life to SW9. The Piña Coladas, Cubanitos and Mojitos will be flowing in a space decorated with mint and exotic flowers. There'll be a rotating choice of street food vendors, with mac 'n' cheese bites from Mac to the Future and dishes from Dirty Bones, Mama's Jerk and Negril.
Museums at Night
If the mention of a trip to the museum makes you think of stuffy exhibitions and school trips, well think again. This year's spring edition of 'Museums at Night', with a series of after-hours events at some of the capital's best museums and unusual attractions.
Photo by Humphrey Muleba from Pexels
Things to do in London in June
Wimbledon Championships
Getting into the Wimbledon Championships at the All England Lawn Tennis Club requires quite a bit of prep. Seats on Centre and Number One courts are distributed by ballot the preceding year, although enthusiasts who queue on the day may gain entry to the outer courts. You can also turn up later in the day and pay a reasonable rate for seats vacated by spectators who have left early.
Pride Parade
That colourful, crowded, loud and unquestionably fun time of year is rearing its head again. No, we're not talking about Notting Hill Carnival, although they do both replace London's noxious traffic with joyous partying. We're talking about the Pride in London Parade, which this year sees its biggest ever celebration to date.
Lovebox
Consistently one of the finest festivals in London, catering for cool kids and party monsters, Lovebox packs as much fun into two days as many festivals manage in three. The sublime, but elusive, Frank Ocean is the first headliner to be announced and his only London date on a European tour. It's one of the highlights of the London summer thanks to a genre-blurring line-up of DJs and live bands.
Lambeth Country Show
The Lambeth Country Show has brought countryside pursuits to Brockwell Park for the last 42 years and the instalment will once again feature homegrown vegetable and flower competitions, sheep shearing, sheepdog and owl displays, an on-site mini farm and lots, lots more. Live music can be heard from two stages over the weekend (don't miss Roots Reggae Day on the Main Stage, Sunday).
Citadel Festival
If we're being honest, Sundays at a festival are usually a bit of a damp squib. After days of abuse, both your inflatable mattress and soul are dangerously deflated. Going to a festival on a Sunday all fresh and rested, on the other hand, sounds a lot more appealing, especially if it's tailor-made for the day of rest. On top of the class music line up, there'll also be various arts-driven distractions and entertainment throughout the day.
Elvis Fest
Get ready to be all shook up at this tribute concert marking the 40th anniversary of the passing of the only King in history worth knowing about – Elvis Presley. Listen to a line-up of world-class Elvis tribute acts as well as rock and roll bands guaranteed to get your blue suede shoes shuffling. There'll also be rides, attractions, stalls and plenty of tasty food and drink.
Nomad Cinema
Taking in some of the capital's best outdoor spaces, the Nomad Cinema lets you enjoy an iconic film is truly unique surroundings across London. Equipped with its mobile projector, the pop-up cinema team will be stopping at various places across London including Grosvenor Square and Coram Secret Garden.
Highlights include iconic action flick Top Gun in Grosvenor Square, Christopher Nolan's The Dark Knight at Brompton Cemetery – or dive into a world of deception with The Talented Mr Ripley at Hyde Park Lido. 100% of profits going to pioneering charity The Sustainability Institute, there's really no excuse not to catch a screening this summer.
Things to do in London in July
Summer has started in London and it's all kicking off. Wimbledon has started, the Euros are in full swing and there are events galore happening all over the city. Whether it's visiting the Queen at Buckingham Palace or going to see your favourite band at a festival, London is the place to be this summer. Here are some great events happening in London over the month of July.
Hampton Court Palace Flower Show
Returning once again, this high-summer event takes place over 34 acres in the spectacular grounds of Hampton Court Palace and features world-class gardens as well as marquees showcasing work by some of the country's leading designers and nurseries.
Buckingham Palace Summer Opening
Each year there's a special themed exhibition at Buckingham Palace to coincide with the public opening of the State Rooms during August and September. The exhibition will be devoted to the royal wardrobe. The Queen always looks most comfortable in a headscarf and sturdy dog-walking gear but she can hardly sit down to a state banquet in her jeans and OTT dressing-up goes with the job.
Wireless
Back again, Wireless is welcoming some big acts this summer including Calvin Harris, Chase & Status, J Cole, Boy Better Know. But there's also a shedload of great lesser-known acts including Future, Miguel and Anderson Paak.
Beach East
Life's a beach at the Queen Elizabeth Olympic Park with over 2,200 square metres of sand deposited at the site for endless sandcastle competitions and balmy evening walks. This year's tropical offering will have a Rio theme in celebration of the Olympics and there will be big screens to watch it on from Aug 6-21.
London's Highest Summer Garden at The Shard
This summer visit The View from The Shard and enjoy spectacular panoramic views of the capital from London's highest summer garden. For a limited time, the open-air Skydeck on Level 72 will be transformed into an immersive garden featuring thousands of brilliant blooms in celebration of The Year of The English Garden.
London Anniversary Games
It seems London just can't let go of the Olympics and this summer World-class athletics will fill the Olympic Park once more for two days of Anniversary Games. Athletic superstar Usain Bolt will be in attendance on the Friday with other top stars including David Weir, Jonnie Peacock and Hannah Cockroft before they jet off to Rio later in the year.
Walthamstow Garden Party
Programmed by the Barbican and Create London in partnership with Waltham Forest Council, the Walthamstow Garden Party is a free two-day festival in E17 that combines a cracking music line-up with plenty of family fun: theatre, dancing, comedy, circus, art activities with the William Morris Gallery and a designers' market.
Somerset House Summer Series gigs
I went last summer, nothing took my fancy this time around but Londoners love the venue for offering all the open-air excitement of a festival stage right in the centre of the capital, whilst artists enjoy playing to a captivated audience in a grand eighteenth-century courtyard by the Thames.
The highlight of the music programme is the open-air Summer Series with American Express™ when The Edmond J. Safra Fountain Court plays host to exciting and innovative artists in a spectacular location. Previous acts have included Basement Jaxx, Amy Winehouse and Jessie Ware, and 2014's series includes Bastille, Kelis, Clean Bandit and Sam Smith.
Rooftop Cinema Club
London's No.1 outdoor screening venue Rooftop Film Club returns this summer for another film-filled season of classic, cult and recent releases on London's finest rooftops. Film lovers are able to eat fabulous food, enjoy cold drinks and watch their favourite movies on the big screen as the stars begin to sparkle – an incomparable film experience!
Camden Beach
NW1 isn't usually on our list of coastal getaways but, thanks to the ever-creative team at the Roundhouse, Camden Beach offers holiday-hungry Londoners 900 square metres of pseudo-shoreline (which consists of 150 tonnes of sand) to revel in over the summer months. Installed on the venue's terrace, the free beach comes complete with deck chairs, beach huts and, as if you needed telling, a fully stocked bar.
Photo by Daria Shevtsova from Pexels
Things to do in London in August
Even as I was creating this post I was shocked at the amount going on in London this month – you really are in for a treat! And yes, there's no guarantee of sunshine but there's no much on, both outdoors and inside that even if it chucks it down, you know there will be something for you to do.
Make sure you head to a music festival or two, I am off to Wilderness Festival and Soul Circus Festival (not in London) but I can't wait – London has an array, including the famous Notting Hill Carnival at the end of August. And don't forget that much-anticipated bank holiday at the end of the month…
London Craft Beer Festival
If you can name us a trio of habits more commonplace in the capital than drinking craft beer, eating street food and getting stuck in an east London backstreet after missing the last train, you win a bottle of beard oil. The London Craft Beer Festival is moving into a bigger, badder venue at Shoreditch Electric Light Station, the home of the UK's National Circus School, so expect a few new tricks. The line-up of breweries includes The Kernel, Brew Dog, Gipsy Hill, Beavertown, Stone & Wood and Thornbridge Brewery. Find out more here.
51st State Festival
Returning for a third year in Trent Park – a country house estate in Cockfosters – this one-day festival organised by the ever-inventive Found crew expands from US house to a more all-embracing dancefest this year, gathering together originators and new acts. Get in quick if you fancy checking out this excellent addition to London's mushrooming dance festival scene.
Hackney Flea Market
Set in the busy heart of Stoke Newington's Church Street, Hackney Flea Market offers an eclectic range of items including everything from jewellery, vintage fabrics and furniture to old maps and kitchenalia. Both independent creatives from the local area and vintage stallholders will have something to suit everyone.
Michael Morpurgo: A Lifetime in Stories
His children's story went on to become the toast of the West End, but there's much more to Michael Morpurgo than 'War Horse'. At this Museum of Childhood exhibition, the author's storytelling themes of war, animals and friendship are explored through soundscapes, old manuscripts and illustrations.
Roof Terrace Summer Sessions
Drink some multi-coloured cocktails on the fourth floor Roof Terrace of the Ham Yard Hotel at their pop-up summer bar. The hotel will be running a series of 'Summer Sessions' throughout August including a Garden to Glass session filled with botanical drinks and a Rosé on the Roof night. It's £15 per entry, including a welcome drink, and the opening hours vary, so book ahead to secure your spot.
Notting Hill Carnival
Since Notting Hill Carnival debuted in 1964, the event has undoubtedly grown and morphed, attracting revellers with its spectacle of floats featuring calypso, mas and pan bands as well as a series of sound systems for alfresco dancing. You can be sure of dense crowds and a vibrant celebration of music, movement and masquerade together with Caribbean food stalls serving up jerk chicken and fried plantain.
Travel Photographer of the Year
Explore the world without having to get on a plane at this free exhibition of awe-inspiring images. The winning entries of the Travel Photographer of the Year are on display at the University of Greenwich's new building, next to Greenwich Park. What began in Chris and Karen Coe's kitchen in 2003 has grown to become a highly regarded photography prize receiving entries from over 100 countries.
Great British Beer Festival
You'd better arrive thirstily or you'll never even make a dent in the 900-strong list of ales, ciders, perries and international beers available at this festival. Many of Britain's most recognisable breweries will run their own bars at the event, there will be traditional games and live music will break up the beer-guzzling.
August bank holiday weekend
Forget about work, shift yourself from the sofa and make the most of the long weekend. Plan your August bank holiday to the minute with our round-up of the very best events taking place in the capital during the three day weekend.
Southbank Centre
Southbank Centre is a world-famous arts centre on the South Bank of the Thames. Created in 1951 for the Festival of Britain, Southbank Centre draws on its heritage as a festival site, with art and activities inside and outside, encouraging everyone to become involved in the arts in new and creative ways. This summer go along to the Southbank Centre for Human Factor, Festival of Love, What's Love Got to Do With It and Love Motown. For more information on their extensive list of events please go to their website.
Festival of Love
The Southbank Centre's having quite the love-in this summer with the return of their Festival of Love – a summery collection of installations, activities, pop-ups and performances that celebrate humankind's most overwhelming emotion. This year, it falls inside the Nordic Matters programme – and very likely the big wedding weekend will be back for the August bank holiday.
South West Four
The mighty SW4 – Clapham Common's bank holiday dance music explosion – returns for another weekend of big drops, club anthems and arms in the air. If you're longing for big beats but can't afford Ibiza and are loath to spend the last days of summer in a dark room, head to SW4 for your fix of big-room house, EDM, electro, techno and trance, as well as other genres creeping in from all angles. The names that SW4 pulls in include some of the biggest DJs and live dance acts on the planet – including a live show from Pendulum –which is probably why it has a marked tendency to sell out well ahead of time.
Eastern Electrics
After three years luxuriating in rural Hertfordshire, premier dance festival Eastern Electrics is setting up home in a new central London venue: but don't worry they plan to retain all ten stages and the line-up is sure to include some suitably huge names from dance music's A-list to delight the party-hungry hordes. And if you want a break from all that dancing, there's an area catering for all your cabaret, fairground and pillow fight needs.
Photo by Daria Shevtsova from Pexels
Things to do in London in September
Where did the summer go? We had our summer back in June when it reached 30 degrees for about three weeks, and then the rest of July and August looked more like February. We now hit September, and the weather only gets worse, but that doesn't mean it should dampen your spirits! It's still warm enough to enjoy an array of outdoor activities in London, and if it rains, there's also Open House London and London Design Festival. And don't forget there's the month-long Totally Thames festival!
Meatopia
This meaty food fest is a carnivalesque, cornucopia of carnivorous delights. London's hunger for protein shows no sign of waning so for its fourth year this celebration of butchery and booze will include an opening night of music combined with, yep, you guessed it, hulking slabs of meat. Expect 25 chefs creating bespoke dishes live every day, whole roasted beasts, trucker caps, fun music, dancing, a dedicated craft beer section and live demos.
Totally Thames Festival
Returning for another year, the Totally Thames festival graces the banks of the River Thames this September. Bigger than previous years, the celebration will take place across the whole of the month and is one of the many London events in September worth making a splash about.
Open House London
The annual Open House London weekend gives Londoners the chance to explore behind the closed doors of some of the capital's biggest, most renowned and most secret venues for free. This is your chance to explore a bit of hidden London and have a poke around some of London's best buildings – but it's not just about being nosy, there are also loads of walks and tours to bring the buildings alive.
Mail Rail
Hitch a ride on the Post Office's abandoned subterranean railway. The underground 6.5 mile 'Mail Rail' once shuttled post between Whitechapel and Paddington, until it shut in 2003 after 80 years. Once considered so clandestine it was used to stash the Rosetta Stone during the First World War, now the disused tunnels have been revamped and everyone from transport geeks to postal buff can experience them.
Dinner at the Twits
Roald Dahl was a master of creating fantastically grotesque, squirm-inducingly foul stories. And 'The Twits' has a solid claim to being the nastiest of all – the book's monstrous couple dine out on bird pie, beard pickings and worm spaghetti. All things considered, it doesn't sound like ideal fodder for a pricey immersive dining experience. But Bompas & Parr are teaming up with theatre specialists Les Enfants Terribles to create what they're calling 'the worst dinner party in the world' – and it sounds pretty special.
Grillstock
If you like your meat grilled, your music loud and your beer on tap then Grillstock will be some sort of nirvana arriving in Walthamstow. Chow down on pit-smoked ribs while dancing (or simply nodding, depending on how much you've eaten) to live music at this meaty feast. The weekend will host a line-up of more than 25 bands and DJs as well as a low and slow BBQ competition. And if you've got the talent, be sure to enter the hot-dog eating competition.
London Design Festival
The London Design Festival spans dozens of locations, includes hundreds of exhibits and has one clear mission: to prove that our city is the capital of design. It's the perfect chance to explore craft and design at its very best. With some mighty London museums at the helm and loads of events in 'design districts' across town, where do you start?
Queer British Art
2017 marked the fiftieth anniversary of the decriminalisation of male homosexuality in England and the exhibition is still going strong. This show charts the preceding century: a hundred years of queer artists either making deeply personal work (about lives led in necessary secrecy) or avowedly political statements. Duncan Grant, John Singer Sargent, Dora Carrington and David Hockney are among those on display.
Opera: Passion, Power and Politics
This exhibition will take a sweeping look at the history of opera, from its roots in Renaissance Italy to its present-day form. Conceptually arranged around seven different operatic premieres as case studies, works like Mozart's 'Le Nozze di Figaro', Handel's 'Rinaldo' and Wagner's 'Tannhäuser' will be explored in detail. One for fans and the unconverted alike.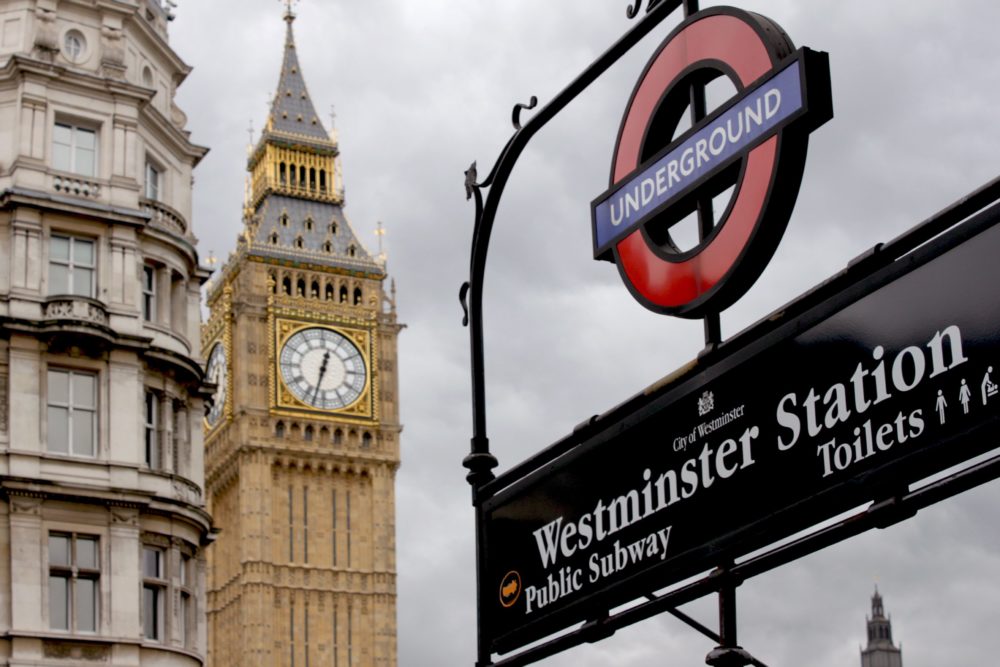 Things to do in London in October
The start of October really does mean autumn is here… but don't hibernate just yet. London has an array of things to do this month, whether it is taking a long way through Richmond Park, fuelling up on a Sunday roast at some of the cities best jaunts, or dressing up for Halloween at the end of the month. It's a jam-packed month, so pack those fleeces away for one month longer and enjoy the great outdoors.
Halloween
If you're going to celebrate Halloween this year, we suggest you go all out. Head down to your local costume shop and prepare to scare at one of the capital's best Halloween parties. Plan your fancy dress in advance, however – a pink bunny suit just won't cut it at this time of year.
ZSL London Zoo
First opening in 1828, London Zoo is the world's oldest scientific zoo. Today it houses a collection of 758 species of animals, with 16,802 individuals, making it one of the largest collections in the United Kingdom. This summer spend your time with the animals in the Gorilla Kingdom, Meet the Monkeys, B.U.G.S. and Penguin Beach or experience it at night through their new summer event Zoo Lates.
The Quarter of Curiosity
Coming to the Newburgh Quarter, just off Carnaby Street in the heart of London's West End, The Quarter of Curiosity is a two-week celebration that will see bespoke Halloween installations appearing throughout the Newburgh Quarter, The Quarter of Curiosity Shop, and a Halloween fright night party on Thursday 26th October 5 – 9pm. Where better to celebrate Halloween than on the cobbled streets over one of London's ancient plague pits? Plus an exclusive series of free workshops will also be held at The Quarter of Curiosity Shop, from Halloween Headdress making, potion cocktail making, pumpkin planters, to Halloween makeup masterclasses and more.
London Film Festival
This October sees the 61st BFI London Film Festival, undoubtedly the capital's – the UK's – biggest celebration of international cinema from the past year. On the programme is an astute mix of the best movies from Cannes and the other major festivals, and prestige awards contenders from the major US studios.
Harry Potter: A History of Magic
Those who remember reading 'Harry Potter and the Philosopher's Stone' when it was first published may well be aghast to discover that was a whopping 20 years ago – yes, the global phenomenon that is the Boy Who Lived is officially two decades old. The British Library is pulling out all the stops on this celebratory exhibition, modelling each room around a Hogwarts subject.
London Cocktail Week
London will be getting all shook up again in October as the annual celebration of London's best tipples, London Cocktail Week, returns. This year, the festival is going digital and ditching the wristbands, with festival passes activated through the DrinkUp.London app.
New York's Dante Pops Up at Madison Rooftop Bar during London Cocktail Week
Dante NYC, New York's famous aperitive bar will be popping up at Madison's Rooftop Bar for an exclusive week-long takeover. Bringing a taste of New York to London, the award-winning bar will be recreated in the heart of the city, complete with world-class cocktails, live entertainment and skyline views. The pop up will lead into the World's 50 Best Bars awards, of which Dante is currently listed as number 34.
Oktoberfest
We never were a city to turn down a party, so Oktoberfest London is getting a big, warm Willkommen. Read our pick of where to find the biggest steins of beer, the most delicious platters of sausage, the loveliest lederhosen and the oompah bands with the most oomph.
Hackney Wonderland
The mini-E8 music crawl returns for the fourth year of rock 'n' roll swagger, returning to its original one-day status. The price has upped a little from the previous cheap-as-chips ticket cost in previous years, but there's still enough bang for your buck to make it something of a bargain.
Illuminating India
India is heading to South Kensington for the Science Museum's latest season, celebrating the global influence of India's science, culture and thought. Joining 'Illuminating India' is Danny Boyle in a Q&A following a special screening of 'Slum Dog Millionaire', the 'Bluebird Tea Company' hosting tea blending workshops and talks from Indian science, tech and innovation experts.
London Eye
The London Eye is "must do" for any visit to London, and with amazing panoramic views across Greater London and beyond it's the perfect day trip to London.
The iconic view of The Thames and the Houses of Parliament allows you to take as many photos as your heart desires during the 30-minute ride. Before boarding the Eye, make sure you visit the short 4D show which is a great intro to London's best attraction.
For those that are scared of heights, don't worry! You feel so safe you don't even feel like you are that high, and the construction of the Eye is so obvious and strong that it makes you feel safer than you ever would at that height anywhere else. To my surprise, after a moment of panic, I got on and the ride was great, extremely smooth and so slow I wasn't even aware we were moving until we were above the buildings. And of course, the view that welcomes you at the top has no rival.
It is suggested that you buy tickets online, however, this is only good if you know what day and the exact time you want to go. But if you don't (and as you can never trust the English weather) I would buy last minute online or when you arrive. There is however a small discount when you buy online, so the choice is yours.
To go and see London as the sun sets you can either buy your ticket individually or you can buy a package with other attractions included for a better price. Attractions include the Sea Life Aquarium and Madame Tussauds.
Things to do in London in November
If you are anything like me then you'll love autumn. October and November define autumn perfection and there isn't anything better than leaves crunching beneath your feet or watching fireworks from the kitchen window in the warm. But there is also a lot of events and things to do in London this month. Here is a list of things to do in London in November.
Fireworks across the city
I bloody love autumn and the moment I had a chance to put away the shorts, floaty dresses and skirts, they were packaged and folded ready to hibernate for the winter. I love the whole feel of autumn; the sound of leaves beneath your feet, the smell of a roaring fire and the flickering of a bonfire. This bonfire I plan on going to a great fireworks night close to my home and I cannot wait to don the gloves, hat and scarf whilst holding a sparkler. Check out my blog post on where to see fireworks in London.
Regent Street Christmas Lights Installation
Named 'The Spirit of Christmas', the scheme unites Regent Street's world-class retailers and restaurants under a grand, sweeping canopy of light that stretches from Langham Place all the way to Waterloo Place at the southern end of Regent Street St James's. With complementary schemes across Jermyn Street and at the newly-completed St James's Market, this will be the largest Christmas lights scheme in Central London this Christmas and is the largest scheme ever embarked on by Regent Street.
Southbank Centre Winter Festival
The Southbank Centre Winter Festival returns and along with its array of festive shows and performances, they will also be celebrating the coldest season with a fistful of fun pop-ups and activities. NoFit State will be bringing contemporary circus to the stage with 'Bianco' performed above, behind and around the audience, plus Christmas will get a rock 'n' roll makeover thanks to the 'Million Dollar Quartet' musical.
Wildlife Photographer of the Year
The prestigious nature photography exhibition returns this October. Now in its fifty-second year, the renowned and celebrated annual wildlife photography competition and exhibition return to the Natural History Museum with images of the most extraordinary species on the planet, captured by professional and amateur photographers.
Hyde Park Winter Wonderland opens
The Grinch would have a real job stealing all the Christmas from Hyde Park's massive tribute to festive fun, which is back for a 14th year in 2021. Entry to Winter Wonderland is free, and a wander past the fairground rides, around child-friendly Santa Land or through the Christmas markets is a real treat for anyone feeling the spirit of the season, as long as you're ready to hear all those songs as you potter.
RHS London Urban Garden Show
Green-fingered Londoners, rejoice: there's now a gardening show just for you. Discover the best succulents, herb gardens, ivies, palms and ferns as well as tips from experts on how to look after your living wall. Plenty of kokedama and terrarium workshops to dig into too, and bars and street food will provide delicious snacks and lunch while you wander.
Diwali at the National Maritime Museum
Head to Greenwich to take part in family-friendly events to mark the Hindu festival of lights. Devour a feast of stories and music, then follow the Bollywood Brass Band for an up to the Royal Observatory Greenwich in a procession of light.
Bonfire Night in London
Start the month with a bang. November begins with an abundance of bonfires to warm us all up, so wrap up snug and head to one of the capital's many firework displays. Bonfire Night aka. Fireworks Night, aka Guy Fawkes Night, traditionally marks the anniversary of the end of the plot to blow up the Houses of Parliament in 1605. Serious stuff. Displays take place across the whole of London so check out my guide and pick your perfect fireworks fiesta.
Things to do in London in December
I love Christmas and I especially love London in December! As the countdown to Christmas in London is on, I have pulled together my favourite things to do in London at Christmas, to get you in the Christmas spirit. From glittering Christmas lights, ice skating at Somerset House, a trip on the London Eye and traditional Christmas markets. There are so many magical things to do in London in December at Christmas!
Throughout London, in December there are lots of events to attend, and activities to take part in including a visit to the panto, boat parties and lots of Christmas markets. Some of my favourite Christmas markets include the Southbank Winter Market and Hyde Park's Winter Wonderland. London has so much on at Christmas!
Admire the Christmas Lights!
One of the best things to do in London at Christmas is to visit the London Christmas Lights. This year you can find an amazing array if lights of Regent Street, sea animals hanging down in Carnaby Street and a festive take on the northern lights in Coal Drops Yard.
Amazing views from the London Eye
The London Eye offers impressive views all year round, but I especially love a trip on the London Eye at Christmas as the views are just spectacular with the Christmas lights on across the city. I booked our ticket with my favourite booking app, Klook and booked a fast track pass so we didn't have to queue.
Then once you are onboard you can experience an unforgettable panoramic flight on the world's highest observation wheel as you watch London unfold beneath you as you rise 135 meters to see the Big Ben and the Houses of Parliament and Buckingham Palace from all new heights. And if you book the Klook champagne experience you also get champagne served to you to further enhance your experience.
Rooftop Ice-Skating at Skylight
East London's coolest winter pop-up is back above Pennington Street car park, at Skylight, where there is ice=skating, ice hockey and igloos and more. You can also sit back and enjoy a hot mulled wine, take in the views of London and get comfy.
A tour of St Paul's Cathedral
Get yourself feeling ridiculously festive with an evening of carols inside Sir Christopher Wren's architectural masterpiece St Paul's Cathedral and book a tour, which I booked through Klook. Or if you are after some family-friendly services, a night of organ-led carols curated by French composer Olivier Messiaen and a traditional carol service on Christmas Eve.
B
y booking a St Paul's fast track ticket with Klook you can enjoy entry to the magnificent St. Paul's Cathedral, one of London's most iconic landmarks steeped in over 300 years of history and explore the awe-inspiring interior where legendary figures of British history, such as the Duke of Wellington and Sir Winston Churchill, are buried. Also if the weather is good, you can climb to the top of the majestic dome for breathtaking aerial views over London!
Christmas at Kew Gardens
Kew Gardens is worth a visit all year round, but it looks more spectacular than ever when it's all dolled up for its annual winter celebration. Back for the seventh year, the illuminated evening trail through the botanic gardens is bigger than ever, with more than a million twinkling pea-lights, thousands of laser beams that light up the trees and a dramatic Fire Garden. Wrap up warm and gently stroll along the atmospheric Winter Trail with a spiced cider, mulled wine or hot chocolate.
Ice-skating at Somerset House
If you fancy channelling your inner Torvill and Dean, head to the wonderful Somerset House this December for a spot of ice-skating! Of all the best ice-skating rinks in London, none are as beautiful as this one. Simply book your tickets through Klook and get fast-track access to the ice. Then afterwards you can warm up in the cabin with a mulled wine or a mince pie. If you want to make an evening of it, book one of the Friday night Skate Lates sessions, where there'll be top DJs and some very slippery dancing.
Check out my ultimate guide to Christmas in London.
---
My Travel Tips and Recommendations
Flights
To book flights, I always use flight search engine, Skyscanner, I regularly use the Everywhere tool to find the cheapest places to travel. It's how I get to travel so much all around the world. I find it the easiest way to compare flight prices across airlines and get the best deals.
Accommodation
For accommodation, I usually book most of my hotels or hostels through Booking.com. I love using this platform as it provides me with some amazing deals for accommodation all around the world. Or if you prefer, I also recommend using Airbnb. If you haven't signed up with Airbnb already, you can use this link to get £25 off your first visit!
Photography and Technology
Here is a list of the technology I always travel with:
Travel Insurance
Picking travel insurance that covers you in all eventualities is an essential part of planning a trip for every single person. If you can't afford travel insurance, you can't afford to travel. You never know what's around the corner. World Nomads is an affordable option that I personally recommend. BOOK HERE
Sign up to AirBnB with this link and receive a £23 off your first booking.
To receive my articles and reviews straight to your inbox SUBSCRIBE HERE.
Did you know I also vlog my trips? Make sure you subscribe to my YouTube channel so you get alerted when all my travel videos goes live… CHECK THEM OUT HERE
Thank you for reading and as always happy adventuring! If you have any questions about the destination please leave these in the comments below.
If you've enjoyed this post, please share it for me with all your friends and family!
Sophie X