Murcia is a wonderful place, and whether you are visiting Murcia for the food, the history or the beaches, the city allows you to slow down and re-energise.
The city is often underrated and offers visitors so much to see and do. And I actually prefer the quieter side this amazing city, with quiet cafes, stunning architecture and vineyards.
Murcia is located just inland from the Costa Blanca, south of Alicante, and it's an amazing place to visit. Often underrated, the city dates back to the ninth century, meaning it offers culture as well as a fantastic relaxing holiday destination.
But why should you visit Murcia? Here are 10 reasons you should visit this beautiful region…
Looking for more things to do in Murcia?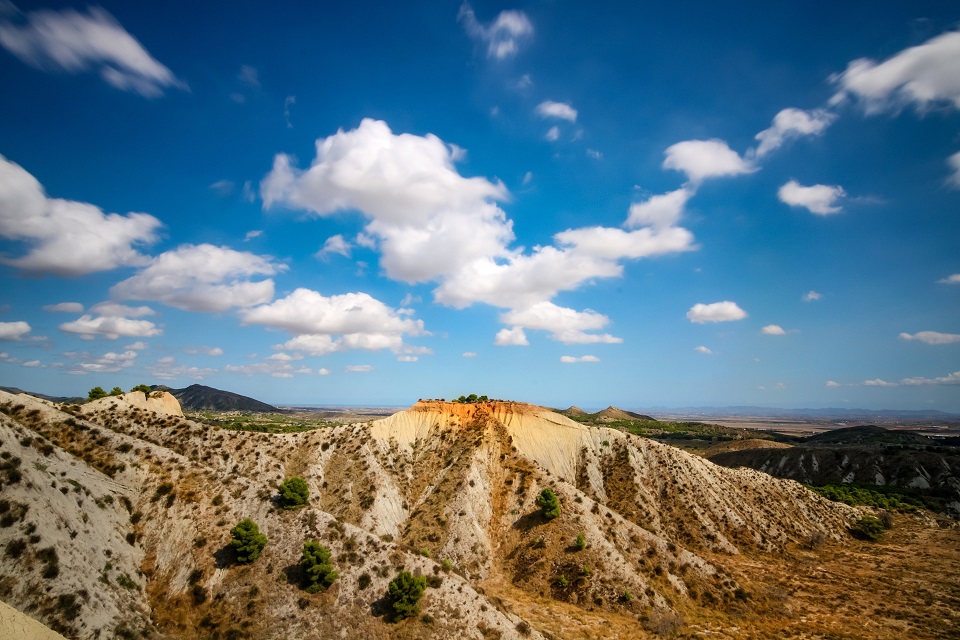 Weather in Murcia
Month High / Low (°C)
January —- 17° / 6°
February —- 18° / 7°
March —- 21° / 9°
April —- 24° / 11°
May —- 27° / 15°
June —- 31° / 19°
July —- 34° / 21°
August —- 34° / 22°
September —- 30° / 19°
October —- 26° / 15°
November —- 20° / 10°
December —- 18° / 7°
10 Reasons to visit Murcia
1. Fantastic flamingoes
Murcia may not be the first place you think of when you imagine flamingoes, but these beautiful birds migrate here every year. If you visit Murcia in the summertime go make sure you check out the white flamingoes at San Pedro del Pinatar salt flats.
The Parque Natural de Las Salinas y Arenales de San Pedro del Pinatar has over 900 hectares of wetlands where you can find flamingos, gulls, albatrosses, herons and owls. Also, close by there are dunes and nearby mud baths where you can smother yourself in the mineral-rich mud from the pond, then bake on the beach next door before finally rinsing off in the sea.
2. Stunning sand sculptures
Another unique thing to do in Murcia is to take a trip to the Sand sculptures in Bolnuevo Mazarron, you will be blown away by the intricacy of these sculptures. They have formed from the natural erosion of the rocks on the main road of Bolnuevo and shaped-like mushrooms, somehow defy gravity. It's well worth a visit!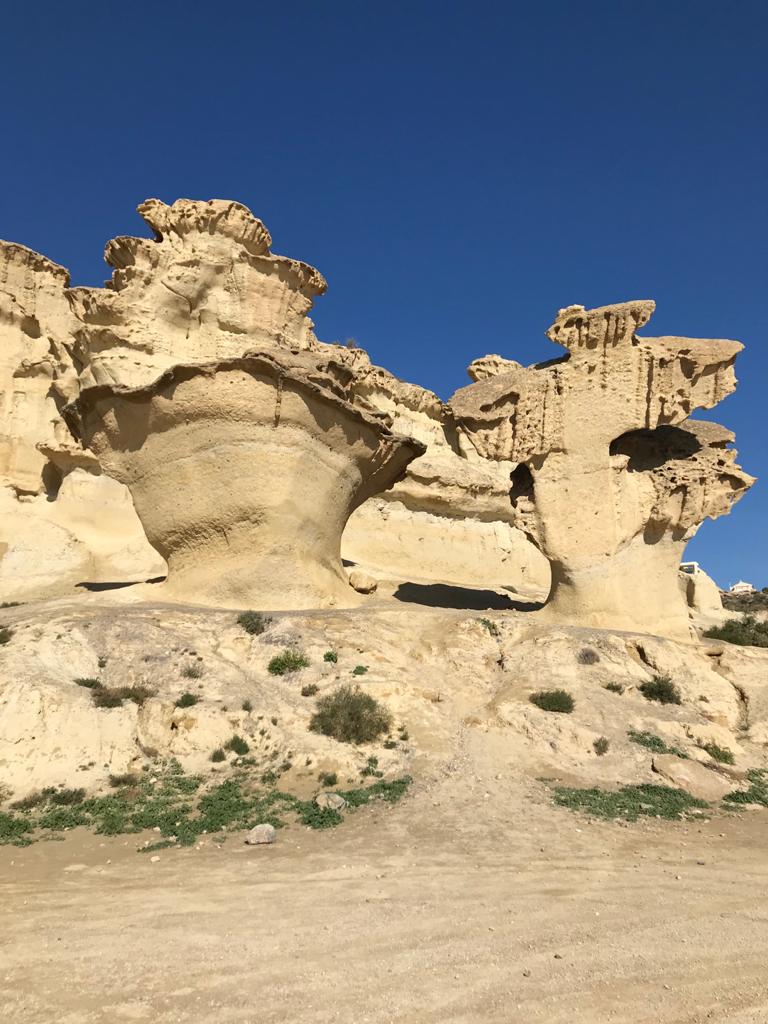 3. Beautiful beaches
There are some beautiful beaches in Murcia, but one hidden gem is Cala Cortina – it's a family favourite of mine as it's so quiet and tranquil. It's the closest beach to the centre of Cartagena and is a naturally secluded cove with stunning sands, and has Blue Flag status. It's a great beach for families to visit because there is a picnic area and a popular fish restaurant.
There is also protective netting set up off the beach, in order to create a safe swimming area – free from jellyfish!
4. Wonderful walking routes
A visit to Murcia is not complete without an early morning walk at sunrise. I love going for a walk near Santa Clara, to take in the peaceful vibes around this region. A great walk starts on the Gran Vía Alfonso X El Sabio, a wide promenade with beautiful trees in the middle and then on to the Museo Arqueológico de Murcia.
From there you can go towards the Santa Clara Monastery and the Santa Ana church. Before long, you'll arrive at the Gran Vía Alfonso X El Sabio and eventually Plaza Santo Domingo, a square where you can sit with a coffee and look at the amazing architecture.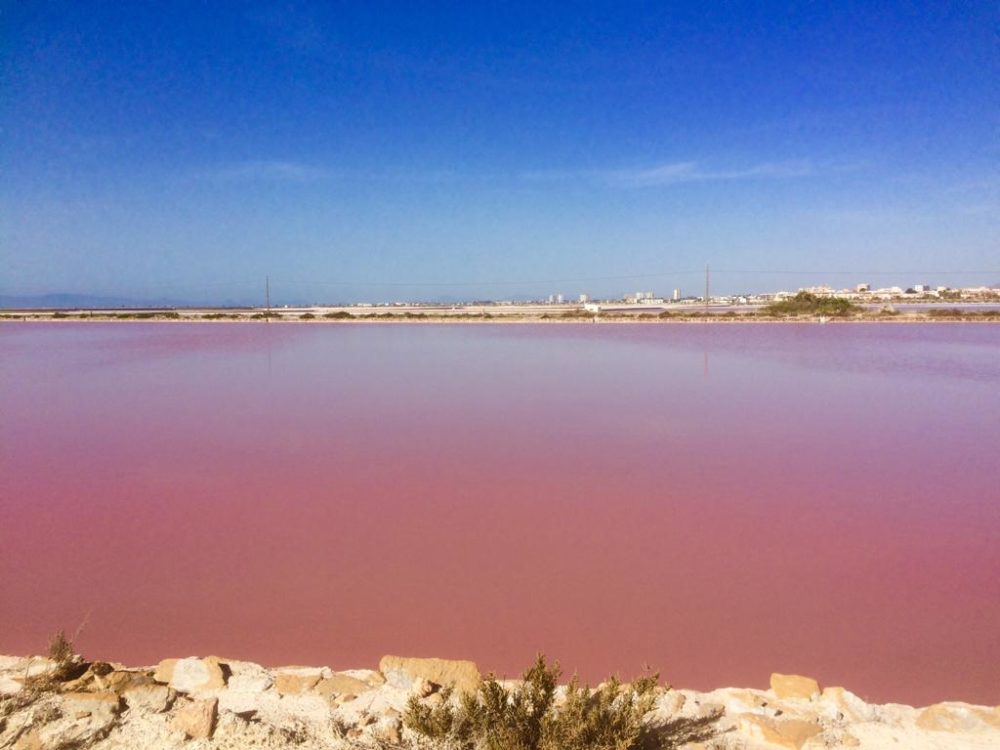 5. Amazing food
Spanish food is one of my favourites and a visit to Murcia is no different. One of my favourite things to do in Murcia is to search out local eats and traditional Spanish cuisine. If you are visiting Cala Cortina, you must visit Mares Bravas.
The restaurant is totally understated, but the seafood is delicious! Order the Sardines, a big Spanish salad and some bread and aioli for a laid back but simply delicious and minimalist lunch. PERFECT!
6. The most amazing views!
For some amazing views take a leisurely hike up to Bateria de Cenizas near La Manga for spectacular views and large canons!
The Battery of the Ashes, also known as C-9, is a Spanish coastal artillery support fortification located on the Monte de las Cenizas, within the municipality of Cartagena. It's primarily a historical site, but it also offers tourists some amazing views, especially at sunset.
7. Sunrise at the salt lakes
One of the most amazing reasons to visit Murcia is to see the amazing sunrise at the salt lakes. The pink colour comes from the result of the pigment of a bacteria called Halobacterium, which can be found in the salinas.
You can also take a dip in some areas, though always check for signs. Many people come here for the health benefits of the mud/salt, so cover themselves in the mud from the lakes. The salt lakes have not only provided local industry but are also a huge tourist attraction to thousands of visitors throughout the year.
*This is a sponsored post in collaboration with Visit Murcia.
---
My Travel Tips and Recommendations
Flights
To book flights, I always use flight search engine Skyscanner, I regularly use the Everywhere tool to find the cheapest places to travel. It's how I get to travel so much all around the world. I find it the easiest way to compare flight prices across airlines and get the best deals.
Accommodation
For accommodation, I usually book most of my hotels or hostels through Booking.com. I love using this platform as it provides me with some amazing deals for accommodation all around the world. Or if you prefer, I also recommend using Airbnb. If you haven't signed up with Airbnb already, you can use this link to get £25 off your first visit!
Travel Insurance
Picking travel insurance that covers you in all eventualities is an essential part of planning a trip for every single person. If you can't afford travel insurance, you can't afford to travel. You never know what's around the corner.
Did you know I also vlog my trips? Make sure you subscribe to my YouTube channel so you get alerted when all my travel videos go live… CHECK THEM OUT HERE
Thank you for reading and as always happy adventuring! If you have any questions about the destination please leave these in the comments below.
If you've enjoyed this post, please share it for me with all your friends and family!
Sophie X