Are you looking for the ultimate 5 days in Paris itinerary?
I adore the city of light, but until last month when I spent 5 days in Paris, I hadn't step foot in the city for over 12 years. Yes, that's right, 12 years!
I hadn't visited Paris since I was 13 years old with my mum and dad on our annual family holiday to France. Don't ask me why it's taken me so long to venture to Paris again, considering it is so close to England. I really regret having not having spent more time here in my early twenties.
And of course, from the moment we arrived, I fell head over heels in love with Paris, and our beautiful hotel, Hotel Banke.
Getting to Paris has never been easier or more convenient so there really is no excuse not to visit this magical city.
Paris is a city of love, but it is also a city of beauty and inspiration. I would suggest visiting Paris for longer than a weekend if you can. 5 days in Paris is the perfect amount of time to get to know the French capital and explore the lesser-known areas of this beautiful city.
Here is your ultimate itinerary of how to spend five days in Paris…
I've also loved using this 3-Day Paris Itinerary for First-Timers for my trip to Paris.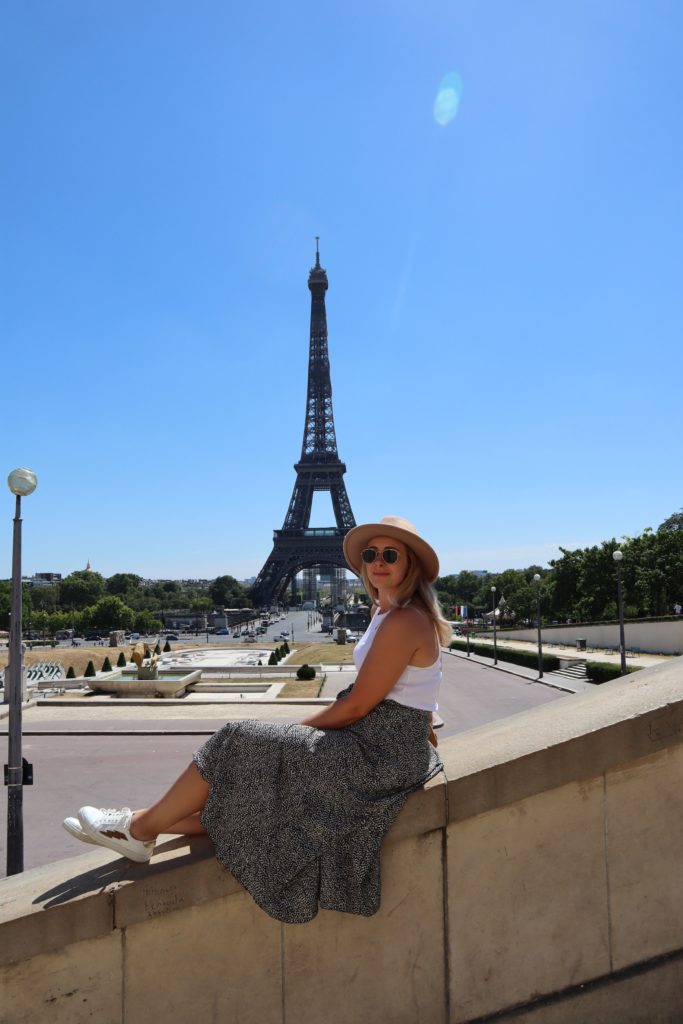 Overview: 5 days in Paris Itinerary
To really make the most of your 5 days in Paris you need to separate your days in the regions of the city. This means you will spend less time travelling and more time exploring.
Day 1: Eiffel Tower and Arc de Triomphe
Day 2: Avenue des Champs-Elysees and the Museums e.g. The Louvre, The Centre Pompidou
Day 3: Île de la Cité – river islands in the Seine within the city of Paris
Day 4: Day trips from Paris
Day 5: Montmartre
Day 1: Eiffel Tower and Arc de Triomphe
Ready for your 5 days Paris itinerary!?
After checking in to your hotel and unpacking, grab your camera and head out to explore! First up on your 5 days in Paris itinerary is a trip to the most famous landmark in the city, the Eiffel Tower! I recommend visiting here on your first day so you can try and beat the crowds and see it in all its beauty.
We used our pull-out map to navigate ourselves on a slow but beautiful walk along the River Seine down to the Eiffel Tower where we stood in the gardens mouths open at the size and beauty of the landmark. Bigger than I expected, the Eiffel Tower literally towers over you, and the best views in the house are from Place du Trocadéro where you can see the entire structure.
This is also a great place to grab a photo, but be aware there are thousands of other people doing the same so try to go early in the morning for lesser people photobombing your 'cute' snap.
We left the Eiffel Tower and headed down Avenue Kleber. When we approached the Arc de Triomphe moments from my childhood came flooding back to me as the hundreds of cars sped around the roundabout, with no lanes and no instructions.
I have no idea how they didn't all crash, but somehow, it worked. Cars were coming from every direction and somehow there were no accidents or at least minor ones.
Then later that afternoon, we went to get some lunch and decided to use our guide book to look for an afternoon tea.
It recommended one I had heard great things about before called Laduree and Angelina. We head to Laduree as it was closer to our current location and I had heard from World of Wanderlust that it was a great tea room with a good selection.
Make sure you check out this article about getting around France for more information.
Day 2: Avenue des Champs-Elysees and the Museums
We began the second day of our 5 days Paris itinerary, with a walk from the hotel down towards The Louvre, where we grabbed the famous cliche photo, walked through the Jardin des Tuileries and grabbed an ice-cream from a small cafe at the side of the gardens with views over to the Louvre.
The weather was divine and we certainly hadn't packed for sunshine, reaching over 24 degrees!
We then headed up the famous Avenue des Champs-Elysees before exploring some of the shopping areas, grabbing a glass of wine at a small cafe and seeking out a recommended vegan bar selling the most incredible smoothies and healthy dishes called La Maison des Protéines.
It was then on to explore some of the other museums in the city. Paris has over 130+ museums, so there really is something for everyone. Whether it's contemporary art, fashion, architecture or temples to Monet and Picasso, there's a museum for visual art in all its forms here. Check out some of the cities very best museums in Paris!
The best way to end day two of your 5 days in Paris Itinerary.
Day 3: Île de la Cité
As we woke the next morning, we felt ready for our third day in the city. We had dedicated our third day in Paris to Île de la Cité, the river islands in the Seine within the city of Paris. This is also where you can find The Notre Dame.
The Île de la Cité is one of two remaining natural river islands in the Seine within the city of Paris It is the centre of Paris and the location where the medieval city was founded.
The land between the two was, until the 1850s, largely residential and commercial, but has since been filled by the city's Prefecture de Police, Palais de Justice, Hôtel-Dieu hospital, and Tribunal de commerce.
As of 2013, the island's population was 981 but for a small area, it really packs a punch, with so much to see here.
On the island, you can find the Cathedral of Notre Dame de Paris, built from 1163 on the site of a church dedicated to Saint Étienne, which in turn occupied a sacred pagan site of Roman times. The cathedral was damaged in a fire on 15 April 2019, while undergoing the initial stages of a massive renovation and is still not open to the public.
Also on the island, you can find Louis IX's Sainte-Chapelle, built as a reliquary to house the Crown of Thorns and a piece of the True Cross, enclosed within the mid-19th century, Palais de Justice. And the Conciergerie prison, where Marie Antoinette awaited execution in 1793.
Day 4: Day trips from Paris
Fancy a day trip from Paris? 2 hours from Paris, you will find the beautiful Loire Valley. Here you can find three beautiful grand fortresses to admire. They showcase the French Renaissance architecture in Château de Chambord, and then you can marvel at the river-straddling Château de Chenonceau.
And if you love a tipple, you could head to the Champagne region, only 40 minutes from Paris. France is well-known for its champagne production and there's a whole region named after the good stuff. It's worth visiting a vineyard, the Moët & Chandon cellars, and the royal city of Reims.
Make sure you check out some of these places during your 5 days Paris itinerary.
Day 5: Montmartre and goodbye Paris
It's your final day in Paris!!! And to finish off your 5 days in Paris itinerary, I would spend the morning at Montmartre, a large hill in Paris's 18th arrondissement. It is 130 m high and gives its name to the surrounding district, part of the Right Bank in the northern section of the city.
There is a lot to do in Montemarte, but some of the highlights include:
A small vineyard in the Rue Saint-Vincent, which continues the tradition of wine production in the Île de France
The Musée de Montmartre where the painters Maurice Utrillo and Suzanne Valadon lived and worked in second-floor studios.
A visit to Place du Tertre and the cabaret du Lapin Agile, where the artists had worked and gathered. Many renowned artists, such as painter and sculptor Edgar Degas and film director François Truffaut, are buried in the Cimetière de Montmartre and the Cimetière Saint-Vincent.
A funicular railway, the Funiculaire de Montmartre, operated by the RATP, ascends the hill from the south while the Montmartre bus circles the hill.
Downhill to the southwest is the red-light district of Pigalle. That area is today, largely known for a wide variety of stores specializing in instruments for rock music.
Then before we knew it it was time to check out and leave Paris! We headed back to our hotel and jumped in a cab back to Gare Du Nord station ready for our flight back to the UK. I had a wonderful trip with Katie and we will be sure to come back very soon for some more adventures in beautiful Paris! Make sure once you've booked your trip to Paris, you then check out the guide on what to pack for Paris.
Are you heading to the city of light? Make sure you use this 5 days in Paris Itinerary to make your trip effortless!
---
To receive my articles and reviews straight to your inbox SUBSCRIBE HERE.
Did you know I also vlog my trips? Make sure you subscribe to my YouTube channel so you get alerted when all my travel videos goes live… CHECK THEM OUT HERE
Thank you for reading and as always happy adventuring!
If you've enjoyed this post, please share it for me with all your friends and family!
Sophie X